On the outer edge of the Caribbean's Leeward Islands, Antigua is a heart-stopping destination. It boasts enough beaches for each day of the year, most providing relaxing swimming and an underwater world with which you'll quickly become enamored.
Antigua is the larger of the two main islands that make up the island nation of Antigua and Barbuda. Antigua is perhaps the island which most typifies the modern day view of a small Caribbean destination.
It's an inviting island, home to mountains, charming communities and adventures that will quickly fill up your itinerary. A great way to experience the best of the island is at one of the best Antigua all-inclusive resorts. Aside from not worrying about the budget, the island nation has a wide range of resorts perfect for couples, groups and families.
Each resort helps fill a niche that will allow you to experience paradise your way and without a care in the world.
18. Carlisle Bay Antigua
Carlisle Bay / Facebook
Antigua is teeming with unforgettable vistas. But right at the top of that list is the one flooding through your floor-to-ceiling windows at Carlisle Bay. Steps from the historic Nelson's Dockyard, this luxurious all-inclusive resort presents an astonishing beachfront vacation, straight from your most hopeful dreams.
The surrounding beautiful rainforests act as blinders. They ensure you forever look towards the glistening golden sands, whether you're in your lavish accommodations or on your beach bed. Other ways to soak up the location include the yoga pavilion and beachfront dining.
Yes, this location comes at a lofty price, but the elevated experience is one you won't forget.
17. Hawksbill By Rex Resorts
On Antigua's west coast, Hawksbill By Rex Resorts sits on an incredible collection of four remote, crescent beaches. There are a range of accommodation options, ranging from West Indian-inspired rooms to charming bungalows overlooking the sparkling water.
Each of the four beaches provides a different vibe from family-friendly all the way to clothing-optional. This wide scale means you'll find a beach just right for you. Some even come with sailing and windsurfing. If you want to get the adrenalin pumping, sign up for a thrilling banana boat ride.
These adventures will require some R&R afterwards, in which case sign up for spa treatments or relax in the gorgeous gardens home to a historic sugar mill tower.
16. Royalton Antigua
Set on and over Deep Bay, is Antigua's answer to those famous over-water villas in the Maldives. The Royalton has a series of spectacular bungalows which are perched above the crystal clear Caribbean Sea, a bucket list experience for many.
Each over-water bungalow comes with its own private pool, hammock and sun loungers spread across two stories. To top it off, don't forget to make the most of your exclusive butler service.
The href="booking/ag/royalton-antigua-resort-and-spa-all-inclusive"]Royalton Antigua features an eye-popping location. So if these bungalows are too much for the budget, there are other on-land suites to consider. Not just for couples, this resort offers great family amenities including a kids' club and babysitters, allowing you a well-earned time to enjoy the restaurants, bars and intimate spas.
15. Sandals Grande Antigua Resort
Based on an island within Dickenson Bay, Sandals Grande Antigua Resort is all about romance and beauty. The first thing you'll notice is the manicured landscape, flush with colorful flora and shady trees. The spacious lawns are as comfortable as the beach, which is the longest on the island.
There are a range of different accommodation options, but for lovers, it's hard to go past the Love Nest Suite. This is a room category that provides partners with their own butlers who will provide for your every need, whether you're robed up in your room or down by the sea.
At night, the resort comes to live with seven bars and plenty of premium booze to keep the good times rolling.
14. Sugar Ridge Resort
Most resorts in Antigua offer inviting beachfront experiences. But Sugar Ridge Resort bucks this trend, bringing you up into the lush mountains. This, by comparison, unique experience provides a welcome contrast to days by the water.
Travelers will instead make the most of the panoramic mountain and coastal views from each resort room. One that provides a canopy bed and a sprawling deck. Once you're familiar with the view, check out the infinity pool perched upon a cliff or experience the resort's famous Aveda Concept spa.
Shuttles are always ready to take you down to the beach, but remember to return in time for your uninhibited mountain top sunset.
13. Ocean Point Resort Antigua
On the northern tip of Antigua, Ocean Point Resort is a Mediterranean-inspired all-inclusive stay. It brings all the colors from that part of the world with a splash of the West Indies, quickly motivating you to kick off the flip-flops and soak in the idyllic atmosphere.
The resort is adults-only, providing an air of romance that floats through Ocean Point's beautiful gardens where palm trees sway among the bougainvillea. The garden's paths weave through a veritable paradise towards Sottovento Beach Club, where you'll soon be enjoying the fresh flavors of the Caribbean Sea.
After lunch, check out the beachfront pool or settle in at one of the two intimate beach alcoves.
12. St. James Club & Villas
Found on a secluded peninsula, St. James Club & Villas is a remote resort that is split into two. One for families and the other for adults. This distinction helps all traveling parties to enjoy St. James' amazing location without having to go anywhere else.
The villas offer all parties furnished balconies which are always a great spot to begin and end a day in heaven. Upon entering your villa for the first time, you'll find yourself enjoying the spacious living areas. But soon the call of the beaches, tennis courts and yoga facilities will be too tempting.
The resort also boasts half a dozen pools and restaurants. The latter ranging from beachfront grills and upscale Italian cuisine.
11. Residences at Nonsuch Bay
Antigua boasts a welcoming number of boutique all-inclusive resorts and the Residences at Nonsuch Bay is another excellent example. Helping it stand out most is its quiet location facing the turquoise water with the white sand acting as a comfy bridge between home and on-water adventures.
The boutique experience is elevated by the quality of each room, which is set out apartment-style, helping you feel right at home. As nice as it is, you'll be inspired to make the most of your time here, including the chance to learn how to sail or try kitesurfing.
After taking in the sunset, head to the resort's restaurant that boasts elevated fine dining.
10. Pineapple Beach Club Antigua
Within reach of Devil's Bridge National Park, Pineapple Beach Club Antigua looks over the Insta-worthy Long Bay Beach. This adults-only resort takes you away from the oft-chaotic family scene, providing you with nothing but serene vibes and good times.
Regardless of your room, you'll enjoy a morning coffee out on your private porch or balcony with the added option of views towards the Caribbean Sea. The resort itself is enormous, with eight restaurants and bars, two expansive pools, a spa house and tennis courts.
All roads, however, lead towards the resort's private stretch of Long Bay Beach. Come relax, snorkel or explore using the resort's inclusive non-motorized watersports before picking between a wide range of cuisines for dinner.
9. Galley Bay Resort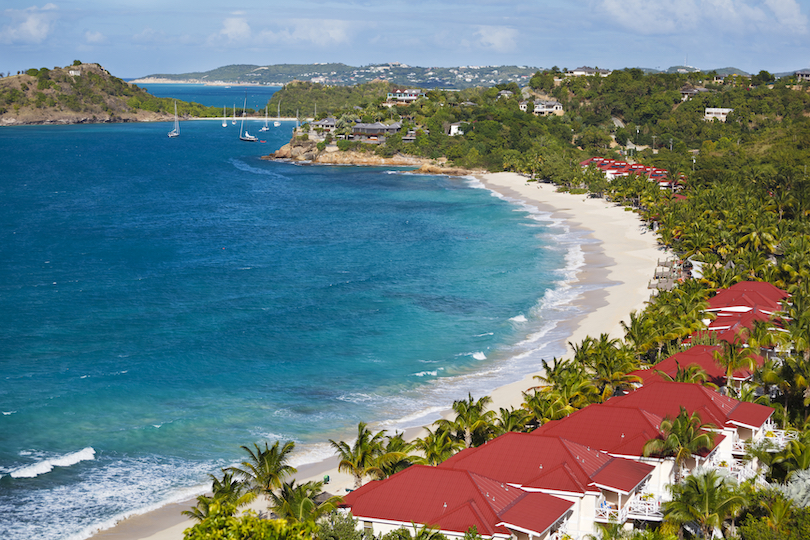 Like Curtain Bluff below, Galley Bay Resorts brings both Caribbean and lagoon views to your Antigua vacation. Between both bodies of water is a thin slice of paradise home to the adults-only Galley Bay.
The small-scale resort is set amongst palm trees, providing a sense of intimate privacy despite the small distances between each suite or room. The decor within each room is inspired by the beautiful island of Antigua, and the vaulted ceilings offer vast natural light.
Thanks to its location, you're a step or two from the white champagne-like sand and a few more from memorable snorkeling. When you've worked up an appetite, choose between the three on-site restaurants featuring local and American cuisine.
8. Blue Waters Resort
Overlooking the vibrant Soldier's Bay, Blue Waters Resort is a sprawling property that provides an upscale experience for couples, families and traveling friends. The size of the resort means Blue Waters can uniquely cater to each crowd without compromising anyone's experience.
The resort offers a mix of luxury villas and suites with large living spaces. Venturing away from your new home will bring you a wide range of options, from multiple powdery beaches to pools, bars and restaurants, of which there are three of each! With the latter offering buffet and intimate options.
The resort also offers plenty of non-motorized watersports free of charge from kayaks to SUPs so you can explore the resort's gorgeous coastline.
7. Cocos Hotel Antigua
Backed by lush rolling hills and facing the endless turquoise of the Caribbean Sea, Cocos Hotel Antigua offers yet another stunning location. Thanks to the backdrop it feels secluded and thanks to the small number of charming cottages, it feels intimate and never crowded.
Cocos Hotel Antigua remains purely for couples, so there are never large groups of rowdy travelers ruining your tranquil experience. Each couple is free to do their own thing, from enjoying their private decks and sea views to heading down to the beach itself to find their very own palapa.
Keeping in line with its boutique size, there's just the one restaurant. It serves up a menu lined with local inspiration and fresh Caribbean cuisine.
6. Jumby Bay Island
Ready for an all-inclusive resort, with a twist? Well, say hello to Jumby Bay Island. This resort is, yes, set on a private island that is only accessible via boat and has zero cars. With just 40 villas and rooms, Jumby Bay Island is as tranquil as it gets.
The range of amenities means you'll have little reason to leave the gorgeous island that boasts miles of beachfront. Families are welcome to come and enjoy the three pools, a trio of tennis courts and a kids' club for whenever mom and dad need that time alone.
The architecture is eye-catching and its beauty is owed to the fine eye of Patricia Anasstassiadis. Quickly, you'll feel as anyone should on a private island: on top of the world.
5. Keyonna Beach Resort
Couples seeking a quality, all-inclusive experience on a budget will quickly become enamored with Keyonna Beach Resort. This couples-only resort is a popular honeymoon destination, offering newlyweds a chance to experience Caribbean luxury even after the wedding bills are paid.
The resort is set on the bright white sands of Turner Beach along Antigua's stunning southwest coast. It's a small boutique resort, which will be music to your ears and each couple will have their own cottage set back from the sands, some with private pools.
Enjoy the quiet atmosphere on one of the large (and private!) Bali beds set along the sands. Later, dine at the resort's singular, but delicious, restaurant and toast to another day in paradise.
4. Cocobay Resort
Many large resorts go for extravagance and an over-the-top product to make your vacation unforgettable. Few, however, have the down-home charm of Cocobay Resort. This all-inclusive is only for adults and its beautiful clifftop cottages help foster a romantic vibe that will be hard to top.
The resort offers 65 rustic pastel-colored cottages with panoramic views of Valley Church Bay. They come with intimate privacy and a lack of TVs which is certainly a plus for some. Along with the views are nightly live music, access to a trio of soft white sand beaches and four pools.
To complete the experience, check out the open-air spa house set atop the cliff bringing a unique element to your R&R.
3. Curtain Bluff Resort
A mix of spacious rooms and upscale suites make up the amazing Curtain Bluff Resort. Wherever you look, there is baby blue water and golden sand beach as the resort is set on a bluff facing the Caribbean and also a cozy lagoon.
As you make yourself at home surrounded by kitschy Caribbean decor, you'll have to choose between enjoying the sea views on your patio or balcony and partaking in the many water sports found within the lagoon. These include SUPs, sailing, scuba diving and water skiing if you're feeling particularly adventurous.
Back at the resort, you'll have access to two restaurants, a fitness center, a luxurious spa house and a large pool facing the endless Caribbean Sea.
2. The Verandah Resort
Waking up to postcard-worthy views of the Caribbean Sea is just one part of what makes the Verandah Resort so memorable. Run by the same folks in command of Galley Bay, the Verandah Resort is an all suite establishment that is as family-friendly as it is eye-catching.
Each day, you'll wake up just steps from one of Antigua's best beaches, Long Bay. There are also two semi-private beachfront areas fixed with a wide range of water sports to keep everyone entertained, young or old.
Families looking to come to Antigua will be happy to know this resort has a renowned kids' program that will keep the little rascals happy while you pursue true relaxation or fruity cocktails by the pool.
1. Hermitage Bay
Set on the fridges of a bay that shares its name, Hermitage Bay is the definition of five-star eco-luxury. This all-inclusive experience begins strong, staying that way throughout.
You'll be far from the crowds at Hermitage Bay, as you'll find yourself in a cozy alcove along Antigua's spectacular southwest coast. Unlike other major resorts, you'll only find 30 rooms here, fitting in with its serene, laid-back vibe.
Many of those 30 rooms are suites set upon the beautiful hillside with endearing views. Hermitage Bay separates itself from the competition with private plunge pools set on the banks of spacious porches.
If you can bring yourself to leave your suite, you'll enjoy top-shelf farm-to-table dining. Other features include live music and invigorating yoga classes.
Map of All Inclusive Resorts in Antigua