Beautiful Aruba is part of the so-called ABC islands, which include Aruba, Bonaire and Curacao. These three islands lie south of the hurricane belt — the area in the Atlantic Ocean that is most likely to be struck by these destructive storms. This has made Aruba an especially popular choice for those wanting to vacation in the Caribbean during the summer and fall months. Aruba's weather also tends to be less humid than a majority of the other islands in the Caribbean.
In addition to great weather, Aruba also boasts beautiful resorts, casinos and gorgeous beaches. Located just 15 miles off of the coast of Venezuela, the tropical island is an independent country that is part of the Kingdom of the Netherlands. An overview of the best places to visit in Aruba.
10. De Palm Island Aruba
[SEE MAP]
Searching for a getaway while in Aruba that offers a little bit of everything? Then you'll want to sign up for this all-inclusive private island adventure. You can choose between a full- or half-day adventure, and your entry fee covers a slew of activities, including but not limited to zipline rides, salsa lessons and banana boat rides. It also includes breakfast and lunch buffets and your drinks. De Palm Island also boasts its own waterpark. And because this is a coral island, the surrounding waters are teeming with clouds of colorful tropical fish, so snorkeling is yet another option. There are also other experiences available for an extra fee, including massages. De Palm Island Aruba also offers an underwater helmet walk that allow swimmers to enjoy a scuba-diver-like experience.
9. Bushiribana Gold Mill
[SEE MAP]
Ian Mackenzie / Flickr
When explorers first stumbled on the New World, most were in search of riches, especially gold. And in 1824, those dreams of riches finally came true in Aruba when gold was discovered by a 12-year-old shepherd boy while he was herding sheep. Eventually, more than 3 million pounds of gold were extracted from Aruba. Some people even claim that the island's name may even reference the gold. At one time, it was supposedly called Oro Ruba, which means Red Gold. At first, the mining on Aruba was done by individuals. But eventually all of the mining rights on the island were given to a Dutch company. Today, the picturesque old stone ruins of the gold mill at Bushiribana are a popular attraction for tourists. They can be visited on foot or, if you'd prefer, you can also see them as part of a horse riding or ATV tour.
8. Alto Vista Chapel
[SEE MAP]
Vlad Podvorny / Flickr
Even if you're not a Catholic, you'll want to check out Alto Vista Chapel, which is located on a hill near the town of Noord. Officially known as "Our Lady of Alto Vista," this was the first Catholic church in Aruba. Yellow in color with a red roof, this tiny church contrasts nicely with the bright blue sea behind it. Alto Vista Chapel is open every day from 5 pm to 7 pm, and there is a mass on Tuesdays. Although this current structure was built in 1952, there has been a chapel on this site since 1750. If you decide to visit the Alto Vista Chapel, make sure to check out the Peace Labyrinth, where you can meditate or pray while walking through its circuits.
7. Donkey Sanctuary Aruba
[SEE MAP]
Darice / Flickr
Though donkeys are not native to Aruba, they did play a very important role in the country's history. For many years, they were the main form of transportation for locals and also helped with the building of this nation. The arrival of automobiles to Aruba ended that, and many donkeys were set loose to find for themselves. Unfortunately, disease and accidents with motor vehicles eventually killed much of the population. And by the 1970s, there were only 20 donkeys remaining in the wild. Animal lovers didn't want to see these creatures disappear from the fabric of the island, so they set up a sanctuary where they could live safely. The sanctuary is free to visit, but donations are welcome.
6. California Lighthouse
[SEE MAP]
This stone lighthouse, which was built between 1914 and 1916, is one of Aruba's most well-known landmarks. It is named after the S.S. California, which was a ship that sank in 1910. You can find the recently renovated lighthouse at Hudishibana near Arashi Beach. Although modern technology has now made it obsolete, the 100-foot-tall California Lighthouse is still a big draw for tourists, especially since it offers some of the best views of Aruba's jagged coastline. And if the trek to the top of this structure should leave you hungry, there's an onsite restaurant located in the former lighthouse keeper's house where you can grab a bite to eat.
vimeo
The SS Antilla, which is the second largest shipwreck dive in the Caribbean, met its demise in quite the dramatic fashion. In 1940, less than one year after the ship made its maiden voyage, its own German crew set it ablaze rather than have it captured. The ship had been anchored in Aruba's Malmok Bay when Germany invaded Holland. Not surprisingly, the Dutch government ordered all German ships in the Dutch Antilles to be seized, and that is when the SS Antilla was scuttled and eventually sank. Today the wreck, which is teeming with tropical fish, is a popular site for both snorkelers and scuba divers. It is, in fact, considered by many to be one of the best shipwreck dives in the Caribbean.
Baby Beach is one of Aruba's best-known beaches. It is a beautiful, shallow, man-made lagoon with very calm waters, making it perfect for children. Baby Beach is also popular with kite boarders and windsurfers. You can find this beach on the southeast end of the island, away from the bustling resort area. While the water inside the lagoon is calm, it's a different story where the bay opens out into the Caribbean Sea. There, the current can be very strong. Unfortunately, this area is also where you can find the best snorkeling. So if you do decide to snorkel at Baby Beach, it's important that you stay alert and not let the pretty fish lure you outside the protected waters of the lagoon.
3. Arikok National Park
[SEE MAP]
If you're a nature lover, then you'll definitely want to check out Arikok National Park, which covers approximately 20 percent of the island. Some of the creatures you might run into at this hilly park include the Aruban whiptail lizard, Aruban cat eye snake, the Aruban parakeet and the Aruban burrowing owl. The park is also home to three beautiful beaches — Dos Playa, Boca Prins and Daimari Beach. One of the park's most popular features is the Natural Pool, which is also known as Conchi. The beautiful natural pool can only be reached by 4×4 vehicles, ATVs, on foot or on horseback.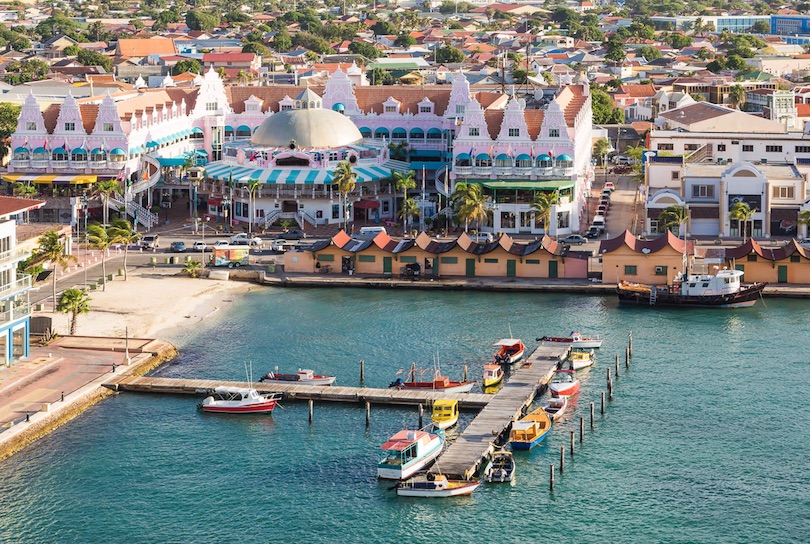 Oranjestad is the biggest city in Aruba and also its capital. It is also a popular cruise ship port. So don't be surprised if the streets are occasionally crowded with cruise ship passengers checking out the town's shops and restaurants. Strolling through Oranjestad, you'll find a mixture of colorful colonial buildings and high-rise resorts, restaurants, bars and shops. Oranjestad's oldest building is Fort Zoutman, which dates back to 1798. Today, the fort is the site of the Bon Bini Festival, a local dance and music show, which is held every Tuesday.
Getting around Oranjestad is not a problem even if you don't have a car as there is a free tram service that makes a half dozen stops throughout the city. Oranjestad also boasts the longest linear park in the Caribbean. This park's main feature is a paved trail that is prefect for walking, running and biking.
Nikonian / Wikipedia
Palm Beach is where you can find the majority of Aruba's high-rise resorts. This area also boasts many restaurants, casinos, bars and shops. So if you won't be renting a car, Palm Beach would be the best place to visit in Aruba as it is very walkable. In addition, Palm Beach's surf is typically calm, making it ideal for swimming. And for those times when you're bored with catching rays or wading in the surf, you could always rent a paddleboard or a waverunner from one of the many watersports concessions in the area. Palm Beach also offers some of the best nightlife in Aruba.