When most people talk about the Caribbean as a vacation destination, the Bahamas, Barbados and Jamaica are often the first islands that get mentioned.
However, the Dominican Republic is one of the best places to go to. For a start its brilliant stretches of pristine, palm-tree-lined white beaches are among the best in the whole of the Caribbean. Its shimmering turquoise waters also provide fantastic conditions for swimming and a range of water sports.
But away from the beaches, there are several other reasons why millions of tourists head to this idyllic paradise location. Not least because of its fantastic cuisine that bursts with delicious flavors and exotic spices, and historical sites that showcase its rich colonial history.
The Dominican Republic features a great number of all-inclusive hotels that are all designed with exquisite decor and equipped with various amenities and services to provide guests with dream-come-true vacations.
While some all-inclusive resorts in the Dominican Republic cater to families, others are geared toward adults only. Here is our recommendation of some of the most popular of them.
17. Grand Bavaro Princess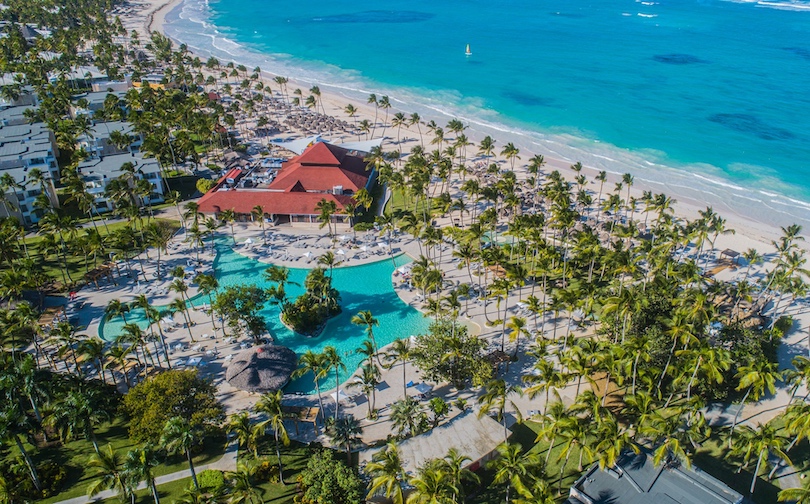 If you are looking for an all-inclusive resort that is based directly on the beach then the Grand Bavaro Princess is an excellent option.
This is one of our favorite all-inclusive resorts in the Bavaro region of the Dominican Republic. We like it because not only are the rooms very comfortable, some even come with their own hot tubs! You can't beat the feeling of soaking in the bubbles whilst taking in the spectacular views of the ocean.
The food options are also really good here, with 10 restaurants serving up a range of delicious international and local dishes. You can also get a really good coffee and there are two fantastic swimming pools and a full-service spa to take advantage of.
16. Dreams Onyx Resort
Dreams Onyx / Facebook
For those wanting a family-friendly hotel in Punta Cana, Dreams Onyx has something for everyone.
While its outdoor swimming pool, water play area and Kids Club will keep children amused for hours, you can enjoy an invigorating pampering treatment at its spa center.
Alternatively, you can take up residence at the resort's bar, which serves up a delicious range of cocktails (we've enjoyed many a Coco Loco here!).
If you want to be active, there is a tennis court and table tennis you can play on.
Conveniently, there is also a hairdresser on-site, which can cut both men's and women's hair.
15. Excellence Punta Cana
If you are looking for an adults-only all-inclusive resort then you can't get much better than what's on offer at the Excellence Punta Cana.
One of the things we like best about this resort is that it has a private beach section. This means you can sunbathe peacefully, without being disturbed by too many others. Rather coolly, you will also get access to a noted scuba diving site. Take it from us, it is such a fantastic experience observing all the colourful fish in their natural habitat!
Another good thing is that you can choose from 11 different restaurants. So you can almost have dinner somewhere new every night on your vacation, without having to leave the property!
14. Catalonia Royal Bavaro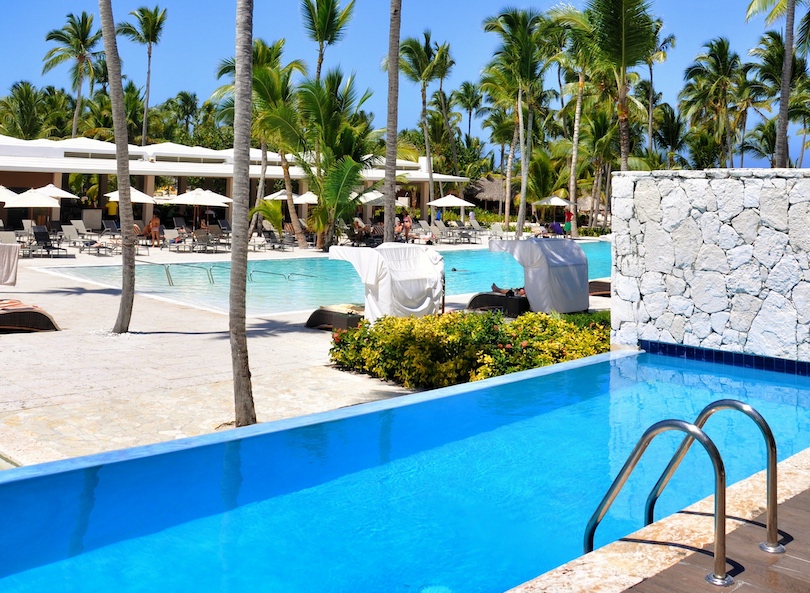 This is another excellent adults-only all-inclusive resort in Punta Cana that has its own private beach.
If you enjoy golf like us, then you'll love to play on the two 18-hole courses that are located within it. The greens and the fairways are particularly beautiful at the Caribbean Golf Club.
Even if you are not a golfer it is worth staying here for its lively casino. It also has a very good nightclub which plays some banging tunes that will have you dancing until the wee hours.
The Catalonia Royal Bavaro also has several outdoor pools you can swim in. There are also six restaurants – including one which offers excellent sushi – and six bars for you to dine at.
13. Melia Caribe Beach Resort
Although not directly on the sand, the Melia Caribe Beach Resort is just 300 meters from it. So you shouldn't discount it if you are looking for a beach holiday destination in Punta Cana.
One of the main drawcards here is its world-class spa and wellness center which offers a range of treatments. This includes everything from full body massages and yoga classes to body wraps and steam rooms. All of which will quickly eradicate any aches, pains or stresses you may have.
When not being pampered you can hire bikes to tour the area or swim in its huge outdoor pool. You can also enjoy a daily continental, American or buffet breakfast and indulge in Italian, Seafood and Vietnamese cuisine for dinner.
12. Royalton Bavaro
Welcome to paradise, otherwise known as the Royalton Bavaro, a gem among the all-inclusive resorts of the Dominican Republic.
From the moment you set foot in the elegant lobby, you'll feel like royalty. The lush, tropical landscape and impeccably designed pools invite you to lose track of time while sipping on your favorite cocktail. And remember, this is all included in your stay, so go ahead and indulge.
When it comes to dining, your taste buds are in for a treat. With a variety of cuisine options ranging from authentic Dominican fare to an enticing sushi bar, your most difficult decision will be which restaurant to try first.
But don't worry about overindulging, as the Royalton Bavaro has a fully-equipped fitness center and plenty of fun activities to keep you moving. Whether it's an impromptu game of beach volleyball or a peaceful yoga session, there's always something to keep your body and mind entertained.
11. Casa de Campo Resort
One of our favorite all-inclusive resorts in the Dominican Republic is the Casa de Campo Resort. It is located in La Romana and what we like most about it is that each guest has access to their own four-passenger cart. This makes touring around the resort very easy, which is just as well because it spans 7,000 acres!
If you stay here you will have access to a private beach and a huge marina which has some very impressive private boats. There are also three championship golf courses you can play on and an excellent spa you may treat yourself to.
Water sports and horseback riding are also available here and there are also several excellent restaurants onsite. Between them, they serve everything from fine Spanish dining to delicious grilled meats and seafood.
10. Hard Rock Hotel Punta Cana
If you use awards as a guide for where to stay then you will be impressed by the Hard Rock Hotel Punta Cana. Not only has it won The Four Dimond Award and M&C Gold Key Award, but it also received the World Travel Award in 2015.
This resort lives up to its billing because it features some of the best room amenities on the island. This includes hydro spa tubs in the bathroom which you will want to spend a lot of time relaxing in. It also includes cool little touches like free music streaming channels and local beers in the mini-bar too.
Additionally, the resort has a brilliant casino, a wonderful full-service spa and a Jack Nicklaus-designed golf course. It also has plenty of pools, lounges and bars.
9. Live Aqua Beach Resort Punta Cana
This gem of a resort has everything you could want from your holiday accommodation.
Nestled on the beachfront, it provides easy access to one of the best beaches in the area. It also has five different swimming pools, as well as a brilliant spa and wellness center that offers excellent facial, beauty, hair and waxing treatments.
For dinner, there is an excellent restaurant at the Live Aqua Beach Resort that serves up delightful local dishes. This includes Sancocho, (a delicious stew with seven different types of meats) and Habichuelas Guisadas, (a dish of stewed beans). If you would like to learn how to make these dishes you can even take a cooking lesson.
For those who want to dance and sing the night away, there is also an excellent nightclub and karaoke onsite.
8. Breathless Punta Cana
Breathless Punta Cana / Facebook
Breathless is quite an apt name for this property because its stunning Punta Cana location will take your breath away. With its sheer range of amenities and offerings, it will also leave you breathless too!
Located directly on the beachfront, a stay at the Breathless Punta Cana gives you immediate access to the sand. However, before you can access that you have to negotiate six swimming pools and two outdoor hot tubs. Nine restaurants serve up a truly international range of dishes as well as a cafeteria for a quick meal option. It also has several different lounges and bars and a nightclub.
Oh, and in case you were wondering about rooms, they all come with hot tubs and a private balcony.
7. Dreams Royal Beach Punta Cana
Dreams Royal Beach / Facebook
One of the coolest things we've ever done whilst staying at a resort in the Dominican Republic was watching movies on the beach. Nothing can beat the feeling of watching a film under the stars with ocean waves serenading you.
This is definitely an option when staying at the Dreams Royal Beach. You can also dine at a one of its seven restaurants, which are all fantastic – especially if you love seafood like us.
It also has a basketball court to work on your game and five swimming pools. If you love watersports you will be able to enjoy sailing, windsurfing and kayaking.
6. Iberostar Grand Bavaro
If you are wanting to have easy access to Dolphin Island Park the Iberostar Grand Bavaro is an excellent option. It is only 6 km from it, so you shouldn't have too much trouble getting there.
The resort itself provides guests with access to an excellent stretch of beach that is perfect for walking on. It is also a very good spot to see the sunset. Which is something we have done a few times and have always been blown away by the hues of the sky.
The Iberostar is probably best known for its six different restaurants, including Le Tourbillon which serves a spectacular menu of international cuisine. It also has a lovely outdoor swimming pool and impressive spa and wellness center.
5. Hyatt Ziva Cap Cana
If you are traveling with children then we highly recommend staying at the Hyatt Ziva, as there is so much for them to do.
One of the main attractions is a water park that has all manner of slides and play equipment. Trust us, this will keep the kids amused for hours! Once they have done that though, they can also enjoy some time in the kids club, swimming pool or games room.
But it is not just the kids who have all the fun here. Adults can also enjoy a sauna, spa facilities and the gym. There are also regular live music performances to entertain all the family at night and the food options will leave you spoilt for choice.
4. Secrets Cap Cana Resort
You could say the secret's out about this place (see what we did there!).
For many people, the Secrets Cap provides them with the perfect balance of location and facilities. Less than two miles from both Playa Juanillo and Cap Cana Marina, this adults-only resort also boasts 8 different restaurants. This includes venues specializing in French, Mexican, Asian and Italian cuisine, as well as other delectable, signature international dishes.
Food aside, the resort also offers several swimming pools, including a stunning infinity pool. It also has a state-of-the-art fitness center with some of the most impressive sets of exercise equipment you'll ever see. This is just as well because you'll probably want to work off all that food you'll no doubt eat!
3. Barcelo Bavaro Palace
The Barcelo is one of the best-known resorts in Punta Cana and people come here for several reasons.
Some come here because its wonderful private beach stretches for 2km and features stunning coral reefs. While others love the fact they can gamble any time of the night or day in its casino. Others are attracted by its world-famous spa that offers some of the most sought-after treatments you could wish to order.
Additionally, the Barcelo Bavaro Palace is also a gastronomic destination with 12 different restaurants within the complex, including French, Japanese, Mexican and Italian. Many people also come here to play on its magnificent 18-hole golf course.
2. Majestic Elegance Punta Cana
If you thought the Barcelo resort was a total destination, then the Majestic will have to be considered one too.
With five swimming pools onsite you shouldn't have any trouble finding a bit of space to go for a dip. Similarly, With eight restaurants and nine bars available, you won't want for food or drink options either. The resort also offers an excellent beachfront location to enjoy some fun in the sun. However, if the heat gets too much, you can always enjoy a live music performance at its onsite theater.
In addition, every room comes with an indoor or outdoor spa bath for when you just want to completely relax.
1. Secrets Royal Beach Punta Cana
Secrets Royal Beach / Facebook
The Secrets Royal Beach is our favorite resort in The Dominican Republic. We love everything about it.
As you stroll through the lush, tropical grounds, you'll find yourself humming to the beat of merengue music. With luxurious rooms, each boasting their own private balcony, you can enjoy the stunning views of the turquoise sea or lush garden.
The resort also offers a state-of-the-art fitness center, ensuring your fitness goals won't be compromised by the endless array of gourmet dining options. Speaking of which, prepare your taste buds for a culinary adventure! With six upscale, á la carte restaurants and a buffet-style eatery, you'll have the opportunity to sample cuisine from around the world.
When the sun goes down, the energy at Secrets Royal Beach Punta Cana gets turned up a notch. Participate in themed party nights or sit back and enjoy live shows, destined to leave you in awe. Trust us, your social media updates will make your friends back home green with envy.
Map of All Inclusive Resorts in the Dominican Republic