Famed for its wonderful white sandy beaches and twinkling turquoise waters, Punta Cana occupies the easternmost tip of the Dominican Republic. The second-most popular tourist destination in all of Latin America, its luxurious resorts are visited by thousands of happy holidaymakers each year.
Blessed with a terrific tropical climate and clear cloudless skies, the top tourist region has more than twenty miles of sun-kissed sands to enjoy. Other than lazing on the beach, there are all kinds of great things to do in Punta Cana including scuba diving, snorkeling and sailing.
While its stupendous coastal scenery and exciting outdoor activities attract the most attention, Punta Cana also has some fascinating cultural sights and epic animal encounters. It can prove hard, however, to resist the extensive amenities and impeccable service that all-inclusive hotels up and down the coast provide.
14. Arena Gorda Beach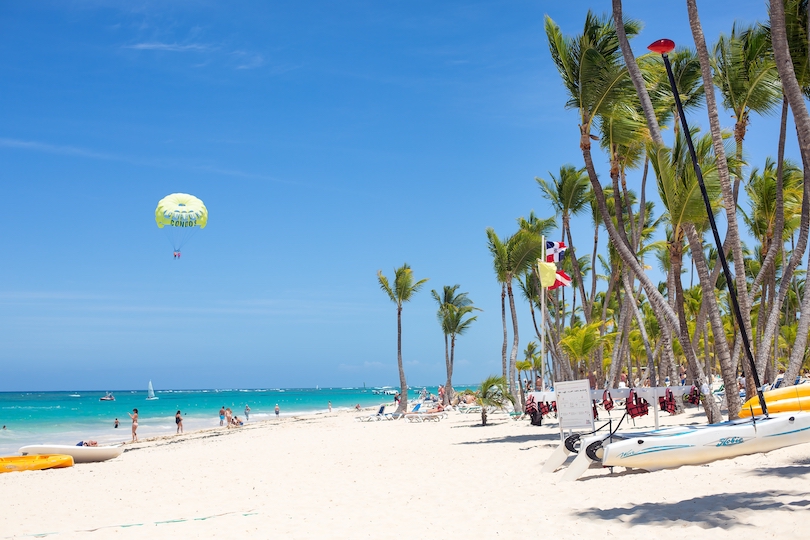 Thanks to its wide sands and shallow waters, Arena Gorda is a firm favorite with families visiting Punta Cana. Besides picture-perfect scenery and views, all-inclusive resorts line the beach offering a wealth of fun outdoor activities and watersports.
Meaning 'Fat Sands' in Spanish, the pearly white beach and its gently swaying palm trees lie alongside the sparkling waters of the Caribbean. As lifeguards are on duty during the day, young ones can swim safely. Kayaking and sailing are other popular pastimes.
You can also play volleyball or take part in some of the innumerable activities put on by the resorts.
13. Manati Park Bavaro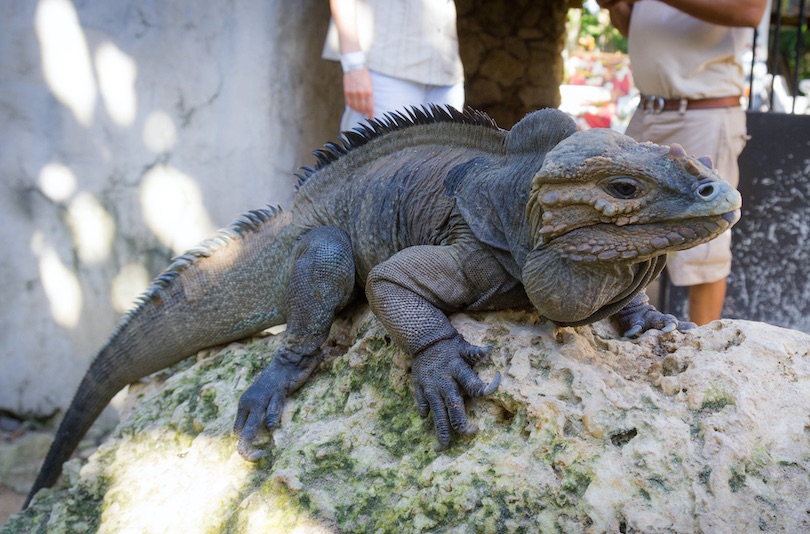 The first theme park founded in the country in 1996, Manati Park Bavaro has an amazing menagerie of exotic animals for guests to enjoy. Traditional dance shows and acrobatic dolphin performances help make the top tourist attraction a memorable place to visit.
As you stroll about amidst colorful Caribbean plant life, you'll come across over 150 species of animals, including iguanas and snakes, caimans, flamingos and parrots. The highlight is of course watching educational yet entertaining animal shows. Sea lions doing tricks and stunt performers riding around on purebred Spanish horses.
Other acts look at the rich traditions and rituals of the local Taino people while unforgettable iguana and dolphin encounters are also available.
12. Indigenous Eyes Ecological Park & Reserve
Lying about half an hour's drive south of both Arena Gorda Beach and Manati Park is the irresistible Indigenous Eyes Ecological Park & Reserve. Located not far from the center of Punta Cana, its vast tracts of subtropical forest have twelve lovely lagoons and plenty of scenic hiking trails for outdoor aficionados to enjoy.
Established in 1994 to protect the pristine local environment, the park is named for the glimmering turquoise pools that lie surrounded by lush foliage on all sides. Formed over the course of millennia by an underground river, their twinkling waters make for phenomenal photos and viewing with swimming even available at some.
The lagoons are understandably the nature reserve's standout sight, but ambling along its winding paths is just as enjoyable due to the verdant fauna and flora. There is also a smallish petting zoo and iguana enclosure to stop by.
11. Trip to Saona Island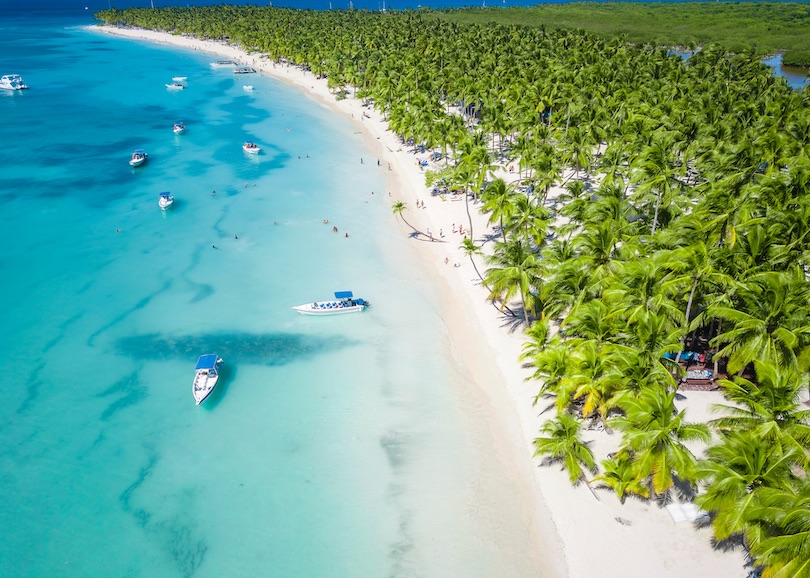 Just off the southeastern coast of the Dominican Republic is yet another utterly idyllic and unspoiled spot to hit up. Protected as a nature reserve, Saona Island is renowned for its serene beaches and coral reefs which see countless catamarans and small speed boats visit each day.
Due to its spectacular-looking sands and sea views, the tiny tropical isle is often used in adverts and films to depict an untouched desert island. Wandering peacefully along its breathtaking beaches will certainly make you feel like you're in paradise. Saona's 300 species of birds and iguanas often spied amidst its mangroves and forests.
The reefs around the isle also teem with life as manatees, sea turtles and bottlenose dolphins inhabit its warm waters. In total, it takes around an hour and a half to three hours to get to Saona Island and the surrounding Cotubanama National Park.
10. La Cana Golf Course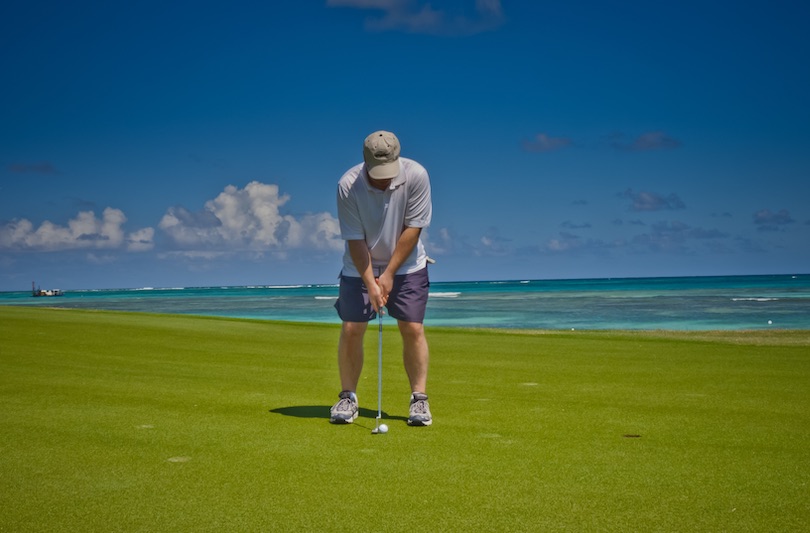 If you're looking to play a fun yet challenging round while on holiday, then look no further than the gorgeous La Cana Golf Course. Thanks to its arresting ocean views and immaculate greens, the club was named the 'number one course in the Caribbean' by Golf Magazine.
Designed by P.B. Dye, its twenty-seven holes are divided into three courses: the Tortuga, Hacienda and Arrecife. Many of their holes overlook the shimmering Caribbean Sea with sand traps and water features both adding to their difficulty and design.
Caddies and their cart accompany you around the environmentally-friendly course and provide tips on how to tee off at each hole. Sure to enthrall enthusiastic amateurs and experts alike, the luxurious La Cana Golf Course also has a state-of-the-art teaching area where you can perfect your swing and improve your overall game.
9. Coco Bongo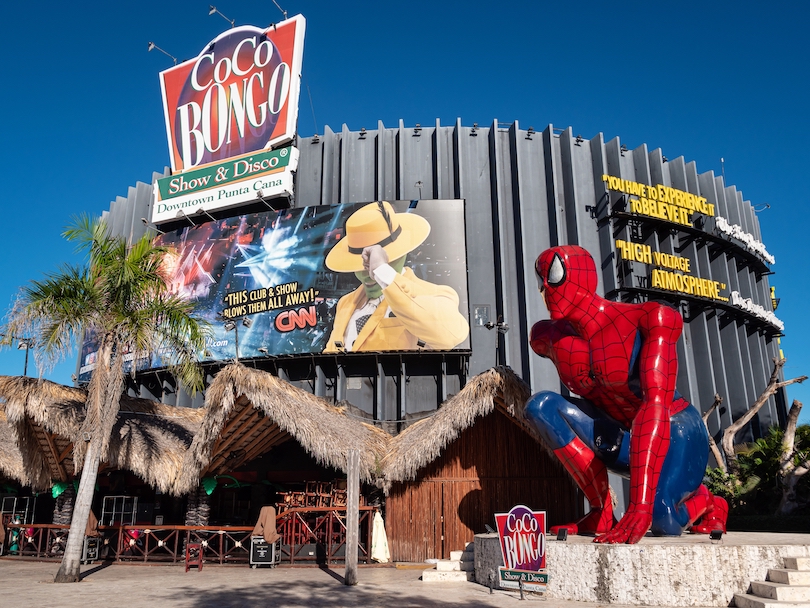 Right in the center of Punta Cana is the hottest nightlife spot on the island: the loud and lively Coco Bongo. At its Colosseum-like venue, you can dance and drink the night away while enjoying an epic show like no other.
For decades now, the nightclub's unique, high-energy shows have captivated crowds in Cancun and Playa del Carmen in Mexico. Since opening in 2014 in the Dominican Republic, holiday goers have also reveled in its extraordinary mix of music and video entertainment. Performances pay tribute to famous groups such as The Beatles and Queen, while others are inspired by movies like the Moulin Rouge, Mad Max and The Mask.
Fronting the theatrical spectacle are incredible dancers, acrobats and singers with the flashing lights and falling confetti only adding to the experience. Not to be missed, Congo Bongo's thrilling nights out are now the stuff of legend.
8. Basilica Catedral Nuestra Señora de la Altagracia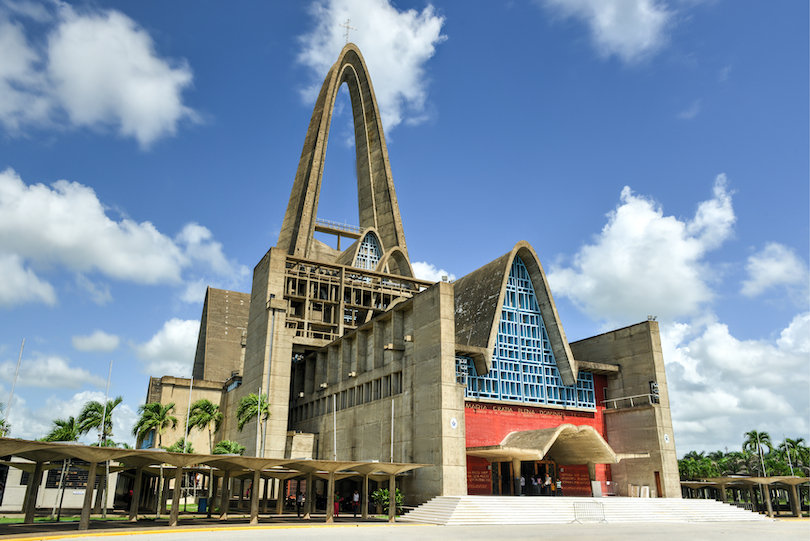 One of the most unusual-looking churches you are likely to ever come across, the Basilica Catedral Nuestra Señora de la Altagracia rises dramatically above the historic heart of Higuey. Its striking modern facade and soaring arch spire make for some superb photos with its enormous interior being just as eclectically decorated.
Completed in 1970, the captivating cathedral is now one of the most important religious sites in the country. Designed by two forward-thinking French architects, it is visited by hundreds of thousands of pilgrims each year with Pope John Paul II himself stopping by on his trip to the Caribbean nation in 1992.
Although it can be hard to tear your eyes away from its unique architecture, inside are some terrific tapered ceilings and a sixteenth-century painting of the Virgin Mary for you to see.
7. Juanillo Beach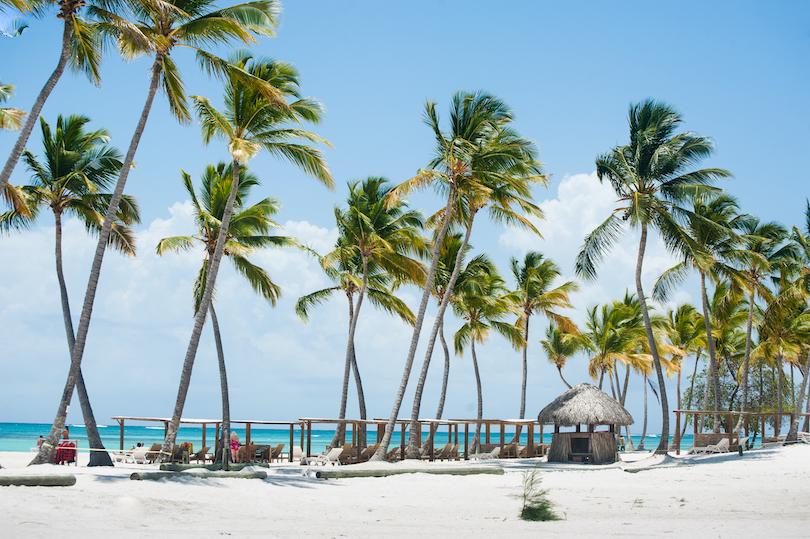 Another of the island's most beautiful beaches is Juanillo along its southeastern shore. Until recently it was a sleepy fishermen's village with upmarket resorts and beach bars now lining its soft sands and turquoise shallows.
Since being purchased by a large development project called Cap Cana, the idyllic area has changed considerably though it still retains its pristine beach and peaceful nature. Nowadays, numerous resorts border its sweeping sands as do a marina, golf course and water park among other attractions.
Despite this, Juanillo Beach still appears like a dream with its white sands and reflective waters glistening in the sun. Aside from sunbathing and swimming or sipping a cocktail at one of its bars, you can always kayak and windsurf up and down its glittering coastline.
6. Trip to Altos de Chavon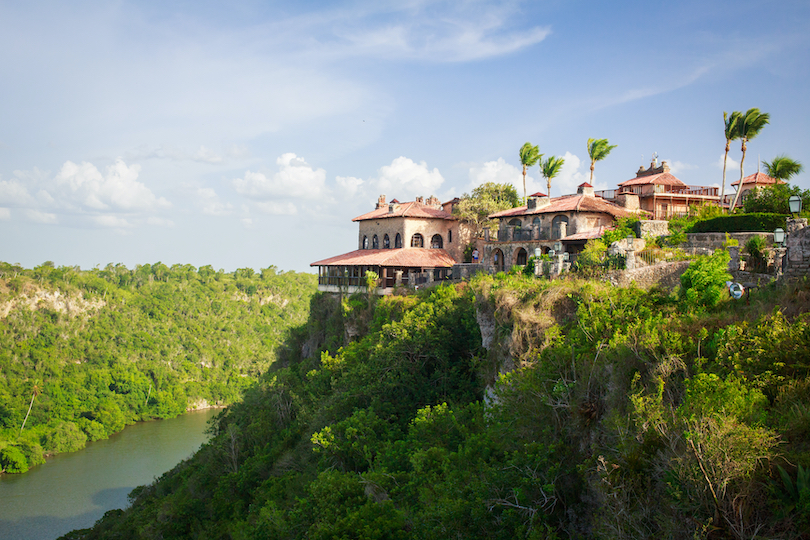 Although it lies about an hour's drive west of Punta Cana, it is well worth visiting Altos de Chavon if you have the chance. Described by many as an architectural wonder, the recreation of a sixteenth-century Mediterranean village has an amazing amphitheater and archaeological museum to explore.
Perched atop a hill overlooking the Chavon River, its enchanting buildings and charming cobbled streets were all painstakingly handcrafted by local artisans in the seventies. The brainchild of Italian architect Roberto Copa, the pretty little village now contains several excellent restaurants and shops selling locally-produced arts and crafts.
The highlight though has to be snapping some pics of the stunning St. Stanislaus Church or catching a concert in its enormous Roman-style amphitheater. Its museum of pre-Columbian Indian artifacts is also fascinating to peruse as are its lovely buildings which feature such fine details and designs.
5. Dolphin Island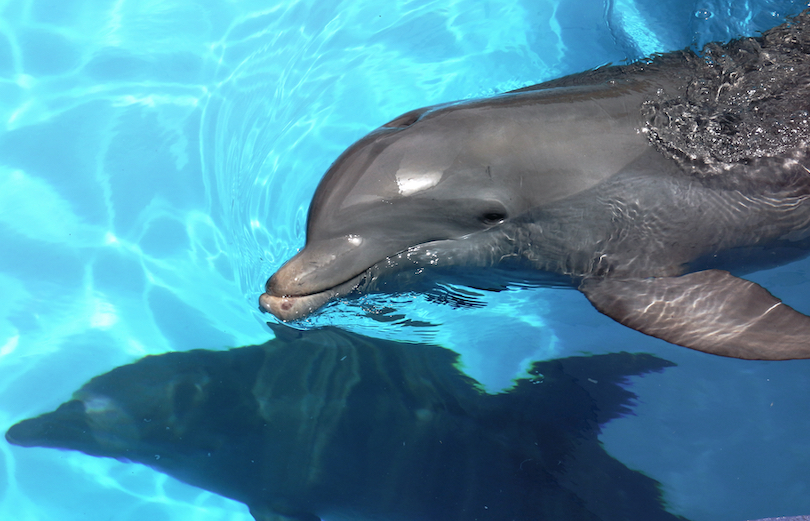 If you're after yet another unforgettable aquatic excursion, then the delightful Dolphin Island Park is definitely the place to go. At its offshore site, visitors can swim with the majestic creatures in their natural habitat and see sharks, stingrays and sea lions too.
Only accessible by boat, its small series of floating platforms and sea pens lie in between the beach at Bavaro and its nearby coral barrier. Here you can swim and snorkel with trained dolphins, watch them perform tricks and even take fun photos together in the water.
Guests can also choose to swim alongside sharks and rays with each of its packages coming with an exciting catamaran ride out to the 'island'. Since opening in 2004, it has wowed young and old alike with its awesome shows and animal encounters.
4. Macao Beach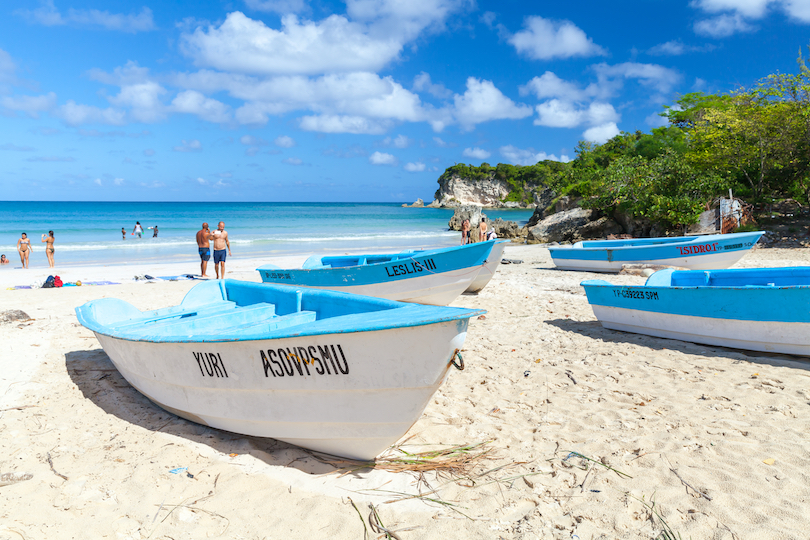 Largely untouched and unspoiled, Macao is often cited among Punta Cana's most breathtaking beaches. One of the only ones in the area still open to the general public, its brilliantly bright white sands and sparkling waters are bordered by some stupendous sea cliffs.
Unlike most of the region's beaches, it isn't backed by luxury hotels and big developments. Only a couple of little restaurants and beach bars are clustered at its eastern end. Apart from these, the beach's miles and miles of shimmering sands are backed by picturesque palm trees with a dramatic-looking headland lying in the distance.
Besides basking in its beauty, you can dune buggy or horseback ride along its scenic shores or enjoy superb surfing at the foot of Macao's magnificent sea cliffs.
3. Hard Rock Casino Punta Cana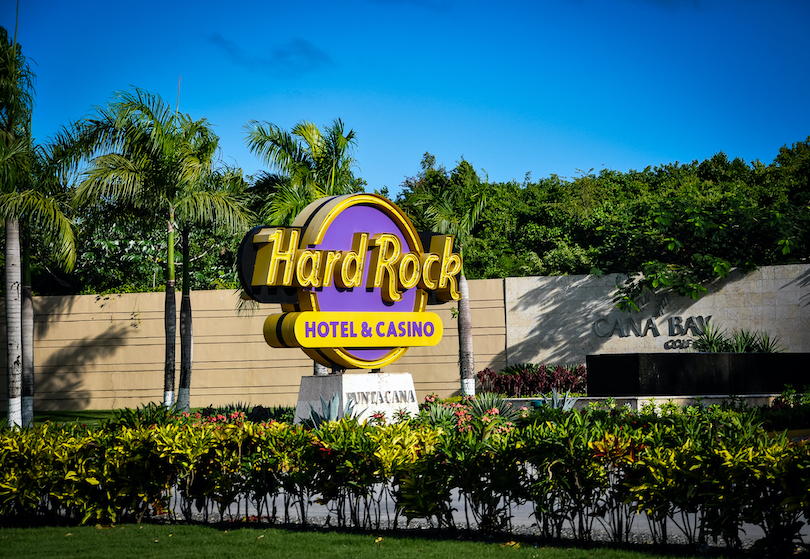 After all the sunbathing, swimming and sightseeing, a fun night out at the Hard Rock Casino makes for a nice change of scene. The largest in the Caribbean, it has great games for guests to enjoy with exciting live entertainment and exquisite culinary options also on offer.
Set just south of Macao Beach, the all-inclusive resort covers a huge area with countless restaurants and swimming pools lying alongside its powdery white sands. The five-star hotel's focal point is its lavish, Las Vegas-style casino which is decorated with iconic music memorabilia and has about 350 slot and video poker machines to play on.
Dozens of table games are also available while a packed schedule of top-class concerts and comics provide entertainment at its numerous bars and glitzy nightclub.
2. Hoyo Azul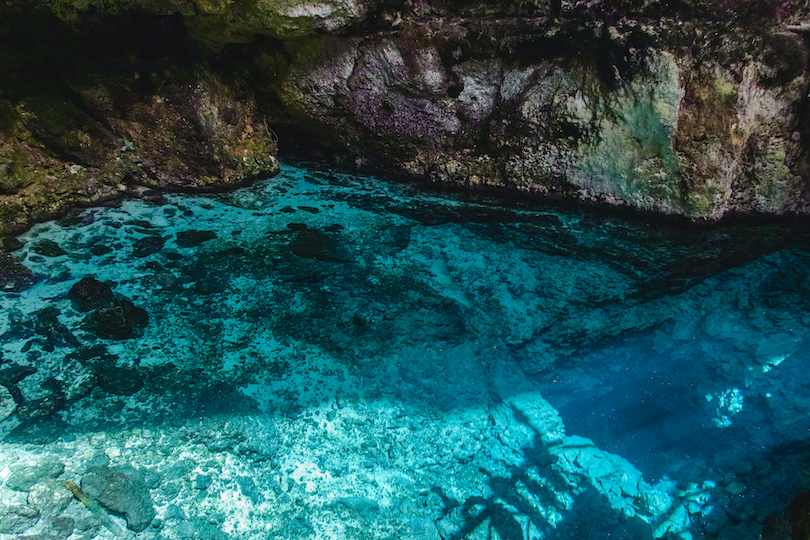 The region's standout natural sight, however, is arguably the arresting Hoyo Azul which is located in Scape Park at Cap Cana. At the natural theme park, visitors can splash in the cenote's crystal-clear waters before ziplining and hiking around the surrounding rainforest.
Hidden away at the foot of a steep cliff, the bright blue watering hole stands out delightfully against the rugged rocks and verdant vegetation all around. The water is so clear, you can easily see the bottom of the 120-feet-deep pool which looks every bit as spectacular as the rearing rocky walls of the limestone cavern above.
After swimming in the cenote and snapping some photos, head off and explore the rest of the park's attractions which include a cultural trail and exotic animal encounters.
1. Bavaro Beach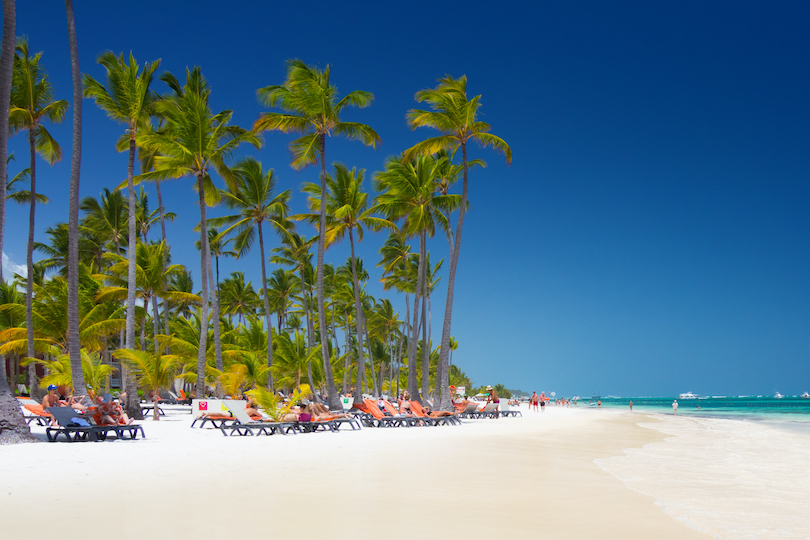 Thanks to its pearly white sands, swaying palms and pretty waters, Bavaro Beach is one of the most popular stretches of shoreline on the island. As well as offering up outdoor activities and watersports, the heavily developed area has a wealth of resorts and restaurants.
Originally a town for resort workers, the whole waterfront area between El Cortecito and Cabeza de Toro was later transformed with tourists in mind. As such, an endless array of hotels now border the beach, as do gift shops, beachside bars and restaurants.
Aside from lounging on the gorgeous beach and swimming in the natural pools not far offshore, you can snorkel and sail or take cruises up and down the coast. Bavaro Beach also has a couple of water parks and golf courses to try out.
Map of Things to Do in Punta Cana