Known for its postcard-worthy landscapes, powdery white sand beaches and endearing cultures, there's so much to love about St. Lucia. Flying in shows off the enormity of the Piton Mountains, a World Heritage Site that features mountains, like sharp church spires rising from the Caribbean Sea. Soon after you land, you'll be swept into a tropical paradise, one you'll be in no rush to leave.
The gorgeous island brings in a range of different travelers, from families, to friends and, of course, budding honeymooners. They are attracted by mountains and beaches, but also the underwater treasures that lie off shore. Then there is the mouthwatering local cuisine and the world's only "drive-in" volcano.
Staying at an all-inclusive resort in St. Lucia will give you a front-row seat to all of these adventures. Plus, it will provide you with a relaxing, romantic and memorable experience.
12. Coco Palm Resort
Coco Palm Resort / Facebook
All-inclusive resorts often come at a steep price. After all, you're paying for far more than just a room. But on St. Lucia there is an all-inclusive that is geared towards those on a budget. With that said, you can still expect all the same bells and whistles at Coco Palm Resort.
The 80+ room boutique comes with a striking free-form pool that welcomes families and group travelers alike. Each room comes with vibrant decor inspired by your Caribbean destination along with great balcony vistas.
Keeping it from being higher on our list is the lack of a beachfront or peninsula location. However, guests will be happy to know you're just a brief stroll to the beautiful Reduit Beach and the happening Rodney Bay Village.
11. St. James's Club Morgan Bay
St. James's Club / Facebook
Where Coco Palm Resort is budget-friendly, St. James' Club Morgan Bay is value for money. With eight on-site restaurants, a handful of large swimming pools, intimate cocktail lounges and poolside bars, there's ample opportunity to get your money's worth.
Whether you're gazing over the sea, the resident manicured gardens or sitting by the pool you can enjoy the company of your loved ones surrounded by great food and zesty drinks. Once you're done lazing around, kick start your day by heading to the beach volleyball courts, go for a snorkel or try your hand at sailing the resplendent Caribbean Sea.
Whatever you get up to, four-star accommodations, with arresting views will welcome you each night.
10. East Winds
It pays to know your target market and at East Winds there is no such confusion. The exceptional boutique resort comes with all but thirty rooms catering to the upper middle class and beyond without being overly pretentious.
The location of East Winds will have you immediately placed under a relaxed stupor, far from the boisterous, 200+ room resorts elsewhere in St. Lucia. The quiet beauty of the destination is owed both to the splendid views and also the lack of major amenities such as a spa house and fitness center. It's an uncluttered space, one filled with pristine cottages and equally lovely gardens.
Steps from your cottage is a private beach where you can swim among the colorful reefs. There is also a spacious pool featuring a swim-up bar.
9. The Landings Resort
The Landings Resort
Set upon the blisteringly beautiful northwestern coast of St. Lucia, The Landings Resort, guests will quickly feel at home among such pristine nature. To your left and right, the golden sand shoreline stretches, backed by dense green forests and fronted by the baby blue of the Caribbean.
Your all-inclusive experience can be as busy or chill as you like. Those excited to explore can check out the resort's range of SUPs, kayaks and snorkeling gear. You can also stretch your legs on resident hiking trails, hit the golf course or enjoy the packed calendar of cultural activities.
The Landings Resort boasts as many inclusive activities as any on the island.
8. Sandals Regency La Toc
Sandals
The oldest of the Sandals resorts in St. Lucia, Sandals Regency La Toc remains just for adults. This will be music to the ears of budding vacationers excited to be among like-minded folks.
The resort is spread across a variety of landscapes, from the startling cliff face to wooded forests and a private beach. Their exceptional range of amenities and activities is spread throughout, with the resort home to the largest swim-up bar on St. Lucia.
When you aren't sipping mojitos and looking out to the Caribbean Sea, you can tee up at the resort's nine-hole golf course, pick between the nine restaurants (including an upscale French eatery) or find a private spot in the lush forests.
7. Ti Kaye Resort
Ti Kaye Resort / Facebook
Those seeking action as much as relaxation can do worse than a stay at the thrilling Ti Kaye Resort. This is an all-inclusive that lives in the fast lane bringing to you such activities as deep sea fishing, sailing and scuba diving.
But life here isn't all about fast paced action. Vacationers can check into a yoga class or go for a social wine tasting. Speaking of tours, guests at Ti Kaye Resort can sign up for a market tour, where the resort's notable chefs will guide you to local markets in Anse Cochon where you will shop local produce and have the chefs whip up a delicious feast.
6. Bay Gardens Beach Resort
Bay Gardens Beach Resort
A few decades ago, a local St. Lucian school teacher pursued a dramatic career change when he pursued the life of a hotelier. He opened three resorts along Rodney Bay and at the center of it all is the Bay Gardens Beach Resort.
This all-inclusive resort fits snugly in the midrange of St. Lucian resorts. At 72 rooms, it is both cozy and grand. Set along the beachfront, guests will wake to the sounds of crashing waves while the western-facing view means you'll never want to miss a gorgeous sunset.
Some rooms feature mini-kitchens and multi-room suites, helpful for saving money on accommodations and food costs. But you'll want to head down to the HiTide restaurant whenever the steel drums are playing.
5. Royalton Saint Lucia
Everyone can enjoy a splash of luxury at the Royalton Saint Lucia. Some rooms are so close to the shimmering turquoise sea, it feels as if you're waking up upon the water. The Royalton is broken into several sections, making it a top destination for families, groups and couples.
At Hideaway and the Diamond Club, adults mingle without a kid in sight. Roads lead to intimate, quiet beaches and delicious restaurants where candles light up the dark room. The rest of the resort boasts kids and teenage clubs where the young ones can run amok while the parents receive a well-earned break by the pool…or bar.
4. Coconut Bay Beach Resort
Coconut Bay Beach Resort
On St. Lucia's southern tip, near Vieux Fort, Coconut Bay Beach Resort is all about romance. The mornings begin early, with the eastern-facing resort and private beach subject to a vibrant sunrise. From there, the world truly is your oyster.
Couples especially will love the amenities and activities on offer at Coconut Bay. Your Caribbean experience will be paced with water sports, such as stand-up paddle-boarding along the coast before exploring the vast underwater world. After kicking back on the sand, play some tennis or hit the spa house for a massage and facial.
When the sun falls, make your way to the cocktail lounges that look out to the sparkling night sky.
3. Sandals Grande St. Lucian
The Sandals brand needs no introduction and of the three on the island, the Sandals Grande St. Lucian stands above the rest. The Grande St. Lucian is not just the newest Sandals resort on St. Lucia, but it sits across from the historic Pigeon Island on the edge of a spectacular peninsula.
On Rodney Bay, Sandals Grande St. Lucian boasts an eye-catching tower in the center of the resort's chief pool. These waters attract adoring couples and honeymooners from across the world to swim up and order a cocktail or three.
In addition to an extra three pools, the resort features unlimited scuba diving as a part of their expansive list of water sports. There is also a spa house for total relaxation and a total of eight on-site restaurants.
2. Sugar Beach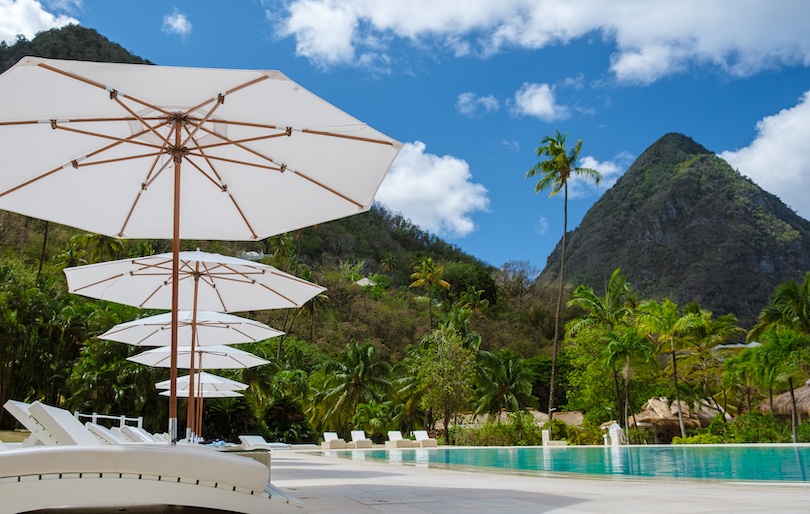 In Soufriere, St Lucia, Sugar Beach comes with stunning views and one of the most intimate locations within the local valley. Surrounded by lush, green jungle where the trees flow with the ocean breeze, Sugar Beach feels a world away from nearby communities. With this all-inclusive experience, you'll have no reason to go anywhere else.
Each morning at this five-star resort means waking up to the colors of the Caribbean Sea and a sky turned purple and orange with the sunrise. For some, their upscale villa provides a private plunge pool, the perfect complement to a morning juice.
From there, you can head to one of the trio of restaurants for a hearty breakfast before swimming in the sea or kicking back in the opulent spa house.
1. Windjammer Landing Villa Beach Resort
Windjammer Landing
If you've come to St. Lucia to see the jaw-dropping Piton Mountains with your own eyes, then there's no better place to stay than Windjammer Landing Villa Beach Resort. Also known as Ladera Resort, guests will have envious views of the World Heritage Site from their rooms, pool, and along the epic coast.
The resort boasts eco-luxe architecture, ample use of wood and tropical decor that helps it blend in with the one-of-a-kind site. This vibe flows into your living space, which is open-air, allowing the Trade Winds to flow through.
From the sprawling pool, you can gaze upon the Caribbean and the soaring mountains. Umbrellas are set to the view also so you can relax, have a drink and admire in peace. At night, live entertainment kicks the beat up a notch.
Map of All Inclusive Resorts in St. Lucia