The most easterly of the Caribbean Islands, Barbados is a beautiful country to visit that entices huge numbers of tourists every year. Part of the Lesser Antilles in the Atlantic, it has more than seventy miles of pristine beaches to enjoy as well as rum and watersports aplenty.
Often called 'Bimshire' or 'Little England' due to its long history of British colorization, the isolated isle was initially home to lots of cotton, tobacco and sugarcane plantations. Nowadays, tourism is its main industry with Bridgetown, its capital, being a major port of call for cruise ships.
In addition to all its interesting old historic attractions, it has British staples such as cricket, horse racing and high tea for visitors to experience alongside the Caribbean nation's rich Bajan culture.
Besides enjoying the laidback island life or indulging in some fun calypso and rum-filled night outs, most people come for its idyllic beaches and twinkling turquoise waters. While its sheltered swathes of sand along the south coast are perfect for sunbathing and swimming, those along the east instead attract surfers due to their sizeable swells. Other things to do in Barbados include exploring its dramatic coastal scenery, immaculate gardens and tropical rainforests.
In this post, we'll cover:
21. Accra Beach
A wonderful place to sunbathe, swim and snorkel, the attractive Accra Beach lies just to the south of Bridgetown. As its parish of Christ Church is one of Barbados' main tourist hotspots, loads of shops, restaurants and hotels line its shores with the Richard Haynes Boardwalk also terminating here.
Also known as Rockley Beach, its gorgeous white sands gently curve their way alongside the ocean with rugged limestone reefs lying just offshore. While the waves at high tide are perfect for boogie boarding and sometimes even surfing, low tide reveals tiny pools teeming with life.
Other than sitting back and taking in the spectacular scenery, you can pick up colourful clothing and jewellery from one of its charming little kiosks. Plenty of beachside bars and cafes border the beach which also has sun loungers and umbrellas available for rent.
20. Morgan Lewis Sugar Mill
One of the only surviving structures of its kind in all the Caribbean, the Morgan Lewis Sugar Mill is nestled in the north of the isle, in the parish of St. Andrew. Now preserved as a museum, its exhibits cover the history of sugar making in Barbados with its large sails even operating on select Sundays.
Built back in 1727, the massive wind-powered mill once crushed sugarcane to produce juice during the eighteenth and nineteenth centuries. Only retired in 1947, its sturdy stone walls house the intact old machinery from years gone by and some displays documenting the once island-wide industry.
Asides from snapping some pictures of the mill and sipping some freshly squeezed sugarcane juice, you can also enjoy commanding views over the coast from its prominent hilltop setting.
19. George Washington House
Another interesting historic site to check out is the grand George Washington House in the Garrison Savannah area. It was here in 1751 that the future first president of the United States stayed on what turned out to be his only ever overseas trip.
At the age of just nineteen, he accompanied his older half-brother Lawrence to Barbados where they hoped the warm, sunny climate would cure his tuberculosis. For two months, they lived at the large and lavish plantation-style mansion which has been faithfully restored to what it would have looked like in the 1700s.
As well as wandering around its two floors full of period pieces, you can also watch a short film on his time in Barbados and see exhibits on the island's storied past. In addition to all this, you can also explore a series of ruined barracks and secret tunnels that are located at the site.
18. Animal Flower Cave
Right at the very northernmost tip of the island is the awe-inspiring Animal Flower Cave. Here you clamber about its rocky confines, bathe in its pools and enjoy divine views over the Atlantic from its large ocean-facing openings.
So named due to the tiny tube worms that can be found in its pools, the natural sea cave boasts lots of beautiful formations that make for some fantastic photos. While smooth millennia-old corals coat its floor, the shimmering waters of its pools create some magical light displays thanks to the glinting sun outside.
From the cliffs above, you can sometimes sight humpback whales migrating just offshore while the gigantic waves that pound the craggy coast are just as impressive to view. There is also an excellent restaurant with phenomenal panoramas if you want a tasty drink or meal before heading off.
17. Richard Haynes Boardwalk
An absolute treat to stroll along peacefully, the Richard Haynes Boardwalk takes you past a number of picture-perfect beaches and viewpoints. Besides gazing out over the glittering Caribbean Sea and spotting some sea turtles, you can stop off at any of the local bars and restaurants that line the route.
Hugging the sparkling southern shores of the isle, the coastal boardwalk reaches roughly half a mile in total and connects Camelot Beach to Accra. As you amble along, you'll enjoy some idyllic island scenery as gently waving palms look out over bright white sands, twinkling turquoise waters and dramatic rock formations.
From time to time, you can spot Hawksbill sea turtles either nesting or entering the surf with sunsets being a particularly memorable time to wander along the boardwalk. While most establishments are very laidback, some beach shacks have a very lively party-like vibe at any time of day.
16. Farley Hill National Park
Bas Leenders / Flickr
A very atmospheric place to visit, Farley Hill National Park preserves the remarkable ruins of a long abandoned colonial mansion. Now overgrown with vines and trees, the shell of the once great house makes for some fabulous photos with its hilltop setting also offering up fine views over the coast.
While work first began on the Georgian mansion in 1818, later additions and extensions saw it eventually become the most impressive residence in Barbados. A fire unfortunately gutted the building in 1965 however with only its towering walls and facade now remaining.
Just a year later, Queen Elizabeth II opened its picturesque grounds to the public as a national park with locals and tourists alike now coming to picnic amongst its mahogany groves. From its high-up position, you can look out over the rest of the parish of St. Peter and the Platinum Coast below.
15. Celebrate Crop Over
While 'Bimshire' is always a delight to explore, one of the best times to visit is in summer when the annual Crop Over festival takes place. One of the biggest and best carnivals in all the Caribbean, its fun-filled parades, parties and local art fairs are held for six weeks straight all around the island.
Remarkably enough, its origins can actually be traced back to the 1780s when the isle was the world's largest producer of sugar. After the harvest was over, planters would gift their slaves food and liquor with dancing, singing and often unsanctioned fetes taking place.
Visitors to Barbados can now take part in the centuries-old celebration which sees art exhibitions on Bajan culture feature alongside calypso competitions and culinary events. All the exciting festivities climax at the Grand Kadooment where costumed bands fill the street and fireworks burst overhead.
14. Atlantis Submarines
As the warm waters surrounding the isle teem with marine life, it is well worth taking an underseas tour when in town. On one of the unforgettable Atlantis Submarine adventures, you'll venture 150 ft below the surface to see shipwrecks, shoals of fish and colourful coral reefs.
Since being founded in 1986, the company has taken millions of passengers on amazing underwater journeys in not just Hawaii and the Pacific but the Caribbean too. From Bridgetown, a transfer boat takes you out to the sleek submarine which then slowly sinks to the seabed far below. Here you can spy dozens of species of fish flitting about the pretty coral formations.
As you glide about, knowledgeable staff members explain more about the tropical marine life with some tours also taking you out to see nearby shipwrecks and caves.
13. Miami Beach
Joe Ross / Flickr
Another scenic spot at which to sunbathe, swim and enjoy some vivid sunsets is Miami Beach, just outside of Oistins. As it is much calmer and less touristy than other beaches along the south coast, it is a lovely place to relax and try some fun watersports.
Officially known as Enterprise Beach, its welcoming sands are divided in two by a rock breakwater with a shady recreation area and some snack bars also backing it. While its more secluded west side is perfect for swimming and splashing about, the larger swells at its eastern end are ideal for boogie and body boarding. Beach chairs, boards and umbrellas are all available for rent from local vendors.
After having taken in its striking scenery and surfed beneath its sea cliffs, you can walk along to the nearby South Point Lighthouse or stay and watch the sunset over the ocean.
12. Play a Round of Golf
Thanks to its year-round warm, sunny weather and immaculate greens located in a stunning tropical setting, Barbados is a brilliant place to play a round of golf. In total, it has roughly half a dozen top-class clubs to choose from with its gorgeous courses being designed for beginners and pros alike.
For years, the Barbados Open was an annual stop on the European Seniors Tour with the Caribbean country also having hosted the World Golf Championship's World Cup in 2006. This highlights the quality of its courses with some lying alongside the sea or amidst 'Little England's lush landscapes.
The most highly-rated and exclusive is that of Sandy Lane which is famed for its challenging 'Green Monkey' course designed by Tom Fazio. Asides from attempting a hole-in-one at the championship course carved out of a quarry, both Royal Westmoreland and Apes Hill are great golf clubs to hit up.
11. Friday Fish Fry at Oistins
Dan Costin / Flickr
If you're looking for a fun night out, then the Friday Fish Fry at Oistins is an absolute must. Popular with locals and tourists alike, the southern stretch of coastline takes on a carnival-like atmosphere as scores of sizzling barbecues and drinks stands set up and people party into the night.
For well over two decades now, the small fishing town and its vibrant seafood market have attracted hungry guests ready to welcome in the weekend. Strung out in between Welches Beach and Miami Beach, you'll find countless stalls selling fried fish and beer while loud Bajan music blares out.
Now almost considered a rite of passage for first-time visitors to the island, the Friday and Saturday night markets make for a very memorable experience. Arts and crafts items such as jewellery, wood carvings and clothing are also on sale at the fish fry.
10. Andromeda Botanic Gardens
Full of colourful plants, flowers, trees and shrubs, the idyllic Andromeda Botanic Gardens lie just a stone's throw from the beautiful Bathsheba Beach. As you amble along its winding paths, you'll pass over 600 tropical species from around the world with little streams and ponds dotted here and there.
Created by the award-winning horticulturist Iris Bannochie in the 1950s, the gigantic gardens now have more than twenty sections for you to explore. While fragrant orchids line some parts, towering palms and ferns threaten to overwhelm others with butterflies, monkeys and hummingbirds all often spied amidst the undergrowth.
As the Royal Horticultural Society described it as 'one of the most unique and outstanding gardens in the world', it certainly isn't to be skipped when traveling around Bim. After taking in its tranquil feel and resplendent nature, you can pick up some local artworks in its gift shop or go for a drink or snack in its cafe.
9. St. Nicholas Abbey
Also boasting some arresting scenery and nature is the former sugarcane plantation of St. Nicholas Abbey in the north of the island. Now surrounded by some exquisite grounds and gardens, the grand Jacobean mansion has terrific tours to take around the estate that include some stiff rum punches.
One of only three such heritage sites in the Western Hemisphere, the plantation was established in what is now the parish of St. Peter in 1658. Wonderfully well-preserved, the magnificent mansion's antique-filled rooms highlight how the planters used to live in the eighteenth century.
After wandering about the huge house and seeing all its period pieces, visitors can stroll around the orchards outside and stop by its rum distillery. There is also a romantic ride on a vintage steam train to take before heading to the commanding Cherry Tree Hill viewpoint nearby.
8. Harrison's Cave
Gail Frederick / Flickr
Certainly one of the island's most spectacular natural sights, Harrison's Cave is home to hundreds of shining stalactites and stalagmites. On epic underground tours aboard an electrical tram, you'll learn all about the fantastical rock formations while also passing sparkling streams and small waterfalls.
Formed over thousands of years, the colossal caves were first mentioned in historical documents in 1795 before finally being rediscovered in the seventies. Since then, hordes of tourists have flocked to see the illuminated limestone caverns which are aptly described as one of the 'Seven Wonders of Barbados'.
Thanks in part to its mirror-like pools, the cave's softly lit stalactites and stalagmites make for some fabulous photos and viewing. After exploring the cavernous Great Hall and seeing curiously shaped formations like the Altar, you can peruse excavated Amerindian artifacts in the visitor center above.
7. Carlisle Bay
Yet another picturesque spot to hit up is Carlisle Bay along the southwest side of the nation's capital Bridgetown. Its calm, turquoise waters offer up some superb swimming, jet skiing and scuba diving with six shipwrecks and giant shoals of fish to spy just beneath its gleaming surface.
Now protected as part of a marine park, the small natural bay is bordered by blindingly bright white beaches and the historic old Needham's Point Lighthouse that dates to 1855. All along its soft sands, you can rent deck chairs and umbrellas or head out to explore the harbor on kayaks, paddleboards and catamarans.
As the rusting wrecks often lie just a few metres beneath the surface, snorkelers can easily observe octopi, eels and sea turtles swirling about their coral-encrusted remains.
6. Hop on Board a Catamaran Cruise
A lovely way to see still more of the isle's stunning shoreline is to hop on board a catamaran cruise and sail about its twinkling tropical waters. Countless excursions depart each day from various ports and bays around Barbados with good times, glorious sunshine and gorgeous views all guaranteed.
Guests have numerous packages to choose from with some trips including lunch and others staying out until the sun sets magically over the sea. Most also anchor at secluded spots along the coastline where you can swim and snorkel above shipwrecks, see marine life or lounge on one of the island's many breathtaking beaches.
While some catamarans carry a couple of dozen passengers, play loud music and have impromptu dance lessons, others cater instead to couples with attentive crew members serving champagne and chic appetisers. Whichever option you select, smooth sailing and spellbinding scenery are a given.
5. Dover Beach
As it is set right at the heart of St. Lawrence Gap – the epicenter of entertainment on the island – delightful Dover Beach has lots to see and do. Aside from sunbathing on its white sands, you can try out fun watersports like kayaking and jet skiing with plenty of shops and bars also lying nearby.
Bordered just to the east by Oistins, its expansive sands and shimmering waters are lined by dozens of family-friendly hotels. As such, both the beach and its boardwalk have a very lively yet laidback feel with people swimming, snorkeling and windsurfing all the time.
Besides boogie boarding and beach volleyball, visitors can enjoy picnics alongside the sea or peruse its little local stalls for souvenirs and handicrafts. As there is a playground and lifeguards on duty, it is ideal for families with kids though a myriad of restaurants and nightclubs are also located nearby.
4. Hunte's Gardens
One of the prettiest places in Barbados, Hunte's Gardens are tucked away in a gully in the interior of the island. Amidst the lush rainforest, there are magnificently landscaped gardens to explore, packed with exotic plants and brightly colored flowers.
Once the working end of the old Castle Grant plantation, the already verdant area was transformed into the internationally-renowned gardens by horticulturist Anthony Hunte from the fifties onwards. Full of life, its shady paths and open sunlit spaces are hemmed in on all sides by huge palms, ferns and craboo trees home to hummingbirds and monkeys.
As you stroll about amidst all its tropical species and terraced slopes, you'll hear relaxing classical music drifting through the trees. This makes the experience even more enchanting with its eccentric owner Mr Hunte being only too happy to chat about his interesting life, the gardens and Barbados.
3. Downtown Bridgetown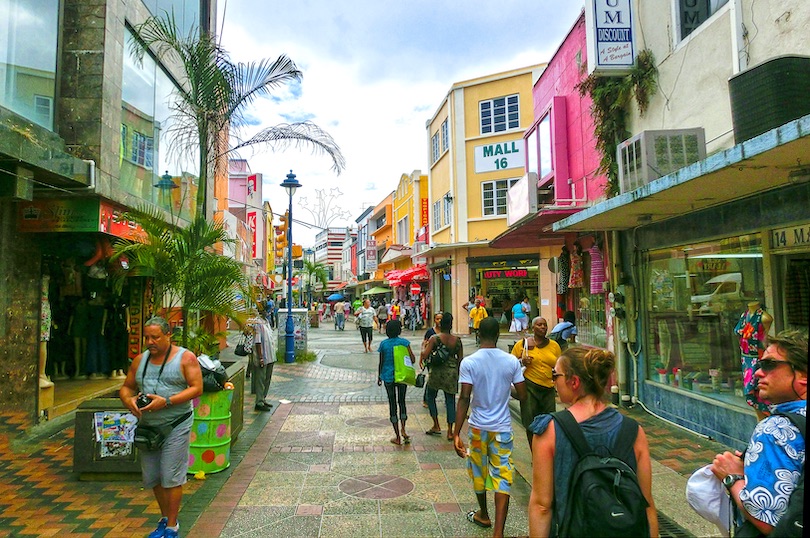 Both Barbados' capital and its only city, Bridgetown is home to about half of the island's population, with many more commuting here each day. A regular port of call for cruise ships, its well-preserved downtown contains countless impressive historic sites and some great duty-free shopping.
An important center of commerce and finance for the Caribbean, it was founded in 1628 by English settlers along the island's southwest coast. As such, a wealth of brilliant British colonial architecture is on show with the Neo-Gothic Parliament Buildings and National Heroes Square counting among its main sights.
Other fantastic places to head are the Garrison Historic Area and Barbados Museum; both of which shine a light on the Caribbean country's storied past. After checking out all its colourful landmarks and ambling about beside the waterfront, you can stop by the shops along Broad Street or soak up some sun at Carlise Bay.
2. Rum Tasting at Mount Gay
Gary J. Wood / Flickr
As rum has long been distilled, drunk and enjoyed in the region, no trip to the Caribbean can ever be complete without sampling some of its signature stiff drinks. At the marvellous Mount Gay, you can learn all about the process of producing the liquor before sipping some tasty cocktails in its bar.
The oldest, continuously run rum distillery on the island, the company was established in 1703 and is named after Sir John Gay Alleyne; an early Barbadian baronet and politician. At their historic old estate in the parish of St. Lucy, master blenders take you about its molasses house, original well and out-lying lands.
On the way, they explain and show you how rum is made while regaling you with enthralling stories about pirates and Mount Gay's centuries-old traditions. At the end of the tour, visitors can sample a selection of their finest rums or take part in a cocktail workshop before buying some to take home.
1. Bathsheba Beach
Located halfway up the island's eastern coastline, Bathsheba Beach is one of Barbados' most scenic swathes of sand. Both a photographer's and surfer's dream, the picture-perfect spot is renowned for its dramatic rock formations and the fierce waves that pound the shore.
Backed by craggy cliffs and lush tropical vegetation, the beach's golden sands certainly make for a striking sight with the hulking great boulders studding its shallows. While its relentless, rough waves mean that swimming is ill-advised, international surfing competitions are held every year in the frothy waters of its iconic Soup Bowl.
From Bathsheba Park, you can gaze out over the spectacular scenery and chat to local Bajans while watching the waves crash against the shore. Simply a must when in Barbados, Bathsheba Beach is a great place to fly kites and picnic with both Andromeda and Hunte's Gardens lying nearby.
Map of Things to Do in Barbados