The convenience and affordability that accompanies a luxurious stay amid these top Barbados all-inclusive resorts allows guest to leave their concerns and cash behind. The unmatched beauty of the Caribbean's easternmost tropical island can be enjoyed without the need to break out the wallet for every exhilarating activity, refreshing cocktail or delectable dish.,/P.
Beyond comfortable rooms just steps from pristine beaches, these exceptional all-inclusive resorts in Barbados offer an array of appealing activities and amenities that will ensure a memorable vacation experience.
10. Almond Beach Club & Spa
[SEE MAP]
Fronting the azure Caribbean Sea, this exclusive adults only property provides an ideal respite for romantic adventurers. Choose from seven categories of spacious rooms outfitted with fine appointments and commanding ocean and garden views. Partake in gourmet meals and flowing premium libations among live nightly entertainment within several onsite restaurants and lively bars. Pamper yourself at the full service spa, enjoy poolside waiter service, or play a few rounds on the tennis courts. Guests enjoy complimentary use of non-motorized water sporting gear along the property's private beach, where an intricate coral reef beckons for exploration.
9. Escape At The Gap Hotel
[SEE MAP]
This family oriented Barbados all inclusive resort rests along the shores of the island's most impressive beachfront along Prospect Bay. The Escape is a quaint property that delivers personalized service along with a nice assortment of dining, nightlife, and activities for everyone in the family. Colorful rooms provide a cheery and tropical oasis where you can rest between excursions both on and off the property. Children can enjoy the supervised Kids Club entertainments, while the adults hit the casino, take in the sights in Christ Church, or indulge in exceptional golfing and water excursions nearby.
Update: Apparently, this hotel has been closed down
8. Tamarind Cove Hotel
[SEE MAP]
With just over 100 newly renovated guest rooms, the Tamarind Cove Hotel in Saint James is large enough for groups or families, but it still provides the intimate feel of a romantic couples resort. Three relaxing pools, access to an exquisite spa, and a vast array of complimentary motorized water sports are only a few of the amenities to enjoy onsite.
Located on the west coast of Barbados , the Crystal Cove in Saint James offers beautiful ocean vistas, access to white sandy beaches and intimate tropical hillsides overlooking the town. Each of the 88 comfortable and modern guestrooms at the Crystal Cove are air conditioned and feature patios or balconies, plus satellite televisions. There are three restaurants, a bar, a special kids club, three lagoon-style swimming pools and several water sport options.
6. Turtle Beach Resort
[SEE MAP]
Whether your notion of a premier all inclusive resort calls for cocktails by the pool, exotic salon services, elegant all-suite quarters or exceptional access to a number of Barbados tourist attractions, Turtle Beach Resort delivers. Discover three mouthwatering restaurants and several hip lounges to choose from right on the beachfront, or pick from several others a short stroll away at the resort's sister properties. The white sand beach is steps from the suites, where numerous invigorating water activities are available.
5. Fairmont Royal Pavilion
[SEE MAP]
Surrounded tropical gardens and a long stretch of white sandy beach, the Fairmont Royal Pavilion is located on the beautiful Platinum Coast of Barbados. Each of the finely appointed guestrooms at the all-inclusive resort feature traditional Caribbean decor, large oceanfront balconies with stunning views, flat-screen televisions and Internet access. Guests are welcome to enjoy the private beach, pool, a host of water sports, shuttle service between the hotel and the Royal Westmoreland Golf Club, babysitting and spa services.
4. Sea Breeze Beach Hotel
[SEE MAP]
The Sea Breeze Beach Hotel is centrally located on Maxwell Coast Road in Christ Church. It is secluded from the hustle of the tourist town, but close enough for a nice walk through the shops. The food and drinks at the 2 restaurants and beach bar are included in the price. Also included are all of the water sports that are offered along the beach. There is windsurfing, kayaking and dingy sailing with scuba diving, golf, deep sea fishing and other sports all within a 15 minute drive.
3. Mango Bay Resort Saint James
[SEE MAP]
The Mango Bay Resort is an all-inclusive getaway located on the infamous western shoreline of Barbados. Well-appointed suites include posh amenities and a fully furnished, private balcony to enjoy. Guest can take pleasure in buffet or a la carte cuisine at the indoor and open-air restaurant on the property to satiate their appetite before heading down to the beach for complimentary activities. Guest can also relax by the pool, visit the salon, or take a trip to the fitness center.
2. Island Inn Hotel
[SEE MAP]
The Island Inn Hotel is situated steps away from the beach at the beautiful Carlisle Bay facing the tranquil Caribbean Sea less than a mile from the center of Bridgetown. This fully renovated hotel was originally constructed in 1804 as a Rum Storage facility for the British Regiment, and now offers 24 charming guestrooms nestled in peaceful gardens of palm trees and tropical flowers.
1. Waves Beach Resort
[SEE MAP]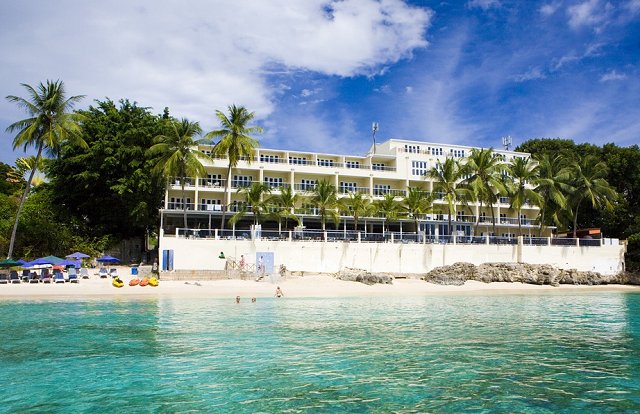 One of the best all-inclusive resorts in Barbados, Waves is an adults-only retreat with spacious accommodations that provides a relaxing vacation true to Barbadian style. Overlooking the serene Prospect Bay, guests at the Waves Beach Resort can unwind ocean side, poolside, or indulge their senses at the exclusive onsite spa. Three magnificent dining establishments and two lively bars promise to satiate all appetites and thirsts. Guests enjoy endless non-motorized sports equipment, while hosts of more intensive excursions are just minutes away.