Very much a mecca for scuba divers and snorkelers, the beautiful island of Bonaire is mostly known for all its colourful coral reefs and rich marine life. Surrounded by the sparkling Caribbean, its relaxed vibe and exciting adventure activities make it a fantastic place to visit.
Part of the ABC islands, the small, sunny Dutch isle lies only eighty kilometers off the northern coast of Venezuela. Protected as a marine park, its reef-lined coast has tons of top-class shore diving sites to check out. As sandy beaches are in rather short supply though, it sees fewer cruise ships stop by than much of the rest of the Antilles.
Besides snorkeling and scuba diving, Bonaire has both pristine mangroves and lovely flamingo-filled salt lagoons to explore. Other things to do in Bonaire include kayaking, windsurfing and birdwatching or lounge on one of the few swathes of sand bordering its twinkling turquoise waters. With dramatic desert landscapes and delicious Caribbean food also featuring, the idyllic isle really is a dream holiday destination.
In this post, we'll cover:
16. Fort Oranje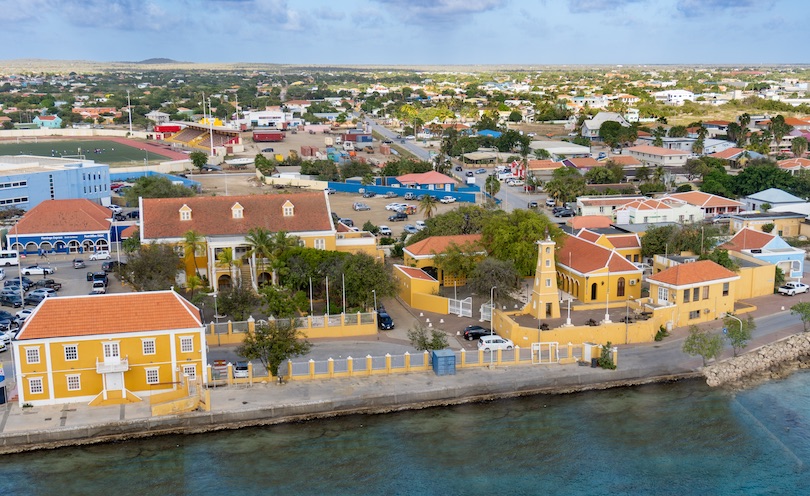 Actually the oldest structure on the entire island, Fort Oranje was originally constructed by the Dutch West India Company to protect and control their new possession. Located along the waterfront in its capital Kralendijk, its cute, colourful tower and walls are a nice quick photo stop.
Built back in 1639 to defend the city's main harbor, the small yellow fort was extensively remodeled in later centuries. Towering above everything is its ten meter-tall lighthouse while four cannons from when the British briefly ruled Bonaire line its walls.
Once the residence of the island's commander, it now instead acts as its courthouse and the harbor master's office. While there is not all that much to see here, the fort's yellow walls create some great photos beneath the blue skies overhead.
15. Pekelmeer Flamingo Sanctuary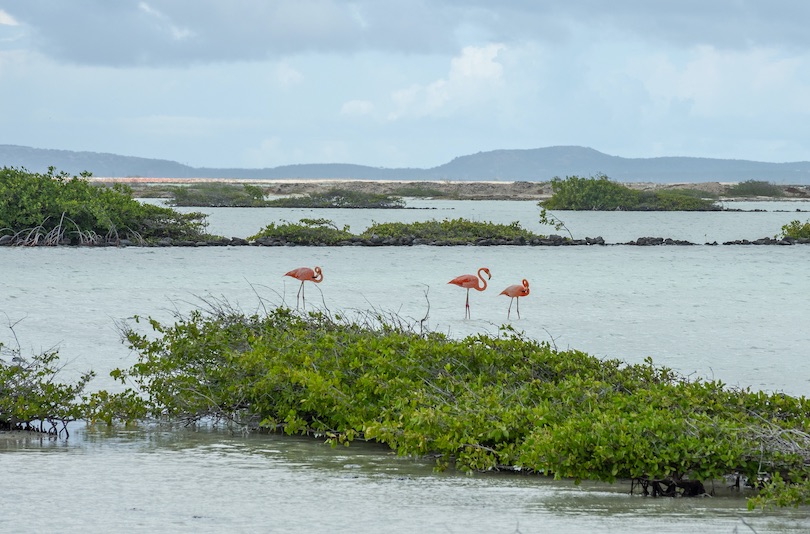 Even more colourful still are all the flocks of beautiful birds and sparkling saltwater flats found at the Pekelmeer Flamingo Sanctuary. Sprawling across the south of the isle, its untouched landscapes can be reached in just twenty minutes from the capital.
One of just four designated flamingo breeding grounds in the world, the sanctuary was established in the seventies to protect its important ecosystems. During the breeding season from January to July, over 6,000 of the brightly-colored birds migrate here from around the Caribbean.
Although salt is still extracted here, it is illegal to approach or disturb the flamboyance of flamingos. As such, it's best to bring binoculars so you can spy some wading about in the distance. Along with the attractive hues of its lagoons, their pretty pink shades make it quite a special spot to visit.
14. Te Amo Beach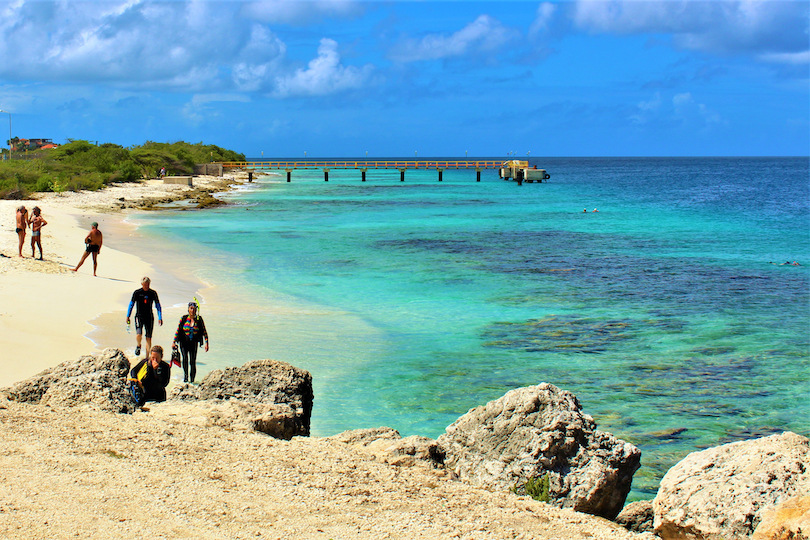 Located near the international airport is the brilliant Te Amo Beach. Very popular with locals and tourists alike, its fine white sands and turquoise waters are among the best in Bonaire.
Also bordering the entrance to the harbor, the beach offers incredible views of both cruise liners sailing by and planes passing overhead. Its calm, shallow waters are wonderful to snorkel in with a reef lying just offshore. Here you'll see vast shoals of fish flit about its otherwise rather dull corals.
Other than sunbathing, swimming and snorkeling, you can also try out its two food trucks. Kite City in particular is known for its fresh fish, wraps and burgers. Sunsets here are magical as all the waves are painted a mesmerizing mix of vivid colors.
13. Hilma Hooker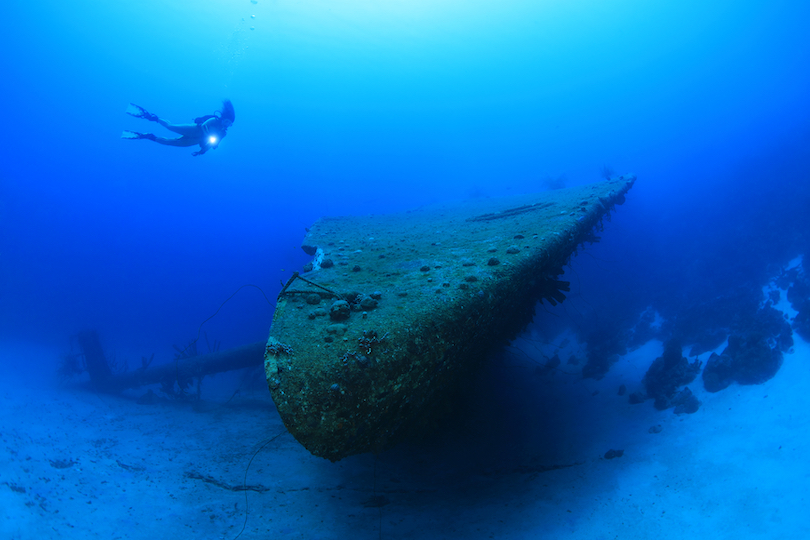 Just a short drive (or dive!) down the coast from the beach is the wreck of the Hilma Hooker – one of the island's top scuba sites. As it stretches over seventy meters in length, the rusting ship has lots to explore. Countless fish, crustaceans and corals now all also call it home.
Very easy to access, the great big boat lies thirty meters offshore, in between two reefs and the open ocean. Sunk in 1984 after having been discovered doing drug runs, she is now set on her side around the same distance below the surface.
Although you can't actually enter inside all that much of the wreck, its coral-crusted remains are still cool to see. Besides both nurse and reef sharks, barracudas, rays and sea turtles can sometimes be spotted at the dive site.
12. Slave Huts at Orange Pan
At the southernmost tip of the isle is an important collection of colourful buildings that shed some light on a sad part of Bonaire's past. Here amidst the inhospitable confines of the Orange Pan, slaves toiled beneath the scorching sun, harvesting salt from the surface.
Erected in 1850, the dozen or so tiny yellow huts were used for just over a decade before slavery was thankfully banned throughout the Antilles in 1863. Despite their small size, five or six poor enslaved people would pack in here each night to sleep.
Next to their very basic living quarters are a couple of tall prisms. These indicated to ships offshore where they should dock and load up the salt. Dotted about too are a few plaques that provide more information on their lives and the harsh conditions they endured.
11. Mangrove Kayaking
One of the most fun and memorable things to do in Bonaire is to kayak about all its amazing mangroves. Counting among the best-preserved in all the Caribbean, these tangled trees, shrubs and waterways are captivating to explore.
Lying at the northern end of the large Lac Bay are vast swathes of resplendent mangroves to paddle about. Part of the massive Bonaire National Marine Park, they hide away all kinds of exotic plant and fish species. These include not just conches and seahorses but rays, sea turtles and waterfowl too.
From the Mangrove Center, you can take tours about the enthralling ecosystem with an experienced guide. They'll point out various fishes and plants and explain more about how the mangroves act as a natural filtration system. If you fancy a swim, snorkels are also available for rent.
10. Bonaire Museum
Arjen van Dorsten / Wikipedia
For those interested in learning all about the island's history, nature and culture, the Bonaire Museum is an absolute must. Located just a short stroll from the center of Kralendijk, it has loads of artifacts, exhibits and archaeological findings for you to examine.
Originally built by a wealthy Venezuelan plantation owner, its bright orange townhouse dates to 1885. Exhibiting some fine traditional architecture, the museum contains not just corals and fossils but old tools used in town and Indian artifacts too. Well-done displays also cover various parts of its culture and the ecosystems found around Bonaire.
The small museum's enthusiastic owner is only too happy to explain more about everyday life on the island as well as the history of its politics and indigenous peoples. It also has a thrift store where you can pick up some souvenirs or handicrafts made by local artists.
9. Bachelor's Beach
Another of Bonaire's most stunning stretches of sand can be found just a bit further down the coast from both Te Amo and the international airport alongside it. At Bachelor's Beach, you can swim and snorkel or head a bit further out to the coral reef just offshore.
Backed by three meter-high stone cliffs, its thin sliver of soft sand is bordered by twinkling turquoise waters. Accessed via a small flight of stairs, the beach's calm, shallow crystal-clear waters are ideal for swimming and snorkeling about.
Due to its stupendous scenery and convenient location, Bachelor's rather narrow swathe of sand can get quite crowded at times. If you feel peckish at any point, the famous King Kong food truck by the beach serves up some of the best burgers around.
8. Washington Slagbaai National Park
Sure to delight nature lovers and outdoor enthusiasts alike, the scenic Washington Slagbaai National Park covers almost the entire north of the isle. Boasting a very diverse array of dramatic landscapes, it has tons of terrific hiking, snorkeling and shore diving to enjoy.
The first national park established in the Dutch Antilles, it encompasses everything from vast forests and volcanic peaks to hidden beaches, bays and blowholes. A haven for wildlife, its salt marshes are home to colourful flocks of flamingos and other waterfowl. Deer, lizards and iguanas also inhabit the rest of its wild reaches.
As you hike about the park, you'll come across some spectacular coastal scenery with its black cliffs and rock formations often pulverized by big waves. At calmer spots, you can swim, snorkel and dive or sit along the shore taking in the fantastic views.
7. 1000 Steps
Back along the Queen's Highway heading into town is the utterly idyllic 1000 Steps along the island's west coast. Surrounded by towering limestone cliffs, all its corals, fish, turtles and sponges make it a popular dive and snorkel spot.
As with Bachelor's Beach, only a thin strip of sand and bleached bits of coral are found at the foot of its cliffs. Although its name may sound daunting, in actual fact only 67 steps tumble their way down to the cove. They certainly feel like more though when you have to carry your dive gear up and down!
While some of its shore is quite rocky, other sandy parts allow you to easily slip into its unbelievably blue waters. Teeming with fish, its corals house pretty parrotfish and sea turtles alongside countless other species. The epic views from atop the beach's '1000' steps also make it well worth visiting.
6. Gotomeer
If you haven't yet had your fill of flamingos, then the gigantic Gotomeer is another great place to see them. Set just before the entrance of the national park in the north of the isle, its peaceful views and picturesque scenery lie just half-an-hour's drive from Kralendijk.
Hemmed in on all sides by rolling green hills and great big prickly cacti, the massive saltwater lagoon has some lovely viewpoints overlooking it. From up high, visitors can spy hundreds of bright pink birds, wading about its waters. It is again a good idea to take either binoculars or cameras with long lenses due to the distances involved.
Part of the road also runs its way right beside the lake so you can always park along the route if you want to stay a bit longer. Even if you don't get to see a flamingo or two from up close, the landscapes on show more than make up for it.
5. Donkey Sanctuary
A firm favorite with families, couples and, well, everyone who visits it really, the Donkey Sanctuary is one of Bonaire's best-loved attractions. Since 1993, its owners and staff have cared for injured, sick and abandoned donkeys, with over 700 now residing here.
In the seventeenth century, the Spaniards first brought donkeys to the island to use as hard labor. With industrialization and the invention of more modern equipment, however, they were turned loose and left to fend for themselves. Not all that well-equipped for island life, they sadly suffered a lot until the sanctuary was thankfully founded.
Nowadays, hundreds of the adorable creatures live happy lives at its sprawling site just south of the capital. As you slowly cruise around, curious muzzles poke through your windows hoping for either snacks or strokes! Loads of fun to visit, the sanctuary also contains an observation tower where you can peer down at huge herds of them from above.
4. Lac Bay
Offering all kinds of exciting outdoor activities and incredible nature viewing opportunities is the enormous Lac Bay. Despite lying just fifteen minutes drive southeast of Kralendijk, its pristine sands and sparkling waters feel a world away from the capital's streets and cruise liner terminals.
Protected as part of the Bonaire National Marine Park, the shallow bay is bordered by some amazing beaches and mangroves. An important resting and nesting area for marine birds, its countless corals and seagrasses also act as a nursery for reef fish and sea turtles.
Aside from paddling about its mangroves, you can hike or horseback ride along its shores and windsurf and snorkel about its glimmering waters. If you somehow tire of its wonderful white sands, then the fittingly-named Foodies serves some top-class dishes and cocktails. Its lovely location and views aren't half bad either!
3. Explore Kralendijk
The main hub of life on the isle, the colourful, quiet Kralendijk is both Bonaire's capital and its largest 'city'. Despite its small size, the laidback town contains plenty of excellent restaurants and hotels. As it acts as a gateway to the rest of the island's natural riches, tons of scuba dive shops and adventure activity companies are also based here.
Only established around the beginning of the nineteenth century, it has a relaxed village-like feel with most of life in town concentrated around its seafront and main shopping street. While Wilhelminaplein looks out over the glorious Caribbean Sea, Kaya Grandi is lined by lots of rainbow-colored buildings. These are home to umpteen shops, restaurants and ice cream parlors with many flamingo-themed murals also featuring.
Other than strolling about taking in the ambience, there are a couple of historic sites like the small fort and museum to check out. You can also watch sleek boats and cruise ships pull in and out of the port and marinas. From Kralendijk, Bonaire's breathtaking beaches, scuba sites and nature spots are easily visited as part of memorable day trips.
2. Klein Bonaire
Just offshore of the capital is the alluring island of Klein Bonaire. Renowned for its sandy beaches and snorkeling reefs, its idyllic, uninhabited reaches lie only a short water taxi ride away.
Also part of Bonaire National Marine Park, 'Little Bonaire' is extremely flat with white sands and clear, turquoise waters lining its shores. Due to its stunning scenery and teeming marine life, many people come to relax on the beach or scuba and snorkel above its shimmering shoals of fish. Here you can see everything from cool corals and sponges to eagle rays, eels and angelfish.
Before heading to the island, make sure to stock up on any snacks and drinks you may want as there really is nothing there once you arrive. Already a must for its phenomenal snorkeling, it also boasts Bonaire's most spectacular swathe of sand – the picture-perfect No Man's Beach.
1. Go Diving & Snorkeling
As Bonaire is famous for being the 'shore diving capital of the world', you really can't visit and not go scuba diving or snorkeling at some point. With lush coral reefs lying all along its western coast, you can literally just wade out into the water and already find swarms of fish around you!
Thanks to a smart government decision in the sixties to protect its reefs, they are in remarkably good condition with divers from all around the world flocking to its shores. Flitting about are thousands of brightly-colored fish with sea turtles, nurse sharks and stingrays all spotted here and there.
Due to their easy access, many of its dive sites are perfect for beginners. Experienced pros will also enjoy its incredibly rich underwater life though with sites like the Salt Pier and Hilma Hooker counting among the most popular. With so many dive shops dotted about, Bonaire is one of the best places to start your new life as an avid snorkeler or scuba diver!
Best Time to Visit Bonaire
A great year-round destination, Bonaire is blessed with a warm tropical marine climate with very little variation in terms of its seasons. Safely outside of the hurricane belt, it welcomes the most visitors between October and April, come to scuba dive and explore its salt pans.
Although October to January is the rainiest period, the island still sees very little rain. Warm temperatures of 29 to 32°C (84 to 89°F) and cold winters in Europe or the US convince many to visit. While prices are high and its countless dive sites get quite crowded, there is a lovely, lively feel everywhere.
Aside from Christmas and New Year's, big events include its Maskarada performances and Karnaval celebrations. Rincon Day is also a huge affair with the number of tourists dropping after it and Easter.
As with September, May and June are quieter, cheaper and less crowded, despite the Taste of Bonaire Festival and Bonaire Flag Day being held. Besides picking up some brilliant deals, you can enjoy kitesurfing and windsurfing as these are the windiest months.
July and August are again peak season, as scuba divers from all around the world head here for perfect dive conditions. Although very hot, its trade winds help cool things down a bit.
Map of Things to do in Bonaire
© OpenStreetMap © MapTiler © Touropia