Anguilla floats under the radar for most people planning a trip to the Caribbean. That's a shame, because this beautiful island has some of the best beaches anywhere. It's also a bit more laid back than some of its neighbors, which means that this is a fantastic place to relax and get away from it all. Though the island-nation is a non-mass-market, low key tourist destination there are a few truly superior all-inclusive resorts in Anguilla. The all-inclusive experience is ideal for guests who want little hassle and want to maximize their vacation experience.
3. Ku Hotel Anguilla
[SEE MAP]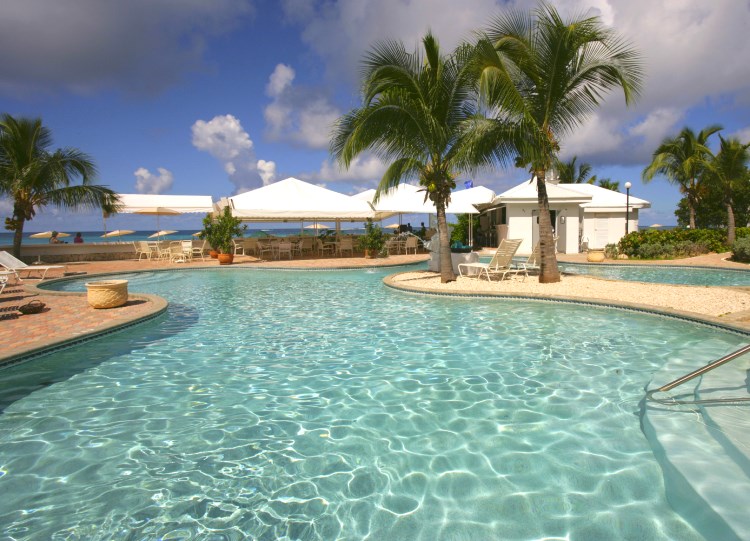 This may be the perfect resort for the traveler who is addicted to water sports. Found on Shoal Bay East, the Ku Hotel features impressive snorkeling and scuba opportunities. Gracious rooms have all the modern amenities. Air conditioning keeps things cool and comfortable, and many rooms have a kitchenette, which makes it possible to prepare a meal after a visit to the local marketplace though this hotel also offers all-inclusive plans. The bright blue and white décor is ideal given the tropical setting. There's a genuinely relaxed feel to all of the rooms.
One of the main reasons to choose this property is the service. Members of the cleaning staff keep everything in shipshape order. The property's restaurant is convenient and provides hearty meals that satisfy a range of palates. There's also a bar that draws not only resort guests, but also visitors from other properties. Guests can book relaxing treatments at the spa, enjoy the freshwater pool or indulge in retail therapy at the shops.
Update: Apparently, this hotel has been closed.
This breathtakingly beautiful property is found on Anguilla's southwest coast. It is situated on its own peninsula, much of which consists of white sand beaches on Maundays Bay. Each room features an unrivaled ocean view, and most are just steps away from the beach. Guests are accommodated by the sea with hammocks or custom crafted chaise lounges. A variety of exercise classes are offered on the beach. It's an unforgettable locale for yoga or Pilates.
The rooms, suites and villas are each more spectacular than the last. An architectural style described as Greco-Moorish is stylish and modern while also offering a timeless feeling. Cap Juluca is enhanced by the presence of three ocean view restaurants offering diverse dining with international flair. Guests stay fit in the state-of-the-art fitness facilities and enjoy a sparkling pool. The tennis clinics are complimentary, as is use of the basketball and volleyball courts. Children love the programs that are designed specifically for their entertainment, while adults enjoy access to two exclusive boutiques on site.
1. Anguilla Great House Beach Resort
[SEE MAP]
Found right on gorgeous Rendezvous Bay, the Anguilla Great House might just have the ideal location for an Anguilla all-inclusive resort. The relaxed, cozy rooms feature bright colors that are suited to the resort's playful, laid-back atmosphere. Generous square footage makes the rooms feel expansive, but with the ocean outside few guests spend a great deal of time outdoors. In fact, being able to walk out of a room and straight onto the beach is one of the main incentives to choose this resort.
Guests who don't feel like splashing in the waves will enjoy the property's freshwater pool. The restaurant at the resort, called The Olde Caribe, is a favorite among guests and residents. It serves delectable meals and some of the best cocktails on the island. A nearby gym helps to keep health conscious guests in shape during their stay, and the resort can arrange for personal training. This is one Anguilla resort that feels like an authentic, old Caribbean property. It's not stuffy, and it doesn't pretend to be what it's not. For a relaxed haven on the beach, this might be optimal choice.