Jamaica, an island nation in the Caribbean, is characterized by emerald mountains, lush rainforests, extraordinary coral reefs, powder-soft beaches, and a brilliant blue sea. Known as the birthplace of reggae, it's bursting with personality, Caribbean rum, and African charm. What more could one want from a beach vacation?
There are so many incredible highlights on this diverse and character-filled island, we couldn't mention only one. Here's a look the best places to visit in Jamaica:
10. Falmouth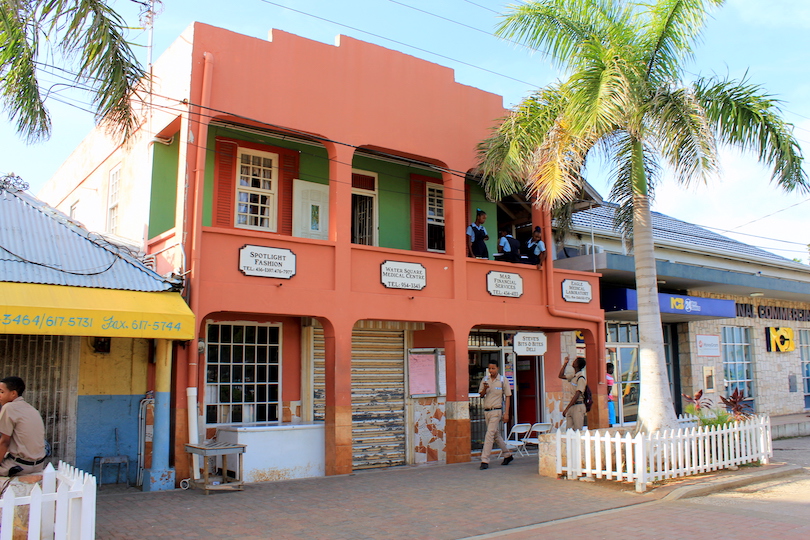 One of the best-preserved Georgian towns in the Caribbean, Falmouth is a popular cruise port along the island's northern shore. Established in 1769 as a sugarcane farming town, Falmouth was named after the birthplace of Trelawny, the then governor of Jamaica.
Today, Falmouth is filled with coconut and sugar plantations, lush forests, waterfalls, and 19th-century architecture. Because of its central location, Falmouth was one of the main slave trade hubs during the late 18th and 19th centuries, the history of which can be discovered on a Heritage Walk.
Visit the Albert George Market, the Baptist Manse (the first mason temple built in Jamaica), and the refurbished courthouse. The Great Hall estates are worth exploring, particularly Greenwood Great House and the Good Hope Great House, where you can zip-line or tube along the Martha Brae River. Other attractions include the open-air markets with no shortage of handmade arts and crafts, and the Luminous Lagoon, home to incredible phosphorescent marine life.
9. Port Antonio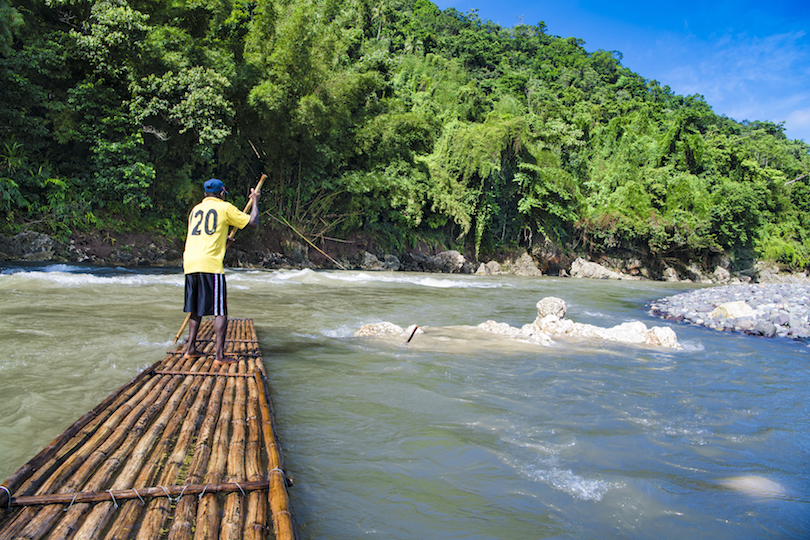 A scenic fishing village with two ports on the north-eastern coast of Jamaica, Port Antonio was once the lively 'Banana Capital of the World.' Today, it's a much more relaxed holiday haven, which is all part of its charm.
The village itself is an intriguing mix of colorful markets, Georgian and Victorian architecture, and chilled cafes perfect for people-watching. But it's the incredible nature that's the real appeal here. Think sensational jungles, crystal-clear waterfalls, turquoise lagoons, beautiful beaches, and epic hiking trails.
There are plenty of opportunities to relax, but Port Antonio encourages a little activity. Go bamboo rafting down the Rio Grande, swing into the aquamarine lagoons at Frenchman's Cove, go surfing at Boston Beach, and hang out at the Blue Lagoon – a freshwater spring where the movie of the same name was filmed.
There's history to be found in this sleepy village too. Built in the 1700s by the English (then known as Titchfield), it became popular in 1946 when actor Errol Flynn was washed ashore by a hurricane – still a major talking point today. Check out Fort George, DeMontevin Lodge, Navy Island just offshore, and the ruins of Folly Mansion.
8. Nine Mile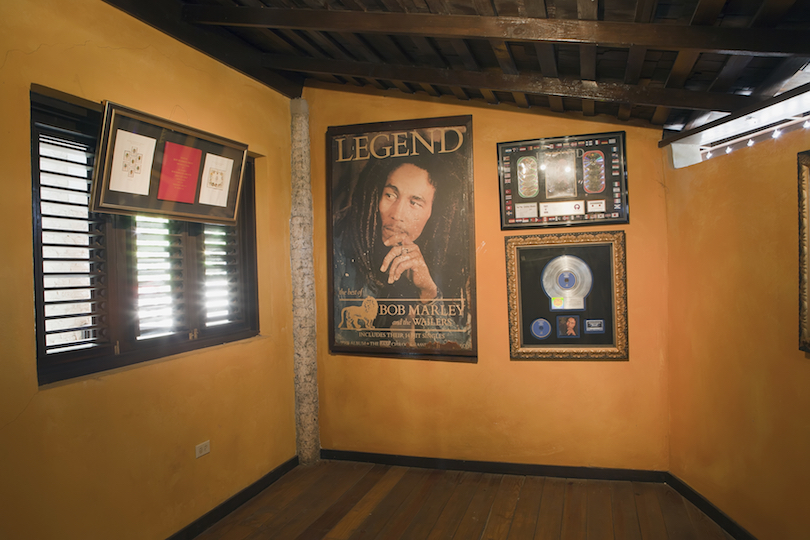 © Cisek / Dreamstime
Nine Mile is a little village and tight-knit community in the Saint Ann Parish, just a few miles south of Brown's Town. There's little that's distinctive about the town, except for one major claim to fame: Bob Marley, the famous Jamaican reggae artist, was born and buried here.
The rural village of Nine Mile played a huge role in Marley's music career, influencing many of his songs. One of the most noteworthy attractions in Nine Mile is the home Marley grew up in, which features all the original furnishings. The Bob Marley Mausoleum – which is managed by members of his family – is one of two on the property, the other belonging to his mother, Cedella Booker, also lovingly known as 'Mamma Marley.'
Visiting Nine Mile is the perfect pilgrimage for Bob Marley fans. A trip to his final resting place includes a tour of the property by Rastafarian guides. You'll see a host of memorabilia, including guitars, awards, and photographs. Keep an eye out for the Rasta-coloured 'rock pillow' that Marley used while seeking inspiration for his music!
7. Treasure Beach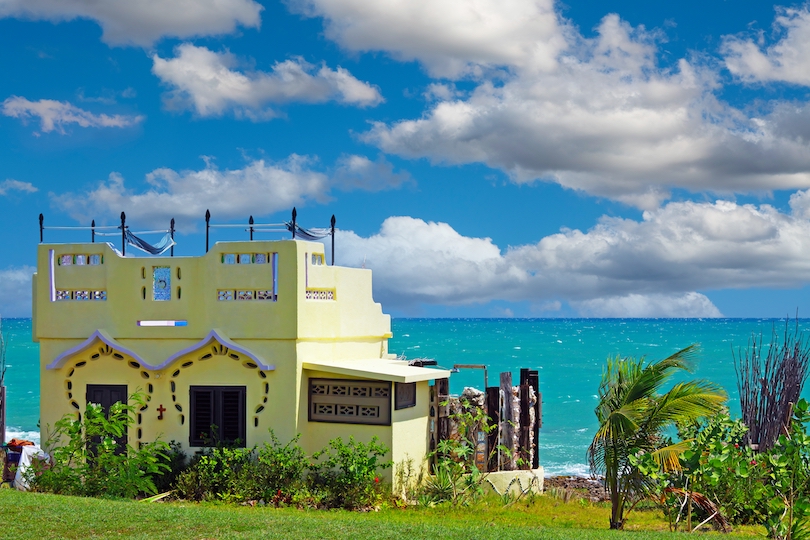 Treasure Beach stretches six glorious golden miles across four idyllic fishing villages along the south coast – Billy's Bay, Frenchman's Bay, Calabash Bay, and Great Bay – where reggae music, relaxation, and rum cocktails are the order of the day.
After the opening of Jakes Hotel put it on the map over 25 years ago, Treasure Beach offers precisely what its name suggests: the perfect get-away-from-it-all retreat. Despite its new-found popularity, it's held onto its unassuming charm – you won't find any of the tourist traps or crowded beaches of the north coast here.
Instead, it's popular for sporting enthusiasts, with tennis, cricket, football, and watersports to enjoy. For those who'd prefer to soak up the slow life, there are plenty of coral-colored beaches to relax on. Spend your days swimming, snorkeling, body-surfing, or dolphin spotting, zip-lining, hiking, and biking. Don't miss a Black River safari cruise and a visit to boat-in Floyd's Pelican Bar, dubbed 'the coolest bar in the world.'
6. Kingston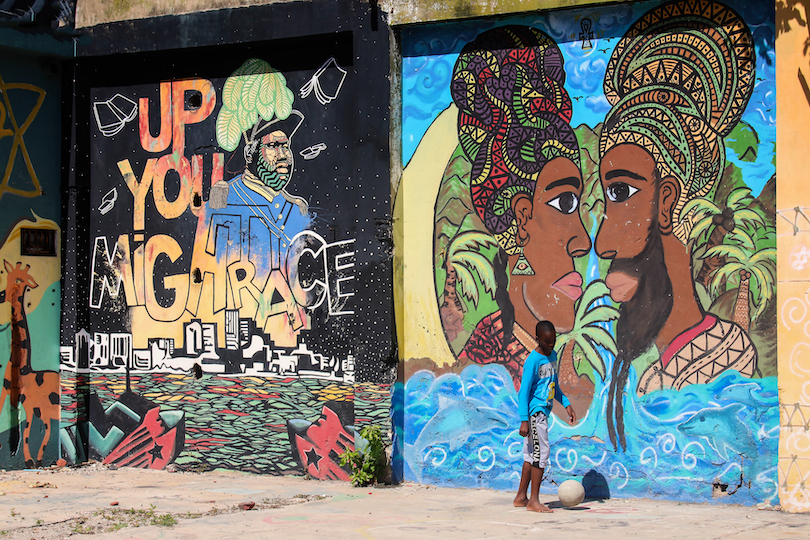 Located along the south-eastern coastline, the capital is the largest city on the island and home to over half the country's population. Dating back to 1692, Kingston was created after Port Royal at the harbor-mouth was destroyed by an earthquake.
Discover the capital's history with a guided tour of Fort Charles. Visit colonial-era Devon House – one of Kingston's most famous heritage sites – explore the Bob Marley Museum, and visit the National Gallery of Jamaica, the oldest public art gallery in the English-speaking Caribbean.
Embrace the outdoors with a picnic in Hollywell National Park, a visit to Hope Botanical Garden, or a stroll along the harborfront. Practice your bargaining skills at Coronation Market – one of Jamaica's largest farmer's markets – go salsa dancing, and head to Dub Club for a Sunday reggae party.
If you're looking to soak up the sunshine of this Caribbean town, paddle out to Lime Cay, an island paradise off the mainland. Learn to surf, soak in the therapeutic Rockfort Mineral Baths, or simply sip rum cocktails – Jamaica, is, after all, the rum capital of the world!
5. Blue Mountains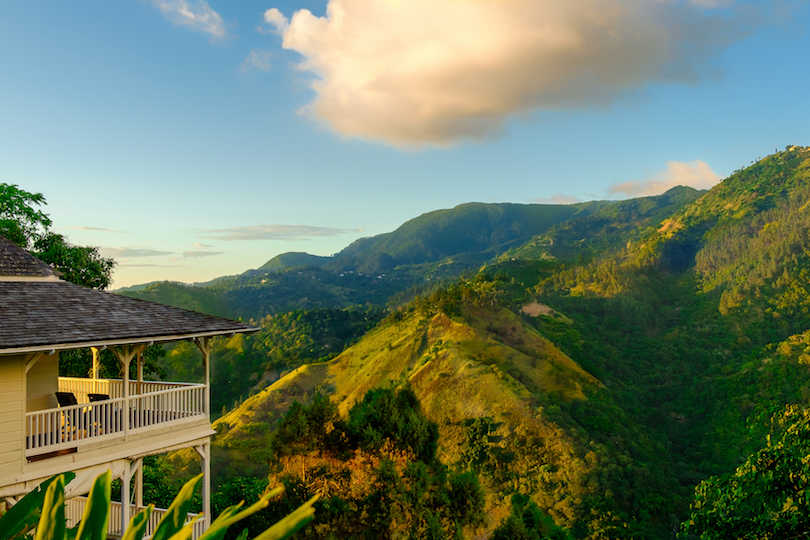 © Ericlaudonien / Dreamstime
Perfect for adventure lovers, the Blue Mountains is an enchanting region scattered with hiking and biking trails, picturesque waterfalls, and coffee plantations. Named after the blueish fog that settles around its peaks, the 45-kilometer-long mountain range is the longest in Jamaica, and one of the longest in the Caribbean. The highest peak – the goal for the most adventurous – offers a view as far as Cuba on a good day.
Dirt tracks snake their way up the mountain slopes and are accessible by foot, bike, and four-wheel-drive vehicles. On your way up, you'll pass a series of authentic mountain villages and farmlands, as well as over 500 different species of flowering plants and trees.
As the Blue Mountains were a refuge for the Taino slaves and Maroons who escaped Spanish captivity back in the 1600s and built their homes in the mountains, there are many rural communities you can visit today. Other activities include bird watching and coffee tours – the famous Jamaican Blue Mountain Coffee is incredible!
4. Ocho Rios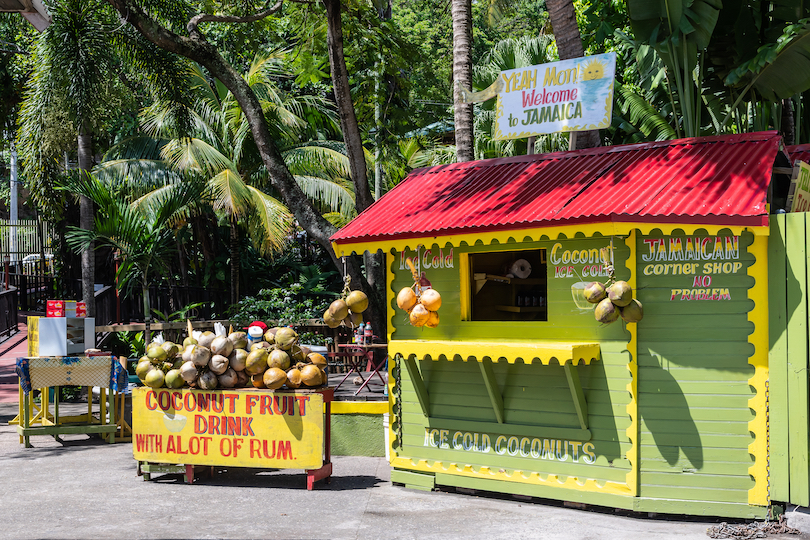 Ochos Rios is a popular resort on the northern coast. Once a sleepy fishing village with a succession of English, Spanish, and pirate inhabitants, it's now a bustling cruise port flanked by high-end hotels and rainforest-clad mountains. It's one of the more glamorous resorts, and while it's all a-bustle with reggae parties, bars, and craft markets, it's still a quieter alternative to Montego Bay.
The focus in Ochos Rios is less on beaches and more on nature. Known as the 'Garden Parish,' it features lush tropical plants, meandering rivers, and cascading waterfalls, including Jamaica's most famous natural attraction – Dunn's River Falls (more on that later). Visitors can look forward to zip-lining through the rainforest, river rafting and tubing on the White or Black rivers, dolphin encounters at Dolphin Cove, and horseback rides on the beach.
Take advantage of fantastic duty-free shopping, party the night away at Margaritaville – the town's premier entertainment district – and discover the filming locations of two Bond films – Dr. No (1962) and Live and Let Die (1973). In fact, you can stay at Goldeneye, the former home of James Bond writer Ian Fleming – perfect for die-hard Bond fans!
3. Montego Bay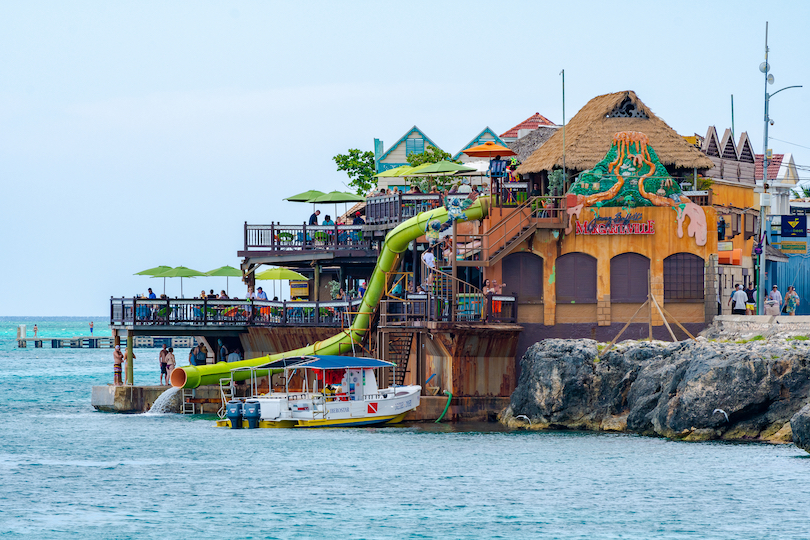 If it's a beach vacation you're after, you're in luck. Montego Bay has some of the island's best beaches, but also the most touristy. Apart from being a major cruise port, it's a playground for the rich and famous, with luxurious resorts, undulating golf courses, and glorious white sand beaches.
Montego Bay rose in popularity in the 1920s when an English osteopath declared the water here had healing powers. The barrage of tourists transformed what was once a quiet village into Jamaica's best-known tourist destination.
Today, sun-seekers will adore Doctor's Cave Beach – one of Jamaica's best beaches – and Walter Fletcher Beach which, with its amusement park, is a family favorite. The best snorkeling and diving can be found amongst the protected coral reefs of Montego Bay Marine Park. Other activities include swimming with horses, exploring the Green Grotto Caves (where Bond's Live and Let Die was filmed), river rafting, and golfing at Cinnamon Hill Golf Club, a former sugar plantation with epic views.
Don't miss a tour of Rose Hall Great House, a Jamaican Georgian-style mansion with an interesting history. Visiting Croydon in the Mountains, a working coffee, pineapple, plantain, honey, and citrus plantation, is a must!
2. Dunn's River Falls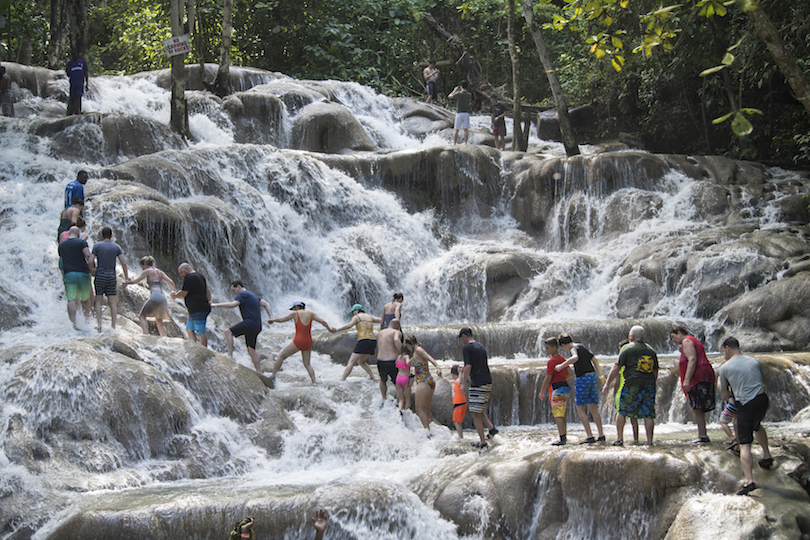 © Hel080808 / Dreamstime
Dunn's River Falls is one of Jamaica's top tourist attractions. It's so beautiful, you'll soon see why millions of tourists hike 90 minutes to see it every year. At 180 feet high and 600 feet long, the terraced waterfalls are as Instagram-worthy as you're going to get!
While there are many waterfalls on the island, Dunn's River Falls is the most iconic. Located in Ochos Rios, the falls cascade into the sea at Little Dunn's River Beach, making it one of the only travertine waterfalls on Earth. Plus, they're one of the only waterfalls you can climb into for a swim in the rock pools.
Many tours offer guided hikes to the falls or catamaran cruises from Ochos Rios or Montego Bay. If you're visiting on your own, pack a picnic to enjoy at the base of the waterfall. Don't forget to wear water shoes and a swimsuit – you're going to get wet! Visit in the early morning or late afternoon to avoid the cruise ship crowds.
1. Negril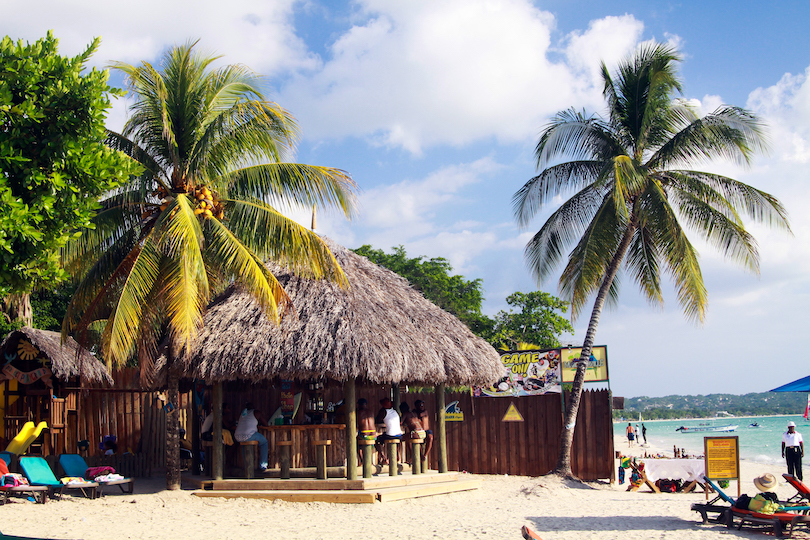 Welcome to Negril, Jamaica's most picturesque stretch of white sand, dramatic clifftops, and turquoise sea. Dubbed one of the Caribbean's best beaches, Negril stretches from Bloody Bay to Long Bay in western Jamaica. Dotted with coconut palms and high-end resorts, Negril is the ultimate destination for water lovers.
In fact, you could try a new watersport every day of your stay – diving, parasailing, paddleboarding, and cliff jumping off the famous Negril Cliffs. Seven Mile Beach, albeit only four miles long, offers a seemingly endless beachfront paradise. Don't miss snorkeling around the coral reefs of Long Bay, a visit to Ys and Mayfield Falls, and a soak in the Blue Hole Mineral Springs! Kids will love Kool Runnings Adventure Park, the largest water park in Jamaica.
If all that isn't enough to tempt you to Negril, there are sunset catamaran cruises, gorgeous golf courses, a nature reserve, and excellent nightlife. Sip unlimited drinks at Tiki Pon Da Sea, Negril's new floating tiki bar, have a cocktail while watching the cliff jumpers at Rick's Café, and enjoy a reggae pub crawl on-board the One Love Bus.
Map of the best places to visit in Jamaica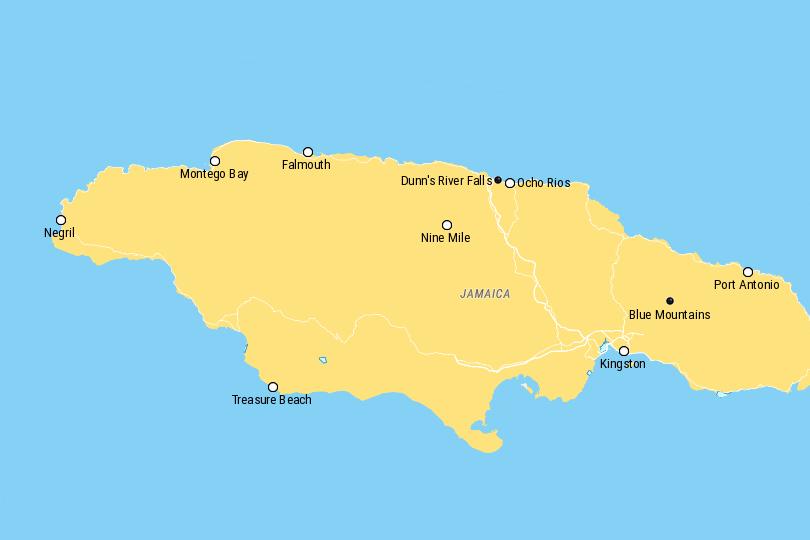 © OpenStreetMap © MapTiler © Touropia