Affectionately known as the 'Land of Smiles', Thailand is arguably Southeast Asia's premier travel destination.
Steeped in tradition and history, you will find all the modern conveniences and technology you need. But also plenty of roads less traveled and bucket list experiences too.
With pristine beaches dominating its south and verdant mountain villages characterizing its north, the country is a gift that keeps giving.
Its capital city, Bangkok, and bustling Chiang Mai are vibrant centers with plenty of attractions. But to really experience Thailand, you need to venture into remote areas where you can scuba dive world-class reefs. Or enjoy some quality time with elephants.
Thailand is full of incredible natural beauty, mystery and once-in-a-lifetime adventures. If you are planning a holiday to this wonderful country and looking for some fun things to do, here are our recommendations for the top tourist attractions in Thailand.
26. Erawan Falls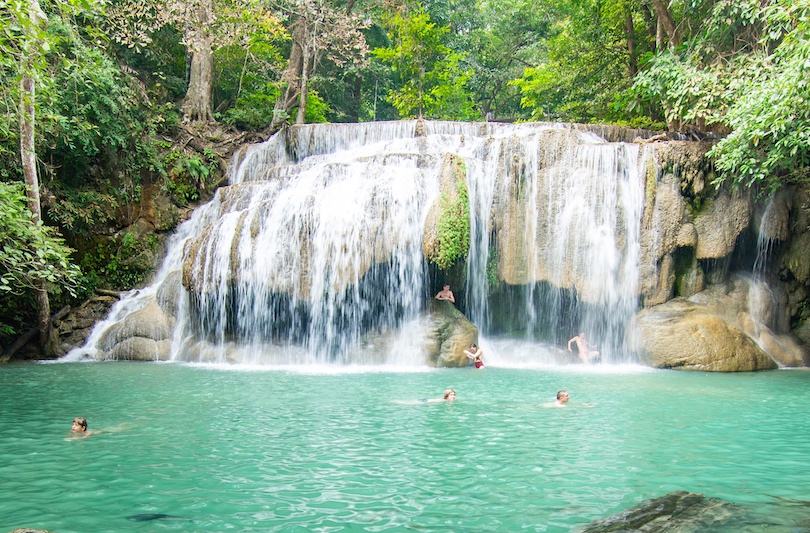 Thailand has its fair share of exceptional waterfalls. But few can compare with the one at Erawan National Park. Just a short trip from Kanchanaburi, the Erawan Falls are the major attraction of the Erawan National Park in Western Thailand.
Sprawled across seven tiers, Erawan Falls is a mesmerizing site. The falls are named after the iconic white elephant that accompanies Indra, the Hindu god, on her travels. This is because the tiers loosely resemble the shape of an elephant's head.
Each tier has its own name. If you want to get right to the top of them, it is worth noting they become increasingly harder to reach the more you ascend. At the fifth tier, you will need to navigate bosky vegetation and slippery ladders to proceed.
That said, most people tend to stick to the first three. These are defined by green pools which you can swim in, cascading waters and a small cave.
25. Ao Nang
Want to explore the remote beaches of Koh Poda, Railay and the island of Koh Phi Phi? Then you will have to head over to Ao Nang in southern Thailand.
Providing easy access to the various islands around Krabi, many travelers use its pier as a departure point. However, Ao Nang is worthy of being classed as a tourist destination in its own right. So it is worth spending some time there.
The bustling port is as good a place as any to start, and no shortage of longtail boats can take you out to the water. If you prefer to relax on its excellent beach, you can do that instead. There are also plenty of shops, bars, restaurants and street food vendors to check out.
24. Floating Markets near Bangkok
To get an idea of what shopping in Bangkok used to be like before all the canals were filled in, many people visiting the capital take a day trip to one of the floating markets outside the city.
Though today floating markets typically function as tourist attractions and community meeting places rather than vital aspects of local farming economies, they still remain vibrant places brimming with scrumptious food.
The most popular floating market for foreign tourists is Damnoen Saduak while most Thai favor the Amphawa Floating Market.
23. Hua Hin Beach
There are no beaches in Bangkok. So when locals want some time on the sand, they head to the powder-white paradise of Hua Hin.
This vibrant seaside destination resides about 124 miles from Thailand's capital. Its beach is massive and runs down from Khao Takiab in the south up to Klai Kangwon Palace.
Offset beautifully by the Gulf of Thailand, its stunning turquoise waters are perfect for swimming and water sports. There are also plenty of excellent resorts, restaurants, shops and bars to visit away from the sand.
As the beach is one of Thailand's premier tourist attractions, you can expect it to be busy. However, if you head there during the shoulder season, the chances are it will be much quieter.
22. Prasat Hin Phimai
While many visitors to Thailand head to Ayutthaya and Sukhothai, Prasat Hin Phimai often gets overlooked. But it is worth visiting it if you are in the Nai Mueang area.
The site was home to one of Thailand's largest and most sacred Hindu Khmer temples. It was once connected to Angkor in Cambodia, which could be reached by the ancient Khmer roadway.
Dating back to the 11th or 12th century, much of its incredible, ornate architecture matches that of Angkor Wat. Its central prang features clear inscriptions dedicated to Buddha.
Overall, the site is in good condition compared to similar ancient temples and historical sites in Thailand. You can choose to tour it independently or hire a local guide.
21. Khao Yai National Park
One thing you will notice in Thailand is that the locals worship elephants.
Throughout the country, you will find paintings and statues of them everywhere, including at most temples and royal residences.
However, nothing beats being able to experience them in their natural home. Which is why visiting Khao Yai National Park is one of the best things to do in Thailand.
Situated about three hours northeast of Bangkok, you can see elephants frolicking near rivers. In addition, plenty of monkeys and birds of prey reside at the park as well.
Animals aside, the park is also noted for its waterfalls. They include Haew Narok, which plunges 150 metres and Haew Suwat, which was made famous by the film The Beach, starring Leonardo DiCaprio.
20. Mu Ko Ang Thong
Nestled within the Gulf of Thailand, The Ang Thong National Marine Park is a spectacular archipelago of 42 islands.
Ang Thong, which means "Bowl of Gold,", is renowned for its gorgeous white beaches, dense jungle and soaring limestone mountains. Within it, several waterfalls, lakes and hidden coves yield idyllic places to spend an afternoon. These provide visitors with excellent opportunities to go hiking, sea kayaking, diving, swimming and snorkeling.
Many tourists visit the marine park on a day trip or via boat charter. Most typically from the nearby islands of Koh Phangan or Koh Samui.
However, for those visitors who want to stay overnight, camping, bungalow and food options are available at Mu Ko Ang Thong.
19. Sukhothai Historical Park
If you are into history, or for that matter, photography, you should pencil in a trip to Sukhothai Historical Park.
Located in the Mueang Sukhothai District, this park is a UNESCO World Heritage Site that features the remains of ancient Sukhothai. It includes royal palaces, walls, city gates, Buddhist temples, moats and even a water dyke.
The site served as the capital of the Sukhothai kingdom from around the 14th century. It is now one of the country's most historically significant structures.
One of the main features of the site is its various wats. Arguably the most impressive is Wat Mahathat.
A stunning temple that enshrines a massive Buddha, it dates back to the 13th century. Surrounding it are impressive stuccoed sculptures, stupas and depictions of Buddha.
18. Koh Nang Yuan
Ko Nang Yuan is a tiny island very close to Ko Tao. It is a popular day trip from Ko Tao, so it's beautiful beaches can be crowded at times. It comprises a trio of islets joined together by idyllic sandy beaches.
Due to its clear waters snorkeling and scuba diving are popular things to do here. Coral reefs and several caves reside in abundance just offshore. But if you prefer to sunbathe, you can readily do so on its immaculate white sand.
The beaches are at their best at sunrise or sunset. To visit the island, you will have to pay a maintenance fee of 100 baht for tourists – which goes towards ensuring the area is kept pristine.
17. Bangkok Rooftop Bars
Bangkok boasts some of the classiest rooftop bars in the whole world. Offering incredible views and a fabulous selection of innovative cocktails, they rank among the city's most popular evening attractions.
Unfortunately, they are not cheap experiences. But the chance to sip on fine champagne as the sun sets over Bangkok or a Grey Goose L'Aristocrate, while millions of city lights twinkle before you, should not be missed.
The Octave Rooftop Bar at the Marriott Hotel Sukhumvit, the Three Sixty at the Millennium Hilton Bangkok and CRU Rooftop Champagne Bar above Centara Grand at CentralWorld, are some excellent venues to frequent.
Wherever you decide to visit, they should open until at least 1 am. But expect there to be a dress code.
16. Wat Arun
Thailand has many temples for tourists to visit. But few can match the Wat Arun for its sheer wow factor.
Nestled on the Thonburi west bank of the Chao Phraya River in Bangkok, the impressive Buddhist temple dates back to the 19th century. It is named after Aruna, the Hindu god Aruna and is known as the Temple of Dawn.
Ironically, the best time to visit this religious site is at sunrise or sunset. The vibrant hues of the rising or ascending sun give the temple an ethereal quality. It also provides visitors with marvellous photography opportunities.
The temple features a striking 104-metre Khmer-style tower decorated with porcelain. It also incorporates four smaller towers, a giant Buddha statue and a bell tower.
15. Chiang Mai Night Bazaar
The famous Night Bazaar in Chiang Mai sprawls along several city blocks along footpaths, inside buildings and temple grounds. It has handicrafts, arts, clothing and and imported products of all descriptions, and a number of large, well-appointed modern shopping centers.
At first, the market was owned by Chinese merchants, but since it grew in size as more commercial buildings were built, it was no longer owned by a single group of people. Instead, there are many owners, and most of them are Thai.
Today, visiting the night bazaar is one of the most popular things to do in Chiang Mai in the evening.
14. Ko Lipe
Located within the Tarutao National Marine Park and just 35 km from the Malaysian border, Ko Lipe should be on every visitor's travel list.
The country's southernmost island, Ko Lipe, is affectionately known as the 'Maldives of Thailand' due to its pristine white-sand beaches. It is also an area rich in lush palm trees and turquoise water.
Pattaya Beach and Sunrise Beach are two of its most popular tourist destinations. The latter is best to visit at daybreak.
Both provide excellent opportunities for kayaking, snorkelling, swimming and sunbathing throughout the day. They also have plenty of bars, restaurants, cafes and shops you can visit.
Those wanting to venture further into a field can book a tour of the surrounding islands.
13. Chatuchak Weekend Market
If you love to 'shop till you drop', then you should make a point of visiting The Chatuchak Weekend Market.
Launched in 1942, Chatuchak is comfortably Thailand's largest market. It features over 15,000 stalls and 11,500 vendors and is so big it is divided into 27 different sections.
Often referred to as JJ Market, it sprawls across the Kamphaeng Phet 2 Road in Chatuchak. On any given weekend, some 200,000 shoppers come here hoping to find a bargain.
While prices can be dearer than at other markets (depending on your bartering skills!), you can buy pretty much anything you want here.
Even if you don't want to go shopping for merchandise, it is worth coming just for the diverse food options available.
12. Khao Sok National Park
For those who enjoy reconnecting with nature, Khao Sok National Park is a terrific place to visit.
Situated in southern Thailand, it comprises several different ecosystems. They include the world's oldest evergreen rainforest. It also incorporates a spectacular limestone mountain range replete with tower-like karst formations.
Throughout the park, several miles of trails lead you through a bosky virgin jungle that houses mysterious caves. There is also a river and man-made lake that you can explore on bamboo rafts or via canoes.
The park accommodates a diverse range of wildlife species. With the likes of Malayan sun bears, wild elephants and tigers all residing there.
For those who enjoy glamping, it is also home to eco-luxury camps that provide guests with en-suite bathrooms.
11. Phanom Rung
Officially called Prasat Hin Phanom Rung, this 900-year-old UNESCO historical site is a Hindu Khmer Empire temple.
Sitting atop Phanom Rung Mountain, on the rim of an extinct volcano, it is notable for its Khmer ruins. The entire construction of which took place between the 10th and 13th centuries.
Originally made from limestone and laterite, the site sits atop Phanom Rung Mountain. It features incredibly ornate carvings and engravings and sits at an elevation of 402 meters.
One of its most noted elements is a lintel depicting a reclining Vishnu Anantasayin. It resides above the central sanctuary's eastern entrance.
To visit this iconic landmark, you should go to Buri Ram. Once there, we recommend walking up the fantastic stone staircase that showcases magnificent views of the surrounding area.
10. Similan Islands
Thailand is a renowned spot for scuba diving and snorkeling. One of the best places in Thailand to do this is around The Similan Islands.
Situated 120 km from Phuket, this spectacular archipelago lies in the Andaman Sea. Topographically, it features coral white sand and huge boulders that line the shores of its islands. However, it is best known for stunning coral growths and marine life that resides beneath its sparkling azure waters.
Many people come here on a day trip from Phuket. However, to do the Similan islands justice, it is worth staying on them overnight. In doing this, you will not only have the beaches to yourself in the morning and evening. You will also get some incredible sunset and stargazing opportunities.
9. Full Moon Party at Haad Rin
If you love a good party, then head to the island of Ko Pha-ngan for The Full Moon Party.
Since 1985, Haad Rin has been the venue for boisterous all-night beach parties. Typically it occurs on the day, or either side, of the full moon.
During this time, thousands of tourists and backpackers descend upon the beach to blow off steam and have fun. To spur them on, its entire row of beachside bars dish out gallons of cocktails and beers while blasting out banging tunes.
The party starts at dusk and continues until the wee hours of the morning. Aside from dancing and singing on the sand, the shops, tattoo artists, restaurants and bars that flank the beach stay open for the long haul.
8. Thai-Burma Death Railway
The two-hour train journey along the notorious Thailand–Burma Death Railway from Kanchanaburi, via the Bridge over the River Kwai, to Nam Tok is one of Thailand's most scenic and most popular train rides. Though the views are lovely, it's the history that makes the ride so special.
During WWII, the Japanese built the railroad to connect Yangon, the then-capital of Burma, with Bangkok, enlisting POWs and Asian laborers in a horrifying and deadly race to the finish. Today, only a portion of the original rail line is in operation.
7. Ayutthaya
Also known as Ayutthaya Historical Park, this popular tourist attraction contains the ruins of the second capital of Siam, which was founded around 1350. By 1700 Ayutthaya had become one of the largest cities in the world with a total of 1 million inhabitants.
In 1767 the city was destroyed by the Burmese army, resulting in the collapse of the kingdom. Fortunately, renovations that began in the late 1960s restored the once-vibrant city to much of its former glory.
This allows visitors to experience the eclectic array of architectural styles that can be found amid its grid-like patterns of moats, roads and canals.
6. Mu Ko Chang National Park
Located in the Trat Province of eastern Thailand, this exquisite national park is made up of more than 50 islands. Without a doubt, Ko Chang is the most notable of the bunch and is famous for its steep peaks, lush jungles and relaxed atmosphere.
White Sand Beach is where people from around the world congregate to have a great time. The islands also feature white sand beaches, premium snorkeling and diving sites and many waterfalls.
From fishing to dining to kayaking, there's something for everyone here in Koh Chang. Though still far quieter than islands like Phuket or Ko Samui, it's probably better to go now than later.
5. Visit the Northern Hill Tribes
The Hill Tribes of Thailand are a fascinating ethnic group whose roots date back hundreds of years. Residing in the hills of the northern part of the country, they are descendants of people who migrated from Laos, China and Myanmar.
Overall there are seven main groups of hill tribes in Thailand. Each has its own customs, culture and language that has changed little over the years. If you want to gain an insight into their way of life, there are a couple of ways you can do this ethically.
The first is to hire a hill tribe guide who will introduce you to locals on a day visit. The second is to spend a couple of days living like they do in a homestay.
4. Railay
Those looking for an exotic beach destination to visit during their holiday in Thailand should consider Railay Beach.
Often referred to as 'Rai Leh' by locals, this stunning stretch of sand sits on a peninsula that is only accessible by boat. Soaring limestone cliffs prevent you from getting there from the mainland. For this reason, many people mistakenly think it is an island between Ao Nang and Krabi.
Flanked by a verdant coastline of dense jungle, the area has a remote feel. It is a terrific spot to swim, snorkel, sunbathe and relax for an afternoon. However, if you are feeling adventurous, you can also go hiking, rock climbing, cave exploring, kayaking, or on a tour of the surrounding islands.
3. Grand Palace in Bangkok
Going to Bangkok without visiting The Grand Palace would be like visiting Paris and not checking out The Eiffel Tower. Viewed as the country's spiritual heart, the construction of the magnificent complex of buildings began in 1782. For over 140 years, it served as the official residence of seven kings of Siam.
Situated in Phra Nakhon – Bangkok's central district – this stunning complex of buildings includes the iconic Wat Phra Kaew. Otherwise known as the Temple of the Emerald Buddha, it is home to the sacred Emerald Buddha, which dates back to the 14th century.
If you want to visit here, be aware that there is a strict dress code. Men must wear long pants and shorts with sleeves. Similarly, women should not wear clothing that does not reveal bare shoulders, cleavage or above the knee.
2. Phang Nga Bay
Located just over 95 km (60 miles) from the island of Phuket, Phang Nga Bay is one of the top tourist attractions in Thailand and one of most scenic areas in the country.
It consists of beautiful caves, aquatic grottoes and limestone islands. The most famous island in the bay is a sea stack called Ko Ping Kan (more commonly known as James Bond Island) which was featured in the James Bond movie "The Man with the Golden Gun".
A popular way of visiting Phang Nga Bay is by sea kayak as they are the only way to get inside the grottoes and sea caves.
1. Ko Phi Phi
Phi Phi is a beautiful archipelago located in the Krabi Province not too far from Phuket.
Ko Phi Phi Don is the only island in the group with permanent inhabitants while the smaller Ko Phi Phi Leh is famous as the filming location for the 2000 movie "The Beach".
Travelers go here enjoy the beaches and to participate in a variety of water recreation activities, such as snorkeling, scuba diving and kayaking. As a result of the masses of tourists, Ko Phi Phi is becoming less and less attractive but for now it is still a very beautiful place to visit.
Map of Tourist Attractions in Thailand
© OpenStreetMap © MapTiler © Touropia