This little city has a true Pensylvannian charm to it. The old brick buildings, hearty food, and welcoming locals are enough to convince you Lancaster is a great holiday destination, but factor in the local history spots, modern shopping outlets, and entertainment facilities dotted around the city and visiting Lancaster is a no-brainer!
The countryside surrounding the city is just as enticing, with lush green meadows and farmland stretching in every direction. One of the most fun things to do in Lancaster is to drive through the little lanes and over the wooden covered bridges, watching horse-drawn carts at work on the farms.
The area's tie to the Amish community makes it an interesting place to come and discover other ways of living and more traditional cultures. You can start at the Amish Farm and House!
17. Historic Rock Ford
The property was owned by Edward Hand, who was a politician and soldier. He was a Federalist, and served in the Pennsylvania General Assembly and as well as in Congress. Eventually, he was elected as Burgess of Lancaster. His home, Historic Rock Ford, was built in the late 1700s and even entertained George Washington on his visit to the area in 1791.
He lived at Historic Rock Ford with his wife, Katherine Hand, and his children. Edward Hand was a slave owner, and visitors will explore this aspect of the house's history in detail, thanks to the partnering of Historic Rock Ford and the African American Historical Society of South-Central Pennsylvania, who are experts in the field.
Come and admire the house's period furnishings and original features. You can even see one of Katherine Hand's original gowns, that was made of Spitalfields silk from London and was passed down the family for generations until it was donated to Historic Rock Ford in 2012.
16. Lancaster Science Factory
Lancaster Science Factory
This fun and educational museum in the downtown district of Lancaster is a great place to come with little kids. There'll be lots of other toddlers they can play with, and the interactive exhibits are a blast!
The museum teaches kids a range of different disciplines, from physical sciences to mathematics, through play. They bring science to life with interactive and visual displays of different phenomena.
So get your thinking caps on and come along! There's a world of mysteries waiting to be uncovered.
15. Rockvale Outlets
Rockvale Outlets is a modern shopping mall that has all of the trendiest brands. Want to enjoy a bit of retail therapy on your holiday? Then come and browse the stores at Rockvale Outlets and shop till you drop!
They've got fitness stores, a handy play cafe for kids, a Disney outlet, and even a Philadelphia Eagles Pro Shop. From the coolest kicks to the latest high end fashion designs, there's a shopping spot for all tastes.
The outlet is less than 20 minutes drive from the city center, so you can enjoy more time shopping and less time in the car!
14. Lancaster Brewing Company
The brewing industry is no stranger to the city of Lancaster. The tradition of brewing started as far back as the 1700s when British and German immigrants began brewing lagers and ales using locally grown ingredients.
After the Prohibition, the industry slowly started to die down until finally in 1956 there were no local breweries left in the area. Luckily, The Lancaster Brewing Company opened up 39 years later, reviving Lancaster's brewing customs!
The brewery is housed in the old Edward McGovern Tobacco Building and it has an old-fashioned feel to it. Come and try some of their funkiest flavors, like their Strawberry Wheat ale and Hop Hog IPA.
13. Trip to Hersheypark
Hersheypark is a water park and theme park in one! As if that wasn't already enough to keep you busy all day long, there's also a zoo. Hersheys is known for its sweet, melt in your mouth chocolate treats, and at Hersheypark there's chocolate waiting to be savored round every corner.
If you want to do some shopping head to the Hershey's Chocolate Town where you can shop and dine. Get an adrenaline rush on the drop towers, experience a surge of butterflies in your tummy on the twistiest of rollercoasters, then put your swimmers on and enjoy the cool water rides!
Hersheypark is just 40 minutes away from Lancaster by car. Enjoy a day of family fun or come with your coolest friends.
12. Discover Lancaster Visitors Center
Before you start your holiday at Lancaster, head to the Lancaster Visitors Center and chat with one of the locals working there to find out all about the best places to visit, the coolest and strangest things you can do in Lancaster, and the upcoming events going on in the city.
They know all the insider tips of how to travel the city, and they can tell you about lesser known spots, like the best diners in town. As well as events and places to visit, they can also tell you all about the Amish culture in Pennsylvania and recommend the best places to stay.
The visitors center is just off Route 30. Turn off at the Greenfield Road exit and you can't miss it! They also boast a little art gallery that exhibits pieces by local artists.
11. Clipper Magazine Stadium
The Clipper Magazine Stadium on Prince Street should be a destination in Lancaster at the top of every sport fans list. It's the home of the Lancaster Barnstormers – every local's favorite baseball team!
The baseball park is in the Northwest Corridor neighborhood and it has a 6,000 fan capacity. Check the next match dates and get your ticket for the game; the roaring crowds and lively atmosphere are a part of the Lancaster experience you just can't miss!
Don't worry about drinks and food, the food stalls have you covered. Dive in and try all the local best, like cheesesteaks, hoagies, Tastykakes, whoopie pies, and soft pretzels that all go down nicely with a cold larger.
10. Mennonite Information Center
The Mennonites are a community of Anabaptist believers that arose in the 16th century when there was a Radical Reformation in Europe. The group belongs to the Protestant church, but questions some of the practices prominent in the church on the basis of biblical reasons.
The information center is designed to help you understand the faith, traditions, and stance of the Mennonites, as well as their relationship with the Amish community that surrounds Lancaster.
There are plenty of books, and you can chat to the staff to find out more! Aside from the information center's informative books and resources, they also have a cute gift shop, run backroad tours that explore the Mennonite and Amish cultures in the county, and have a full-sized reproduction of Moses' Biblical Tabernacle.
9. Fulton Theatre
The Fulton Theatre is a place of entertainment and history. It was originally a pre-Revolutionary jail where, on December the 28th in 1763 the Paxton Boys massacred the last surviving Conestoga Indians. This heartbreaking event inspired some of the first plays ever written in America.
The building later became a town hall in 1852, named after the county's pioneer in steam engines, Robert Fulton. It wasn't until 1873 that the Fulton Theatre opened! Though it's hard to believe, the back wall of the theater is in fact one of the old exterior walls of the jail.
It was remodeled in a neoclassical style and quickly became the place to go for the best events in the city. Come and enjoy some quality entertainment in this spectacular venue, surrounded by a history of crime and simultaneously a space that brought together the local community.
8. Tanger Outlets
This shopping mall outlet has a great variety of well-known shops, from Crocs to H&M. The modern feel of the place, mixed with the barn style-stores gives Tanger Outlets a quirky appeal.
If you've forgotten your favorite shoes, or left your charging cables at home – you'll quickly find whatever you need here. Window shop or splash out on some of the latest high-end fashion products before heading home.
7. Trip to Kitchen Kettle Village
Located about 10 miles east of Lancaster, Kitchen Kettle Village offers a fancy and elegant shopping and dining experience. The boutique shop, classy hair salons, exquisite restaurants, and gorgeous Inn all come together to form the quaint and unique Kitchen Kettle Village.
Foodies, fashionistas, and comfort seekers alike will delight in the mixture of glossy venues and the variety of shops in the village, from homeware stores to designer jewelry.
The village often hosts events too, for visitors of all age demographics! Check out what they've got going on whilst you're in town and combine shopping with an evening of entertainment and relaxation.
6. Landis Valley Museum
The Landis Valley Village and Farm Museum explores the German heritage of Pennsylvania. Did you know that by 1790 German immigrants made up 40% of the southeastern Pennsylvania population? Incredibly, they have the largest collection of Pennsylvania German artifacts in the country!
It all began when George and Henry Landis, two brothers of German descent, started collecting Pennsylvania German objects that dated back to the 1700s and 1800s in order to acknowledge and preserve their ancestral identity. By 1920 they had more than 75,000 objects, so they opened a small museum and the Landis Valley Museum was born!
Come and explore the museum and grounds, and get involved in the events and workshops on-site. They run an array of craft workshops, like their courses on wheel spinning, needle felting, and ceramics. In the holiday seasons they run themed workshops to start to get you into the festive mood, like their Christmas tree making workshops and Easter celebrations!

5. President James Buchanan's Wheatland
Allie Caulfield / Flickr
The property was built in 1828 for William Jenkins, the president of a bank firm and local lawyer. There's the main mansion and a few smaller outbuildings on his 156 acre property! There's two floors and a basement, which used to be a kitchen and wine cellar, in the main house.
It passed through a fair few pairs of hands and the land was split up various times before being purchased by James Buchanan in 1848 for $6,750. The former Secretary of State moved there in 1849 with his wife.
Come and take a tour of the Federal Style mansion, where pieces of period furniture decorate the interior and transport you back in time to an era where the house was lucrative and inhabited by politicians and rich landowners.
4. American Music Theatre
The American Music Theatre is huge! It's got a 1,600 person seating capacity, and boasts that it hosts some 300 live concerts and performances each year. That's pretty much a show every day of the year!
Dance the night away at a rock concert, or spend an evening catching up with friends at a comedy show from one of the many hilarious acts they have on. Families will be glad to hear there's lots on for kids too, so everyone can join in on the fun.
They sometimes have parodies of iconic movies and shows like FRIENDS that will have you in stitches, and host annual holiday events throughout the year, like Christmas productions.
3. Lancaster Central Market
Lancaster was built as a market town in 1730. The Lancaster Central Market started up in 1889, making it the longest continuously running market in the US! It's housed in the idyllic and old-fashioned Market House, which is worth a visit even if you can't make it to the market, where it runs three days a week.
With more than 60 local vendors coming to sell their crafts and locally grown products, here you'll find everything from home brewed beers to stunning jewelry, locally reared meats you can trust, and exquisite cheese from the area.
The laid back atmosphere and friendly locals will give you a real sense of the community feel in Lancaster. Come and sample treats, buy souvenirs to take home, and meet the locals!
2. The Amish Farm and House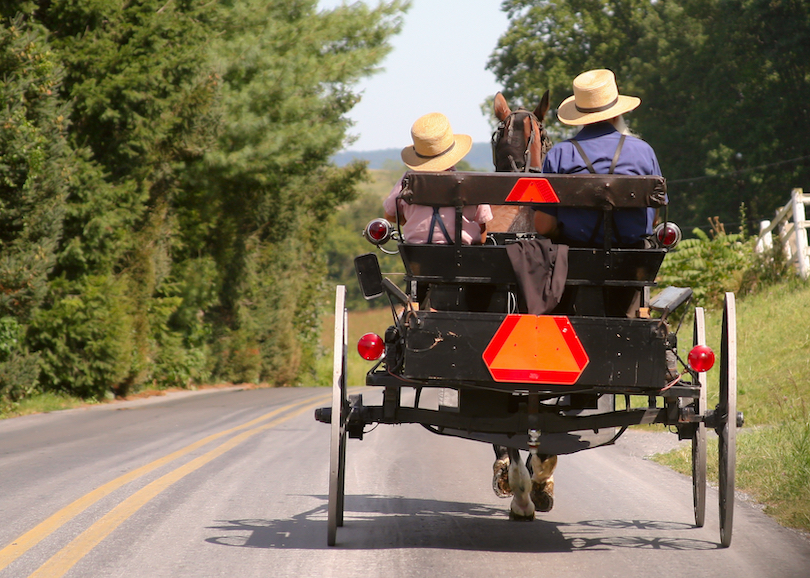 The Amish community remains a mystery to many of us. They appear to be stuck in the past, opting to move around on horse-drawn carts rather than cars, and relinquishing all the modern luxuries. But what drives them to live that way? Come and find out at the Amish Farm and House.
Tour the house and schoolhouse and delve into how an Amish household is run, from the simplest of tasks like hand washing clothes to their educational curriculum. Of course, you can't leave without riding an Amish buggy and meeting the farm animals!
You can now go on a bus tour into the surrounding farmland and stop at small businesses and farms run by the local Amish community themselves. The day promises to be insightful and fascinating!
1. Dutch Wonderland
Looking for a family-friendly day out? The Dutch Wonderland is a quaint theme park that looks like something out of a fairytale. Castles, dragons, and heroes and heroines call this mystical land home, so bring the kids along and watch them squeal excitedly on the rollercoasters and delight at the different movie characters they meet!
There are loads of kid-friendly rides, from carousels and train rides to fast and twisty roller coasters that are sure to give you an adrenaline rush. Dutch Wonderland was voted the World's BEST Family Park in 2021 by Amusement Park Today Golden Ticket Awards.
Different areas of the park have different themes, from dinosaurs to water play areas where the kids can splash around and cool off. There are dining and shopping spots for the adults too.
Map of Things to do in Lancaster, PA