Fittingly billed as the 'Sweetest Place on Earth', Hershey is home to the world-conquering chocolate brand of the same name. While its fun theme park and chocolate-related attractions understandably dominate most visitors' itineraries, the small town also has all kinds of other shows, sporting events and sights to check out.
Impressively enough, the model settlement was actually set up in 1903 by candy magnate Milton S. Hershey to provide his factory workers with all their basic, cultural and recreational needs. On tours, or at its outstanding museum and visitor center, you can learn all about the chocolatier, his company and the countless amenities and attractions he built for employees.
These include not just a school and public housing but a zoo, theater and community center too with the Hersheypark resort of course being the town's standout sight. With so many awesome things to do in Hershey the city is definitely worth a detour with it lying next to the state capital of Harrisburg in the southeast of Pennsylvania.
12. Hershey Trolley Works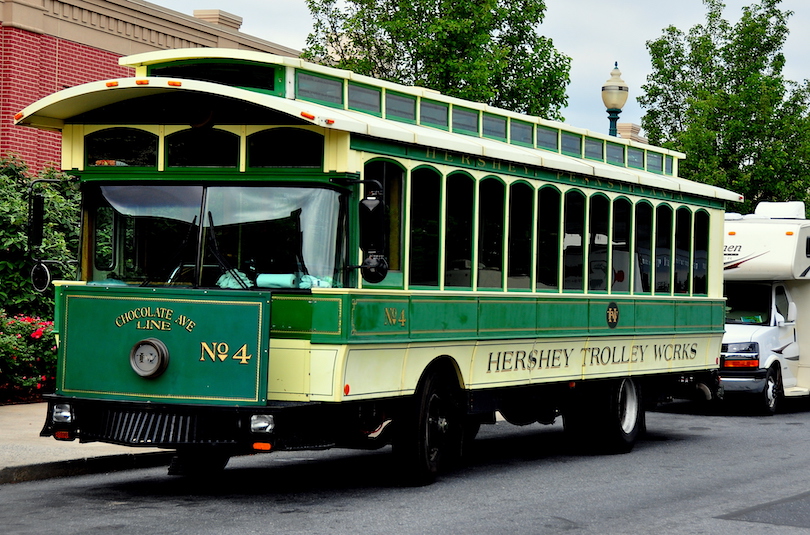 If you want to learn more about the history of the town and see its sights in a relaxing manner, then hop aboard the Hershey Trolley Works. Starting just outside the stadium, their terrific guided tours take you on an educational yet entertaining ride through the old streets with interesting commentary provided throughout.
Instantly recognizable, the old-fashioned, fern green trolley buses have now been whisking tourists around town for the last three decades. As you cruise about, your knowledgeable conductor will tell you all about Milton Hershey, the development of the town and its amazing amusement park.
As well as seeing his birthplace and mansion, you also pass the original factory site and beneath all the iconic Hershey Kiss streetlights. There are several themed tours to choose from with uproarious singing, hilarious jokes and chocolate tasting guaranteed on all of them.
11. Hersheypark Stadium
Jon Dawson / Flickr
A memorable place to catch a concert, show or sporting event, the huge Hersheypark Stadium makes up part of the famous theme park's grounds. One of the largest outdoor entertainment arenas between Philadelphia and Pittsburgh, its packed schedule of big-name acts attracts fans from far and wide.
Since being built in 1939, the vast venue has hosted everything from action-packed soccer matches and ice hockey games to loud battle of the bands competitions and Presidential galas. From its seats and suites, spectators can enjoy superb views of the stage or the pristine pitch below. Plenty of food and drinks stands are also dotted here and there.
While parking at the stadium can sometimes pose a problem, it is well worth the hassle to see stars such as the Backstreet Boys, KISS and Kesha take the stage.
10. Cullari Vineyards and Winery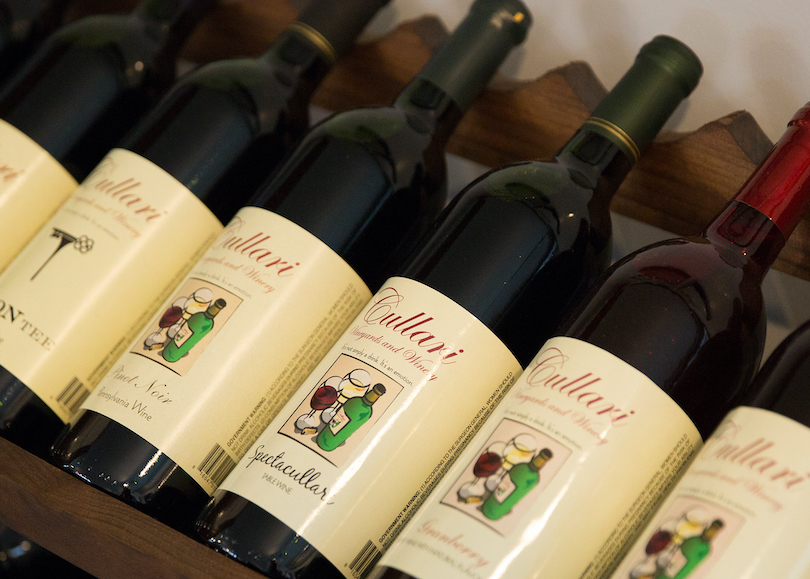 Venture just a couple of minutes along East Chocolate Avenue from Hershey and you'll come across the Cullari Vineyards and Winery. A wonderful spot to relax and unwind, the small boutique has lots of delicious wines for you to sample and sip in their atmospheric tasting room.
Hershey's first and so far only winery, was established in 2006 with the local bottler and producer being particularly known for its unique and unusual grape and wine varieties. These include not just grapefruit and pomegranate-tasting ones but a chocolate wine called Coco Nostra too.
As you savor their fruity flavors or some of the dry and sweet red, white and pink wines, friendly and welcoming staff members will explain all there is to know about the varying tastes. Afterwards, it is almost impossible to leave without buying a couple of bottles to take back home.
9. Troegs Brewing Company
Troegs Brewing Company
If instead of wine you prefer to whet your whistle with a freshly pulled pint, then the nearby Troegs Brewing Company is definitely the place to go. At the lovely little microbrewery, you can take tours around the facility before enjoying some award-winning IPAs, ales and lagers in their tasting room.
Originally founded back in 1996 by the Troeger brothers, the brewery then moved from Harrisburg to Hershey in 2011. At the much larger site, guests get a behind-the-scenes look at its fermentation cellars and hop cooler, mill room and brewhouse deck. As informative as it is engaging, the guided tour was impressively recently voted the 'Best Brewery Tour in America'.
After seeing how classics like The Mad Elf and Perpetual Haze IPA are produced, you can try some while taking in the lively yet laidback ambience. Its snack bar also serves some tasty American grub with packs of beer and merch being available for sale in the brewery's store.
8. Giant Center
Alex Harden / Flickr
Another fantastic venue that puts on loads of outstanding events is the Giant Center. Besides being the home of the Hershey Bears ice hockey team, the massive indoor arena hosts spellbinding shows, concerts and other sporting events.
Located right next to Hershey's Chocolate World, the sparkling stadium was built back in 2002 with all its seats and suites offering perfect views of the players or performers. The numerous concession stands scattered about ensure fans stay watered and fed with merch stalls often erected for sold-out stadium tours by big acts.
Whether it's gymnastics championships and political campaign rallies or WWE SmackDown shows and Disney on Ice; there is always something enticing to attend at the Giant Center. As the Bears are the longest-existing members of the American Hockey League, it is also well worth watching them play a game if you have the chance.
7. Hershey Theatre
Much more elegant than the other entertainment venues we've seen thus far is the historical Hershey Theatre in the center of town. Very decadently decorated, its auditorium is an unforgettable place to enjoy a concert, comedy night, play or Broadway show.
Part of Hershey's 'Great Building Campaign', the lavish performing arts centre was first opened to the public in 1933 during the depression. Inspired by both Byzantine and Venetian themes, its grand lobby is clad in gold and marble while the inside of the auditorium looks very castle-like as arched windows and pretty balconies surround the stage.
While the opulent decor is show-stopping in itself, the performances by local and international acts are just as good. Alongside concerts by renowned names such as the Beach Boys and Elvis Costello, its busy calendar includes shows by dance groups, theatre companies and orchestras.
6. Hershey Story Museum
Just across the West Chocolate Avenue from the hallowed theatre is the hugely interesting Hershey Story Museum. Full of original artifacts and interactive exhibits, it offers up an in-depth look at the life and legacy of the revered chocolatier and his world-conquering company.
Originally dedicated to Native American and Pennsylvania German culture, the museum changed its focus to the town's fascinating founder and his philanthropic efforts in 2009. Since then, guests have learnt about his childhood, business failures and successes through a series of well-done displays and immersive installations.
Besides hearing how he changed chocolate from a luxury to an everyday treat and gave away all his fortune, you can also sample some of Hershey's tasty sweets and candy bars. Visitors can also make their own chocolate and buy some to take home from its gift store.
5. ZooAmerica
Jim / Flickr
Home to all kinds of amazing exotic animals, ZooAmerica can be found just a block back from the museum, right next to HersheyPark. While ambling about its spacious site, you can spot everything from alligators and bears to bald eagles, mountain lions and vampire bats.
Also established by Milton Hershey for his employees, the zoo straddles the small Spring Creek that winds its way through town. For over a century now, people have come to ogle at its awe-inspiring animals and learn all about their native environments and behaviors.
In total, it now houses some 200 animals, birds and reptiles of more than 75 different species from all around North America. Its fabulous themed sections whisk you from the Southern Swamps and Great Southwest to Big Sky Country and the Northlands with the Eastern Woodlands being its other main area.
4. Antique Automobile Club of America
zombieite / Flickr
If vintage vehicles take your fancy, don't miss out on the Antique Automobile Club of America (AACA Museum). Set alongside the Giant Center, its sparkling showrooms and exhibition spaces display an impressive array of classic cars, motorcycles and buses.
Founded in 2003 to preserve all forms of historical motor vehicles, its collection now contains about 130 old automobiles. What makes the museum so special to peruse is that each car, bike or truck is displayed amidst era-appropriate sets and streetscapes from the 1890s right up until the 1980s.
This teaches you all about the evolution of the industry with informative plaques also covering each car's make and model. On top of this, the superb museum is particularly known for its large number of Tucker 48 automobiles and its 1896 Ford Quadricycle.
3. Hershey Gardens
After all the exciting shows, sporting events and sightseeing, the gorgeous Hershey Gardens make a great spot to relax and unwind. Perched atop a prominent hill, its beautiful botanical gardens and arboretum overlook the large and lively theme park of the same name.
As with many of the town's main attractions, it was set up by Milton Hershey with both locals and tourists having enjoyed its scenic splendor since 1937. Very lovingly landscaped and immaculately maintained, the gardens' colorful flowerbeds lie next to potted palm trees and pavilions with pretty paths winding their way here and there.
Aside from taking in its thousands of fragrant roses and snapping pics of its seasonal displays, you can also explore its tropical Butterfly Atrium and tranquil Japanese garden.
2. Hershey's Chocolate World
As the town was literally built because of chocolate, no visit can ever be complete without taking a trip around Hershey's Chocolate World. At the vast visitor center, you tour around its factory, make your own chocolate bar and watch a 4D film on Milton and the 'Mystery of Chocolate'.
A fun, fascinating place to explore, the ever-popular attraction explains the enthralling history of chocolate and how simple cocoa beans become delicious candy bars. After learning about Hershey's inspiring story and how he set up the town and business, you can sample various chocolates before making your own personalized bar.
There are also several rides and the movie to check out alongside a food court where guests can try wines and beers paired with chocolate. Again, it is very hard to leave without picking up some gifts and chocolate in its on-site store.
1. Hersheypark
The undoubted highlight of most people's visit though is of course Hersheypark which is one of the top attractions in all of Pennsylvania. With more than seventy exhilarating rides and rollercoasters to enjoy, the terrific theme park makes for a great day out for all of the family.
Since being established in 1906, countless generations have spent a delightful time at the chocolate-themed resort destination. Originally founded by Hershey as a leisure park for the employees of his chocolate factory, it now welcomes visitors from all around the country and even overseas.
While exploring themed areas like Pioneer Frontier and Kissing Tower Hill, visitors can hop on epic rollercoasters, stop for a bite to eat or catch a lovely live music show. Firework displays and parades regularly take place with the lazy river, pools and slides of The Boardwalk water park just as fun to swim and splash about in.
Map of Things to Do in Hershey, PA