Often called an 'architectural museum' thanks to all its beautiful old buildings, Pennsylvania's York certainly is a very charming city to amble around. Considered by some to be the very first capital of the United States, it has plenty of interesting historic sites and important cultural landmarks to check out.
Delightfully known as the White Rose City due to its namesake in England's royal symbol, it was founded in 1741 along Codorus Creek. After playing a key role in the American Revolutionary War, it became an important agricultural and industrial center with many of its main sights and museums exploring its storied past.
On top of all these things to do in York, the sizeable city is billed as the 'factory tour capital of the world' with tours taking you around candy, chips and motorcycle companies amongst others. Add in all its pretty green spaces and lively performing arts scene and York really is a hidden gem just waiting to be discovered.
14. Weight Lifting Hall of Fame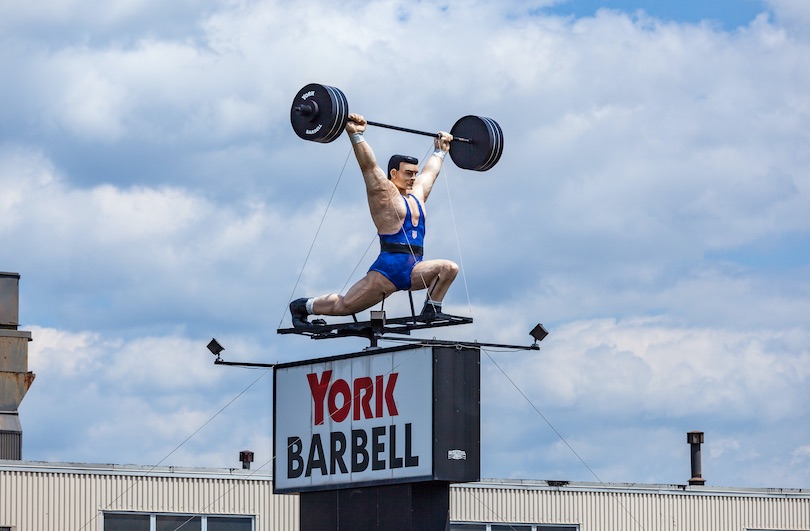 A fascinating place to explore, the Weight Lifting Hall of Fame shines a light on the rich history and heritage of strength sports. Nestled away on the northern outskirts of town, its artifacts and exhibits occupy the first floor of York Barbell's headquarters.
The small museum's location is only fitting as the company is often nicknamed the 'Father of World Weightlifting'. This is because it tirelessly promoted the sport with its Olympic lifting teams having dominated from the thirties up through the seventies.
As you wander around its light and airy lobby and large galleries, you'll see all kinds of old weights, barbells and busts of famous champions. Exhibits also explain more about the origins of the sport at the early Olympic Games and its place in ancient mythology. Amateur and professional strongmen from centuries gone by and the current stars of today are both lauded in its fantastic hall of fame.
13. Appell Center for the Performing Arts
York County, PA
While you can actually sometimes catch competitions at the Hall of Fame, the Appell Center for the Performing Arts is a much better bet if you are after a spectacular show. At its two hallowed venues in the center of the city, guests can enjoy everything from concerts and comedy nights to Broadway shows, movie screenings and more.
The undoubted highlight of any night out in York, the ever-popular cultural center includes both the historic Capitol and Strand theaters. While the former dates to 1906, the latter opened in 1925 with their elegant interiors and old-world charm making them a memorable place to watch a show.
Over the years, big acts from Blondie and B.B. King to Ella Fitzgerald, George Carlin and the York Symphony Orchestra have performed on their stages.
12. Samuel S. Lewis State Park
Gerry Dincher / Flickr
Rising dramatically above the surrounding countryside is the scenic and serene Samuel S. Lewis State Park. Dominated by the 885-feet-high Mount Pisgah, its elevated confines make it the perfect spot to hike, bike, sled and stargaze with kite flying also very popular.
Overlooking the Susquehanna River Valley, its prominent ridge lies about twenty minutes drive east of town. While lush woods and wide-open spaces coat most of it, some rugged rock formations and covered picnic pavilions can be found here and there.
Aside from hiking and biking along its winding paths, you can also sled down the huge hill during winter. As it is quite exposed, and the highest point in the area, the park is a great place to fly kites and either gaze up at the stars or the Susquehanna River far below.
11. Heritage Rail Trail
Oanhnhi / Wikipedia
A wonderful way to see more of the city and its surroundings is to walk, run, jog or cycle along the Heritage Rail Trail. As well as connecting various communities and historic landmarks, it takes you past lots of lovely landscapes, scenery and nature.
Stretching just over twenty miles in length, the multi-purpose path actually runs alongside the active Mason-Dixon line. From the charming Colonial Courthouse in the center, it meanders its way along Codorus Creek before culminating at the Torrey C. Brown Rail Trail in neighboring Maryland.
Quite flat for the most part, it passes historical train stations such as those of Hanover Junction and New Freedom, over railroad bridges and through the Howard Tunnel. While the line was once used by merchants, manufacturers and even President Lincoln, the path instead attracts outdoor lovers come to hike, horseback ride or cross-country ski along its picturesque route.
10. Nixon Park Nature Center
Another idyllic, yet interesting spot, to hit up is the Nixon Park Nature Center next to York Reservoir. Besides learning all about the local area's fauna and flora, it has a plethora of pretty ponds, streams, forests and meadows for visitors to explore.
Set just fifteen minutes drive directly south of downtown, its waterways and woods cover a large part of York County. While ambling along its shady trails, you can enjoy fine views and spot lots of different kinds of animals and aquatic birds either in the undergrowth or out on its reflective lakes.
After exploring the great outdoors, you can check out the nature center's smallish museum which houses mounted animals, dinosaur murals and colorful butterfly collections. In-depth displays and dioramas also provide more information on various animals, their behaviors and natural habitats.
9. Haines Shoe House
A unique and unusual piece of architecture, the Haines Shoe House can be found on the easternmost outskirts of York, along US Route 30. Instantly recognizable from its distinctive design, it makes for some fantastic photos with tours taking you all around its equally intriguing interior.
Modeled on a work boot, the huge house was built back in 1948 by shoe salesman Mahlon Haines as a form of advertisement. Its five stories contain several bedrooms, bathrooms and a kitchen with the living room being located in its toe and an ice cream shop in the instep.
Inside, visitors can see some of the company's original advertising memorabilia and a stained-glass window of Mahlon holding up some shoes. After snapping some photos of the striking shoe-shaped house, you can sit and enjoy some ice cream at one of the numerous picnic tables dotted about.
8. Rocky Ridge County Park
Just a stone's throw from the Haines Shoe House is the Rocky Ridge County Park which offers a myriad of exciting outdoor activities. Amidst all the hilltop's verdant forests, you can hike and bike about with divine views and scenery guaranteed wherever you go.
Named for the countless rock formations that dot its confines, the park overlooks both the sweeping valleys and rolling hills that surround the Susquehanna River. Plenty of trails wind their way about the ridge with commanding viewpoints being scattered here and there.
Playgrounds, picnic areas and park benches are also hidden away amongst the woods next to barbecue facilities and horseshoe pits. A particularly magical time to stop by is around Christmas when thousands of colorful fairy lights are strung between the trees and Santa visits the park.
7. Historic Downtown
An absolute delight to stroll around, York's Historic Downtown is packed with loads of beautiful old buildings and attractive architecture. The heart and soul of life in town, it also has all kinds of shops and restaurants, tourist attractions and entertainment options for you to check out.
Although it mainly dates to the Victorian period, downtown actually perfectly preserves over three centuries of American history. Asides from the Colonial Complex next to Codorus Creek, there are also old churches, market houses and a museum looking at the city's industrial past for you to visit.
In just a few blocks, you'll uncover sights and stories relating to early pioneers, Revolutionary War soldiers and nineteenth-century farmers. Add in all its bustling businesses and enticing eateries and the happening Historic Downtown area really is not to be missed out on.
6. York County History Center
York County History Center
If you want to learn even more about the rich history, culture and heritage of the region, then make sure to stop by the York County History Center. Located right at the eastern edge of downtown, its immersive exhibits and extensive array of artifacts cover over three hundred years of local history.
First opened to the public in 1989, its historic photos, fine arts and period pieces now occupy what was once an old automobile dealership. In total, around 90,000 objects are included in its collection with exhibits focusing on famous figures, influential places and important events from its past.
The center also runs several other historic sites and museums scattered about the city. These include not just Bonham House and Murals of York but the Colonial Complex and Agricultural & Industrial Museum too. All of these are well worth visiting for the fascinating insight they provide into York, the county and country at large.
5. Martin's Potato Chip Factory Tour
Considered by many to be the 'Snack Capital of the World', Central Pennsylvania contains countless factories and production lines of big snack brands. As such, many visitors take the Martin's Potato Chip Factory Tour to see the inner workings of the industry and sample tasty treats along the way.
Initially a small family affair, the success of Martin's crisp and crunchy potato chips eventually saw a large factory set up just southwest of York. Popcorn, pretzels and other salty snacks were also later produced and sold in some of the surrounding states too. Their sumptuous snacks were even available on Air Force One during the presidencies of both Bill Clinton and George W. Bush.
As you tour the massive factory, you'll see potatoes frying on the production line and popcorn being made right before you. Besides learning about the process from knowledgeable guides, guests can also try some of their delicious products and buy gifts in the souvenir store.
4. PeoplesBank Park
Jeffrey Hayes / Flickr
Just a short distance up Codorus Creek from the center is the intimate and atmospheric PeoplesBank Park. Home to the city's York Revolution, it is a great place to watch a thrilling baseball game with the season lasting from May through to September.
Only built in 2006, the small stadium has a lovely family-friendly feel and is particularly known for its huge left-field wall, which is remarkably the tallest in professional baseball. Other than the 'Arch Nemesis', standout features include its old-fashioned, manually operated scoreboard and the superb statue outside of Brooks Robinson.
While watching the Revolution play before their fervent fans, spectators can enjoy typical ballpark fare with a carousel and playground being on offer to distract kids. Only adding to the excitement is the actual cannon that is fired whenever the team scores a home run or wins a game.
3. York Central Market
Long a firm favorite with locals and tourists alike, York Central Market has now been selling fresh fruit and vegetables for well over a century. Crammed into its humongous historic hall are a diverse array of stands and stalls that seem to sell almost everything under the sun.
Set right next to the Appell Center for the Performing Arts, its gorgeous Romanesque Revival-style building occupies almost an entire block in the downtown area. Since opening in 1888, farmers and vendors have flocked here to hawk their wares with baked goodies, fresh cuts of meat and artisanal products all on sale.
Thanks to its fun and vibrant ambience and friendly and welcoming stall owners, it is always a great spot to shop for some food or grab a bite to eat and drink. Nowadays, about fifty vendors head here each Tuesday, Thursday and Saturday to sell fresh veg, flowers and food from around the world.
2. Perrydell Farm Dairy
Wally Gobetz / Flickr
Another of the area's most popular attractions is the peaceful and picturesque Perrydell Farm Dairy. At its sprawling site just south of the city, you can see cows milked, pet cute calves and try some delicious homemade ice cream.
Since the early sixties, the family-run farm has provided the community with fresh milk and dairy products with over 120 cows now making up its herd. Besides watching them frolic around in their pastures and stroking some in smaller enclosures, you can also take a tour around the farm's bottling plant and see how milk is processed.
Afterwards, make sure to sample some of their sweet sundaes and scrumptious scoops of ice cream with freshly baked goods, sandwiches and juices also featuring.
1. Harley Davidson Factory Tour
One of York's most sought-after factory tours though is around the Harley Davidson facility just out of town. Nestled on its northern outskirts, its brilliant behind-the-scenes tour highlights just how the legendary motorcycles are made with its gift store selling apparel, merch and more to motorheads.
Actually one of only a handful of sites to manufacture the motorbikes in the States, it produces the Sportster, Softail and Touring models amongst others. After watching an introductory video, you can visit the assembly line and delve into the various people and products involved in the process.
From fuel tanks and fenders to paints and polish; the tour will teach you everything there is to know about the iconic bikes. Before heading off, it is almost impossible to leave without picking up a few cool mementos in its store to remind you of your time in York.
Map of Things to Do in York, PA