Although oft-overlooked, Erie is a fantastic place to visit and vacation with loads to see and do. The largest city in Northwestern Pennsylvania, it lies alongside the Great Lake of the same name with the pretty Presque Isle peninsula and its state park sheltering much of its waterfront.
Founded in 1795, the city occupies a central spot along the state's Lake Erie shoreline with it taking its name from the Native American people who once inhabited the area. Due to its strategic setting, it became an important center of commerce, shipping and industry. As with other unfortunate towns in the Rust Belt though, it later suffered decades of decline from deindustrialization with detractors sometimes derogatively referring to it as 'Dreary Erie'.
Visitors who do however make it to the small lakeside city are in for a pleasant surprise at the sheer amount of things to do in Eire. Besides all its stunning scenery and views, Bay City boasts everything from amusement parks and mega-malls to casinos, zoos and top-class concerts.
In this post, we'll cover:
12. Erie Insurance Arena
Jfvoll / Wikipedia
The main place in town to catch a concert, show or sporting event, the atmospheric Erie Insurance Arena lies in the heart of downtown. The home of the Ontario Hockey League's Erie Otters, its packed schedule of events means there is always something entertaining going on.
Completed in 1983, the smallish stadium forms an important part of the Erie Civic Center Complex Plaza. From all its comfy seats and luxury suites, spectators can enjoy excellent views of the stage, court or ice rink with concession stands dotted here and there.
Aside from watching the minor league team shoot around the ice, you can also see concerts by big-name acts such as The Beach Boys, Cher and Rod Stewart. Superbly done shows like Disney on Ice and WWE wrestling events have also been held at the multi-purpose arena as have local graduation ceremonies and community events.
11. Millcreek Mall
Millcreek Mall
If instead of an exciting show you're looking to shop until you drop, massive Millcreek Mall is definitely the best place to go. Set just a short drive southwest of the center, its sprawling site has all kinds of enticing shops and eateries to stop by.
Since opening in 1975, the complex has grown and grown with the mall now impressively counted among the ten largest in the country. In total, more than 170 department stores, brand-name fashion retailers and restaurants can be found both on-site and in the surrounding vicinity. These include not just Macy's and JCPenney but H&M, Forever 21 and Footlocker too.
As such, visitors can shop for everything from shoes and clothes to accessories, jewellery and home goods before sitting for a bite to eat or drink at its lively food court.
10. Presque Isle Downs & Casino
Great Lakes Region / Flickr
Also located on the southern outskirts of Erie is the Presque Isle Downs & Casino. Here guests can watch thrilling thoroughbred horse races and live shows with fun slot machines and table games on offer.
Owned and operated by the infamous Churchill Downs, its oval track first started hosting races back in 2007. While watching the horses pound their way around the mile-long course is an exhilarating experience, others come for its stand-up comedy nights and concerts or the delicious dining.
Its other main appeal though is the colossal casino which is equipped with over 1,500 slot machines and dozens of different table games. With so many games, events and races to choose from, Presque Isle Downs & Casino certainly makes for a great afternoon or evening out.
9. Lake Erie Arboretum at Frontier Park
A picturesque place to amble around, scenic Lake Erie Arboretum lies within Frontier Park, just inland from the lake. Very popular with locals and tourists alike, it is a great spot to relax, unwind and immerse yourself in nature.
Now home to roughly 250 varieties of trees from all around the world, it was established in 1998 to provide individuals and families with a safe outdoor space to exercise and enjoy. Besides seeing the old Scarlet Oaks, Gingkos and Maples, you can hike and bike along the trails, sled down hills or try and find your way out of its labyrinth.
After having explored its pretty paths and gorgeous grounds, you can make use of the playgrounds, playing fields and picnic areas that are found in Frontier Park.
8. Asbury Woods
Another idyllic area to hit up is the enormous Asbury Woods which boasts lots of lovely landscapes, scenery and nature. Despite its proximity to Erie International Airport, the old-growth forest is very calm and quiet with tantalizing trails weaving their way here and there.
Once covered by an ancient saltwater ocean, it now encompasses flower-filled meadows, wetlands and woodlands. More than five miles of tranquil trails and boardwalks take you through its verdant undergrowth with fantastic fauna and flora on show wherever you go.
In its outstanding nature center, you can learn all about the region's rich geological history and the various indigenous peoples who once inhabited the area. Aside from hearing about the animals and plants that populate the woods and seeing ancient archaeological findings, you can also attend some of its nature programs and summer camps.
7. Bicentennial Tower
For the best views imaginable over Lake Erie, make sure to head to the very top of the Bicentennial Tower. Perched right at the end of Dobbins Landing along the lakefront, its lofty observation decks lie just a stone's throw from many of Erie's other main attractions.
Erected in 1996 to celebrate the Bay City's bicentennial, it towers 187 feet in height with two large viewing decks lining the striking steel structure. From these, you can gaze out over the shimmering waters of the lake and Long Point off in the distance or the shore and city below.
At night, the tower is delightfully lit up and stands out majestically against the dark sky and endless lake behind it.
6. Erie Zoo
Home to an incredible menagerie of exotic animals, the ever-popular Erie Zoo can be found just to the south of downtown. Tucked away within Glenwood Park, its spacious enclosures and exhibits house all kinds of creatures both large and small from all around the world.
Since being founded in 1930, it has expanded considerably with about 400 animals and amphibians, insects, birds and reptiles now inhabiting the zoo. In themed areas such as Safariland and Wild Asia, guests can therefore see everything from rhinos and cheetahs to gorillas, tigers and orangutans.
In addition to watching live feeding sessions and nature shows, there is also a playground, carousel and train ride around the grounds for visitors to enjoy. Its adjoining botanic gardens and greenhouse also have phenomenal displays of plants, flowers, trees and shrubs to stroll around.
5. Tom Ridge Environmental Center
Offering a fascinating look into the history, nature and geology of Presque Isle is the terrific Tom Ridge Environmental Center. Well worth visiting either before or after exploring the state park, the large complex is situated at the entrance to the peninsula, right next to Waldameer & Water World.
Packed with interesting and interactive exhibits on the area's environment, its state-of-the-art center was first opened to the public in 2006. While some sections cover its fauna and flora, others instead focus on the human history of the Great Lakes.
As well as perusing all the well-done displays and watching its orientation movie, you can also head up the 75 feet tall observation tower. From up high, you can bask in breathtaking panoramas over the lake and its stunning shoreline before you.
4. Splash Lagoon Indoor Water Park Resort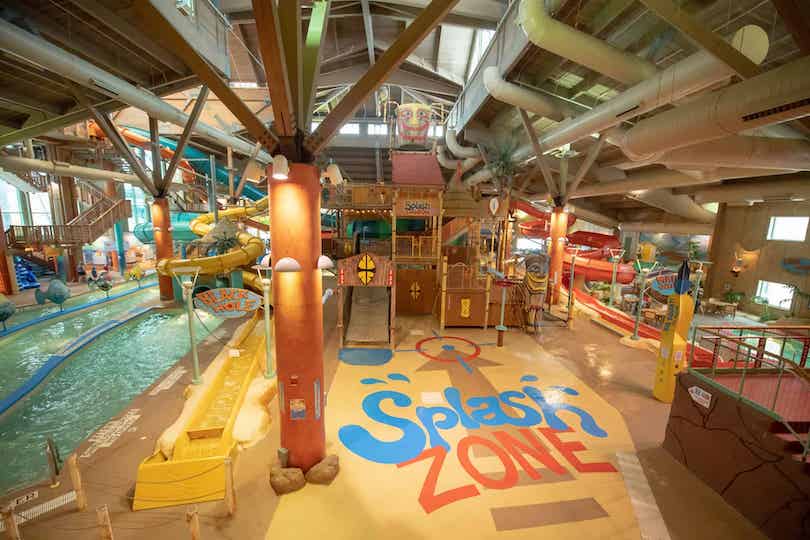 Splash Lagoon
A fun and family-friendly place to visit, Splash Lagoon Indoor Water Park Resort lies just past Millcreek Mall on the way out of town. Besides boasting the largest indoor wave pool in the Eastern United States, it has countless swirling water slides and bubbling hot tubs for you to enjoy.
One of the largest indoor water parks in the country, the Polynesian-themed pools and their steamy surroundings now sprawl across a huge area. Alongside all the wild and wet slides is a relaxing lazy river to float along while a four-storey Tiki activity treehouse and children's play area also overlook the pools.
To top it all off, the massive resort also has exciting arcades, lazer tag arenas and ropes courses for young and old alike to try out. For those who want to splash about for even longer, three hotels are connected to the water park with a grill, sport's bar and mini bowling also being on offer.
3. Erie Maritime Museum
A must for those interested in learning about the history of the area, the magnificent Erie Maritime Museum lies along the city's waterfront. Long one of Erie's main tourist attractions, its galleries are full of impressive artifacts and exhibits while a full-size replica of a historic ship is docked outside.
Located next to Dobbins Landing and Bicentennial Tower, its sizeable collection occupies what was once the Penelec Front Street Station. While its interactive displays and dramatic video clips cover centuries of the city's rich maritime history, many focus on the fierce Battle of Lake Erie during the War of 1812.
Although learning about the conflict and seeing cannons certainly is captivating stuff, the museum's undoubted highlight has to be exploring the US Brig Niagara outside. A modern recreation of the 1813 flagship, its giant white sails make for quite the sight when billowing in the stiff breeze.
2. Waldameer & Water World
With more than a hundred hair-raising rides, slides and rollercoasters crammed into its grounds, it is no wonder Waldameer & Water World is such a popular draw. Lying at the base of Presque Isle, the fun, family-oriented amusement park guarantees guests a great time with all its enticing attractions, shows and pools.
What started out in 1896 as a small company picnic area has since morphed into an enormous park that attracts thousands of people each year. While there are classics like the dodgems, flying swings and Ferris wheel to enjoy, thrillseekers in particular will want to try the spinning Chaos and Ravine Flyer II rollercoaster.
After all its exhilarating rides, you can cool off and have yet more fun in Water World, which is full of water slides, lazy rivers and wave pools. Food stands and gift stores are also scattered about with arcades and live entertainment only adding to its appeal.
1. Presque Isle State Park
Arching gracefully out into Lake Erie is the sandy peninsula of Presque Isle State Park; both one of the city and state's top attractions. As well as stupendous scenery and nature, it has a wealth of epic outdoor activities for visitors to enjoy.
Formed millennia ago during the last ice age, its long, narrow landmass shelters the beautiful bay of the same name which makes up much of Erie's waterfront. While more than eleven miles of pristine beaches and dunes line its shores, lagoons, forests and marshes can also be spied on the peninsula.
The delightfully diverse habitats make the park a treat to explore with hiking, biking and watersports all being popular. Other than canoeing, water skiing and scuba diving in its waters, you can always just simply lounge on a beach and take in the fabulous scenery and views all around you.
Map of Things to Do in Erie, PA