Nestled away in the northeast of Pennsylvania is Scranton; a surprisingly scenic city that acts as the cultural and commercial capital of Lackawanna County. Once a coal mining, railroad and industrial powerhouse, it is now mostly known for being the setting of the hit TV show 'The Office'.
During the late nineteenth and early twentieth centuries, the prosperous city attracted thousands of immigrants come to work in its anthracite mines or on the railroads. This earned it the nickname 'The Electric City' with important and attractive buildings popping up all around town.
While the city's heyday has long been and gone, there are plenty of fun things to do in Scranton. This is because picturesque parks and winding trails lie right next to interesting old industrial sights and museums focusing on the region's rich history.
14. Lackawanna State Park
Offering up all kinds of exciting outdoor activities, the lovely Lackawanna State Park can be found just fifteen minutes' drive directly north of the city center. Centered on the large lake of the same name, it has everything from hiking and biking to swimming, sailing and camping for you to enjoy.
Protected as part of a park since 1972, its scenic site encompasses vast forests and fields with small streams and trails weaving their way here and there. Once home to the local Lenape tribe, the area was then settled by white farmers with a horse racing course and fairgrounds established on what is currently the campsite.
Nowadays, outdoor lovers flock to the park to hike and bike about its lush woods or fish, swim and boat out on the reflective lake.
13. The Marketplace at Steamtown
If instead of the great outdoors it is a massive mall you want to explore, then The Marketplace at Steamtown is one of the best places to head in Scranton. Set right in front of the important historical site of the same name, its countless shops and restaurants cater to every interest, taste and budget.
Part of a large project to revitalize the downtown area, it was opened in 1993 with about fifty stores and boutiques now packing out its two floors. Locally owned and operated for the most part, they sell everything from beauty products and fashion items to books, toys and video games.
Besides its vast food court, there is actually a small aquarium, large indoor playground and relaxing spa for visitors of all ages to enjoy. The Scranton Public Market also takes place each weekend with a boxing club, music classes and even a community college all being based at the mixed-use mall.
12. Electric City Aquarium & Reptile Den
One of the mall's most popular attractions is of course the educational yet entertaining Electric City Aquarium & Reptile Den. Here you can see sharks, stingrays and shoals of fish swimming about in enormous tanks full of colorful corals with snakes and crocodiles also featuring.
Only opened in 2017, the state-of-the-art aquarium has a wonderful walk-through experience which sees you stroll from Frog Swamp and Snake Den through to Gator Alley and Shark Reef. Along the way, you'll sees lots of species from all around the world with informative displays accompanying each of the exhibits.
Highlights include stroking stingrays in the touch tank and watching some of the live feedings and educational shows where you meet alligators, turtles and much, much more.
11. Lackawanna County Courthouse Square
Right in the historic heart of town is one of its most impressive architectural gems: the Lackawanna County Courthouse Square. Instantly recognizable, the fine Romanesque Revival building occupies a whole block with pretty grounds and gardens lying all around it.
Built during Scranton's end of century heyday as an important coal mining center and railroad hub, the striking building certain projects power and prestige. Erected in 1884, it features not just a five-storey bell tower but a fetching facade too with it almost appearing like an old European castle.
Aside from taking in its exquisite architecture and snapping some photos, you can also amble about the gorgeous grounds outside. These are dotted with veterans' memorials and the statues of famous figures like Christopher Columbus and George Washington.
10. Everhart Museum
Jeffrey / Wikipedia
Not too far away in Nay Aug Park is the outstanding Everhart Museum. Long a firm favorite with families, it boasts a hugely interesting collection of artifacts, specimens and fossils.
Now the largest public museum in Northeastern Pennsylvania, it was first opened to the public back in 1908. Named after prominent physician and philanthropist Isaiah Fawkes Everhart, it focuses on both natural history and the fine arts with its grand galleries divided between the two subjects.
As such, guests can see stuffed animals and prehistoric dinosaur bones alongside ancient Egyptian funerary objects, African masks and more contemporary masterpieces by Jackson Pollock and Andy Warhol among others. Decorative arts from Asia, Europe and America also feature as do delightful sculptures and ceramics from various cultures and civilizations across the globe.
9. Montage Mountain
Montage Mountain Resorts / Wikipedia
One of the state's top ski resorts, Montage Mountain literally looms above the south of Scranton. In just fifteen minutes' drive from downtown, you can find yourself shooting down its soft slopes with skiing, snowboarding and snow tubing all being on offer.
Although Pennsylvania perhaps isn't associated with snow sports, the resort has a very respectable thousand-foot vertical drop with 26 runs crisscrossing their way about the mount. As you ski around its diverse terrain, you can bask in phenomenal views of the surrounding valleys and city below.
In summer, Montage Mountain has a terrific water park for guests to splash about in with lazy rivers and sunbathing areas lying next to lots of fun water slides. It also hosts plenty of outdoor events and concert with batting cages, beach volleyball and mini golf counting among its other attractions.
8. Lackawanna River Heritage Trail
A wonderful way to see more of the city and its surroundings is to walk, run, jog or cycle along the Lackawanna River Heritage Trail. Connecting both rural and urban communities in the area, it takes you past loads of stunning scenery and idyllic nature spots.
From the confluence of the Lackawanna and Susquehanna Rivers, the multi-purpose path meanders its way northwards until it joins up with the Delaware & Hudson Rail Trail. Very well-maintained, it stretches over seventy miles in total with most of the route following along the riverbanks.
Peppering the sides of the path are various public artworks and historic sites with many relating to the region's coal mining and railroad past. When passing through towns, you also come across some cafes and shops before emerging shortly afterwards in the charming countryside again.
7. Anthracite Heritage Museum
Billy Hathorn / Wikipedia
For those interested in learning more about the history of the state, the excellent Anthracite Heritage Museum is simply a must. Its artifacts and exhibits depict what life was like for early immigrants to the area who came to work in its once-prolific mines, mills and factories.
Part of a larger complex that preserves the history of anthracite mining in Pennsylvania, it lies in the west of McDade Park. Full of fascinating exhibits and historical photos, it covers immigration to the area, the evolution of the industry and the harsh realities of working in a mine in the 1800s.
As well as seeing old tools and equipment and hearing all about the horrendous working conditions, you can also explore a replica of a miner's home and an atmospheric old saloon.
6. Houdini Museum
One of the most famous magicians and illusionists the world has ever seen, Harry Houdini actually lived and performed in northeast Pennsylvania for several years. At his museum in North Scranton, visitors can see old memorabilia and film clips before watching an amazing magic show.
Founded in 1988, the lovely little museum looks at both his life and legacy with posters, photos and personal belongings all featuring. On tours, you'll learn all about Houdini's greatest tricks and how he came to be such a world-renowned magician.
Although the museum is all about Houdini, the highlight is arguably the hour-long magic show that takes place at the end of the tour. Both Dorothy Dietrich and Dick Brooks – two massive celebrity magicians themselves – will awe and astound guests with their unseen sleights of hand and scarcely believable bag of tricks.
5. Scranton Lake Walking Path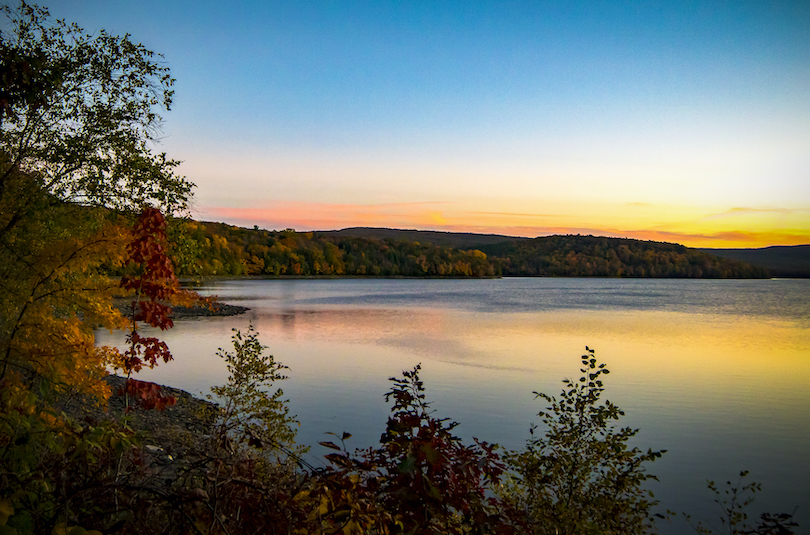 An absolute treat to amble around peacefully, the Scranton Lake Walking Path takes you right round the big body of water. Located just a bit further past Nay Aug Park from the center, it has delightful scenery, nature and views for you to take in.
Created in the early 1900s following the damming of the Stafford Meadow Brook, the reservoir is surrounded by lots of lush woodland with East Mountain also overlooking it. Looping its way about its shimmering surface is the picturesque walking path which reaches just over 3.5 miles in length.
While walking, running or cycling along the mostly flat trail, you can enjoy the fabulous fauna and foliage on show all around you. Glinting through the trees is, of course, the sparkling Lake Scranton which is bordered by the beautiful brickwork of the dam to its southern side.
4. Electric City Trolley Museum
As it was home to the first passenger trolley line in Pennsylvania, Scranton became known as 'The Electric City' in the late 1880s. At its terrific transport museum, you can learn about the history and development of the railroad lines and see plenty of the vintage vehicles.
Set right alongside the Steamtown National Historic Site, it was established in 1999 to preserve the Keystone State's rich railroad past. Old artifacts, equipment pieces and exhibits are now on display in a resplendently restored late nineteenth-century mill building.
The best part of the visit though is hopping aboard an authentic 1926 or 1932 trolley and traveling around the surrounding countryside. The peaceful five-and-a-half-mile trip takes you over Roaring Brook, through a mile-long tunnel and up to PNC Field on Montage Mountain.
3. Nay Aug Park
The city's largest park, Nay Aug straddles the appropriately named Roaring Brook and its gorgeous gorge. Despite its close proximity to the center, its woods and waterfalls feel a world away from the busy downtown area with all kinds of amenities and activities being on offer.
Carved out of the rock during the last ice age, Nay Aug or 'noisy brook' as it means in the Munsee language rushes its way down rapids and through the jagged gorge. For the best views of the stream and the scenic woodlands lying on all sides, head across its covered bridge or to the top of the park's tall treehouse.
Since 1893, both locals and visitors alike have flocked to explore its sprawling green confines with two Olympic-sized swimming pools, multiple playgrounds and a waterslide park now also scattered about. After hiking and biking about, you can stop for a snack or hot drink at its picnic pavilions or the cosy Blackwatch Cafe.
2. Lackawanna Coal Mine Tour
A fun and fascinating experience, the Lackawanna Coal Mine Tour sees you venture 300 feet below the earth's surface in an old mine car. As you explore the twisting veins of the abandoned anthracite mine, your knowledgeable guide will teach you more about the industry, its impact on Pennsylvania and the countless perils that the miners faced.
Part of the same complex as the Anthracite Heritage Museum, its deep shafts, museum and gift shop also lie within McDade Park. Opened by the Continental Coal Company in 1903, its rich coal seams were mined until 1966 with tours of the mine and museum starting up just over a decade later.
Nowadays, visitors strap on their protective hard hats before taking the bright yellow mine car into the deep, dark depths of the mine. Once you reach the bottom, you'll get out and walk around all the shored up old tunnels as your guide explains the hardships children as young as seven or eight faced when working in the mine.
1. Steamtown National Historic Site
Back in the center of town is the city's standout sight: the Steamtown National Historic Site. As well as being home to rows and rows of shiny old steam trains, the railroad museum has a huge collection of artifacts, photos and old equipment pieces for you to peruse.
Established in 1986, the museum occupies the former Scranton Yards with its innumerable exhibits and trains being centered around a working turntable and reconstructed roundhouse. Several turn-of-the-century outbuildings are also set on site which impressively has roughly two dozen locomotives on display with the oldest dating to 1903.
After learning all about the history and development of the railroads in Pennsylvania, you can take a short ride along its heritage track on an atmospheric old steam train.
Map of Things to do in Scranton, PA