Full of interesting historic sites and important cultural landmarks, Pennsylvania's capital Harrisburg lies in the southeast of the state alongside the Susquehanna River. Although not particularly large, it is the perfect size for a quiet weekend getaway or city trip with Allentown, Gettysburg and York all lying within driving distance.
Thanks to its strategic setting and the development of its canal and railway system, the city played a role in not just the Westward Migration and Industrial Revolution but the American Civil War too. This and its selection as the capital in 1812 explains the huge number of historic buildings and museums found in town.
In addition to enjoying some fun outdoor activities at City Island, visitors can ogle at the exquisite architecture of its state capitol. Taking a scenic cruise along the river is one of the most popular things to do in Harrisburg during the summer months. The city is also known for hosting the Pennsylvania Farm Show and Great American Outdoor Show; two of the largest events of their kind in the country.
16. Pennsylvania National Fire Museum
Visit Hershey & Harrisburg
A fun and fascinating place to explore, the Pennsylvania National Fire Museum can be found in the Olde Uptown part of Harrisburg. Actually housed in a Victorian-era firehouse, its varied collection includes old alarm systems, historic fire engines and much, much more besides.
Dedicated to preserving the state's fire fighting heritage, it was founded back in 1993 with its lovely brick building remarkably dating to 1899. Its innumerable artifacts, exhibits and photos all highlight how people used to battle blazes in the past with a memorial wall commemorating those who served at the fire station.
As well as seeing horse-drawn carriages and vintage equipment parts, you can learn about intricate communications systems of years gone by and snap photos of some shiny modern fire trucks.
15. Capital Area Greenbelt
A wonderful way to see more of the city and its surroundings is to walk, run, jog or cycle along the Capital Area Greenbelt. Its pretty route takes you past plenty of pristine nature spots and parks with numerous important landmarks, monuments and museums also featuring.
Stretching twenty miles in total, the multi-purpose path loops its way completely around the center of the capital. While some sections meander their way peacefully through wild areas or along the Susquehanna River, others connect up various neighborhoods and tourist attractions.
As you travel along the trail, you can take in the fine fauna and flora of the region and read about its history from the informative plaques scattered about. You can also explore the Reservoir, Riverfront and Wildwood parks or stop by the National Civil War Museum and the fantastic Five Senses Garden.
14. Cathedral of Saint Patrick
Aside from the stupendous State Capitol Building, one of Harrisburg's most impressive edifices is undoubtedly the Cathedral of Saint Patrick. Instantly recognizable from its gigantic green dome and fetching facade, it really is a treat to stroll around with most of downtown's other main sights lying just a stone's throw away.
Now recognized as a National Historic Landmark, the colossal cathedral was built back in 1907 and exhibits some exceptional Baroque Revival and Renaissance Revival architecture. After taking in its towering facade, stained-glass windows and dramatic dome, it is well worth venturing inside to see its equally attractive interior.
Invariably described as awe-inspiring, its light and airy nave and transept are intricately decorated with fine artworks, statues of religious figures and phenomenal frescoes.
13. Broad Street Market
If you want to buy some fresh fruit and veg, delicious baked goods or simply want to experience the lively local ambience, then make sure to head to Broad Street Market. Located in Midtown, its rows of stands and stalls have a wide variety of locally grown produce, preservatives and prepared meals for you to pick up.
One of the oldest continuously operating farmers markets in the country, it was established in 1863 as a way to help feed the hordes of Union soldiers based nearby. Within its humongous hall, you can find more than forty vendors selling everything from fresh produce and cuts of meat to sandwiches, soups and soft pretzels.
In addition, there is also an eclectic array of street food from all around the world to try with coffee stands and gift stalls also dotted about.
12. Riverfront Park
Although it lies right next to downtown, the peaceful and picturesque Riverfront Park feels a world away from the hustle and bustle of the city center. As well as offering up striking panoramas of the river and City Island, it has all kinds of fun outdoor activities for you to enjoy.
Running parallel to the sparkling Susquehanna River, the long, narrow park and its gorgeous green spaces was founded back in 1912. This was during the nationwide City Beautiful Movement which aimed to introduce more elegant outdoor spaces and architecture to urban areas.
Next to both its delightful gardens and leafy paths are statues, memorials and public art installations with fitness machines and picnic benches also on offer. During the year, Riverfront Park puts on many of the city's main festivals and cultural events such as MusicFest, Kipona and Pride.
11. FNB Field
Michael Stokes / Flickr
If you're after an exciting sporting spectacle when in town, then the fabulous FNB Field is definitely the place to go. Lying just across Market Street Bridge from the park, the intimate and atmospheric venue lies right at the center of City Island.
The home of the Harrisburg Senators, the small stadium sits on the exact same spot where baseball has now been played for well over a century. Opened in 1987, the beautiful minor league ballpark is a very family-friendly place to catch a game with great sightlines, snack stands and between-innings entertainment all guaranteed.
Aside from watching the Double-A Eastern League affiliate of the Washington Nationals, locals and tourists alike can make use of all the state-of-the-art facilities that surround the field. These include not just volleyball courts and softball fields but marinas, a food court and nature trails too.
10. Fort Hunter Mansion and Park
Just up the Susquehanna River from the center, is another of the area's interesting historic sights: the Fort Hunter Mansion and Park. Surrounded by lots of lovely lush grounds and gardens, the historic house museum highlights what life was like for affluent Americans back in 1725.
Perched atop a bluff overlooking the river, the enormous estate now encompasses around a dozen old buildings for visitors to explore. Throughout its long history, it served as a wartime fort, frontier trading post and private residence.
The Victorian-era mansion is home to fantastic furnishings, period pieces and engaging exhibits with costumed actors and expert guides both helping explain more about the epoch. Due to its scenic splendor, many people host private events and weddings in its idyllic riverside park.
9. Whitaker Center
Whitaker Center
Back in the center of town, you can find the wonderful Whitaker Center for Science and the Arts. In addition to lots of hands-on activities and experiments, it boasts an IMAX cinema and performance theater where dance, music and science shows regularly take place.
The first complex of its kind in the country to use science as an entry to the arts, it was first opened to the public in 1999. Packed across its three floors are more than 200 interactive exhibits focusing on the natural sciences, maths and technology with exciting esports areas and STEM design studios also included.
Besides watching an educational yet entertaining film in its IMAX, you can always enjoy an opera, ballet or orchestra performance in its splendid theater.
8. Appalachian Brewing Company
Backwards Bill / Flickr
After the sightseeing, shows and sporting events, what better way to relax than with a freshly pulled pint at the Appalachian Brewing Company. Located not too far from the science center and Capitol Park, it has terrific tours and tastings for you to take at its atmospheric brewpub.
Actually the first and only brewery to open in the capital since prohibition times, it was founded in 1997 and now operates in numerous cities across the state. While its lager room, production line and bottling floor occupy an old brick building that dates to 1890, its restaurant and tasting room can be found in a modern building adjoining it.
While sampling signature brews such as Aero-Head, Outta Focus and Water Gap, guests can enjoy delicious burgers, tacos and other casual bites in its lively yet laidback bar.
7. Wildwood Park
Home to loads of stunning landscapes, scenery and nature, Wildwood Park lies just a short distance northeast of Uptown. A very popular place to exercise and immerse yourself in nature, its sprawling confines are centered around the large and lovely lake of the same name.
Winding their way about its wetlands, woods and wild areas are countless trails and boardwalks for you to hike, cycle or horseback ride along. As the park is so quiet and peaceful, it is the perfect spot to both birdwatch and see wildlife. All kinds of local species are spotted either out on the reflective lake or hidden away amidst the dense foliage surrounding it.
At its excellent nature center, visitors can learn more about the state's fauna and flora with snakes, turtles, herons and rabbits all often sighted in the park.
6. Pride of the Susquehanna Riverboat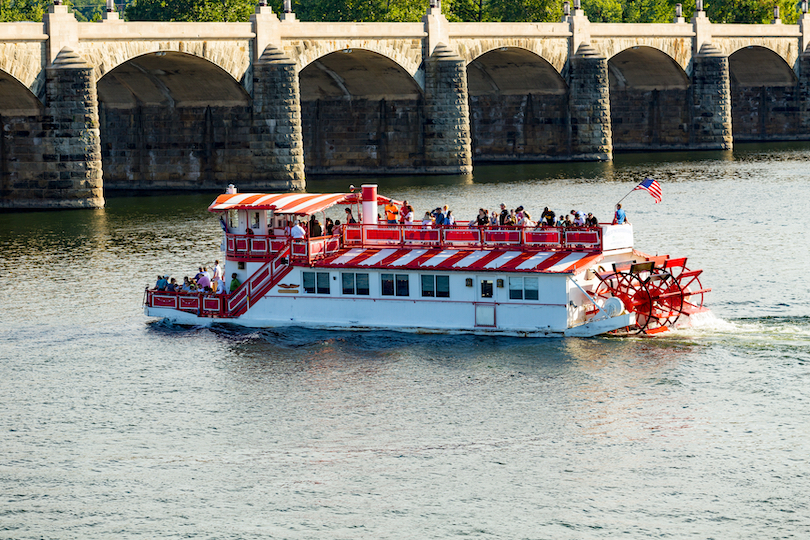 Another fabulous way to see even more of the city and its waterways is to take a relaxing cruise on the Pride of the Susquehanna. From the decks of the pretty old paddle-wheel riverboat, you can see many of its main sights and landmarks and enjoy fine views over the beautiful river and its banks.
Although only launched in 1988, the quaint and colorful boat is designed to look like a late 1800s-era riverboat, though it has diesel power propelling it up and down the Susquehanna. As you sit back, relax and watch the world go by, the commentary provides passengers with interesting information and facts on the history and nature of the region.
Aside from its regular 45-minute-long cruises, the Pride of the Susquehanna has fun-themed events like murder mystery dinners, music nights and special sunset trips for locals and tourists to try out.
5. State Museum of Pennsylvania
If you want to learn all about the commonwealth's history, culture and nature, then the superb State Museum of Pennsylvania really is a must-visit. Set right next to the soaring State Capitol Building, it has a myriad of amazing artifacts, exhibits and archaeological findings for visitors to peruse.
Impressively enough, the museum houses more than two million objects and specimens associated with Pennsylvania's past. Alongside its well-done dioramas and displays, you can therefore see everything from flint arrowheads and vintage vehicles to massive mastodon skeletons, Civil War weapons and Native American artifacts.
Numerous fine paintings and historic photos also feature with standout sights including its brilliant planetarium and a large life-size Village Square streetscape you can actually enter and explore.
4. City Island
Lying right in the center of the rushing Susquehanna River is the mile-long City Island that offers up loads of enticing attractions and activities. Connected to either bank by the Market Street Bridge, it is one of the main places in Harrisburg to either relax and unwind or enjoy some thrilling outdoor activities and entertainment.
Once inhabited by the Iroquois and Susquehanna tribes, it was later used as a base by Union troops during the American Civil War. Since those early days, countless playing fields, courts and batting cages have sprung up with the city's Senators also playing their games at FNB Field.
On top of all its riverside trails and sports facilities, there is an arcade, observation deck and small, sandy beach for residents and out-of-towners alike to enjoy. You can also take horse-drawn carriage rides, hop aboard its small-scale steam train and take a cruise aboard the Pride of the Susquehanna.
3. Pennsylvania State Capitol
Often considered one of the most striking State Capitols in the country, Pennsylvania's can be found right in the heart of Harrisburg. Sometimes referred to as the 'Palace of Art' due to all its sculptures, murals and stained-glass windows, it exhibits some exquisite Beaux-Arts architecture.
Since 1812, the city has been home to the state's seat of government with the current capitol dating to 1906. While a gigantic, grand staircase leads up to its entrance, a lofty dome modeled on that of St. Peter's Basilica in Rome presides over its colossal complex.
Inside is just as awe-inspiring as its four floors and 475 rooms are adorned with incredible artworks and mosaics that depict famous figures, events and industries from Pennsylvania's history. On tours, knowledgeable guides will teach you more about the building and point out fine features decorating its remarkable rotunda and ginormous government chambers.
2. National Civil War Museum
Todd Van Hoosear / Flickr
Sometimes said to be the only institute in the country to tell the entire story of the war, the National Civil War Museum lies in Reservoir Park. Its galleries present a balanced, unbiased look at both the Union and Confederate cause with every event, the aftermath and even certain individuals examined in minute detail.
Only established in 2001, its innumerable artifacts and exhibits occupy a two-storey brick building right in the center of the park. While some sections focus on slavery and the first shots fired at Fort Sumter, later parts look at how geography and topography affected troop movements. Particularly captivating displays include those on why soldiers decided to fight for either side and women's roles in the war.
Its large collection of original artifacts also includes personal possessions of important generals and old uniforms and weapons used by common soldiers. Photos and film clips also help bring the Civil War to life and explain in great depth the ins and outs of one of the States' most important conflicts.
1. Hershey Park
While Harrisburg is well-known for its wealth of historic sites and cultural landmarks, many people also visit Hershey Park when in the capital. One of the most popular attractions in Pennsylvania, the fun and family-friendly theme park has all kinds of exhilarating rides and rollercoasters for young and old to enjoy.
Located just twenty minutes drive from downtown, it was set up by Milton S. Hershey in 1906 as a leisure park for the employees of his chocolate factory. It now has about seventy exciting attractions to check out with themed areas including Pioneer Frontier, Kissing Tower Hill and The Boardwalk.
It also has a wonderful water park and zoo to explore with firework displays, live music and parades all regularly taking place. Just outside is Hershey's Chocolate World where you can try lots of tasty chocolate and candy with plenty of shops and restaurants dotted about the unique, chocolate-themed resort destination.
Map of Things to Do in Harrisburg, PA