Set at the southern end of the vast Willamette Valley, Eugene is a fun, vibrant and youthful city to explore that has a lot of tourist attractions. Home to plenty of parks and gorgeous green spaces, it lies not far from the confluence of the rushing McKenzie and Willamette Rivers, just west of the majestic Cascade Mountains.
Renowned for both its liberal outlook and alternative lifestyle, it is one of the largest cities in Oregon, with everyone from anarchists and activists to entrepreneurs and industrialists calling it home.
Thanks to the University of Oregon's sizeable campus and student population, it has a lively feel to it and an excellent arts and culture scene for visitors to check out. Dotted about are brilliant breweries and fine local restaurants with the bustling Saturday Market always being one of the most popular things to do in Eugene.
In addition, some great outdoor activities can be enjoyed in the surrounding countryside while both the umpteen wineries of the Willamette Valley and the stunning scenery of the Oregon Coast lie not far away, should you want to explore a bit more of the state.
12. Skinner Butte Park
© Dreamstime
Overlooking the winding Willamette River is the prominent Skinner Butte Park, which is located on the northern edge of downtown. As well as fantastic panoramas over the city center and the Cascade Mountains in the distance, it has all kinds of outdoor activities for visitors to enjoy, with picnic areas and playgrounds on offer.
One of the oldest parks in town, it was established in 1914 and is named after Eugene Skinner – the founder of the city. Covered in lush woodland, the big butte acts as a local landmark and reaches 682 feet in height with bike paths and hiking trails meandering here and there.
Besides basking in the beautiful views and enjoying its resplendent nature, visitors can also go rock climbing at 'The Columns' part of the park or check out the incredible architecture of the Shelton McMurphey Johnson House, which dates to 1888.
11. Sweet Cheeks Winery
© Dreamstime
Surrounded by the striking scenery of the Southern Willamette Valley, Sweet Cheeks Winery makes for a lovely place to try some of the region's wonderful wines. Set just half an hour's drive southwest of the city, it offers terrific tastings on its delightful hillside patio.
Since 1978 it has produced exceptional, award-winning wines with its fertile vineyards growing, not only phenomenal Pinot Noir and Pinot Gris but Riesling and Chardonnay too. Either outside or in its atmospheric tasting room, guests can sample superb wines paired with artisanal cheeses and fresh fruit from the surrounding countryside.
What makes a visit to the Sweet Cheeks Winery so memorable are the sweeping views from its outdoor terrace that perfectly complement the full, fruity flavors of its wines, and only adds to the relaxing ambience about the place
10. McKenzie River Trail
© Dreamstime
One of the most picturesque places to hike and bike in Oregon, the McKenzie River Trail takes you past stupendous scenery and nature. As it winds its way alongside the gushing river, the small path passes through old-growth forest and rugged lava fields with sparkling blue pools, lakes and even waterfalls on show.
Stretching just over 25 miles in length, the scenic trail starts at the headwaters of the aptly named Clear Lake before terminating at the McKenzie River Ranger Station, around an hour's drive from Eugene. As the river and trail snake their way through the Cascade Mountains, some sections can be quite steep and technical in places although most parts shouldn't pose a problem for beginner hikers and bikers.
The trail is certainly well worth the challenge, however, due to all its stunning scenery, photo spots and viewpoints with highlights including the Tamolitch Blue Pool, the Terwilliger Hot Springs and both Sahalie and Koosah Falls. If you want to make it a multi-day trip, various cozy campsites can be found strung out along the rambling route.
9. Autzen Stadium
© Dreamstime
If instead of epic outdoor activities it is a thrilling sporting spectacle that you are after, then you will definitely want to watch the Oregon Ducks play at the enormous Autzen Stadium. The largest sports arena in the state, it is renowned for both its exhilarating atmosphere and cacophonous crowd noise with the Ducks being one of the biggest and best college football teams out there.
Built during the sixties but regularly renovated over the years, the outdoor football stadium lies just across the river from the University of Oregon campus, next to Alton Baker Park. Due to its sunken field, the close proximity of the fans to the action and its raucous home support, watching the Ducks play really is an unforgettable experience.
When the football season is over at the end of autumn, visitors can always watch the college's teams compete in basketball and baseball or at track and field events too.
8. Mount Pisgah
© Dreamstime
Another very highly rated spot to enjoy some exquisite outdoor activities, viewpoints and nature is the mighty Mount Pisgah. After just fifteen minutes' drive, you can find yourself a world away from the hustle and bustle of downtown, hiking peacefully amidst the scenic confines of its arboretum.
Situated to the southeast of Eugene, the small mount rises dramatically above the Willamette Valley, with divine panoramas to be enjoyed from its 1532-foot-high summit. Aside from hiking to the top, visitors can stroll around its expansive and attractive arboretum that encompasses a vast array of plants and trees native to the Pacific Northwest.
With flower-filled meadows and verdant forests set next to charming creeks, idyllic hillside picnic spots and romantic riverside walks, it is no wonder at all that Mount Pisgah attracts nature lovers and outdoor enthusiasts alike.
7. Owen Rose Garden
© Dreamstime
Along with Hendricks Park, Owen Rose Garden is the main place to head in town if you want to see pretty flowers – and thousands upon thousands of them at that. Lying on the banks of the Willamette River, its gorgeous grounds can be found not far from the steep Skinner Butte's pleasant park.
Since being established in the early 1950s, its gardens have grown and grown and now impressively contain more than 4,500 roses of over 400 varieties. Lovingly laid out and landscaped, their vivid yellows and reds, pinks and oranges make for quite the sight with sweet smells and fine fragrances wafting through the air wherever you wander.
In addition, it has countless other kinds of flowers to enjoy with winding paths taking you past both endless rose bushes and down by the quiet riverside. Other than its manicured gardens, its standout sight is definitely the incredible old Owen Cherry Tree which is thought to date to 1847.
6. Hendricks Park
© Dreamstime
Rivaling the Owen Rose Garden in terms of its beauty, scenery and scents is the picture-perfect Hendricks Park. Rather than roses, it is instead packed with rhododendrons and azaleas with both its gardens and old-growth forest covering a much larger area in the southeast of the city.
The oldest city park in Eugene, it was founded back in 1906 with pockets of wilderness and pristine forest still to be found alongside its world-renowned rhododendron garden. While strolling along its shady paths, visitors can expect to see everything from towering firs and dogwood trees to patches of ferns, irises and wildflowers with daffodils often spied blowing in the breeze.
Besides exploring the park, taking in all the magnificent nature and snapping photos of the colorful flowers, you can also stop off for a picnic and enjoy delightful views of the Cascade Mountains off in the distance.
5. Cascades Raptor Center
© Dreamstime
Yet another of the city's plentiful nature spots that is well worth checking out is the Cascades Raptor Center which also acts as a wildlife hospital. Set just fifteen minutes' drive due south of the center, it lies right next to the humongous Hult City Park with amazing aviaries and educational exhibits dotted about its picturesque hillside setting.
Founded in 1987, the center specializes in rescuing, rehabilitating and releasing raptors, with around 3,000 of the majestic birds having been treated and cared for at its hospital over the years. While nearly all are ultimately returned to the wild, its spacious aviaries are the permanent home of almost forty resident raptors. Guests can learn more about their varying characteristics, behaviors and natural habitats.
At the center, visitors can see about thirty species from all around the Pacific Northwest with expert guides and handlers on hand to teach you more about the beautiful birds.
4. King Estate Winery
Don Hankins / Flickr
While a whopping 700 wineries can be found scattered about the Willamette Valley, one that you certainly don't want to miss out on is the excellent King Estate Winery. The largest Biodynamic certified vineyard in North America, its sprawling site lies forty minutes' drive south of Eugene, just outside of Lorane.
Widely credited with bringing Pinot Gris into national consciousness, the enormous organic winery was established in 1991 and has drawn awards and acclaim ever since. At its visitor center, guests can take tours around the fertile vineyards or sit and sample some splendid wines either at its tasting bar, gourmet restaurant or in an extraordinary setting outside on its patio.
Besides cultivating grapes and producing award-winning wines, the estate grows all kinds of fruits, vegetables and flowers which are then paired with Pinot Noirs and Chardonnays in its restaurant or used to decorate the already remarkably pretty property.
3. University of Oregon
© Dreamstime
The most prestigious institute of higher learning in the state, the highly rated University of Oregon covers a huge part of the city center. At its campus, you'll not only find attractive architecture and atmospheric old ivy-clad buildings but a lovely arboretum and exquisite art museum too.
Now home to five colleges that focus on the arts, science and law, it was founded in 1876 with lots of libraries, quads and research facilities also being dotted about its campus. On tours, you can learn more about its rich history and heritage as you stop by hallowed halls and check out its state-of-the-art sporting facilities.
Aside from taking in its lively yet laid back vibe, guests can peruse extensive artworks and artifacts in both the Jordan Schnitzer Museum of Art and Museum of Natural and Cultural History or watch an exciting game of one of its many college sports teams.
2. Saturday Market
Koocheekoo / Flickr
A colorful and chaotic, fun-filled affair, the ever-popular Saturday Market takes place weekly from April through to November. Thanks to its festive and friendly atmosphere, its endless rows of stands and stalls attract huge crowds of both locals and tourists alike.
What started out in 1970 as a relatively small market has since spawned into a massive community event with more than 200 vendors descending upon its Park Blocks location in downtown Eugene each week. Here you can buy incredible hand-crafted creations, with everything from paintings and photos to interesting artworks, glimmering jewellery and intricately carved furniture on sale.
In addition, there are countless food stands and stalls selling fresh produce, while talented local musicians and street performers add to the appealing ambience. With so much going for it, the oldest open-air crafts market in the States is definitely not to be missed when in town.
1. Willamette River Bike Trail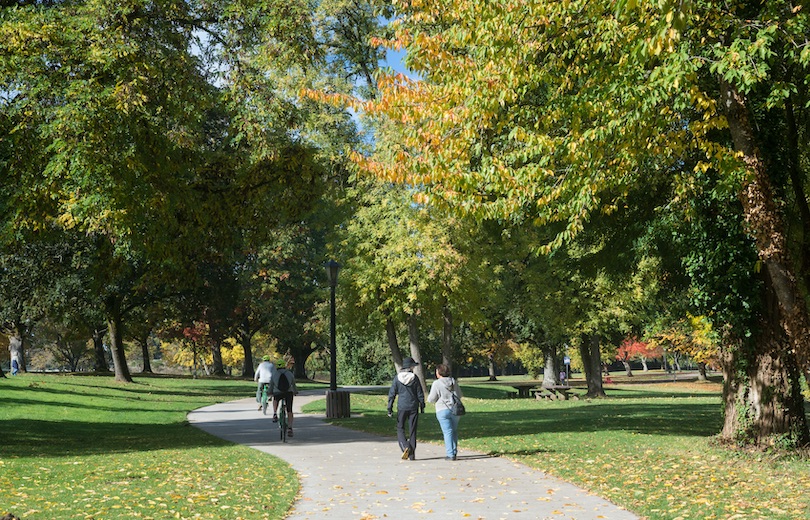 © Dreamstime
A wonderful way to see as much of Eugene and its surroundings as possible is to go for a peaceful cycle ride along the Willamette River Bike Trail. Connecting Eugene to Springfield, it passes scenic spots and nature parks and offers gorgeous views over the river the whole way along.
A collection of paved and natural-surfaced paths, it stretches just over 12 miles in total and winds its way along both banks of the Willamette River. On the south side, you'll cycle past such sights as Skinner Butte Park, the University of Oregon and the Owen Rose Garden, while the North Bank Path instead takes you through pristine forests and Alton Baker Park.
Besides biking, you can walk or run along the popular multi-purpose trail with park benches, picnic areas and pedestrian bridges all lining the riverside route.
Map of Things to Do in Eugene, Oregon