Oregon is most famous for its spectacular nature, from thick green forests to desert-like stretches of coast – the Beaver State has it all. It's also home to the deepest lake in the US, the Crater Lake.
Another peculiar fact about this state is that it has the planet's largest organism growing in it. The 2.4 mile network of honey fungus growing in Oregon's Blue Mountains really takes the cake when it comes to size. Mushrooms have made it into Oregon's culture too, with celebrations like the Estacada Festival of the Fungus.
It's fitting that we're going to look at the 33 best things to do in Oregon, as it is America's 33rd state. The capital of Oregon is Salem, the state's third largest city. Though cities like Portland and Bend definitely make it onto the list of places to visit in Oregon.
33. Oneonta Gorge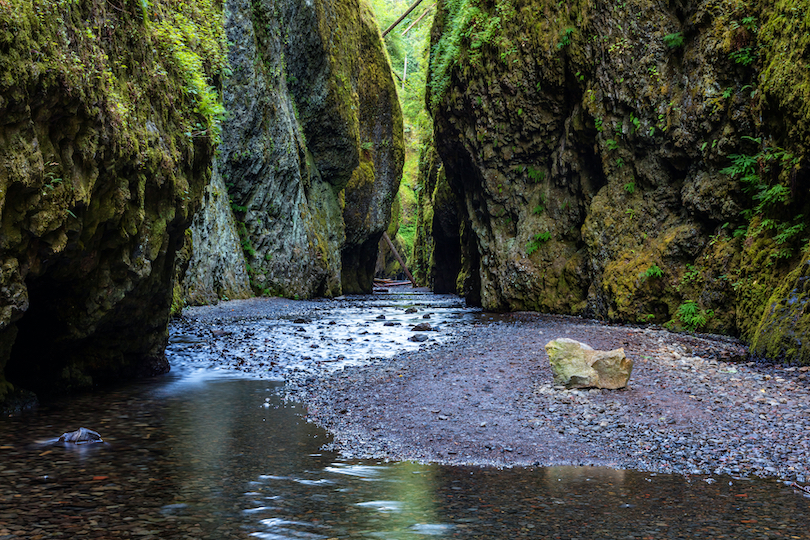 © Dreamstime
Oneonta Gorge is the perfect place for nature lovers and hikers alike. The trail through Oneonta Gorge takes you past four different waterfalls, each equally charming and impressive. But to get there you'll have to wade through a creek that can be anywhere from ankle to waist deep. Make sure you pack good waterproofs!
The water levels vary based on the season and amount of rainfall, so you might want to check ahead what the current water levels are. The creek is covered in vibrant green moss and surrounded by wooded areas high above.
Just a 40 minute drive away from Portland, the creek is an ideal day trip from the city. Sadly, the creek has been closed since 2017 because of damage caused by the Eagle Creek fire, but if you're heading there in the future – you might get lucky!
32. Ecola State Park
© Dreamstime
Ecola State Park covers part of the Tillamook Head area. It stretches between Seaside and Cannon Beach and offers visitors a mix of natural environments. There are dense woodlands, cliffs with coastal views, and sandy beaches along the way.
The park is most known for its hiking trails. There are short trails, like the 2.5-mile-long Clatsop Loop Trail. This, at points, follows along the route taken by Captain William Clark and another 12 fellow Corps of Discovery, who in 1806 walked along the park in search of a beached whale. If you fancy a longer hike, there is an eight-mile-long trail (which is part of the Oregon Coast Trail).
There are plenty of other things to do offered by the park's terrain, from having a relaxing picnic to surfing. Keep a lookout for deer, elk, and eagles along the way, there is some incredible wildlife in the park.
31. Oregon Shakespeare Festival
The Oregon Shakespeare Festival is a non-profit theater company that was founded in 1935 by Angus L. Bowmer. The company began their journey with a production of Twelfth Night. Their tickets were sold for as little as $0.50.
Decades later and the OSF have won Tony Awards and gained recognition across the country. You can visit their stages in Ashland or book to go to one of their shows.
The company also runs educational events and a variety of other theater-related activities; they're worth checking out during your time in Oregon.
30. Willamette Valley Wine Region
© Dreamstime
Do you like nature, and more importantly, do you love wine? Then this is your happy place. Willamette Valley is idyllic and boasts more than 700 wineries. The grapes are grown in the local vineyards, pressed, and bottled up for you to enjoy.
The region is famous for its crisp and refreshing Pinot noir but serves a variety of delicious wines. The valley runs along the Willamette River and is protected from the cold Pacific Ocean breeze by the Coast Range Mountains and the desert-like climates of eastern Oregon by the Cascade Range.
It's a unique and magical place to spend a slow weekend drinking wine with scenic views. The valley is close to Oregon and Eugene, so you could visit on a day trip (though it might be hard to get someone to volunteer as a designated driver).
29. Samuel H. Boardman State Scenic Corridor
© Dreamstime
The Samuel H. Boardman State Scenic Corridor is made up of 18 miles worth of rugged rocky cliffs, sandy shores and wooded hillsides. It's located along Highway 101 between Brookings and Gold Beach, making it a popular stop-off for drivers on road trips. However, there's enough to explore that you could come here and hike for the day.
Thanks to the area's varied landscape, you can choose whether you want to eat your picnic in the woods or at the top of a cliffside listening to the waves crashing below.
Some of the highlights of the Samuel H. Boardman State Scenic Corridor are Whaleshead Beach and Cape Ferrelo Viewpoint. If you're in a hurry, you can stop for a picnic on the oceanfront, just a short stroll from the beach, at Whaleshead Beach. If you've got more time, walk the mile-long trail to the Cape Ferrelo Viewpoint and enjoy the sunset or seasonal whale watching from there.
28. Lincoln City Glass Center
© Shutterstock
If you're in Lincoln for a weekend or more, don't miss out on a visit to the Lincoln City Glass Center. Glass making is a fascinating craft that has been used for centuries. You can explore the center's shop and purchase beautiful souvenirs to take home for loved ones (or yourself!).
If you're feeling creative, you can even try your hands at glass-making with a trained professional. Once you've finished your masterpiece, leave it at the center to cool down for the night or get it sent straight home.
Otherwise, you can always just watch the professionals at work making colorful, swirly paperweights, vases, and more! A fun activity for a family, couple or group of friends.
27. Heceta Head Lighthouse
© Shutterstock
Built along the landscape's rocky coastline, this little lighthouse is the definition of picturesque. The lighthouse's tower is 56-foot high and was first lit up in 1894. The light can be seen up to 21 miles from land, and has no doubt saved many lost boats in its time.
The sea views and woodlands in the background only enhance the lighthouse's appeal; you'll definitely leave with some Instagram worthy pictures!
If you want to spend the night by this enchanting lighthouse, you can book in at the Heceta Lighthouse Bed and Breakfast, which was built in 1883 and once served as the assistant lightkeeper's house.
26. Tumalo Falls
© Dreamstime
Tumalo Falls is a 97-foot waterfall within Tumalo Creek. This scenic creek sits within the Cascade Range, just half an hour's drive away from Bend. Even the drive is scenic. It's a popular picnic destination, and there are plenty of facilities and picnic areas near the main car park to accommodate everyone.
The best viewpoint of the waterfall is right next to the parking lot, though with the incredible views of the trees growing along the canyon walls and the surrounding mountains you'll feel like you're miles away from civilization.
If you want to do something more adventurous during your visit you can go on one of the mountain biking trails or hiking routes. There's lots to see along the way; Tumalo falls isn't the only waterfall in the area.
25. Goonies Filming Locations in Astoria
© Shutterstock
Astoria and the surrounding coast was the filming location for the iconic Goonies movie. Fans come from all over the country hoping to set foot on the same beaches and get up close to the homes of the legendary Goonies' characters.
Data and Mikey's houses are some of the most famous addresses in Astoria! Sadly, they are privately owned so whether or not you can get up close and take a picture will depend greatly on who the current owners are.
You can also visit the County Jail (which is actually the Oregon Film Museum) which has exhibits of famous films made in Oregon. Needless to say, The Goonies made it onto the wall of fame. If you want to go to some of the filming spots outside of the city, visit Cannon Beach and get up close to Haystack Rock, which helped the boys navigate the coast.
24. Hells Canyon National Recreation Area
© Dreamstime
On your visit to Oregon, don't miss out on a trip to Hells Canyon – the deepest river gorge in North America. There's lots of ways you can explore the terrain, so whatever your time frame or needs you'll be able to enjoy the canyon.
One unique way to explore Hells Canyon is whitewater rafting along the Snake River that moves its way through the canyon. You could also try horse riding or just drive through.
There are plenty of popular hikes up to the mountain peaks that take you through lush green forests and along craggy ridges. The views are certainly spectacular from up there. Keep your eyes peeled for wildlife, there's everything from cougars, bobcats, bears, elk, deer, mountain goats, and bighorn sheep!
23. Newberry National Volcanic Monument
© Shutterstock
The Newberry National Volcanic Monument is just south of Bend, about a 40-minute drive away. When you first get there, you might want to head over to the Lava Lands Visitor Center to grab a map and get some information from the local rangers.
This huge park was named after Dr John S. Newberry, who was a scientist and early explorer in the Pacific Railroad Survey. There are volcano summits, lakes, and waterfalls to explore. Don't miss Paulina Falls, an 80-foot double waterfall just a stroll away from the nearest car park. There are restaurants and lodging there too.
If you've always wanted to summit a volcano, but it seemed too much like hard work, head to Lava Butte. You can drive right up to the summit in summer, and it's just a 3.5-mile hike in winter. Then walk the .25 mile trail around the crater of this once active cinder cone.
22. Columbia River Gorge
© Dreamstime
Welcome to the largest National Scenic Area in the United States, the Columbia River Gorge. You can explore the area by car, hiking, biking or from the river. Whatever way you choose, make sure you stop to take a break and enjoy the views at the Crown Point Vista House, an old observatory and museum with breathtaking vistas.
With panoramic views of the Cascade Mountains, the Columbia River, and waterfalls all in one place, you can't go wrong with a visit to Columbia River Gorge.
It's also a popular spot for water sports, especially windsurfing. If you haven't tried it before, where could be better?
21. Yaquina Head
© Shutterstock
Yaquina Head is a stretch of coastal land just over two hours drive away from Portland. Visitors come here to enjoy the seaside, take in the scenic views, and visit the old lighthouse. There's also lots of wildlife in the area, like seals and marine birds.
Start your trip off at the Visitor Center where you can grab a map and wander through their small exhibit of whale bones. Next, stroll up to the 93-foot-tall lighthouse. Built in 1873, it's still the tallest in Oregon!
A great day trip from the city for couples and families alike, Yaquina Head promises a fun but gentle afternoon by the sea. Plus, there are plenty of tidepools where the kids can look for crabs.
20. John Day Fossil Beds
© Dreamstime
The John Day Fossil Beds are Oregon's equivalent of Peru's Rainbow Mountain. Striped in shades of browns, reds, and oranges, the colorful hillsides aren't just pretty. An important paleontological site, there is 40 million years' worth of history buried as fossils in these hills.
Paleontologists have dug up ancient fossils of both plants and animals, and they look nothing like the life on earth today. You can see some of the most unique and intriguing exhibits at the Thomas Condon Paleontology Center.
Just a two hour drive away from Bend, the John Day Fossil Beds can be explored on foot or by car and are well worth a visit.
19. Powell's City of Books, Portland
© Shutterstock
The building is so big, you'll probably wonder: Is Powell's City of Books a library? Well, the answer is no. This is the world's largest independent bookstore and also one of the most popular tourist attractions in Oregon. If you forgot your holiday book at home, this is the place to come.
Built in the center of Portland, this old bookstore has been open since 1971. It's absolutely huge and it's proved a great success, popular amongst locals and tourists alike. The store sells new and used books and hosts educational events like book signings.
18. Devil's Punchbowl
© Shutterstock
This spectacular rock formation looks like a big cliff with a hollowed-out center. It was most likely formed when the roof of two sea caves collapsed. You can peer down into the Devil's Punchbowl from above or, at low tide, walk in and look up through its missing roof.
Surrounded by picturesque coastline, you could spend the day walking around or catching crabs in the tidepools. Pack your bikini in case you decide to go for a dip, though with Oregon's reputation for cold water, rough conditions, and deadly rip currents, it really might not be worth the risk.
This stretch of coast is a popular spot for whale watching and surfing, so if you come in the right season, you might just be able to do both.
17. Columbia River Maritime Museum, Astoria
© Dreamstime
The little Maritime Museum in Astoria is informative and intriguing. The museum has hundreds of artifacts taken from the sea by fishermen and sailors, and runs engaging art programs focused on everything coastal.
There are lots of photos and stories of the old river pilots and Coast Guard workers who once sailed the nearby waters. If their photos and stories don't bring them to life, maybe their old sailors' uniforms will.
Hop on-board the museum's ships and kill some time in their 3D film theatre. The museum is well reviewed and the perfect activity for a grey, rainy afternoon in Astoria.
16. Wallowa Lake
© Dreamstime
If you and your family love the outdoors, but you can never agree on what to do or where to go – come to Wallowa. Aside from the stunning lake, the surrounding area boasts mountains (that have snowy peaks in the winter), grassy meadows, and a cute town.
You don't have to argue about whether to go biking, hiking, boating or fishing on your holiday anymore – you can do it all. Once you've enjoyed all the outdoor activities on offer at Wallowa Lake, take the tramway up the mountain and lose yourself gazing at the stunning views from the top.
Ideally, you'll want to stay for a weekend or more. Luckily there are lots of different accommodation options. You can camp or stay in a lodge in town.
15. Oregon Coast Aquarium, Newport
© Shutterstock
The Oregon Coast Aquarium is a great place to take your family on a not-so-sunny day, especially if you have young kids. It's also a popular destination for marine biology enthusiasts and all kinds of wildlife lovers.
The aquarium looks after some peculiar, rare birds, like Nazca boobies, that you might not get to see anywhere else! They have tufted puffins, whose long, curly eyebrows will surely get the whole family giggling.
There are mammals like otters and seals, and dangerous fish like sharks in the aquarium too. If you're in Newport, make sure you add this to your list of things to do.
14. Seaside Beach
© Dreamstime
The coastal city of Seaside is a top holiday destination in Oregon. If there's one reason that tourists flock in year after year, it's the beach. Think sunsets and ice-creams, slow afternoons in the sun with a book in your hand – that's what your time in Seaside could look like.
When you've relaxed enough and you're ready to add some adrenalin to your holiday, head down to the beach and try out a new watersport. You can ride buggies along the beach, rent out a kayak and head out into the open ocean or grab a surfboard and brave the waves.
Bring your friends and family on a trip to Seaside and spend your holiday together on Seaside Beach, relaxing and having fun.
13. Oregon Museum of Science and Industry, Portland
© Dreamstime
The OMSI is a place for curious minds and outside-the-box thinkers. Throughout your visit to the museum, you'll explore the countless fun and interactive exhibits designed to help you connect to science.
There are experiment labs, an area of the museum designated to tell the story of how life on earth has evolved, how it all began, and much more. You can also visit the museum's submarine and become a pseudoscientist for the day.
A great activity for families with young kids in Portland. When you start to get hungry or you need to rest your brains for a bit, you can head over to the restaurant or café to recharge.
12. Oregon Caves National Monument
/ Flickr
The Oregon Caves National Monument is a network of caves that are found deep within the Siskiyou Mountains. They were formed over time as acidic water leaked through the forest floor and bit by bit carved out caves into the solid marble rock below.
On your tour of the caves, you'll walk down narrow, winding passageways so small you can touch both sides of the slippery and smooth cave walls, then into large and open caves where hundreds of stalactites hang above you.
There are camping grounds nearby, so you could tie your visit in with a weekend camping trip. Bring the family or come with some friends; whatever you do it's sure to be an adventure.
11. Evergreen Aviation & Space Museum
© Dreamstime
The Evergreen Aviation & Space Museum is in the outskirts of McMinnville, fittingly close to the airport. They have old and new airplanes, and a collection of the curious gadgets that have helped man get off the ground and into space.
Some of their most famous exhibits are the Spruce Goose, the world's largest wooden airplane that took a single flight in 1947, and the legendary SR-71 Blackbird that can fly at speeds of over 2,000 miles per hour.
A great activity to do with the kids or with friends, the aviation museum has something for everyone. It makes it onto the list of educational ways to spend a cold and rainy day in McMinnville.
10. Smith Rock State Park
© Shutterstock
Scenic views and exposed cliffs are what make the Smith Rock State Park so unique. The park is a climber's heaven, full of free climbing and rope climbing routes. There are also plenty of other activities on offer, like hiking, mountain biking, and horse riding.
If you're a nature enthusiast and you love doing your exercise out in the elements, you're going to love it here. There's so much to do you'll likely want to stay overnight, sadly you can't camp in the park year-round. But the good news is you can camp here from March through to November.
Whilst you're taking in the sights of the canyon with the Crooker River winding through it, you might get lucky and spot a golden eagle sweeping past or catch a glimpse of a deer or otter.
9. Oregon Dunes National Recreation Area
© Shutterstock
This is a miniature Sahara Desert right here in Oregon. The Oregon Dunes National Recreation Area is North America's largest stretch of coastal dunes. One thing that makes this particular place so special is that the sea is on one side, and there's thick forest on the other – the contrast between each environment is spectacular.
One of the most fun ways to explore the sand dunes is on an off-highway vehicle tour. But if speed and adrenaline aren't your thing, you can hike, go wildlife watching, camp, play in the sand or just admire the views.
There's more than just sand to see, the area is home to estuaries and beautiful dune lakes too. Make sure you visit before you leave Oregon.
8. Silver Falls State Park
© Dreamstime
The park's mossy forests and picturesque streams are the stuff of fairy tales. Beauty is abundant in this area, as is the local wildlife.
Silver Falls is one of those places you can come to again and again; each season is unique and eye-catching. From the frosty, misty mornings in the winter to the golden leafed autumn – you won't be disappointed by a trip to Silver Falls.
Make sure you check out the famous South Falls where you can find out how a 177-foot waterfall looks from behind. It's part of the popular 7.2-mile-long Trail of Ten Falls.
7. High Desert Museum, Bend
© Dreamstime
The High Desert Museum opened in 1982 and has been a popular destination amongst locals and tourists ever since. Styled like a huge log cabin, the museum feels cozy and authentic. It is designed to showcase the lifestyle, history and wildlife of the high desert (the surrounding area of Oregon).
You can get to know the way of life of the land's Native American Indians and visit an authentic homestead and sawmill dating back to 1904. Then take the kids to see the birds; there are vultures and eagles waiting.
The museum is surrounded by nature and wildlife, and it's just a five-minute drive from Bend. Perfect for families, couples, and groups of friends.
6. Cascade Lakes Scenic Byway
© Dreamstime
Lakes, mountains, and forests are what Oregon does best; the sights along the Cascade Lakes Scenic Byway are no exception. The 66 mile long drive takes about three to five hours, depending mainly on how much you stop.
The best time to do the drive is from June to October as the stretch of road beyond Mt. Bachelor closes in winter when the conditions aren't good. The best place to start the drive is Bend, a vibrant Oregon city.
The road will take you through the Deschutes National Forest, past Mt. Bachelor and Broken Top, and between the Cascade Lakes. The views are spectacular — pack a picnic and fasten your seat belts.
5. Multnomah Falls
© Dreamstime
The Multnomah Falls recreation site is the most visited in the Pacific Northwest, and for good reason. Just steps away from the car park, lodge and restaurants, there is a beautiful fall that drops down two moss covered cliffs.
The waterfall drops over 610 foot along its course – that's quite a drop. It's hard to believe that this incredible landmark is just a 30-minute drive away from Portland. You can easily visit from the city on a day trip or stop overnight and explore the surrounding area.
Easily accessible, the waterfall is a natural wonder reachable for all. There's also a little bridge that stretches across the cliffs where you can take fantastic pictures to show everyone back home.
4. Haystack Rock
© Shutterstock
Haystack Rock is a giant rock on Cannon Beach. That might not sound very impressive, but its position right on the shoreline mixed in with the smaller rock formations around it make it a truly eye-catching natural monument.
The rock itself is 235 feet tall and has been popular with more than just the locals and tourists. Haystack Rock has featured in The Goonies and the Kindergarten Cop, and has made it into various other books and TV shows. It's quite a famous rock!
The best time to visit is at sunset or sunrise when the sun sends splashes of color along the water; the sights are enchanting.
3. Washington Park, Portland
© Dreamstime
If you're in Portland and you want to escape the concrete and noise, make your way to Washington Park. There are a handful of things to do here other than playing football and lazing about on the lawn.
Bring a picnic and make the most of their picnic area, take the kids to the playground, stroll through the rose garden, and marvel at the exotic plants in the Japanese Garden.
And there's more… the Portland Zoo is here too, there are tennis courts where you can play a friendly (or competitive) match, and an archery range where you can put your survival skills to the test. You won't struggle to fill an afternoon, or a day, in Washington Park.
2. Mount Hood National Forest
© Dreamstime
Mount Hood towers over the surrounding landscape, and can be seen from Portland! This 11,240-foot-tall mountain is the highest in the state. Mount Hood is surrounded by lush green forest, waterfalls, and hot springs that make up the Mount Hood National Forest.
If you want to explore the area by car, drive the Mount Hood Scenic Loop from Portland, it takes you along the Columbia River Gorge on the way. If you want to explore the National Forest in a more hands-on way, explore some of the hiking trails.
There are short trails, like the two-mile long Trillium Lake Loop, and multiple day trails like the Pacific Crest Trail. If you visit in the winter months you can go to the Mount Hood Meadows Ski Resort.
1. Crater Lake
© Dreamstime
Oregon has plenty of natural wonders and many spots with top tier views. But Crater Lake might just take the title of most spectacular nature spot in Oregon. This enormous crater was formed 7,700 years ago when a violent eruption reshaped the landscape.
The lake in the middle is completely surrounded by mountains. If you take a hike around the ridge of the crater, you'll get the best views.
In winter, the snow can be thick and dense, but the summer season does get some warm and sunny days. You can stay overnight at one of the local lodgings if you want to carry on exploring this stunning natural habitat.
Map of Things to Do in Oregon