Set among the scenic splendor of Southern Oregon, the small city of Ashland packs a punch in terms of all that it offers. Located in the enchanting Rogue Valley, it lies within easy driving distance of everything from crumbling canyons and stunning crater lakes to towering mountains and beautiful wilderness.
While its stunning surroundings certainly warrant exploring, there are many things to do in Ashland itself as it is considered the south of the state's cultural capital. This is in large part because it hosts the internationally renowned Oregon Shakespeare Festival, which runs for nine months of the year.
Besides the abundance of outstanding plays and performances that take place in its many theaters, there are many fantastic galleries and restaurants to visit, with some interesting historic tourist attractions dotted here and there.
11. Ashland Library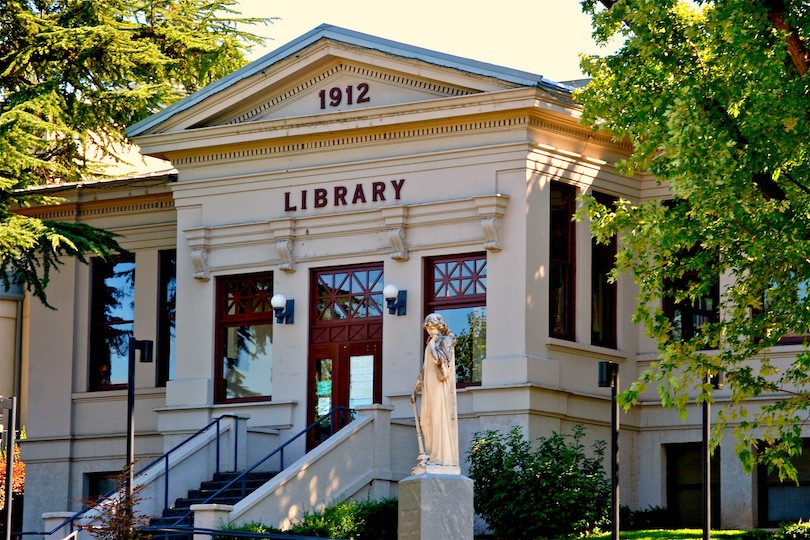 Curtis Cronn / Flickr
Lying amidst lovely landscaped grounds, the attractive Ashland Library can be found in the center of the city, not far from a range of excellent shops and cafes. It boasts an enormous collection of books, with computers and community spaces also on offer, so is very popular among locals.
Built in 1912, it exhibits a delightful design, with its stunning facade appearing very much like a stately courthouse. Once a Carnegie Library, it was later expanded, with more rooms, spaces and resources added for the community to use.
Due to its delicate features and appealing aesthetic, it is well worth stopping off at the Ashland Library, which also has a striking sculpture named the Mickelson-Chapman Fountain in front of it.
10. Hike part of the Pacific Crest Trail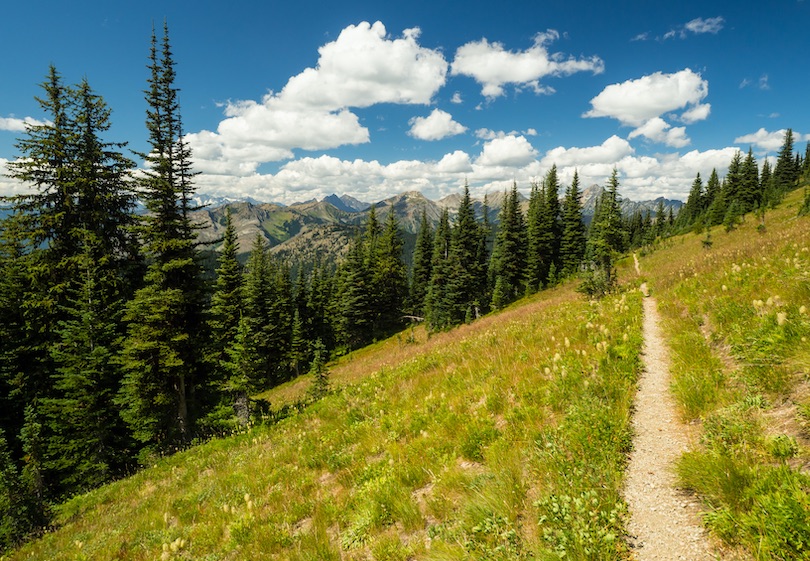 Weaving along the West Coast of the US, the phenomenal Pacific Crest Trail stretches all the way from Mexico to Canada. Spanning an incredible 4,270 kilometers, it passes many stunning scenery and landscapes, with some secluded sections found not far from Ashland.
Set just to the southeast of the city is the Cascade-Siskiyou National Monument, home to a picturesque part of the trail. Here visitors can hike through sweeping valleys and flower-filled meadows, with divine views of the mountains and surrounding natural landscapes.
In addition to this, a variety of other pretty and peaceful paths meander up to the edge of Crater Lake National Park, with magnificent peaks rising dramatically from the breathtaking wilderness. As Southern Oregon is so scenic and the Pacific Crest Trail so renowned, hiking part of it really is a must when in Ashland.
9. White-water rafting on the Rogue or Klamath rivers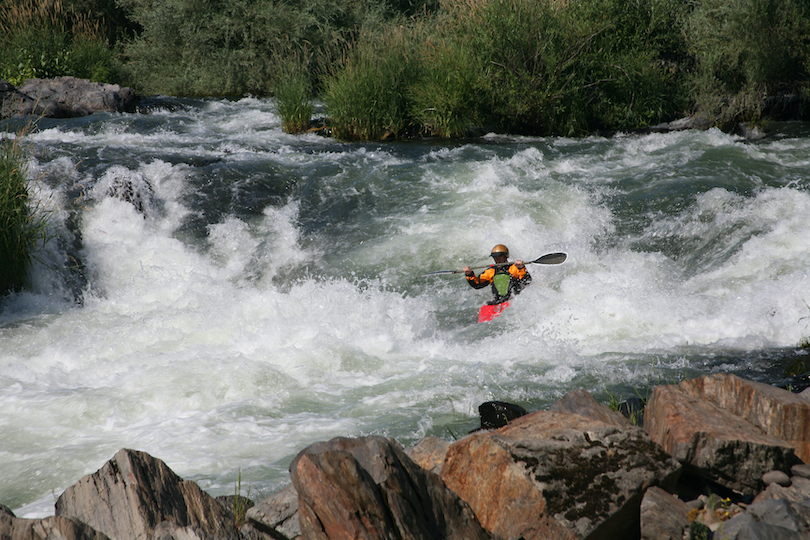 Another adventurous outdoor activity for visitors to Ashland to enjoy is white-water rafting along the Rogue and Klamath rivers. Besides being an exhilarating experience, the rushing rivers take you past lots of gorgeous scenery and landscapes.
While some scenic stretches are peaceful and pleasant to paddle along, others – such as the hair-raising Hell's Corner Canyon of the Upper Klamath – have roaring rapids for you to navigate. If its cascades seem a bit of a challenge, visitors can opt to take a scenic float along the Rogue River, which is lined by craggy canyons, vast valleys and lush woodlands.
As both rivers lie not far from Ashland, white-water rafting along the Rogue and Klamath make for fun and unforgettable day trips, and many tour providers can be found in the center of town.
8. Lake of the Woods
Nestled away to the northeast of Ashland is the lovely Lake of the Woods, a popular and picturesque place to visit. Set in a secluded spot, it lies around an hour's drive from the city and offers outstanding outdoor recreation opportunities.
Surrounded by the verdant Fremont-Winema National Forest, its reflective waters look a treat, with the mighty Mount McLoughlin lurking in the distance. Hidden along its serene shores are many holidays homes and countless cosy campsites to stay at, with a couple of restaurants and a marina here and there.
Besides basking in its beauty, visitors can enjoy swimming, fishing, and canoeing, while a plethora of terrific trails wind around its attractive woods. Located near the crest of the Cascade Range, the Lake of the Woods is well worth visiting if you want a quiet and relaxing getaway.
7. ScienceWorks Hands-On Museum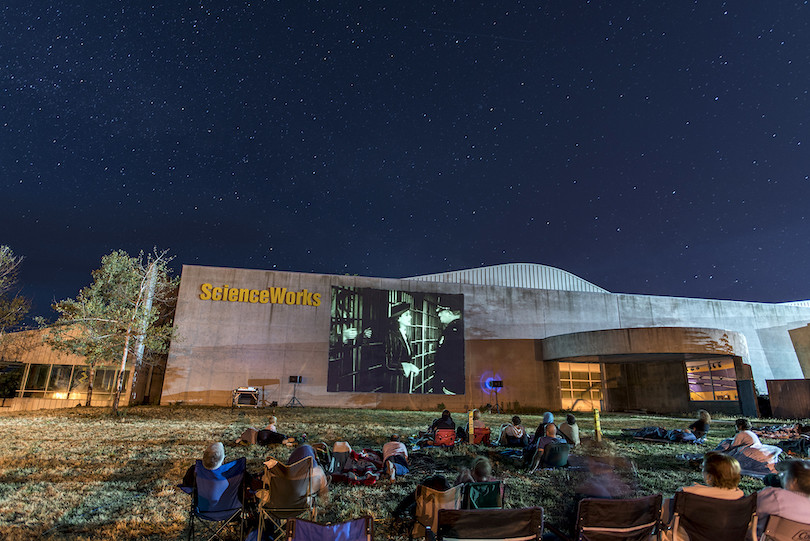 Al Case / Flickr
As interesting and informative as it is engaging and entertaining, the superb ScienceWorks Hands-On Museum can be found not far from the city center. Only opened in 2002, it has many excellent exhibits and an abundance of exciting educational activities for visitors to try out.
Originally founded as an interactive science center for the state's schools, it has since grown into a magnificent museum with over a hundred enthralling exhibits. While some focus on physics and pterosaurs, others look at sports and space; all of them encourage scientific discovery through hands-on experiments and exploration.
In addition to being a fantastic family-friendly attraction, ScienceWorks also runs excellent science camps and is a very popular field trip destination for local schools.
6. Oregon Cabaret Theater
Joe Mabel / Wikipedia
Lying in the heart of Ashland is the incredible Oregon Cabaret Theater, which puts on almost three hundred performances a year. Located in a beautiful building known locally as 'the Old Pink Church', it makes for a fun and festive night out, with six shows to enjoy each week.
Opened in 1986, the theater itself looks a treat; it has painstakingly been restored and renovated to look as it did in the early 20th century. Beautiful stained glass windows line the former baptist church's walls, with sparkling crystal chandeliers, multi-tiered seating, and a stage being more recent additions.
Besides enjoying the evening's entertainment and the theater's arresting ambience, guests can dine and drink as they enjoy the shows and musicals.
5. Take a Wine Tour
As the verdant valleys surrounding the city are dotted with fertile vineyards, it's no wonder that Ashland is becoming increasingly known around the world for its wonderful wines. There are many different and delicious types to taste, so it's well worth taking a wine tour around the area's attractive estates.
In addition to leading you around the lush vineyards of various picturesque properties, the tours teach you everything there is to know about pressing and producing wines. After having viewed their cool cellars, visitors can enjoy tasting some of Ashland and Oregon's best wines, which are often paired with some lovely local produce.
With dozens of wineries found in the area, a tour is one of the best ways to visit them, with many operators running tours from the center of the city.
4. Mount Ashland
Alex Lockhart / Wikipedia
Set directly to the south of the city is the mighty Mount Ashland, the most prominent peak in the Siskiyou Mountains. Towering to 2,297 meters, it lies just under an hour's drive away, with a variety of exceptional outdoor activities to enjoy when you arrive.
As it is home to the superb ski resort of the same name, many people head to the massive mount in winter to ski and snowboard down its snow-coated slopes. In total, there are 44 runs and three terrain parks to try out, with lifts and lodges dotted about the mountainside.
While its sparkling snowscapes attract crowds of people, the sunny summer months lend themselves perfectly to hiking and mountain biking along its pretty paths. With a wealth of stunning scenery and phenomenal views to enjoy, Mount Ashland and all its outdoor activities are well worth visiting at any time of year.
3. Crater Lake National Park
One of the state's standout sights, the serene Crater Lake National Park lies just an hour and a half's drive to the northeast of Ashland. Centered around the captivating caldera and crater lake after which it's named, it really is a remarkable place unlike any other in America.
Formed around 7,000 years ago following the collapse of Mount Mazama, the lake boasts brilliantly blue waters, the deepest in the whole of the States. Surrounding it are the crumbling cliffs and rugged remains of the collapsed volcano.
Due to its vivid colors and dramatic scenery, the lake makes for mesmerizing viewing, with lots of fantastic photos to be had of its fine features. Besides basking in its beauty, visitors can go hiking and cycling around the park's picturesque paths, with fishing, boat trips, and even scuba diving to be enjoyed in Crater Lake's crystal clear waters.
2. Lithia Park
Home to gorgeous grounds and pretty fountains and flowerbeds, Lithia Park is one of the most popular places to visit in Ashland. Set around the sparkling waters of Ashland Creek, it sprawls over a vast area, with many pretty sections for visitors to explore.
Founded in 1892, the park has since grown; it now stretches almost all the way to the foothills of the Siskiyou Mountains from its start point in downtown Ashland. Mostly made up of forested canyonland that lines the charming creek, it boasts some glorious open spaces, as well as playgrounds, picnic areas, and hiking paths.
There is also a delightful Japanese garden and rose garden to discover, with various monuments and a beautiful old bandshell found here and there. At the north end of the park, the exquisite Oregon Shakespeare Festival is held every year.
1. Oregon Shakespeare Festival
Amy Richard / Wikipedia
Renowned worldwide for its phenomenal plays and performances, the Oregon Shakespeare Festival is the biggest and best event to take place in Ashland. Held from February through October of each year, it sees hundreds of theater productions performed for thousands of people.
Since it was launched in 1935, the festival has flourished; matinee and evening performances now take place six days a week in three different theaters. While both Angus Bowmer Theater and Thomas Theater boast stunning sets and seating arrangements, the shows at the Allen Elizabethan Theater are perhaps the most spectacular. This is because they are held outside, with the venue looking very much like the Globe Theater from Shakespeare's heyday.
While the famous playwright wrote most plays at the festival, a number of classic and contemporary pieces are also performed each year. With lectures, workshops and readings all taking place too, the Oregon Shakespeare Festival promises to be the highlight of any visit to Ashland.
Map of Things to do in Ashland, Oregon