One of the most popular and picture-perfect places to visit and stay along Oregon's coastline is the charming Cannon Beach. Surrounded by dramatic rock formations and beautiful beaches, the small seaside town lies not far from lots of sublime scenery and nature and makes for a quiet and peaceful getaway from both Portland and Salem.
Although most people come to enjoy its incredible outdoors and ample recreational opportunities, the town also has some great boutiques and art galleries for you to check out. On top of these things to do in Cannon Beach, some interesting archaeological sites can also be found dotted about. These mainly relate to the Tillahook Indians and the Lewis and Clark Expedition which passed through the area in 1805.
It is, however, the Oregon Coast's scenic shores and numerous state parks that entice most tourists to town. As well as hiking, biking and swimming along the state's captivating coastline, visitors can bask in phenomenal views out over the Pacific Ocean with the humongous Haystack Rock being the area's most famous symbol and sight.
7. Tillamook Rock Lighthouse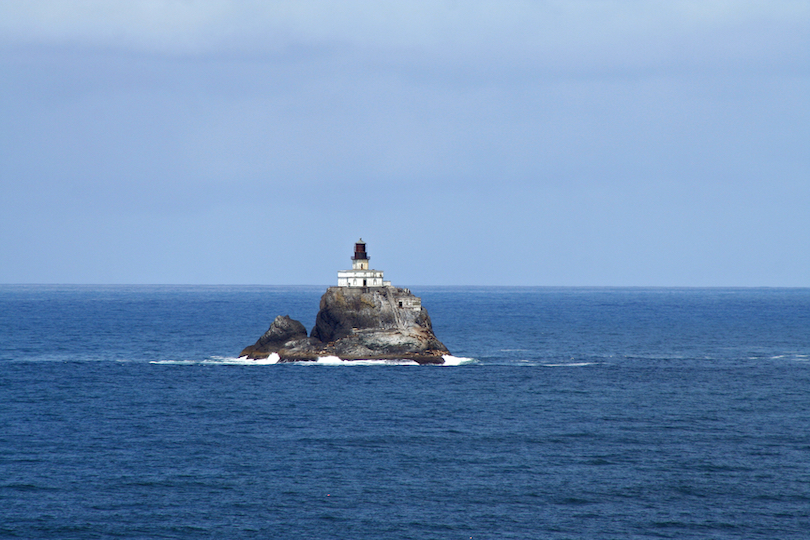 © Dreamstime
Set just two kilometers offshore is the Tillamook Rock Lighthouse which is perched atop of a basalt sea stack. A legendary landmark, it is known as 'Terrible Tilly' due to the rough seas that surround it and the frequent storms that made the trip to the lighthouse so perilous for its keepers and suppliers.
Long since decommissioned, it was built in 1881 to protect sailors and ships navigating Oregon's rugged North Coast. As well as suffering considerable damage from huge swells and storms, over the years numerous people also sadly lost their lives journeying to and from the ill-fated lighthouse. Now privately owned, its white tower and rocky outcrop stand out delightfully against the Pacific Ocean and can be spied from both Cannon Beach and Ecola State Park.
6. Cannon Beach History Center and Museum
Located right in the center of town is the Cannon Beach History Center and Museum which is home to lots of interesting artifacts and interactive exhibits. These offer up a fascinating look into Cannon Beach's history and heritage with talks, tours and temporary exhibitions all regularly taking place.
Opened in the early 2000s, its small yet comprehensive collection now includes fantastic photos and archaeological findings with a replica of a Native American longhouse being the museum's standout sight. Its innumerable objects shed a light on subjects such as the Great Depression and World War II with a sizeable section being dedicated to both the Tillamook Indians and the Lewis and Clark expedition. In addition, it also hosts the historic cannon after which the seaside town is named.
5. Oswald West State Park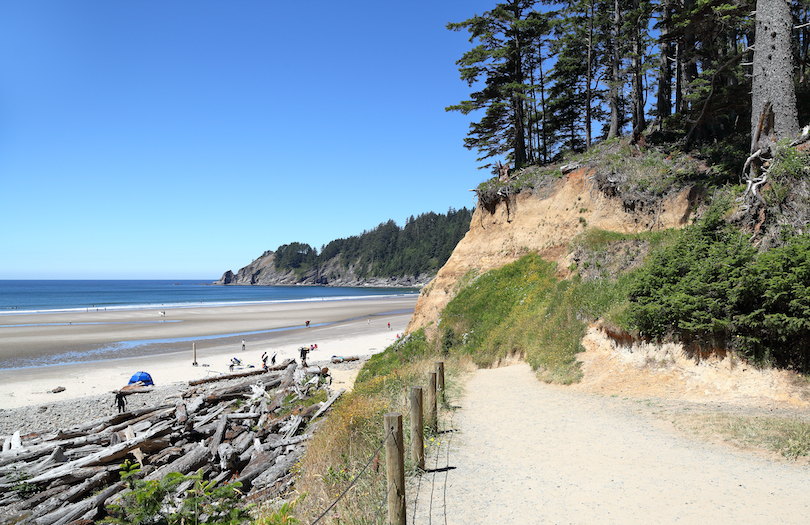 © Dreamstime
Lying just ten minutes' drive to the south of Cannon Beach, Oswald West State Park boasts some simply stunning scenery, landscapes and views. As such, it is sure to delight both nature lovers and outdoor enthusiasts alike with all its tantalizing trails, surf spots and wildlife.
Since 1931, the park has protected a large swathe of Oregon's coastline with its dramatic cliffs and secluded beaches offering up breath-taking views out over the Pacific Ocean. Besides swimming and sunbathing, visitors can enjoy hiking along a scenic section of the Oregon Coast Trail and surfing at Short Sands and Smugglers Cove. On top of this, sparkling waterfalls and rivers lie hidden within the park's temperate rainforest with Neahkahnie Mountain being one of its most popular viewpoints.
4. Hug Point State Park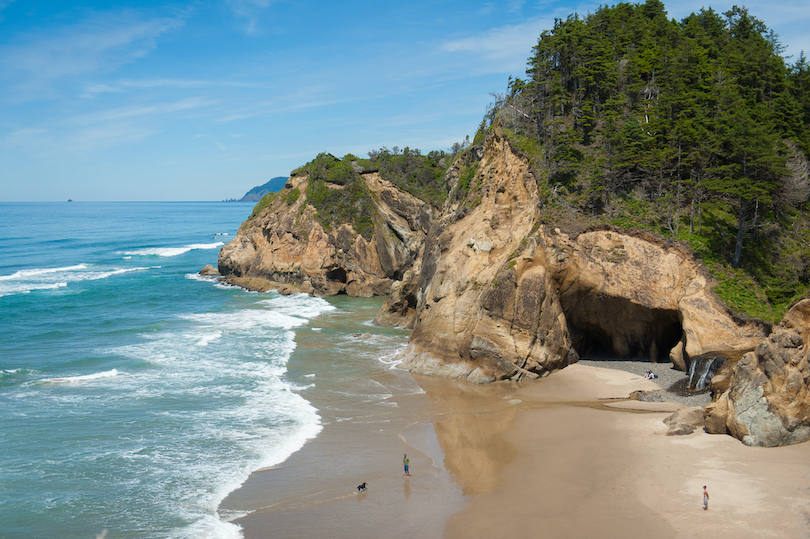 © Dreamstime
On your way back into town, you'll come across Hug Point State Park which is another of the area's most spellbinding spots. Home to lots of captivating coastal cliffs, it is named after the cape that stagecoaches had to 'hug' to get around at low tide when they used to use the beach as a highway in the late nineteenth century.
Now much easier to access, the park is a picturesque place to enjoy swimming and sunbathing with picnicking and hiking also being popular. Besides its wealth of outdoor activities, there is some sublime scenery on show with caves and a seasonal waterfall dotting its sandstone cliffs. From its beach, visitors can spy Haystack Rock while the Oregon Coastal Trail also passes through the park.
3. Ecola State Park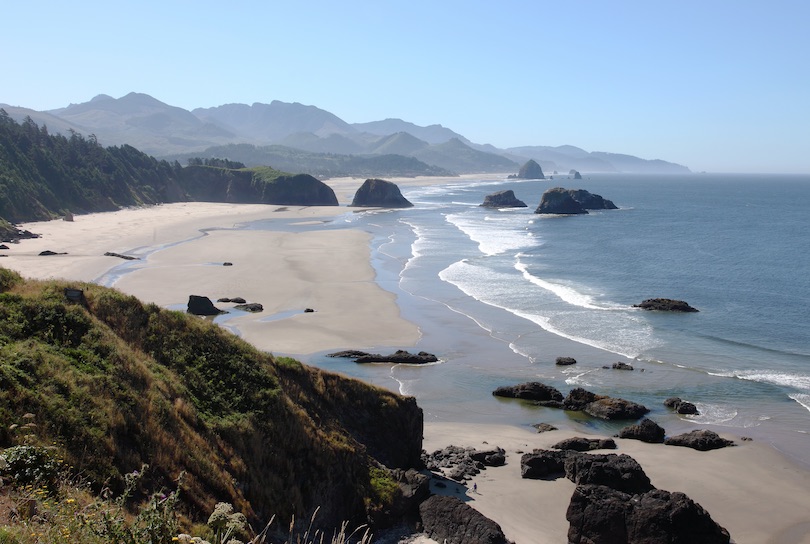 © Dreamstime
Yet more incredible coastal scenery can be enjoyed in Ecola State Park which lies just to the north of Cannon Beach and encompasses fifteen kilometers of scenic and serene shoreline. Such is its beauty that a number of famous films such as The Goonies and Twilight were shot in the park over the years.
Founded in 1932, it protects everything from secluded coves and sea stacks to pretty tidal pools and beaches with lush rainforest coating its interior. This makes it the perfect place to immerse yourself in nature and either relax on its sandy beaches, hike along the Oregon Coast Trail or surf in the sea. The park also has some interesting archaeological sites to check out relating to both the Tillamook Indians and the Lewis and Clark expedition.
2. Enjoy the Beach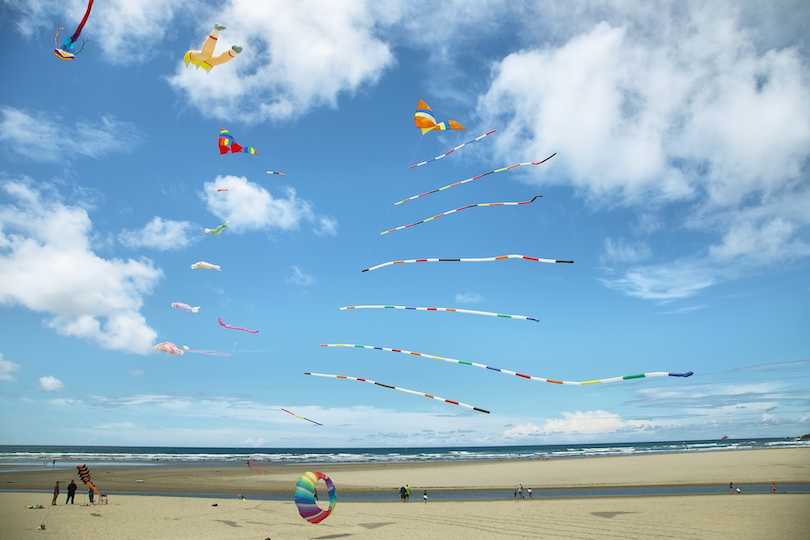 © Dreamstime
While the coastline to either side of Cannon Beach certainly boasts lots of dramatic scenery and beautiful state parks, the town itself has a large and lovely beach for you to enjoy. Stretching 4 miles in length, its wide expanse of sand offers up untold recreational opportunities as well as awe-inspiring views of Haystack Rock which rises up majestically at the beach's edge.
Besides basking in the breath-taking views of the cliffs and capes that can be spied in the distance, locals and tourists alike can enjoy sunbathing and swimming as well as strolling and cycling along the beach. In addition, beachcombing is a very popular pastime due to the numerous tidal pools with surfing, boogie boarding and kite flying also attracting lots of people.
1. Haystack Rock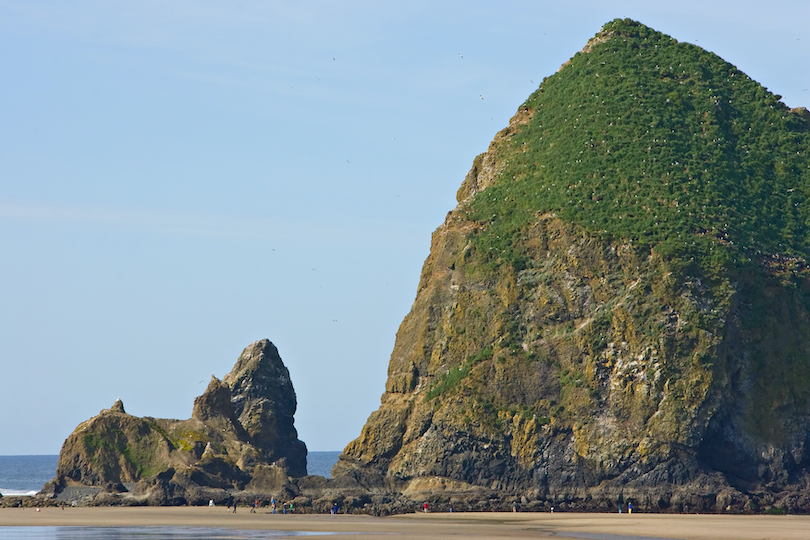 © Dreamstime
Cannon Beach's undoubted highlight, however, is the remarkable Haystack Rock which towers to 235 feet in height and is one of the tallest sea stacks in the world. One of the most famous landmarks in the state, it makes for some fabulous photos and is a very popular tourist attraction.
Protected as part of the Oregon Islands National Wildlife Refuge, the massive monolith was formed millions of years ago by the same lava flows that shaped much of the state's craggy coastline. At low tide, visitors can stroll out to the sea stack and spot the many marine species that inhabit the tide pools and waters that surround it. Due to its striking size, Haystack Rock has appeared in numerous films over the years such as The Goonies and Kindergarten Cop.
Map of Things to do in Cannon Beach