Visiting Portland, the largest city in the state Oregon, you have the best of both worlds: a vibrant city life filled with art, music and food and abundant opportunities for outdoor recreation. While Portland itself is filled with plenty of things to do, some of the world's most incredible natural wonders lie just outside the city limits.
Find out what makes Oregon the greatest state by taking a few day trips from Portland to some of the most spectacular beaches and parks on the east coast.
6. Silver Falls State Park
[SEE MAP]
Oregon is known for its numerous state parks, and Silver Falls State Park is the single biggest area of protected forestland in the state. The aptly named park features numerous waterfalls, ten of which can be viewed while walking along the majestic Trail of Ten Falls.
The most popular waterfall to view along the 7.2-mile moderate hiking loop is South Falls, a 177-foot (54-meter) waterfall that you can walk behind as it plunges into a shallow pool. The South Falls area features a playground, picnic tables, barbecue stands and even an off-leash area for dogs.
Getting to Silver Falls State Park
Lying just 50 kilometers to the south of Portland, Silver Falls State Park is very easy to drive to; it generally takes an hour and a half. Head south out of the city until just past Clackamas, where you then want to hop on the 213. Just before Silverton, transfer on to the 214. This will take you directly to the state park. There are a couple of lodges to park at, and from here, you can explore Silver Falls' many woodland paths and twinkling waterfalls at your leisure.
stokes rx / Flickr
Another opportunity to walk behind a waterfall can be found at Oneonta Gorge. Here, you can hike a 2.7-mile loop that will take you through a mossy cavern behind Ponytail Falls. The entire hike cannot be done with dry feet, and depending on the time of year, your adventure may involve climbing over a logjam and wading through chest-high water.
Late summer is the best time to take this day trip, as the water will be warmer and shallower. After the popular hiking loop, you can take a side trip to Triple Falls, where three side-by-side waterfalls cascade 120 feet (37 meters).
Getting to Oneonta Gorge
Just under an hour's drive from the center of Portland, Oneonta Gorge is straightforward to drive to; all you need to do is head out of Portland and pick up Old Route 30 heading east. Take exit 35. From here, you'll see signs pointing you to Oneonta Gorge. While you're in the area, you can easily carry on a bit further and explore the breathtaking Columbia River Gorge, or stop off and see the beautiful Multnomah Falls.
© Dreamstime
Seated along scenic Highway 101 at the mouth of the Columbia River, the town of Astoria makes for an excellent day trip from Portland. After enjoying a beautiful drive along the Oregon Coast, you'll arrive at a charming seaport town with a thriving art scene and rich history.
You can ride the Astoria Riverfront Trolley daily on a round trip through town that takes about an hour. Hop off the trolley at the Columbia River Maritime Museum stop to learn about local history and tour a floating lighthouse. For the best view of Astoria, ascend the spiral staircase up the Astoria Column, a hand-painted 125-foot (38-meter) column inspired by the Trajan Column in Rome.
Getting to Astoria
To drive to Astoria from Portland couldn't be easier. While it does take two hours, you do pass through some lovely scenery on the way. Just head west on Route 26 and follow it all the way to the coast, where you take the 101 heading north to Astoria. For a change of scenery on the way back to Portland, you can opt to take Route 30 which runs between the two.
dherrera_96 / Flickr
Visible from many spots in Portland, Mount Hood seems to beckon city dwellers with its snow capped peaks. You can grace the mountain with your skis any time of the year, as the Timberline ski area on Mount Hood is the country's only year-round lift-served ski resort. Five other ski areas and numerous hiking routes help to keep the tallest mountain in Oregon filled with adventure travelers.
If you want to get away from the busy ski areas, you can enjoy peaceful trail hikes at the Mount Hood Scenic Byway Area. The Mount Hood National Forest has hiking trails, creeks, meadows and even a 27-hole golf course. The historic Timberline Lodge, which was used for exterior shots in the movie "The Shining," offers great views of the Southern Cascades.
Getting to Mount Hood
While it is possible to visit Mount Hood by public transport, it is a bit complicated and time-consuming; it can take up to three hours to get there depending on transport links. Firstly, you'll need to take a bus or train from the center of Portland to the Gresham Transit Center. Here, you should take the Gresham Express to the Sandy Transit Center, after which the Mount Hood Express will take you to Timberline Lodge, where you can finally enjoy the mount's stunning scenery and ski slopes.
Driving to Mount Hood is much easier than taking public transport. This also means you can stop off to visit some of Columbia River Gorge's breathtaking sights either on the way there or back. The most scenic way to get there is to follow Interstate 84 east along the south bank of the Columbia River until you reach Hood River. Here, turn off and follow Route 35 heading south until you reach Mount Hood. All in all, it should take an hour and a half to two hours, depending on how often you stop off along the way to take photos.
One of the best ways to see as much of this beautiful part of Oregon as possible in one day is to take a guided tour that takes you to both Mount Hood and along Columbia River Gorge. With stops at Multnomah Falls, Hood River, and the famous Timberline Lodge included, it is an excellent day out that will take you to many of the area's most impressive sights. See trip reviews & prices.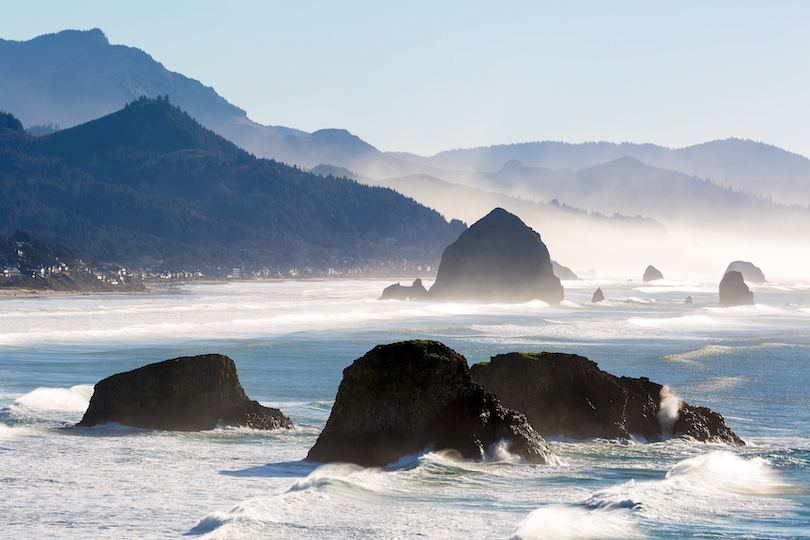 © Dreamstime
Cannon Beach is the crown jewel of the Oregon coastline, with miles of sandy beaches and scenic hiking trails. At Ecola State Park, you can walk through old-growth forests and emerge from the trees to discover panoramic ocean views.
The most celebrated ocean view at Cannon Beach is Haystack Rock, a massive rock formation that provides a shoreline refuge for Tufted Puffins in the spring and summer. Take the Tillamook Head Trail to follow the same route that Lewis and Clark took during their historic expedition. Around 18,000 Gray Whales swim past Cannon Beach each year on migrations that can be viewed during the spring and winter.
Getting to Cannon Beach
Lying on the West Coast, Cannon Beach is very easy to drive from Portland, and only takes an hour and a half. Just head west out of the city and take Route 26 all the way to the coast, where you'll see signs pointing you to Cannon Beach. While you're in the area, you can easily drive to Manzanita in the south or Astoria in the north – both of which are well worth checking out.
If you don't fancy driving yourself or don't have a car, you could take a guided tour to Cannon Beach instead. As well as visiting the lovely little town and its picturesque coastline, your guide will take you to quaint shops and art galleries in neighboring Manzanita. One of the highlights of the tour is undoubtedly the famous Haystack Rock. See trip reviews & prices.
1. Columbia River Gorge
[SEE MAP]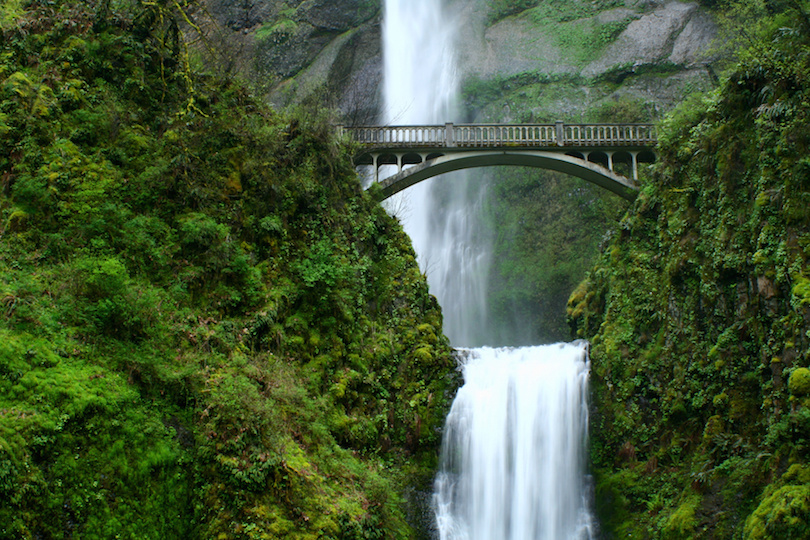 If you're looking for a true outdoor playground to spend the day, head east from Portland to the Columbia River Gorge National Scenic Area. The area is an expansive canyon of the Columbia River that features abundant hiking and watersports opportunities.
You can go whitewater rafting, kayaking and kite boarding past waterfalls or experience the beauty of the gorge from a bird's eye view by taking a zip line tour through the forest. The gorge is also a paradise for waterfall lovers as it boasts over 70 with in reasonable access to the public. The most famous one is the 620-foot (190-meter) high Multnomah Falls.
With nearly two million visitors a year it is Oregon's number one public destination. The Columbia River Gorge has plenty of shops and restaurants as well as 30 diverse wineries with tasting rooms and stunning views of the Gorge.
Getting to Columbia River Gorge
To get to Columbia River Gorge from the center of Portland, head northeast out of the city and take the Old Route 30 heading east along the south bank of the Columbia River. This delightful route takes you through the fabulous scenery of the gorge, passing through lush forests and alongside waterfalls on the way. While the start of it just past Troutdale is only a 30-minute drive away, you could spend days driving between all its amazing sights. Make sure to head back to Portland on the scenic Lewis and Clark Highway running along the northern bank of the river to make as much of the trip as possible.
Another way to visit the glorious Columbia River Gorge is to take a guided tour. This not only takes you along the scenic byway but also to the spectacular Multnomah and Gorge Waterfalls. With stops at Crown Point Vista House and Bridal Veil Falls also included, a day tour is a delightful way to explore this beautiful part of the States. See trip reviews & prices.