Many people around the world might associate California – Oregon's southern neighbor – with surfing. But the truth is that the Oregon Coast is awash with plentiful beaches that are perfect for surfing. In fact, some of the best surf spots in the entire Pacific area can be found here. And for those who love to get out and enjoy what nature has to offer, there's much more to the Oregon Coast than grabbing your board and heading out to catch some waves.
The beaches in the Oregon Coast area are well known for their unique status in US law – thanks to The Oregon Beach Bill of 1967, which gives free beach access to everyone. At the same time, landowners of beaches in Oregon have to allow public access. And most importantly, they can't build on the shore.
Map of the Oregon Coast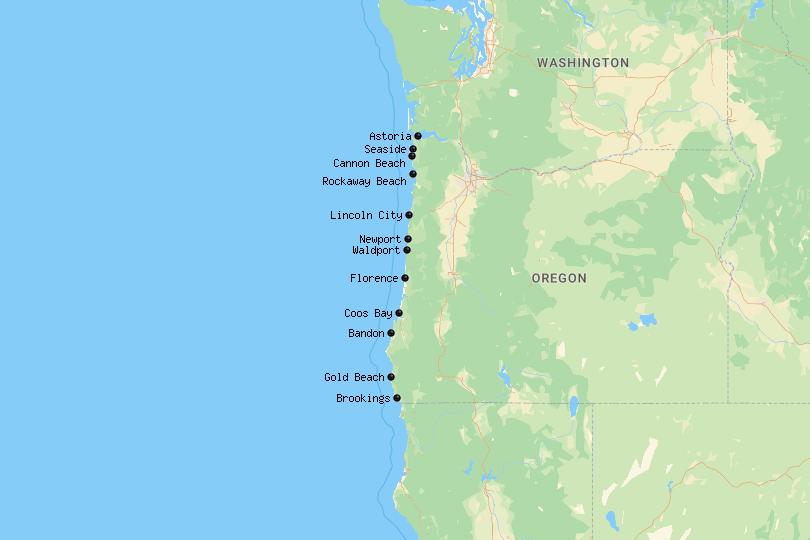 © OpenStreetMap © MapTiler © Touropia
This helps preserve the beauty of the stunning beaches that Oregon has to offer, filled as they are with postcard-perfect rock formations, dunes, and marshes. They are as perfect for hikes – with many state parks offering vast networks of trails – as much as they are for leisurely sunset strolls.
Thanks to Route 101, which runs along the Oregon Coast, access to all the best places to stay here is convenient. Road trips through the area are a must, as crossing historic bridges over mighty rivers, driving through pine forests, and getting to stop off at sea-facing viewpoints are what characterize the roads in this part of the world.
There is plenty of roadside accommodation to suit you; it's the seaside nature of the Oregon Coast that also allows for many gorgeous oceanfront lodgings, too.
Situated in the Central Coast area, Lincoln City is known for the Nelscott Reef, once named one of the best places to surf in the entire Pacific Ocean. This reef is the only place in Oregon for big wave surfing. Naturally, these two accolades earn it a great name as a prime spot for surfing in the Oregon Coast area. Since 2005, Lincoln City has been home to the Nelscott Reef Big Wave Classic, a surf competition.
Head inland from the coast to get a taste of hiking the trails of Devil's Lake State Recreation Area. There's also the North Lincoln County Historical Museum, complete with a surprising collection of Japanese glass fishing floats. Connected by Route 101, Lincoln City is home to a number of affordable and mid-range accommodation options – mainly on the coast itself.
Where to Stay in Lincoln City
midrange
Surftides Lincoln City – Nestled on a beachfront location, this remarkable 4-star hotel is only a short distance from the extremely famous Devils Lake State Park. During your stay at the Surftides Lincoln City, you can enjoy things such as a refreshing indoor swimming pool, a fitness center with a hot tub and sauna, and an on-site restaurant that specializes in American delicacies. Sporting stylish décor, the contemporary rooms offer private balconies and a fireplace!

budget

Sandcastle Beachfront Motel – A hop, skip, and jump away from a bunch of fine-dining restaurants and supermarkets, this modest beachfront accommodation offers you a chance to enjoy a serene vacation away from the bustling city streets. Facilities include an indoor pool and a hot tub. Rooms here are spacious and bright and feature modern amenities, including a microwave, dining area, and a private bathroom. Some of them also boast a spa bath, a fireplace, or a private balcony.
Visited as much for its surf breaks as for its amazing conditions for Pacific razor clams, Seaside began life in the 1870s as a resort built under the name "Seaside House." It grew from there, and now its history is clear to see: there's even a 1920s era promenade for perfect sunset strolls along this wide stretch of Pacific coastline.
You can learn more about the heritage of the town at the Seaside Museum & Historical Society. Visitors can also check out the Seaside Aquarium, complete with a seal exhibit and touch tanks, making it great for families with kids in tow. Located in the North Coast area of the Oregon Coast, Seaside boasts plenty of places to stay – from motels just off Route 101 to hotels, resorts, and inns with fresh, cozy rooms.
Where to Stay in Seaside
midrange
Inn at the Prom – Tucked away by the seaside promenade, Inn at the Prom is known to offer its guests a chance to experience ultimate tranquility while never being too far away from the primary spots in the city. An outdoor fire pit, complimentary use of bicycles, and a free pass to use at the pool or the gym at Seaside Aquatic Center are some of the perks on offer. The graceful suites come with a kitchenette, a fireplace, and a spa bath.

budget

Rivertide Suites – Boasting an indoor pool, a fitness room, and a classy lobby fitted with swish couches and a fireplace, Rivertide Suites is a striking 3-star hotel that offers lavish accommodation for all kinds of travelers. The beautifully decorated units feature a fully-equipped kitchen, a gas fireplace, a spa bath, and an in-unit launderette. During your stay here, you can start your day with a complimentary continental breakfast buffet and enjoy your evening with snacks and cocktails at the evening reception.
The most recognizable landmark of Cannon Beach is the iconic Haystack Rock. At 72 meters tall, this substantial igneous rock juts out of the sea and acts as a natural signpost for Cannon Beach. It's accessible at low tide, but Haystack Rock is nevertheless part of a protected marine sanctuary.
Staying in Cannon Beach means enjoying seafront inns and hotels with views of the famous rock and the expanse of the Pacific Ocean.
Connected by the Oregon Coastal Highway, and located just south of neighboring Seaside, Cannon Beach is also home to Ecola State Park. This is a hiker's paradise, with many trails snaking through the coastal landscape. Elsewhere, there's Indian Beach, which is not only great for surfing and lounging around on the sand, but also boasts some quality hiking routes.
Where to Stay in Cannon Beach
midrange
Inn at Haystack Rock – Featuring pet-friendly rooms, suites, and apartments, this cozy 4-star hotel enjoys a marvelous location only three blocks away from the golden sands of Cannon Beach. Surrounded by two exquisite garden courtyards, the Inn at Haystack Rock is a no-frills accommodation with complimentary parking and an outdoor firepit. All units are fitted with a well-equipped kitchenette; some even have a furnished patio.

budget

The Waves – An excellent oceanfront accommodation with select rooms that have direct access to the Cannon Beach, The Waves is a beautiful 3-star hotel perfect for a relaxing holiday. Amenities and services at the hotel include barbecue facilities, a hot tub, meeting facilities, and complimentary parking. The elegantly decorated rooms here come fitted with a kitchenette, a fireplace, and a seating area. Numerous restaurants and shops are situated within walking distance.
Astoria is the oldest town in the United States west of the Rocky Mountains. First founded in 1811, the city is named after John Jacob Astor, who owned the American Fur Company; it was these pioneers who founded Fort Astoria at the current site.
Of course, Astoria is a historical wonderland as a result; the most famous landmarks include the 1926 Astoria Column, the beautiful Captain George Flavel House – built in 1855 – as well as the colorful Peter L. Cherry House.
There is a wide selection of hotels in Astoria, from very affordable to more mid-range and a few historic, more pricey options.
It's also home to the fantastic Astoria-Meagler Bridge; at just over four miles long, this structure spans the Columbia River near its meeting point with the Pacific Ocean, connecting Oregon to the neighboring state of Washington to the north.
Where to Stay in Astoria
Astoria Riverwalk Inn – Welcoming guests with freshly baked cookies and hot chocolate, this quirky 3-star hotel offers comfortable accommodation within a stone's throw of Astoria Marina Port. Amenities and services at the Astoria Riverwalk Inn comprise 24-hour reception, complimentary parking, and bike rental facilities. The well-furnished units at the pet-friendly accommodation come with tea/coffee making facilities and a private balcony with views of the marina. There are several restaurants and supermarkets around the area.
The North Coast city of Rockaway Beach is one of the terminal stations of the Oregon Coast Scenic Railroad. You'll get to ride old steam locomotives along the line between this town and Garibaldi, to the south.
Staying in Rockaway Beach is easy too, thanks to mid-range motels along Route 101, which runs through the town, as well as oceanfront lodgings like inns and hotels.
Rockaway Beach holds the longtime status of being a resort town, having been designated as one in 1909, and it's easy to see why. There are hiking trails for outdoorsy types at the Nehalem Bay State Park, more walking paths around Rockaway Big Tree and the nearby Twin Rocks County Park, as well as relaxing days spent fishing and boating at Lake Lytle. There's also the quaint and surprisingly interesting International Police Museum.
Where to Stay in Rockaway Beach
Surfside Resort – Set a kilometer away from the popular Manhattan Beach State Park, this 3-star beachfront hotel on the Rockaway Beach offers ideal accommodation for couples as well as family travelers. A pet-friendly holiday rental, the Surfside Resort features a spacious indoor pool, a fully-stocked vending machine, and a free parking area that can accommodate large vehicles. The modernly decorated units sport a well-equipped kitchen, partial or full ocean views, and a fireplace.
Situated in Oregon's Central Coast region, Newport boasts a range of accommodation to fit different needs and budgets. There are affordable motels near the road, seafront lodgings, and mid-range hotels spread throughout town, which sits at the intersection of Route 101 and Highway 20.
As well as the compact but comprehensive Oregon Coast Aquarium – complete with amazing puffin and sea otter exhibits (and friendly staff, of course) – there's a lot to do in Newport. Visit Yaquina Head Outstanding Natural Area for walking trails in the beautiful, rocky landscape, and the Yaquina Head Lighthouse; dating back to 1873, you can climb all the way to the top of this 93-feet-tall lighthouse for breathtaking views.
You can also walk through the marshes of South Beach State Park before heading to the beach for a well-deserved soak in the sun.
Where to Stay in Newport
La Quinta by Wyndham Newport – Offering a complimentary breakfast each morning and wonderfully decorated rooms with features such as flat-screen TVs, microwaves, coffee-making facilities, and an ensuite bathroom, the La Quinta by Wyndham Newport is a fancy 3-star hotel within five minutes' walking distance of Oregon Coast Aquarium. The hotel itself offers an indoor pool, a hot tub, and a fitness center.
Rick Obst / Flickr
South of Newport is Waldport. Lying at the mouth of the Alsea River, Waldport – like most towns on the sprawling Oregon Coast – is home to a whole lot of seafront beauty to take in.
Visitors can find natural wonders at the Driftwood Beach State Recreation Site, complete with a beach, picnic tables and a lot of driftwood (true to its name).
Or you could head to Governor Patterson Memorial State Recreation Site, with its hiking trails, stunning ocean views, and a wide, windswept beach. For lovely sunset strolls, check out Holly Beach.
You can even learn about the history of Waldport at the small but informative Waldport Heritage Museum. And when you need somewhere to rest your head for the night, there are a few hotels and inns in Waldport that are mostly easy on the wallet. Alternatively, choose from the RV parks and campgrounds, which are perfect if you're road tripping along Route 101.
Where to Stay in Waldport
The Waldport Inn – A minutes' walk from the nearest beach, the Waldport Inn is a classy accommodation which is highly preferred by couples due to its secluded and peaceful location. Offering a range of guestrooms with amenities such as cable TV, a private seating area, and an ensuite bathroom, the hotel is the perfect place to unwind. During your stay at the pet-friendly hotel, you can enjoy coffee and Danish pastries every morning.
Situated at the confluence of three rivers in Oregon's southern Central Coast region, Florence is a little different from other towns and cities on the Oregon Coast in that it's not directly on the coast.
Between Florence and the Pacific Ocean, you'll find the northern end of the 27,000 acre Oregon Dunes National Recreation Area. The nearby Jessie M. Honeyman Memorial State Park alone boasts over 200 campsites – alongside the handful of hotels located along Route 101 – and is a fantastic place to get out into nature with its hiking trails, pine forests and sand dunes.
To the north are the amazing Sea Lion Caves, a connected system of sea caves where Steller sea lions like to hang out.
Back in town, the Siuslaw Pioneer Museum documents the history of the local area; but that's clear to see in the structures of Florence, including the heritage 1936 drawbridge over the Siuslaw River.
Where to Stay in Florence
midrange
Riverhouse Inn – A few steps away from the historic Old Town of Florence, the Riverhouse Inn offers exclusive accommodation on the banks of Siuslaw River. Amenities and services at this admirable 4-star hotel include a launderette and free parking. Every furnished unit at the Inn includes a microwave, a refrigerator and cable TV. Around the corner, you'll find the Waterfront Depot Restaurant and Bar, a great place for dining and cocktails.

budget

Driftwood Shores Resort – A posh 3-star beachfront hotel with unprecedented views of the Pacific Ocean, Driftwood Shores Resort offers well-appointed accommodation a few minutes' away from the glistening sands of Heceta Beach. Upscale amenities and services at the hotel include a refreshing indoor pool, a rejuvenating hot tub and a fine dining restaurant that specializes in American cuisine and features a full bar menu. Rooms here come with a private balcony and a bathroom.
Most accommodation in Coos Bay can be found in the vicinity of Route 101 and ranges from affordable to mid-range, meaning there's something for all budgets here.
Set in the South Coast region of the Oregon Coast, Coos Bay is home to both history and nature. First of all, visitors will be able to peruse historic architecture dotted around the Marshfield District of town and visit the Coos Art Museum, housed in an Art Deco building dating back to 1936.
Next, you'll be able to get out into nature, thanks to the lakes and marshes of John Topits Park, the woodlands, and even the Japanese garden in Mingus Park. But the greatest draw of all has to be the 40 miles of dunes offered up by the Oregon Dunes National Recreation Area; mirroring Florence at its northern end, Coos Bay lies at the southern tip of this stunning slice of natural scenery.
Where to Stay in Coos Bay
Edgewater Inn Coos Bay – Sporting an indoor pool and a business center, the Edgewater Inn Coos Bay is the perfect abode for leisure or business travelers. Other amenities and services at this noteworthy 3-star hotel include a well-equipped fitness center and a hot tub to unwind in. Some guestrooms come with views of the river. What's more, you can enjoy a delectable continental breakfast every morning.
Set on the south side of the Coquille River, Bandon is found in the South Coast area and is well known for its seaside views. Namely, it's the dozens upon dozens of rock formations jutting out of the sea. You can head up to Coquille Point to get amazing views of these or get a little closer to these landmark landforms at Face Rock State Scenic Viewpoint.
Getting to see this stunning bit of nature is easy thanks to several hotels in town offering affordable stays – and you'll want to stay here – not just for the environment, either. There's food glorious food to be had in Bandon. This Oregon town is famous for its cranberry production and holds the Annual Cranberry Festival every second weekend in September.
Not only cranberries but cheese, too. Cheesemaking was integral to Bandon for a long time, and today, you can tour the Bandon Cheese Factory, learning about the process… and trying some out, of course.
Where to Stay in Bandon
Lighthouse Cove Inn – A short drive away from the notable Face Rock State Scenic Viewpoint, this comfortable 5-star hotel offers well-furnished accommodation just a few steps away from the harbor. Some of the facilities and services at the hotel include complimentary Wi-Fi and parking. There is also a well-manicured garden to relax in.
Known for its long, sandy beach – which is actually not as gold as the name suggests – Gold Beach is on the South Coast and packs a punch when it comes to an ace Oregon destination.
There are a number of surprising things to do in Gold Beach; stop in at Gold Beach Books, the largest bookstore on the Oregon Coast – they even stock first edition copies of The Jungle Book!
Then there's the wild Rogue River, which you can explore via an exhilarating jet boat tour; keen hikers can see it without getting wet thanks to the 40-mile Rogue River Trail.
To the south, there's the Pistol River State Scenic Viewpoint, complete with scrubby dunes and rock formations out to sea. The good old Route 101 runs through town and attracts convenient, affordable accommodation which clusters alongside it.
Where to Stay in Gold Beach
Pacific Reef Hotel – Situated on the shores of the magnificent Gold Beach, this glitzy 3-star hotel is the perfect getaway opportunity to break the monotony of your regular city life. Boasting facilities, such as an indoor saltwater hot tub and an on-site restaurant known to serve the best traditional coastal fare, the Pacific Reef Hotel also features a light show during winter months.
South of Gold Beach lies Brookings. Not far north of the state line between Oregon and California, this South Coast town is a good base for nearby hiking.
There's not only the Harris Beach State Park to get to grips with practically next to the town, but further north is the vast expanse that is the Samuel H. Bordman State Scenic Corridor.
Route 101 runs through part of this large state park, but so do many hiking trails, many of which can be accessed from the south side closest to Brookings itself.
Accommodation in this town is characterized by motels, motor inns, and a few oceanfront offerings, too. The Chetco River Resort in the north of town is on the banks of the Chetco River, obviously, and offers not only accommodation but also easy access into the natural world that's on the doorstep here.
Where to Stay in Brookings
Beachfront Inn – The perfect address for resting your mind and reviving your soul, this charming beachfront hotel spoils you with a host of exceptional amenities and services. Featuring a private balcony with spellbinding ocean views, the rooms at this pet-friendly 3-star come equipped with a mini-refrigerator, and an ensuite bathroom. The hotel also has an outdoor pool with a sun terrace and a hot tub.