Located in the Pacific Northwest of the US, the state of Oregon is truly blessed when it comes to its outstanding scenery, nature, and landscapes. Very diverse in terms of what it has to offer, it is home to everything from majestic mountains and charming coastline to dense forests, sprawling deserts, and captivating canyons.
Exploring the numerous state parks in Oregon is a treat, but the sole national park of Crater Lake is one of the standout sights in the state thanks to its breathtaking blue waters and crumbling caldera. Due to its astounding array of landscapes, Oregon is very much a mecca for outdoor enthusiasts, with plenty of exquisite hiking, camping, and wildlife watching to be had wherever you go.
Map of national & state parks in Oregon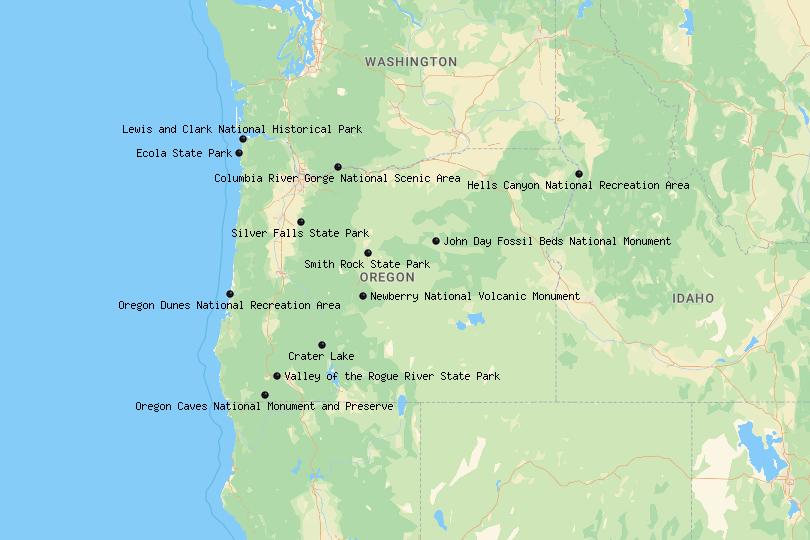 © OpenStreetMap © MapTiler © Touropia
12. Valley of the Rogue River State Park
Set in the southwest of the state, the Valley of the Rogue River State Park can be found sandwiched between a bend in the Rogue River and the Pacific Highway. Besides its scenic stretch of shoreline, it has a pretty picnic area and cosy campsite for visitors to make use of.
Tucked away in the gorgeous Rogue Valley, the state park has some lovely nature to explore, with scenic woods and wilderness on show. In addition to basking in its beauty, visitors can go swimming, fishing, and boating on the river.
Due to its proximity to the stunning scenery of Oregon Caves National Monument and Crater Lake National Park, this serene state park makes for a great base from which to explore south Oregon.
11. Lewis and Clark National Historical Park
Nestled away in the northwest of Oregon, the Lewis and Clark National Historical Park lies just to the south of Astoria, not far from the border with Washington. Named after the famous duo who traversed the States, it commemorates their expedition's extraordinary achievements.
Boasting everything from lush rainforest and epic coastal vistas to parts of the Columbia River and Pacific Coast, it was in this scenic spot that Lewis and Clark finally bought their journey to an end and set up camp for the winter of 1805.
At the historical park, you can learn all about their expedition in a replica Fort Clatsop and visitors center; both of which house interesting artifacts and exhibits. In addition, there is some great hiking to be had amidst its forests, with kayaking, fishing, and wildlife watching also popular.
10. John Day Fossil Beds National Monument
Famed for its collection of fabulous fossils, John Day Fossil Beds National Monument can be found in east-central Oregon. Home to rugged, rocky terrain and colorful, craggy badlands, it's well worth visiting for its lovely layered landscapes and fascinating prehistoric past.
Since 1864, paleontologists have been unearthing fossils of plants and mammals in the arid confines of the John Day River Basin. Visitors can now view their phenomenal finds at the national monument's marvelous museum, which boasts educational exhibits and a fantastic film on the region's history, geology, and fossils.
You can also hike around the kaleidoscopic colors of the park: there are three separate yet equally spectacular segments for you to explore at Sheep Rock, Painted Hills, and Clarno.
9. Oregon Caves National Monument and Preserve
Jeffhollett / Wikipedia
Hidden away deep within the Siskiyou Mountains are the majestic 'Marble Halls of Oregon.' A very popular and impressive place to visit, the Oregon Caves National Monument and Preserve lie in the southwest of the state, not far from the border with California.
Formed millions of years ago, the charming cave complex shimmers and shines before your eyes, with fantastical formations and sublime stalactites and stalagmites wherever you look. Taking a tour of the caves is a great way to learn more about their history and geology while exploring their huge halls, terrific tunnels, and dark depths.
While the unique underground caverns are the star attraction, above ground is just as alluring, with sparkling streams and rivers winding their way through the forest. With hiking, hunting and wildlife watching all on offer, the picturesque preserve is the ideal place for outdoor enthusiasts.
8. Hells Canyon National Recreation Area
Located right in the northeast corner of the state, Hells Canyon National Recreation Area boasts beautiful scenery, landscapes, and nature. Set around the deepest river gorge in North America, it's home to lofty peaks and sweeping vistas, with a wealth of stunning wilderness to explore.
Established in 1975 by President Gerald Ford to protect its untouched nature, the park is dominated and defined by the enormous Hells Canyon that runs through it. Reaching a dizzying depth of 2,436 meters, the river gorge was carved out by the rushing waters of Snake River, with magnificent mounts rising around it.
In the recreation area surrounding the canyon, visitors can enjoy some excellent hiking and camping, while many people also go swimming, fishing, and kayaking on the shimmering Snake River.
7. Newberry National Volcanic Monument
Home to spectacular lakes, and lava flows, Newberry National Volcanic Monument is located within Deschutes National Forest in central Oregon. Named after the cavernous caldera that lies at its heart, it is a treat to visit, with a plethora of spectacular scenery and outdoor activities on offer.
Formed after a violent volcanic eruption, Newberry Caldera is now home to the two arresting alpine lakes of Paulina Lake and East Lake. Standing out delightfully against the verdant forests and dark obsidian fields surrounding them, the lakes are best viewed from the top of the 2,434-metre-high Paulina Peak that towers above them.
Besides exploring the monument's breathtaking lava-scarred landscapes, that include buttes, tubes and cinder cones, there is also some great hiking and horseback riding to be had within its confines.
6. Smith Rock State Park
Most known for its craggy cliffs and climbing routes, Smith Rock State Park lies in central Oregon, some 40 kilometers to the north of Bend. Considered the birthplace of modern sport climbing in the US, it has lots of fantastic traditional, cutting-edge and multi-pitch climbs to try out.
Towering up to 980 meters, the stunning Smith Rock (after which the park is named) looms dramatically above the quiet Crooked River. Volcanic in origin, it showcases steep cliffs and sheer spires, with captivating climbing routes wherever you look.
In addition to rappelling down iconic routes such as the Monkey Face, or navigating the precipitous Picnic Lunch Wall, visitors can go hiking and camping among the park's picturesque scenery.
5. Oregon Dunes National Recreation Area
Stretching more than 60 kilometers along the state's scenic shoreline, the awe-inspiring Oregon Dunes National Recreation Area can be found between Coos Bay and Florence. Home to beautiful beaches, forests, lakes, and islands, it's a marvelous place to visit, with lots to see and do.
Reaching up to 150 meters in height, the dunes that dominate the park make up the largest expanse of coastal sands in the whole of North America. These sprawling, windswept sandscapes make for a breathtaking sight and were actually the inspiration for Frank Herbert's famed sci-fi novel Dune.
While hiking, horseback riding, or dune-buggying about the dunes is a lot of fun, the recreation area also has a number of campsites for guests to use, with fishing and canoeing also popular.
4. Silver Falls State Park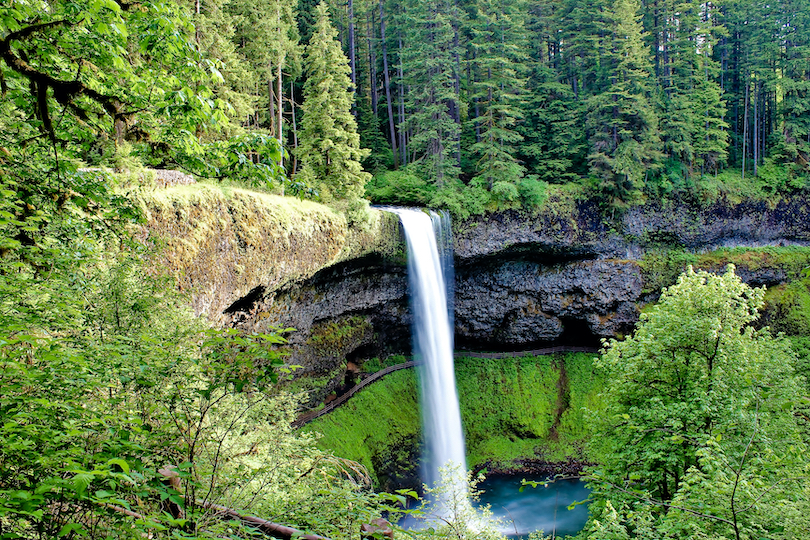 Widely considered to be the 'crown jewel' of Oregon's state park system, the serene and secluded Silver Falls lies outside Salem, not far from both Eugene and Portland. Blessed with an abundance of waterfalls, it has many idyllic hiking trails to explore, with some superb horseback riding and camping also on offer.
Silver Falls is the largest and most popular state park in Oregon, and it is easy to see why once you catch a glimpse of its fabulous falls. While the 54-metre-high South Falls is the most visited, North Falls and Winter Falls are equally impressive, and all of them can be found along the park's terrific Trail of Ten Falls Loop.
Tucked away among the verdant forest, they certainly make for a memorable sight, with plenty of fine photographs to be had of their jet-white waters.
3. Ecola State Park
Boasting some of the most breathtaking coastal views in the state, Ecola State Park lies just outside Cannon Beach in the northwest of Oregon. Due to its scenic nature, a number of films have been shot in the park, with The Goonies, Kindergarten Cop, and Twilight the most notable.
Dotted about its stunning shores, which stretch almost 15 kilometers in total, are sensational sea stacks, tidal pools, and beaches, with lush rainforest found inland. In the state park, visitors can go wildlife watching or stroll along the Oregon Coast Trail and bask in the phenomenal views out over the Pacific Ocean.
In addition to its nature and scenery, Ecola State Park has some interesting historic sights relating to both the Tillamook tribe and the Lewis and Clark expedition, which passed through the area in 1806.
2. Columbia River Gorge National Scenic Area
Meandering through the Cascade Range, the Columbia River Gorge stretches some 130 kilometers in length, reaching a depth of over 1,200 meters in places. Now protected as part of a national scenic area, it is home to an abundance of gorgeous scenery, landscapes, and nature.
A great way to explore its many delights is to drive east from Portland along the Historic Columbia River Highway, which takes you through the stunning gorge and alongside the rushing river. On top of this, the scenic route also passes by majestic mountains and wondrous waterfalls, with the 190-metre-high Multnomah Falls an undoubted highlight.
The national scenic area's delightful and diverse landscapes lend themselves perfectly to all kinds of outdoor activities, with everything from hiking and mountain biking to rock climbing and rafting on offer.
1. Crater Lake National Park
Named after the captivating Crater Lake that lies at its heart, this incredible national park is the only one in the state. Located in southern Oregon, it is a very popular place to visit due to its incredibly photogenic scenery and wealth of recreational activities.
Hemmed in on all sides by the crumbling cliffs of a long collapsed caldera, the brilliantly blue waters of Crater Lake make for a spectacular sight. The deepest lake in the US offers up fabulous photo opportunities to visitors from its rugged rim. At the same time, fishing, scuba diving, and boat tours can all be enjoyed on its reflective waters.
While the lovely lake is undoubtedly the standout sight, the area surrounding its crystal clear waters also has over 140 kilometers of scenic paths for guests to hike or cycle along. With so much superb scenery on show and so many outdoor activities to try, Crater Lake National Park is not to be missed when in Oregon.