Known just as much for its bourbons and bluegrass as its horse racing and food, Kentucky is a fun and fascinating place to live and travel about that certainly has a lot going for it. As the Upper South state lies at a geographic and cultural crossroads, both its landscapes and settlements are extremely diverse with rural areas, hills and mountains making up much of its landmass.
Most of its population resides either in its central Bluegrass region or in and around its largest city Louisville and the suburbs of Cincinnati in neighboring Ohio. The best cities in Kentucky boast their own distinct distilling and dining scenes. With a rich music, literature and folklore heritage, there is always something new to discover with Southern hospitality being a given wherever you go.
12. Henderson
A very peaceful and picturesque place, Henderson lies along the winding Ohio River, just a stone's throw from Evansville in Indiana. As it is considered its southernmost suburb, residents can enjoy a high quality of life in the rural community without being too far from all the larger city's attractions, establishments and entertainment options.
Besides its low cost of living and high employment rate, families benefit from Henderson's highly rated public school system while plenty of pristine parks and pretty green spaces surround its town center. In addition to ambling along its gorgeous River Front, there are also all kinds of outstanding cultural events, fun festivals and exhilarating horse races for locals and visitors alike to attend over the course of the year.
11. Owensboro
Just half an hour's drive east of Henderson and Evansville is another fantastic city to live and visit in the Bluegrass State: the ever-growing Owensboro. Besides billing itself as the 'Barbecue Capital of the World', Kentucky's fourth-largest city is famous for its packed schedule of fairs and festivals with sports also playing a large role in its culture and identity.
Just a short stroll from its wonderful waterfront along the Ohio River are dozens of great shops and restaurants with playgrounds, parks and a sublime arts and culture center also on offer. While many come to sample its delicious food, its brilliant Bluegrass Music Hall of Fame and Museum is not to be missed out on. In addition, the Owensboro's fine art museum and beautiful botanical garden also count among its other main attractions.
10. Richmond
PEO ACWA / Flickr
The largest city in the Bluegrass region after Lexington and Louisville, Richmond is an idyllic place to visit that is surrounded by some pristine nature spots and state parks. As it is home to the Eastern Kentucky University, it has a very lively yet laidback feel with the sizeable settlement also acting as an important center for work and shopping in the south-center of the state.
Thanks in part to its large and diverse student population, countless restaurants and shops are dotted about downtown with lots of top-notch recreational and leisure facilities being located on campus. While the large and lovely Lake Reba Park is sure to appeal to students, families and retirees alike, tourists will be particularly interested in its well-preserved Civil War battlefield and replica of Fort Boonesborough.
9. Georgetown
Joe / Flickr
Just to the north of Lexington you can find the city-suburb of Georgetown which is regularly ranked among the most desirable places to live in the state. Much calmer and quieter than the Horse Capital of the World, it also lies within easy driving distance of Frankfort and Louisville and their umpteen establishments, amenities and attractions.
As it is the site of a massive Toyota manufacturing center, G-Town's population and popularity have risen considerably over recent decades with more restaurants, shops and schools also having sprung up. Thanks to all its family-owned businesses and the fertile farms that surround it, Georgetown has a wonderful small-town feel with most people heading into nearby Lexington if they want to shop, dine or go out.
8. Elizabethtown
Snawder / Flickr
Lying just forty-five minutes' drive south of the state's largest city Louisville is another vibrant town that acts as a hub for the surrounding region: the enticing yet affordable Elizabethtown. Very well connected to countless other cities in Kentucky and even Nashville in neighboring Tennessee, it is home to 30,000 or so souls with families and young professionals making up most of its population.
As it was established in 1793, Elizabethtown has several nice historic houses and mansions for you to check out with its main claim to fame being the Confederate cannonball still embedded in the side of a downtown building. Besides numerous shops and restaurants, the town has a surprisingly lively cultural scene to delve into while its low cost of living and high quality of life also make it a great place to settle down.
7. Bellevue
Another increasingly attractive area to live in is the brilliant city-suburb of Bellevue which lies just across the Ohio River from Cincinnati in the Buckeye State. As the center of the bustling metropolis is located just a ten-minute drive away, residents benefit from all of its amenities and entertainment options without having to put up with the hustle and bustle of downtown.
Due to all the jobs and recreational opportunities the city brings, Bellevue has grown and changed a lot in recent years with new bars, businesses and boutiques opening up all the time. While its public schools could be better, cheap housing and a low crime rate make the suburb a firm favorite with families while its innumerable festivals and events provide a chance for the tight-knit community to come together.
6. Louisville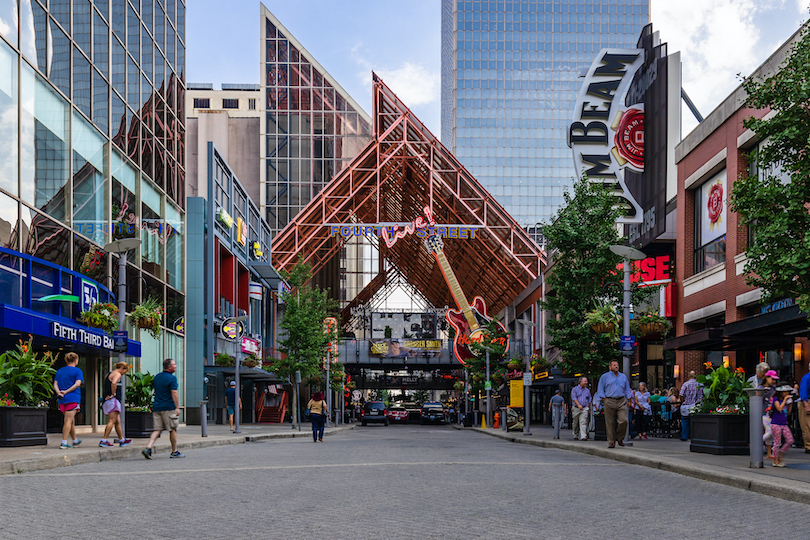 As it is by far the largest city in Kentucky, Louisville is understandably one of the main places people want to live and visit in Kentucky. With a wide range of neighborhoods to choose from, the Derby City certainly has something for everyone with some of its most sought-after suburbs being those of Indian Hills, Cherokee Gardens and Hurstbourne Acres.
Away from its quiet and peaceful peripheries you can find all kinds of enticing attractions with art galleries and museums, parks and architectural marvels all dotted about. While it is most known for hosting the exciting Kentucky Derby horse race and being the hometown of boxer Muhammad Ali, the city boasts lots of fantastic bourbon distilleries, a thriving dining scene and Southern hospitality.
5. Berea
Ann Althouse / Flickr
If instead of a busy big city it is a simple small town in a scenic setting that you are after, then Berea might just be the place for you. Nestled amidst the rolling foothills of the Appalachians, it has a vast array of outdoor activities for locals and visitors to enjoy with both Berea College Forest and Daniel Boone National Forest being home to countless trails, campsites and viewpoints.
Despite its modest size, Berea is known for its historic buildings and happening arts and crafts scene which is showcased at several well-attended festivals over the course of the year. In addition, the well-regarded Berea College's sizeable student population lends the town a lively and youthful feel though most people head into Richmond or Lexington if they want to shop or go out.
4. Edgewood
Edgewood
As it lies only fifteen minutes' drive from the center of Cincinnati, residents of Edgewood can enjoy a much more relaxed pace of life without sacrificing anything in the way of shopping, dining and nightlife. With Interstate 275 connecting it to cities like Louisville, Lexington and Indianapolis and an international airport lying right on its doorstep, the quiet suburb certainly has great links to the outside world.
Mostly home to families and retirees, it is a lovely laidback community that is home to leafy streets and well-maintained parks with small businesses and cafes dotted here and there. Although it is safe and employment rates are high, the cost of living is on the rise as word spreads about the tiny town's considerable charms.
3. Lexington
After Louisville, the large and lively Lexington is normally the next city that springs to mind when people think about Kentucky. Renowned as the 'Horse Capital of the World', it acts as an important economic and cultural center for the rest of the Bluegrass region while the University of Kentucky is one of its largest employers and most influential institutes.
Also known as the 'Athens of the West', Lexington is home to a myriad of interesting historic sights and impressive old buildings with grand mansions and atmospheric plantations lining the streets of its Victorian neighborhoods. While most of its attractions relate to horse breeding and racing, there are also plenty of terrific restaurants and distilleries to try with a trip to the famous Keeneland Race Course being the highlight of many visitors' time in the city.
2. Frankfort
Lying in between both Lexington and Louisville, you can find the state's small capital city Frankfort which straddles the banks of the winding Kentucky River. Asides from its pretty parks and gorgeous waterfront areas, its historic downtown contains attractive antebellum-style buildings with museums and public institutions set alongside trendy restaurants and distilleries.
Across the river is its stunning state capitol and countless governmental buildings with the East and West sides of Frankfort being more residential in nature. With fun recreation activities to be enjoyed on the river, a thriving cultural scene and close proximity to other larger cities, the capital is an ideal place to raise a family with a low cost of living and high employment rate only adding to its appeal.
1. Fort Thomas
Fort Thomas Matters
Yet another city-suburb to steal people's hearts in recent years is the very pleasant and picturesque Fort Thomas in the Northern Ohio River Region. Set just a short drive southeast of both Cincinnati and Bellevue, it is highly thought of for not only its excellent public school system and affordability but its community atmosphere and extensive list of amenities too.
This all makes it a sought-after spot to settle with families, young professionals and retirees alike all calling it home and benefiting from its closeness to the center of Cincinnati. As well as safe parks and a long scenic stretch of riverside, the small town has pockets of life for you to discover while a couple of breweries and distilleries can be found here and there.
Map of Cities in Kentucky to Live and Visit