Although often derisively referred to as 'The Crossroads of America', Indiana is actually awash with stunning scenery and idyllic countryside. Once off its busy interstates, you'll find lovely little towns and state parks to explore with its capital Indianapolis boasting most of its main cultural attractions.
As it is part of both the Midwest and Great Lakes regions, the Hoosier State has numerous different sides to it. This makes it very rewarding to travel to, as large and lively cities such as Fort Wayne and Bloomington are just as diverse as the rural communities and landscapes around them.
While most people think of endless farms and fields when they think of Indiana, exploring marvelous caves, lakes and waterfalls are all possible things to do in India. Add in Lake Michigan's rolling dunes and Indianapolis' many museums and the oft-overlooked Indiana no longer seems to be just a fly-over state.
In this post, we'll cover:
23. Cataract Falls
The largest waterfall by volume in the state, Cataract Falls lies in the west-central part of Indiana, just outside the small town of the same name. Easily accessed via State Road 42, it makes for some fantastic photos with shady trails weaving their way about the surrounding recreation area.
Actually made up of two sets of falls lying about a mile apart, its rushing waters can be found along a very pretty part of Mill Creek. While Upper Falls towers 45 feet tall, Lower Falls only reaches 30 feet in total with a series of dramatic-looking drops defining both of them.
Aside from snapping some photos and splashing about in their waters, you can also hike along the nearby nature trails and cross its old covered bridge that dates to 1876.
22. Studebaker National Museum, South Bend
artistmac / Flickr
A fascinating place to visit, the Studebaker National Museum in South Bend is packed with three floors full of cool old carriages and vintage vehicles. While its well-done displays primarily focus on the history of the hugely successful American automobile company, some sections cover the evolution of the industry.
Founded in 1852 by the Studebaker brothers, the manufacturing company initially produced wagons and buggies before moving onto electric and then gasoline-powered vehicles. Once integral to the South Bend economy, its assembly line sadly ceased production in 1963. Exhibits and photos now document all their models with seventy classic cars and carriages being dotted around the building.
Besides the museum's WWI and WWII military vehicles, the highlight of its large collection are the impressive Presidential carriages that were used to transport Abraham Lincoln and others around.
21. Conner Prairie
Valerie Everett / Flickr
Another excellent place to head if you love history is the educational yet entertaining Conner Prairie just outside of Fishers. At the enormous outdoor museum, you can experience what life was like in Indiana back in the 1800s as you meet costumed interpreters and watch live demonstrations.
Lying alongside the winding White River, its sprawling campus includes a Lenape Indian Camp and an 1836 prairie town where you can watch blacksmiths at work or take part in military drills. Guests can even enjoy a hot air balloon ride and see the site and its surroundings from the skies.
At its museum, visitors learn all about the various eras represented with classes and camps for kids also regularly taking place. In summer, enthralling American Civil War reenactments are often held alongside the superb Symphony on the Prairie.
20. Turkey Run State Park
Boasting lots of stupendous landscapes, scenery and nature, Turkey Run State Park again lies in the west-central part of Indiana, not too far from Cataract Falls. Although most known for its beautiful sandstone cliffs and canyons, there are also several pioneer-era sights to see.
Protected as a park since 1916, its vast woodlands are home to gorgeous gorges and rushing rivers. Countless scenic hiking trails crisscross the heavily eroded area with floating down Sugar Creek on tubes and kayaks being a popular summertime activity.
Hidden away amidst its groves of old-growth trees and rearing rock formations are historic sites like Lieger Log Cabin and Lusk Home. Both these highlight how people lived in the early-to-mid 1800s with the quaint Cox Ford Covered Bridge being another of the park's standout sights.
19. Antique Alley
If you actually want to buy some antiques to take home, then Antique Alley is the perfect place to go. Remarkably enough, 1,200 different dealers can be found along its two interlocking loop trails which take you through half a dozen lovely little towns.
While the first trail mostly follows the Old National Road that connects Richmond to Knightstown, the other crosses over into Ohio before looping back into Indiana. Along both routes are a vast array of eclectic antique shops where you can bargain for tantalizing treasures and buy vintage items.
One of the main clusters is in the historic Cambridge City as a gigantic antiques mall and numerous dealers are spread across just three blocks. As with all of Antique Alley's establishments, they sell everything from glittering jewellery and glassware to rare coins and one-of-a-kind collectibles.
18. Monroe Lake, Bloomington
Offering all kinds of fun watersports and outdoor activities is the massive Monroe Lake. As it is Indiana's largest land-bound body of water, untold thousands flock here to immerse themselves in nature and enjoy its extensive recreational opportunities.
Partly surrounded by Hoosier National Forest, the large lake was formed back in 1965 following the damming of Salt Creek. Bordered by soft, sandy beaches, it has loads of cozy campsites and lodges to stay at and marinas where you can rent kayaks and pedalos to explore the lake's indented shore.
Besides jet skiing and sailing across the man-made reservoir's surface, you can hike and horseback ride along its leafy trails. With its recreation areas containing playgrounds and mini-golf courses, it is no wonder Monroe Lake has long been a favorite with families.
17. Spring Mill State Park
Yet another scenic spot to visit that contains completely different landscapes is the Spring Mill State Park just outside of Mitchell. Known for its incredible caves and sinkholes, it also has an interesting settlers' village and nature center for you to stop by.
As it is located on the Mitchell Karst Plain, eons of erosion have caused cavernous caves to form all about its limestone landscapes. The most popular to see are Donaldson Cave and Bronson Cave for their spelunking with a boat tour even taking you along the Twin Caves' winding river.
Above ground is just as delightful as picturesque rivers and rock formations can be spied amidst the undergrowth. After ambling about the restored 1814 village and catching live crafts demonstrations, make sure to check out the nature center's displays on the local fauna and flora.
16. Monument Circle, Indianapolis
Right in the heart of downtown Indianapolis is one of the capital's standout symbols and sights: the majestic Monument Circle. Long an important public gathering place, the circular street is presided over by the iconic Soldiers and Sailors memorial which towers a staggering 284 feet tall.
Erected between 1888 and 1901, the absolutely enormous obelisk-shaped monument honors those who served in the Civil War and Revolutionary War among others. While a bronze statue of Victory sits atop it, pretty pools and fountains lie around the foot of the neoclassical-style sculpture.
Only 21 feet shorter than the Statue of Liberty, its observation deck offers commanding views over the city and capitol. After snapping some pics, you can attend cultural events at its foot or peruse some of the shops and cafes lining Monument Circle.
15. Lanier Mansion State Historic Site, Madison
DOTremain / Wikipedia
One of the finest examples of Greek Revival architecture in the country, Lanier Mansion lies in the center of Madison, overlooking the Ohio River. Now preserved as a state historic site, its opulent interior and grand gardens really are a treat to tour around.
Named after the wealthy banker James F. D. Lanier, who had it built in 1844, the massive mansion is now painted in its original bright orange and white. This certainly helps it stand out against the green grounds and blooming flowerbeds all around it.
Inside the stately home are dozens of delightfully decorated rooms that highlight what life was like for Lanier and his family in the mid-1800s. Your expert guide will also point out the building's finer features such as its stunning three-story spiral staircase and south portal.
14. RV/MH Hall of Fame Museum
Surprisingly riveting, the RV/MH Hall of Fame Museum can be found tucked away right in the very north of Indiana. Located just off Interstate 80 outside Elkhart, its scores of old makes and models highlight the history of recreational vehicles.
As Elkhart is known as the 'RV Capital of the World' and about 85 percent of the vehicles in the US are manufactured in Indiana, it is only appropriate that the museum is located where it is. Opened in 1991, it features an astounding array of RVs with the Earl Travel Trailer even dating to 1913.
Dotting its halls are displays on influential events for the industry like the first microwave oven and indoor toilet. Highlights include both the oldest Winnebago and smallest Airstream ever built and the 1931 Chevrolet Housecar that convinced Mae West to make movies.
13. Marengo Cave
daveynin / Flickr
At the opposite end of the state is one of Indiana's most awe-inspiring natural features and must-see sights: the mesmerizing Marengo Cave. Since being discovered by two school children in 1883, its spectacular stalactites and stalagmites have been enjoyed by generations of young and old alike.
One of only four show caves in the state, its cavernous confines were almost immediately opened to the public with the cave now recognized as a National Natural Landmark. Guests can opt for either the Crystal Palace or Dripstone trail with remarkable rock formations and otherworldly landscapes guaranteed wherever you go.
After exploring the underground cavern, make sure to try out some of their above ground activities. These include panning for gemstones and crawling through a cave simulator with pedal karting and a mega maze also on offer.
12. Holiday World & Splashin Safari
swrutherford / Flickr
Long a firm favorite with families, both Holiday World & Splashin Safari are packed with exciting rides, rollercoasters and water slides. As the huge amusement park and its adjoining water park host countless shows and seasonal events, they really do have something for everyone to enjoy.
Since being founded in 1946, the park has expanded considerably and now covers a ginormous area just off Interstate 64 in the tiny town of Santa Claus. All its attractions are divided into four themed sections that celebrate Christmas, Halloween, Thanksgiving and the Fourth of July.
Besides trying its three hair-raising wooden rollercoasters The Raven, The Legend and The Voyage, you can always shoot down the world's two longest water coasters. If you prefer something calmer, there are pools and picnic areas to relax at and excellent concerts and musical shows to watch.
11. Parke County's Covered Bridges
With just over thirty of the historic old structures scattered about, it is no wonder Parke County calls itself the 'Covered Bridge Capital of the World'. As it lies in the west-central part of the state, it can easily be visited on trips to Turkey Run State Park and Cataract Falls.
The reason the county has more covered bridges than almost anywhere else in the States is because lots of little streams and creeks wind their way about. At one point as many as 53 existed with most being built out of poplar wood and featuring a Burr Arch Truss style.
While Jackson Covered Bridge boasts the longest single span, Portland Mills is the oldest with all of them making for fantastic photos and viewing. Each year, a fall festival celebrates the charming covered bridges with millions coming to enjoy the county's bucolic countryside.
10. French Lick Resorts
If you want to kick back and relax in style after sightseeing, then the French Lick resorts are definitely the place for you. Its gigantic resort complex contains not just two historic spa hotels but a large casino and three golf courses too.
Located just a mile apart, the two large and lavish hotels lie in West Baden Springs and French Lick Springs. In the early 1900s, wealthy, fashionable and notable guests flocked here for their relaxing waters and the resorts' luxurious look and feel.
Now restored to their original splendor after decades of decline, they make for a truly memorable place to stay and visit. Aside from enjoying their exquisite architecture and elegant interiors, you can lounge in their pools, play a round of golf or try your luck at the casino.
9. University of Notre Dame, South Bend
Widely considered one of the country's most picturesque college campuses, the University of Notre Dame lies on the northeastern outskirts of South Bend. Lining its gorgeous green quads are loads of extraordinary buildings with several outstanding museums and sports arenas dotted about.
Now recognized as one of the top universities in the US, Notre Dame was established in 1842 with astonishing architecture and artworks now coating its campus. Among its main sites are the massive Touchdown Jesus mural and wonderful Basilica of the Sacred Heart which is famed for its stained-glass windows and frescoes.
Other than strolling around the Snite Museum of Art and taking in the lively ambience, attending a Fighting Irish game is simply a must. This is because 77,000 football fans pack out its stadium with plenty of parties only adding to the intoxicating atmosphere.
8. Oliver Winery
Both the largest and oldest winery in all of Indiana, the award-winning Oliver Winery lies just off of Interstate 69, fifteen minutes drive north of Bloomington. At its vineyard, you can take terrific tours and sample sumptuous wines either in its lovely landscaped garden or vibrant tasting room.
For fifty years now, the winery has wowed critics and casual drinkers with the fine fruity flavors of its well-crafted reds, whites and roses. What started out as the passion project of professor William Oliver has grown considerably with its top-class collections now available in over forty states.
On tours, you'll hear about its interesting history and see how the wines are produced at its secluded campus. Afterwards, you can sip some delicious wines while taking in the sublime scenery on show.
7. Washington Park, Michigan City
Lying along the shores of Lake Michigan, Washington Park encompasses both pristine beaches and fine old historic sights. With a small zoo, watersports and sightseeing cruises up and down the coast also on offer, it makes for a great day out for all the family.
Founded in 1891, the waterfront park now protects around two dozen historic buildings and cultural landmarks. These include the soaring Soldiers' and Sailors' Monument which was built back in 1896 and a quaint little bandstand with Indiana's only working lighthouse being another highlight.
At its broach beach, visitors can sunbathe, swim and splash about or take invigorating boat trips and fishing excursions out on the lake. After ambling along Michigan City's pier and seeing the animals in the zoo, you can always venture onto the adjacent Indiana Dunes National Park.
6. Indianapolis Museum of Art
Serge Melki / Flickr
As it boasts one of the biggest and best collections of paintings, photos and sculptures in the US, the Indianapolis Museum of Art really is a must-visit when in the capital. Set in the corner of the city's sprawling Newfields campus, it has everything from Neo-impressionist paintings and Paul Gauguin prints to Chinese ceramics and Edo-era artworks for guests to enjoy.
One of the oldest art museums in the States, it first opened in 1883 with over 54,000 artworks now making up its holdings. Spread across its four floors are vast rooms displaying textiles and prints, contemporary pieces and video installations with other galleries covering Africa, Asia and Oceania.
Once you've explored 5,000 years of art history, you can see a play in the museum's theater or stroll around the idyllic gardens and early-twentieth-century estate outside.
5. Brown County State Park
By far the largest state park in Indiana, the beloved Brown County has an almost endless number of exciting recreation activities to enjoy. Due to this, it is affectionately known as Indiana's playground with more than a million locals and out-of-towners alike visiting each year.
Mostly made up of rolling hills and lush woodland, it lies just east of Bloomington with a couple of pretty lakes dotting its scenic confines. While many come for the divine views and fiery fall foliage for which the park is known, others enjoy hiking and horseback riding or camp beneath the stars.
In summer, people cool off at its water park or bike along shady trails through forested ravines. You can also visit the nearby art colony of Nashville if you want art and culture alongside all the nature.
4. Fort Wayne Children's Zoo
One of Indiana's top tourist attractions, the Fort Wayne Children's Zoo houses an amazing menagerie of animals, birds and reptiles from all around the world. Located just north of downtown Fort Wayne, its spacious enclosures and exhibits cover a large part of Franke Park.
Often included among the nation's best zoos, it was established in 1965 with around 1,500 animals inhabiting its four themed areas. These whisk you to the African savanna and Indonesian rainforest with their giraffes, orangutans and tigers counted among the park's most popular residents.
To get around, animal lovers can hop aboard a ski lift-like ride to see the Serengeti-inspired sections or take a log ride through the Australian area. Unforgettable animal encounters are available where you feed cute giraffes and stingrays.
3. Indiana Dunes National Park & State Park
Stretching about twenty miles along Lake Michigan's southern shoreline is the absolutely incredible Indiana Dunes National Park. A treat to travel around, it contains a diverse array of ecosystems with the state park within it protecting most of its massive dunes.
Although recognized as a national lakeshore in the sixties, it was only in 2019 that its rolling dunes and beaches were turned into a national park. The only one in Indiana, its prairies, rivers and forests are a joy to hike about with fishing and swimming out on the lake being other popular pastimes.
In addition to lounging on the beach and wallowing in Lake Michigan, you can explore its sizeable dunes, some of which even 'sing'. Brilliant birdwatching can also be had thanks to the rich variety of fauna and flora that coat its swamps, savannas and woodlands.
2. Children's Museum of Indianapolis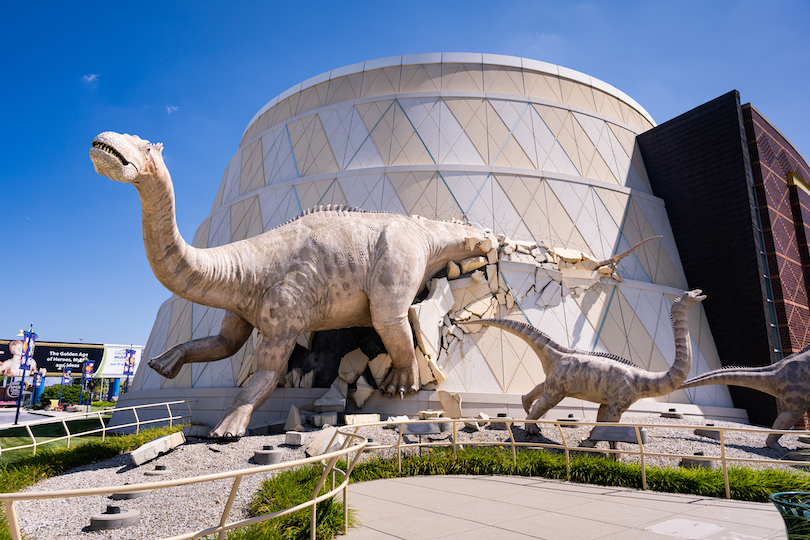 With five vast floors full of over 130,000 artifacts for you to see, one could spend days if not weeks exploring the Children's Museum of Indianapolis. Located along North Meridian Street, its fun dino exhibits and hands-on science activities are sure to wow young and old alike.
The largest museum of its kind in the world, it was founded in 1925 with its colossal campus lying in the United Northwest Area of town. Upon entering, you can gaze at the atrium's astonishing Dale Chihuly glass sculpture before heading on to the Dinosphere and Beyond Spaceship Earth gallery.
In addition to learning about various countries and cultures, you can also catch shows at its state-of-the-art planetarium and play basketball and football at its outdoor sports areas.
1. Indianapolis Motor Speedway
As the city is known as the 'Racing Capital of the World', no visit can be complete without attending an exhilarating event at the Indianapolis Motor Speedway. At the hallowed venue, motorheads can watch thrilling races or tour around its museum and hall of fame.
One of the oldest permanent automobile race tracks in the world, it was completed in 1909 with its rectangular oval circuit having remained virtually unchanged since then. Over the decades, the track has hosted dozens of competitions with the Indy 500, Intercontinental GT Challenge and NASCAR Cup Series currently taking place here.
Now recognized as a National Historic Landmark, the world-renowned speedway is a must-visit for its exciting ambience and the super high speeds its racers reach.
Map of Things to Do in Indiana