Although routinely disparaged for being 'The Crossroads of America', the oft-overlooked Indiana is home to much more than just rural farmland and busy interstates. As well as cool college towns and its vibrant capital Indianapolis, it contains the quiet suburban city of Carmel which is often featured on lists of the best places to live in the US.
As it is part of both the Midwestern and Great Lakes regions, the state has numerous different sides to it with almost endless farmland surrounding the lively towns and best cities in Indiana. Its two main metropolises of Indy and Fort Wayne for instance highlight this contrast as many neighborhoods still somehow retain their small-town community feel and charm.
Outside of these two, the best nightlife and cultural scenes can be found in the hip college towns of Bloomington, Evansville and Terre Haute. With stunning scenery also on offer at the Indiana Dunes National Park and Hoosier National Forest, Indiana is a surprisingly great place to live, study, travel and work.
12. Westfield
Derek Jensen / Wikipedia
A fantastic place to raise a family, Westfield is located on the very northern edge of the Indianapolis metropolitan area. As well as offering residents a sparse suburban feel, its superb public schools and ample job opportunities make it an attractive town to settle down.
Due in part to its proximity to the city center and the open space about it, the suburb is growing at a rapid pace with new houses, shops and businesses popping up all the time. Plenty of parks and even some wineries are still dotted about with Grand Park actually being the largest youth sports campus in the States.
Nicknamed the 'Crossroads of Indiana' due to the huge highways that run through it, Westfield is an affluent area that has a high rate of home ownership.
11. Zionsville
Paula Henry / Flickr
Often ranked amongst the best places to live in the United States, the lovely little town of Zionsville lies just half an hour's drive northwest of downtown Indianapolis. Inhabitants of the wealthy suburb enjoy a high quality of life with its delightful downtown also attracting tourists to the area.
While it is actually the most expensive postcode in all Indiana – and this is reflected in its property prices – residents benefit from safe streets, top-class schools and its friendly small-town feel. Lining its quaint, village-style downtown are lots of local shops and restaurants so you don't need to brave the hustle and bustle of Circle City whenever you want to dine out.
With beautiful homes and heaps of outdoor activities also on offer, Zionsville is a great community in which to put down roots and bring up a family.
10. Terre Haute
Widely considered to be one of the best college towns in the country, Terre Haute is tucked away in the west-central part of the state, right on the border with Illinois. Known as the 'Queen City of the Wasbah', its sizeable student population and numerous institutes of higher learning lend its streets a lively yet laidback vibe.
Lying alongside the Wasbah River in the vast valley of the same name, the town initially flourished thanks to industry, the railroads and river traffic. While it did suffer urban decay, recent rejuvenation projects have injected fresh life and energy into its streets. As such, several art galleries and theaters can now be found in downtown which also hosts countless festivals and music events each year.
While most people come to study at Terre Haute's five colleges and universities, families love all its leafy parks and green spaces which saw it nicknamed 'Tree City USA'.
9. Lafayette
Another very popular college town to live in and visit is Lafayette which lies further up the Wasbah River, about an hour's drive northwest of Indianapolis. While a handful of theaters and museums dot its downtown, the prestigious Purdue University exerts a huge influence on the city's cultural life.
Located just across the river in West Lafayette, its sprawling campus has some splendid old historic buildings and gorgeous green spaces for you to amble around. Along with the Ivy Tech Community College, its students create a buzz about town with the game days of the Boilermakers football team being particularly energetic and exciting affairs.
As so many young people live in Lafayette, lots of bars and restaurants are scattered about here and there. Plenty of families also settle here for its excellent public schools and affordable cost of living.
8. Evansville
The third-most populous city in Indiana, Evansville is nestled right in the southwestern corner of the Hoosier State. Occupying an oxbow in the Ohio River, it serves as an important cultural, economic and medical center for the surrounding Illinois-Indiana-Kentucky tri-state area.
Often referred to as the 'Crescent Valley' and 'River City' due to its scenic setting, the former French settlement's streets have a vibrant feel thanks to its large student body. In addition to the University of Evansville, the University of Southern Indiana is also based here with loads of brilliant bars and restaurants catering to its youthful population.
Its innumerable employers across different industries and affordable cost of living have also enticed families and young professionals to the city. Tourists will also enjoy its tranquil riverwalk and lively nightlife scene with the incredible old Angel Mounds Native American site and Evansville Museum counting among its main sights.
7. Plainfield
Eric Wood / Wikipedia
Situated just past the Indianapolis International Airport from downtown, Plainfield is both a suburb and city in its own right. Very popular with families and young professionals, it offers residents top-class schools and public services with the capital's attractions and entertainment options lying just a short drive away.
Its two main pockets of life are clustered along East Main Street and Quaker Boulevard. Here you'll find plenty of shops, restaurants and an open-air retail mall while its dozen or so hotels mainly serve the nearby airport and conference goers.
Many people work in its humongous warehouse district that covers almost the whole eastern side of town. Coupled with its affordable housing and short commute time, this healthy job market has seen thousands more move here over the last decade.
6. Fishers
On the opposite side of the capital to Plainfield is another lovely suburb at which to settle down and raise a family. Lying on the northeastern outskirts of Indianapolis, Fishers has a very friendly small-town feel with nice houses and well-kept gardens defining its quiet and calm neighborhoods.
Over the last few decades, the city has developed at an astronomic rate due to its growing economy and proximity to both Indianapolis and Interstate 69. Thankfully, its superb public schools and local services have kept pace while its numerous cafes and restaurants mean you never need to leave your district if you don't want to.
A packed schedule of cultural events and festivals also bring the community together with its annual Spark!Fishers and Fishers Renaissance Faire being particularly popular. Great outdoor activities like fishing and waterskiing can also be enjoyed at the Geist Reservoir while the terrific Connor Prairie Living History Museum explores the area's past.
5. South Bend
A hugely important cultural and economic hub for the north of the state, South Bend is situated near the southernmost bend of the St. Joseph River. Although a number of big businesses are based here, it is mostly known for containing the University of Notre Dame and its Fighting Irish football team.
One of the top universities in the US, it boasts an absolutely beautiful campus with fine art galleries and museums lining its lovingly landscaped quads. While ambling by its historic colleges is already a treat, watching the Fighting Irish play in front of 77,000 fans truly is an unforgettable experience.
Other than the stadium's Touchdown Jesus mural and the glittering Golden Dome, downtown is also well worth exploring. Once neglected, it has seen a dramatic revival in recent years with cozy cafes and cultural centers springing up all over the place. A wonderful city to live in and visit, South Bend ranks highly for its public schools, housing and low cost of living.
4. Indianapolis
Both the state's capital and largest city, Indianapolis is a teeming metropolis with the feel of a small Midwestern community. With several arts and historic districts to explore, the 'Racing Capital of the World' has much more to offer than just fast cars and fumes.
Set slap bang in the center of Indiana, the rejuvenated city has come a long way since being mocked with the epithet 'India-noplace'. Amidst its skyscraper-studded downtown, you can now find world-class museums and performing arts venues while restaurants serve food from all around the globe.
Thanks to these attractions and of course all the amenities that living in a big city brings, Indy is one of the most popular places to live in the state. Tourists also flock here to watch the exhilarating Indy 500 and Brickyard 400 at the iconic Indianapolis Motor Speedway. You can then enjoy some peace and quiet or exciting outdoor activities amidst the pristine nature of the White River State Park.
3. Fort Wayne
Second only to Indianapolis in size, Fort Wayne lies right in the northeast of Indiana, not all too far from the border with Ohio. A regular recipient of the All-America City Award, its healthy housing and jobs markets and affordable cost of living all make it an attractive place to put down roots.
What started out as a small military base in 1794 has since grown into a sizeable city that acts as an economic and cultural center for the surrounding area. Its grand historic buildings exhibit a myriad of architectural styles with the looming Lincoln Bank Tower and stunning Saint Paul's being two of the most impressive.
Aside from touring around its Italianate, Greek Revival and Postmodern architectural gems, you can also stroll about the conservatory's gorgeous botanic gardens. Summit City's main attraction though is the Fort Wayne Children's Zoo which houses over 1,500 animals and has some fun rides to try.
2. Bloomington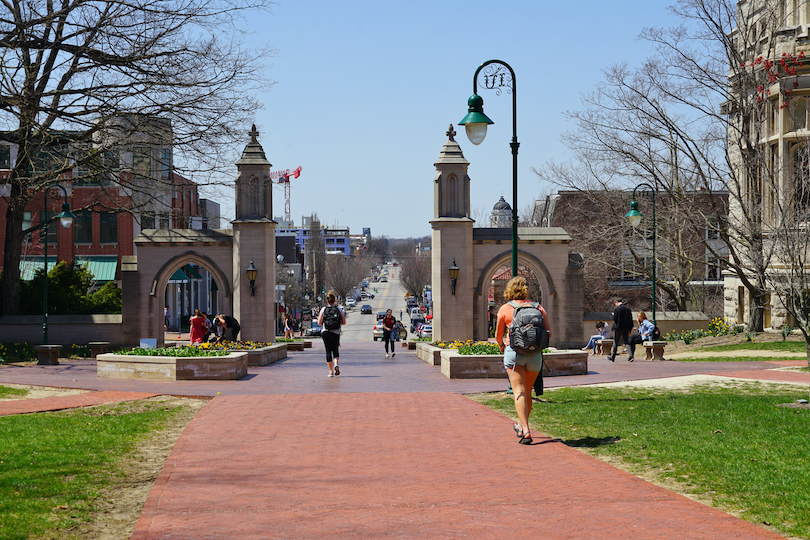 As it is home to the main campus of Indiana University, much of life in Bloomington revolves about the highly thought of institute and its sizeable student body. This lends the bohemian college town a lively, youthful feel with countless plays, music shows and art exhibitions taking place all the time.
Courthouse Square is its main hub of activity as cool bars and cafes lie next to university bookshops and umpteen ethnic restaurants. Thanks to the city's large Tibetan community, you can also go on a relaxing retreat at one of the many monasteries and temples dotted about town. While there is much to love about Bloomington, it could do a bit better in terms of its housing, jobs and cost of living.
Many young professionals still move here however as the 'Gateway to Scenic Southern Indiana' also has a wealth of natural riches lying nearby. Lake Monroe and Hoosier National Forest for instance have lots of awesome outdoor activities for locals and tourists alike to enjoy.
1. Carmel
Derek Jensen / Wikipedia
Regularly listed as one of the best places to live in the United States, Carmel lies immediately north of Indianapolis. If you want to launch a career or raise a family, it is a great choice thanks to its safe streets, high-performing schools and welcoming community feel.
One of the most affluent cities in the Midwest, its immaculate streets and neighborhoods are home to beautiful houses and gardens that aren't all too expensive when compared with other places in the country. In its arts and design district, you'll also find some excellent art galleries and interior design stores with plenty of restaurants and bars scattered about.
While all downtown Indianapolis' attractions lie just half an hour's drive away, Carmel also puts on some fun annual festivals and community events. Its petty parks also provide residents with enough space to exercise, play sports and immerse themselves in nature.
Map of Cities in Indiana to Live and Visit