Although it is often disparaged and overlooked for being 'The Crossroads of America,' Indiana has a lot going for it once you get off its busy interstates. Part of both the Midwestern and Great Lakes regions, it has numerous sides to it, with major cities such as Indianapolis and Fort Wayne found alongside Amish communities and lively college towns.
While the south of the state's rugged hills and valleys are riddled with caves, caverns, and quarries, the northwest boasts the astounding landscapes and scenery of Indiana Dunes National Park.
Map of Places to Visit in Indiana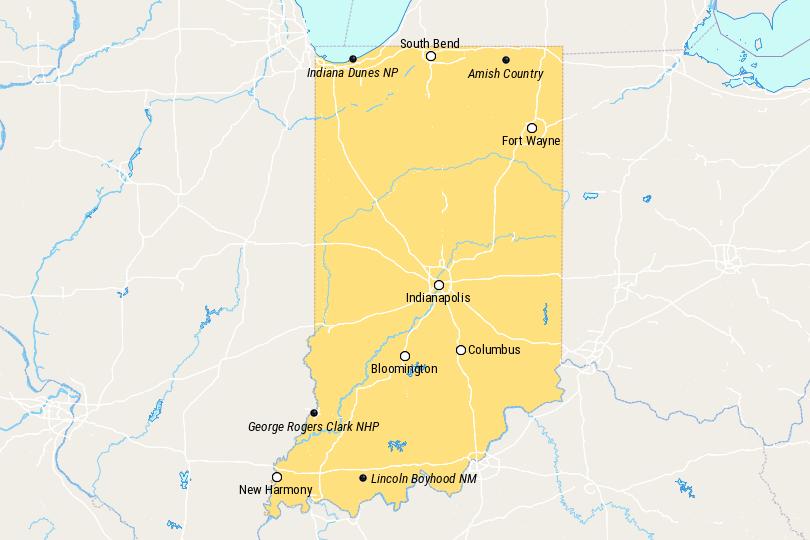 © OpenStreetMap © MapTiler © Touropia
Lovely countryside and farmlands are also on display, with important memorials and historic sights dotted about. Perfect for both city slicking and country living, this list of the best places to visit in Indiana certainly has something for everyone to enjoy.
10. Columbus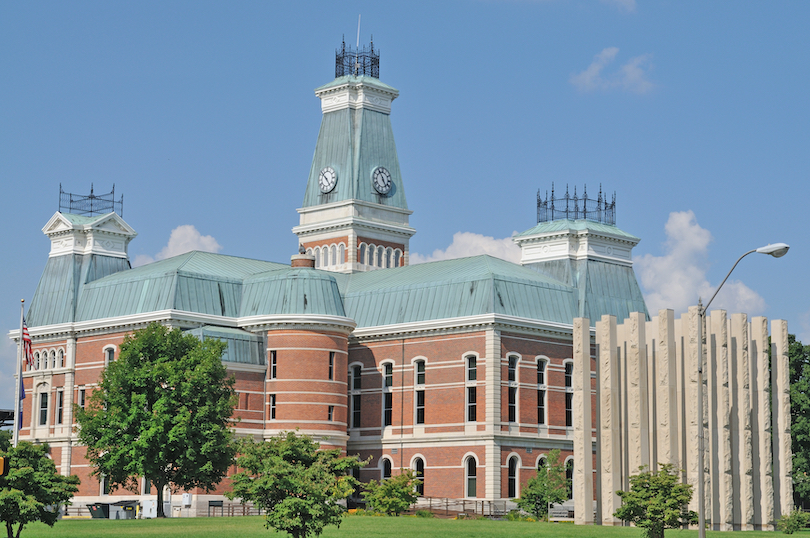 © Carroteater / Dreamstime
Home to a large number of artistic and architectural treasures, the small city of Columbus can be found some 40 miles (60 kilometers) or so to the south of Indianapolis. Since the 1940s, phenomenal public and private buildings and artworks have sprung up around town, earning it the nickname 'Athens on the Prairie.'
Over the years, renowned architects such as Cesar Pelli, IM Pei, and Richard Meier built a myriad of magnificent modern edifices – ranging from schools and hospitals to libraries and churches. Many of these delightful designs were commissioned by the Fortune 500 engine company Cummins, which is based in town. Seven of the buildings are recognized as National Historic Landmarks.
Besides the captivating and creative designs on display, the city also boasts many fantastic public art and sculptures which are dotted about its parks and shared spaces. A visually arresting place to visit, Columbus certainly lives up to its motto 'Unexpected. Unforgettable.'
9. Lincoln Boyhood National Memorial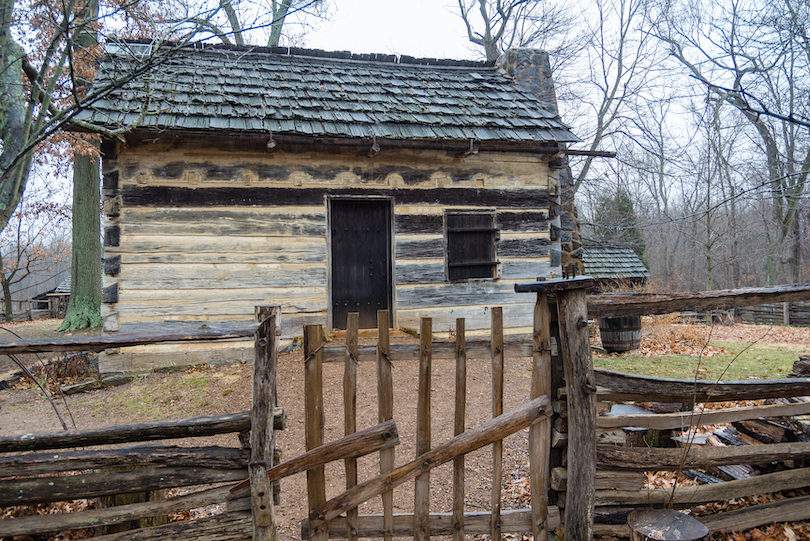 © George Ofslager / Dreamstime
Tucked away in a remote and rural corner of the state, the Lincoln Boyhood National Memorial protects and preserves the farm site on which the former president spent much of his childhood. From 1816 to 1830, the illustrious Abraham Lincoln lived here with his family, growing from a small seven-year-old boy into a twenty-one-year-old man.
Visitors to the memorial can now learn all about these fascinating and formative years at the site's marvelous museum. Besides perusing several exhibits on the president and various artifacts and artworks relating to him, there is also a 16-minute film on the great man's life in Indiana.
In addition to this, the Lincoln Boyhood National Memorial also has a working pioneer farm where you can find the archaeological remains of the original Lincoln cabin. Here too is a wooden replica farmhouse, complete with costume-clad park rangers who cultivate crops, raise livestock, and teach visitors about life on the farm.
8. New Harmony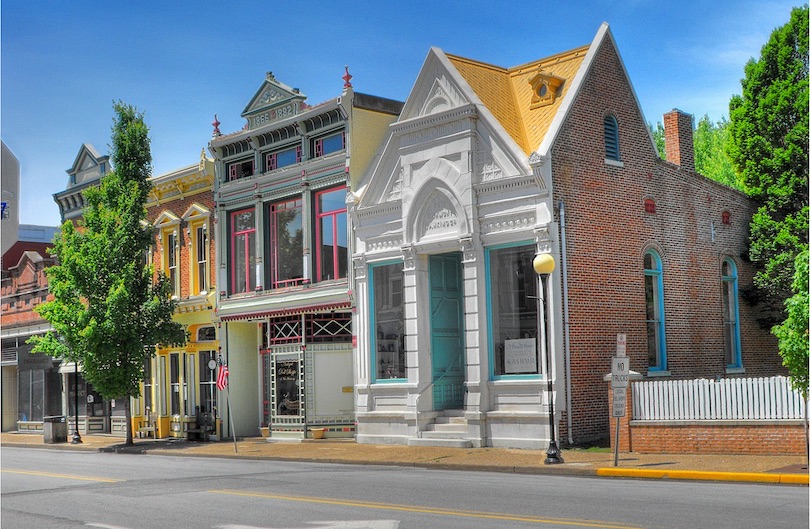 Timothy K Hamilton / Wikipedia
Set right in the southwest of the state, the small and sophisticated town of New Harmony lies on the banks of the Wabash River on the border with Illinois. The site of two attempted utopian communities, it was founded in 1814 by a German Christian sect before later being bought by the British social reformer Robert Owen.
Much of the town's pietist past is still on show today; while walking around, you'll come across important historical landmarks and elegant architecture. While many of its beautiful houses and churches were erected by the Harmonist and Owenite communities, others, such as the striking Roofless Church and Harmonist Labyrinth, date to more modern times.
Although neither of the utopian communities lasted long, the town's residents did play an influential role in the fields of both science and education. Visitors can learn all about these accomplishments as well as New Harmony's unique history at the Atheneum – an arresting, angular building that acts as the town's visitor centre.
7. Amish Country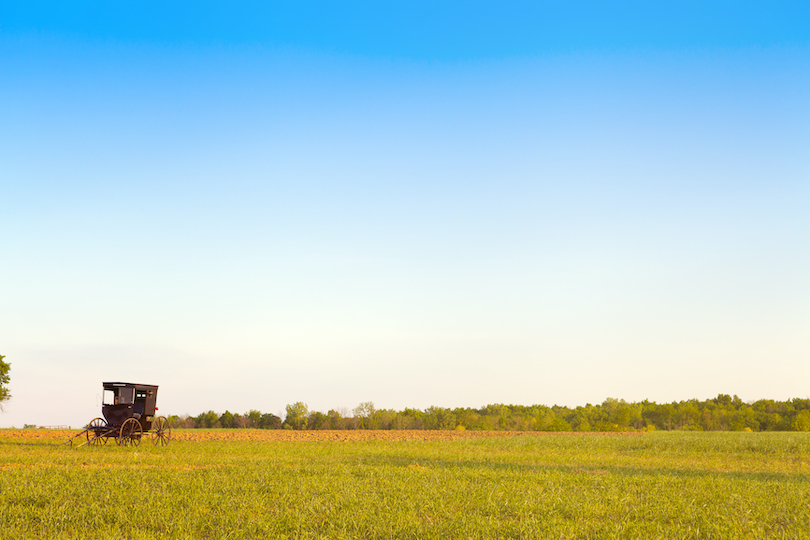 © Maxym022 / Dreamstime
After Pennsylvania and Ohio, Indiana is home to the largest Amish population in the States, with lots of farms, families, and communities found around Shipshewana and Middlebury. While the nearby interstate is full of cars and lorries whizzing by, off the main roads, you're more likely to see and hear horses and buggies passing by.
Visiting this pleasant and picturesque part of the state is like stepping back in time as you see members of the devout and distinctive religious community go about their lives. Wearing simple clothes and eschewing much of modern technology, the Amish work their fields themselves by hand or plough and build their own houses, barns and churches.
As they place a lot of value on rural life, humility, and manual labor, the Amish produce most of their food and necessities themselves. While traveling around the region, you'll often come across families selling fresh produce and home-made household items; it is well worth stopping off to buy some before continuing on your way.
6. George Rogers Clark National Historical Park
© Snehitdesign / Dreamstime
Lying on the banks of the Wabash River is the George Rogers Clark National Historical Park, which commemorates the famous general's career and the celebrated and successful Illinois Campaign. Set on the site of what is believed to be Fort Sackville, it is here that one of the most memorable feats of the American Revolution took place.
Respectively authorized and dedicated by Presidents Coolidge and Roosevelt, the circular memorial exhibits grand granite columns and a saucer dome, with the green gardens of the riverside park lying around it. Inside are seven exquisite murals depicting General Clark's remarkable journey and his important victory over the British.
At the heart of the memorial is a brilliant bronze statue of a young Clark, which basks in the famous feats played out on the walls around him. Visitors can learn all about his life and campaigns through the adjacent visitor center's exhibits, interactive displays, and a 30-minute film.
5. Bloomington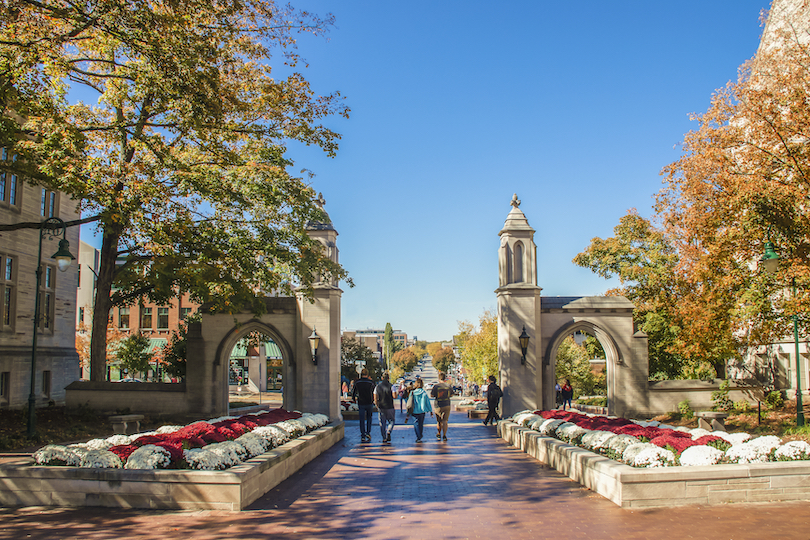 © Susan Vineyard / Dreamstime
As it home to the main campus of Indiana University, Bloomington has a lively and youthful feel, with much of life in the city revolving around the institute and its sizeable student body. Lying around 80 kilometers to the southwest of Indianapolis, it is a very pretty and picturesque place to visit that boasts a thriving arts and culture scene.
While its art centers and university venues regularly put on theater productions and music shows, excellent art exhibitions can be enjoyed in its handful of museums. Courthouse Square is the central hub of activity: you can find university bookshops lying alongside relaxed bars and cafes and cheap restaurants serving up world cuisine. There is also a large Tibetan community in town if you want to go on a retreat or visit one of their monasteries and temples.
While Bloomington has more than enough to keep you entertained for a couple of days, the city is also known as the 'Gateway to Scenic Southern Indiana'. This is due to the abundance of natural riches that lie nearby, with Lake Lemon, Lake Monroe, and Hoosier National Forest all offering superb outdoor recreation opportunities.
4. South Bend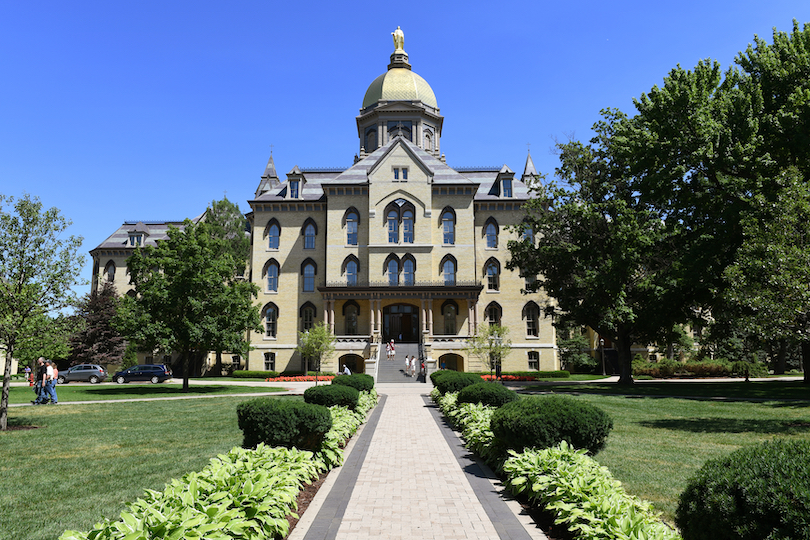 © Santa Maria / Dreamstime
Set on the southernmost bend of the St. Joseph River, South Bend lies right in the north of the state, not far from the border with Michigan. Home to some large corporations and companies – and an important economic and cultural hub – the city is most known for the University of Notre Dame and its Fighting Irish football team.
Come game day, fanatical fans pack into its 77,000 seat stadium, which is strikingly presided over by a 40 meter-high mural known as Touchdown Jesus. While watching a match and taking in the festive atmosphere is a must when in South Bend, its enormous university campus also has lots of great art galleries and museums for visitors to check out.
Although Notre Dame and its wealth of sights attracts the most attention, in recent years, Downtown South Bend has spruced up a lot, with many renovations and refurbishments taking place. Now, its formerly dilapidated buildings house captivating cultural centers, cosy cafes, and exciting entertainment venues, with the Century Center one of its standout sights.
3. Indiana Dunes National Park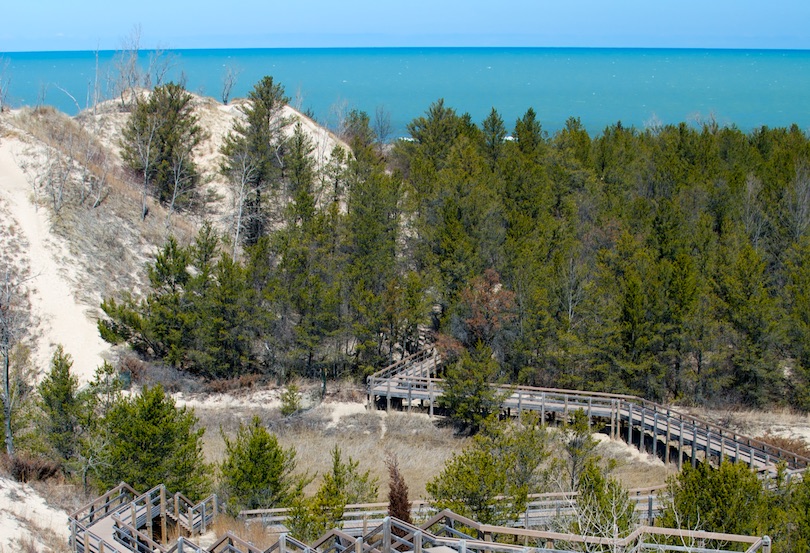 © Valariej / Dreamstime
Running for almost 25 miles (40 kilometers) along Lake Michigan's scenic southern shores, Indiana Dunes National Park protects a wealth of diverse and delightful landscapes and ecosystems. Easily accessible from Chicago, the state's only national park is a very popular place due to its sublime scenery and plethora of beautiful beaches and hiking trails.
Only established in 2019, the park encompasses everything from huge dunes and expansive wetlands to prairies, rivers and forests, with lovely views to be enjoyed over the lake. Hidden away among the untouched natural bounties are many different species of fauna and flora, with bird watching very popular during the spring and autumn migrations.
The outstanding wilderness and natural beauty of the national park lends itself perfectly to all kinds of outdoor recreation activities. Besides hiking and swimming, visitors can go fishing and boating on the lake or horseback riding and camping alongside its wonderful rivers and forests.
2. Fort Wayne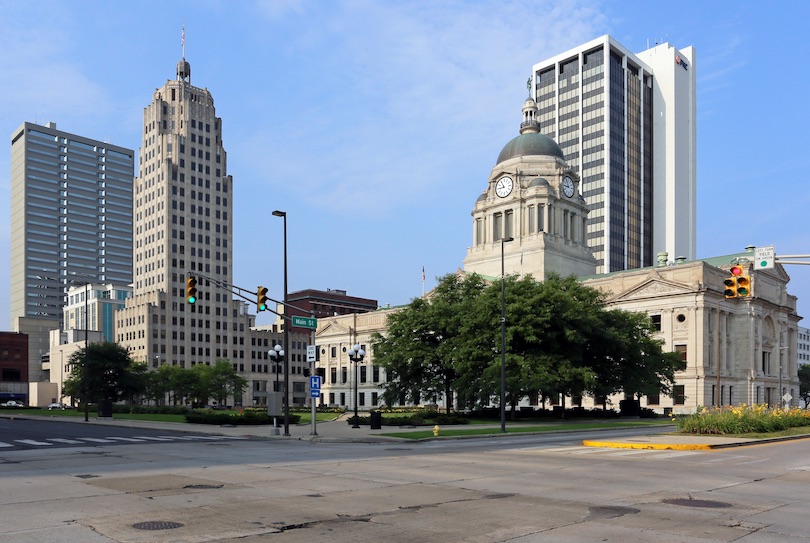 © Wellesenterprises / Dreamstime
The second-largest city in the state, Fort Wayne lies in the northeast of Indiana, not far from the border with Ohio. A lively yet laidback place, it is an important economic and cultural center, with lots for visitors to see and do in the city.
Founded way back in 1794 by the United States Army, the former fort has flourished into a sizeable city, with arresting architectural styles spied around town. Due to its abundance of Italianate, Greek Revival, and Postmodern buildings, it is well worth taking a tour of its numerous historical and cultural landmarks. Of these, two of the most impressive are the imposing Lincoln Bank Tower and spectacular Saint Paul's Evangelical Lutheran Church.
Away from its historical sights and architectural wonders, the city has some delightful outdoor spaces for visitors to enjoy. While you can stroll peacefully around gorgeous gardens and pretty plants at the botanical conservatory, Fort Wayne's Children's Zoo has more than 1,500 incredible animals on show, as well as some fun rides and attractions.
1. Indianapolis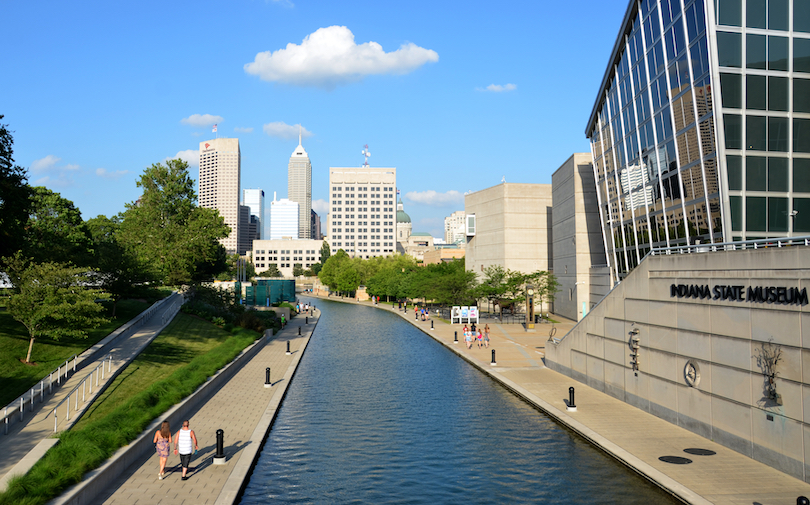 © Smontgom65 / Dreamstime
Set slap bang in the center of the state, Indianapolis lies on the banks of the White River and is the capital and largest city of Indiana. While it is known as the 'Racing Capital of the World' (it hosts the Indy 500 and Brickyard 400), there is much more to the city than just fast cars and fumes.
A mesmerizing mix of small-town Midwest community and large metropolitan city, Indianapolis boasts astounding architecture and magnificent monuments. Hidden away among its lofty skyscrapers, you can find historic and artsy districts home to world-class museums and countless restaurants and cafes serving food from all around the globe.
While Newfields' extensive and exquisite art collection and the wonderful White River State Park are a treat to explore, Indianapolis' standout symbol and sight is undoubtedly its Motor Speedway. Whether you are into racing or not, it is well worth going to one of its exhilarating events so that you can see what the city is all about.