Often listed among the best places to live in the States, Carmel is a small town in the Nine-County Region of Indiana, just north of Indianapolis. Despite lying just to the north of the capital Indianapolis, it boasts loads of scenic parks and nature spots with the community also being known for its happening arts and design district.
One of the most affluent towns in the Midwest, Carmel has grown at a rapid pace over the last few decades as word spreads about its undoubted appeal. In recent years, the opening of a grand concert hall, a new community center and the stylish Carmel City Center has only increased its desirability.
With a ton of great things to do in Carmel, the city is a very pleasant place to visit. Asides from checking out all the businesses and bars that dot its downtown districts, you can always catch a concert or show at the Center for the Performing Arts. Connecting many of the suburb's sites and shopping areas together is the multipurpose Monon Trail which takes you all the way to Indy if you follow it to the end.
In this post, we'll cover:
12. Central Park
Very popular with locals and tourists alike, the picturesque Central Park has a wealth of fun outdoor activities and state-of-the-art amenities for people to enjoy. Besides being home to The Waterpark, it has lots of gorgeous green spaces to explore with the Monon Trail also running right through it.
Rightly lauded for its lovely landscaped design, the expansive park includes everything from pretty prairies and ponds to lush woodlands, wetlands and wild areas. Asides from ambling along its more than six miles of tranquil trails, visitors can make use of its playgrounds and splash pads or stop off for a barbecue or picnic.
In summertime, The Waterpark's lazy river, water slides and pools offer some welcome respite from the heat while the sights and scenery along the Monon Trail are always a popular draw. With a gym, indoor track and basketball courts also found at its community centre, it really does have everything you could want from a public park and more.
11. Booth Tarkington Theatre
Carmel Central / Flickr
If instead of some superb scenery and nature it is a stunning show that you are after, then the Booth Tarkington Theatre is certainly the place to go. Part of the Center for the Performing Arts campus, it puts on countless top-class plays and musicals over the course of the year.
Impressively enough, it is actually considered the longest continuously operating community theatre in the States as the company was first set up in 1915. Over the years, the local theatre troop has had numerous homes with their arresting productions having been performed at the Booth since 2011.
Besides catching a Christmas special or sing-a-long musical at their cosy venue, you can also attend some of their excellent acting workshops and drama classes.
10. Clay Terrace
Clay Terrace / Facebook
One of the best places to shop, dine and go out in town, Clay Terrace lies on the northern outskirts of Carmel, on the way to Westfield. The first lifestyle center opened in Indiana, it has around eighty stores and restaurants for you to check out that cater to all tastes and needs.
First unveiled to the public in 2004, the elegant outdoor shopping center covers a massive area with scores of shops and eateries lining its stylish streets. Alongside big brand names like Old Navy and Dick's Sporting Goods, you can find unique boutiques, ice cream stands and nail salons.
Whether its fast food or fine dining that you're after, Clay Terrace has you covered with a kids' play area and a dog park also on offer at the immaculately manicured mall.
9. Carmel Farmers' Market
Loads of fun to explore, the colourful Carmel Farmers Market has tons of fresh fruit and vegetables, baked goods and artisanal products for you to pick up. One of the largest in the state, it has roughly sixty stands and stalls for residents and out-of-towners alike to peruse.
Since 1998, shoppers have flocked to the lively yet laidback market to buy tasty produce grown by local farmers in Indiana. On display is everything from brightly colored corn and ripe tomatoes to seasonal fruit, herbs and flowers with other vendors selling breakfast burritos and piping hot cups of coffee.
From May through to September, the morning market is held on Carter Green in between the Booth Theater and the Center for the Performing Arts. During the winter months, it wisely retreats inside to the Wire Factory where live entertainment also sometimes takes place.
8. Museum of Miniature Houses
Museum of Miniature / Facebook
A surprisingly fascinating and fun place to visit, the Museum of Miniature Houses has thousands of teeny-tiny figurines, furniture pieces and vignettes for guests to examine. Its riveting collection can be found along East Main Street in the Arts and Design District.
One of the only museums in the country devoted to the art of fine scale miniature, it first opened its doors in 1993. Across its seven rooms are dozens of amazing old antique dollhouses each intricately decorated down to the finest detail with the earliest Toy Kitchen remarkably dating to 1829.
Next to room boxes of quilt shops and southwest trading posts, you'll find minuscule radios, phone booths and cameras, all carefully created and hand-painted. Certain to delight the whole family, the museum also has a great gift shop so you can continue your new-found hobby once you get home.
7. Flowing Well Park
thomasalankrohn / Flickr
Set just a short drive southeast of the center is the Flowing Well Park. While it is most known for its artesian well which you can actually drink from, its wonderful woods and waterways make it a very pleasant place to spend some time.
Actually the first public park to be established in Carmel, it lies along the banks of Cool Creek with towering trees coating almost all its territory. In 1904, the freshwater well was stumbled upon with routine tests ensuring you can always fill up your bottle and have a swig when you visit.
Other than sipping its sweet waters, you can stroll along the park's shady trails and splash around in the quiet creek which also has some fine fishing for you to enjoy.
6. Peace Water Winery
Peace Water Winery / Facebook
After all the sightseeing, shows and shopping, what better way to relax than with a refreshing glass of wine in hand. At the Peace Water Winery along West Main Street, you can sample some of their finest reds and whites produced in the Napa Valley; one of the world's best wine-growing regions.
Indiana's only locally-owned California winery, its tasting room occupies a 120-year-old building in the Arts and Design District. Founded in 2015 by the Burton family, its cool interior and atmosphere make it a lovely spot to spend an evening with the staff being just as friendly and welcoming.
What's more, the winery impressively donates fifty percent of their net profits to charitable causes around the world chosen by their eight kids. Such is their success that they now operate a couple of other tasting rooms in Fishers and Indianapolis with live music regularly held at all three venues.
5. The Waterpark
Angie Six / Flickr
When summer hits and the searing heat gets too much, there is no better place to head in town than The Waterpark. Located at the Monon Community Center in Central Park, it has loads of fun water slides and pools for you to cool off in with sunbathing areas lying all around.
Since opening back in 2007, the sprawling water park has been a firm favorite with families and a regional destination in its own right. While attractions like the fast FlowRider and other slick slides appeal to teenagers and adults, younger ones can enjoy its kiddie pool and lazy river.
The center also has an exciting AquaClimb wall for guests to attempt with a regular swimming pool and activity pool also on offer.
4. Coxhall Gardens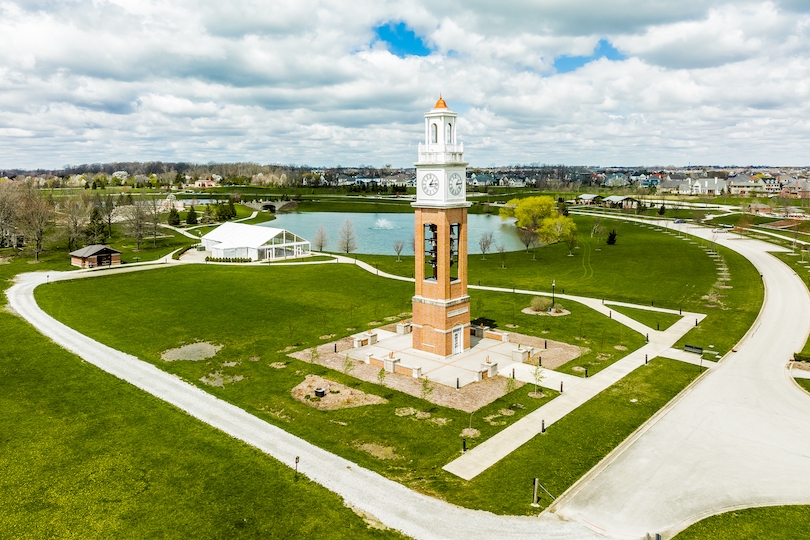 A very pretty and peaceful place to explore, the Coxhall Gardens cover a huge area on the west side of Carmel. At the park, you can either enjoy some fun outdoor activities or immerse yourself in the resplendent nature all around you.
Once the private residence of philanthropist couple Jesse and Beulah Cox, the enormous estate was donated to the county and opened as a park in 1999. As well as neat formal gardens and fountains, it also has interesting public art installations and picturesque ponds scattered here and there. One of its main features is the Centrepiece; an outdoor amphitheater that hosts concerts in summer.
Besides walking, jogging and biking about, visitors can picnic on its lawns or snap photos of its two large singing bell towers. Afterwards, you can always take a tour around Coxhall Mansion which is full of period pieces and fine furniture.
3. Arts and Design District
The heart and soul of life in town, the vibrant Arts and Design District is home to many of Carmel's main attractions and most happening establishments. As you stroll about its tree-lined streets, you'll come across countless hip restaurants and bars with innumerable art galleries, interior design stores and antique shops also featuring.
Now one of the Midwest's premier arts and design destinations, the neighborhood was set aside by the city in the nineties to promote small businesses and local artisans. It has certainly succeeded as more than 200 cafes, boutiques, art studios and eateries now occupy the historical old buildings that line its blocks.
Only adding to the area's appealing aesthetic and ambiance are its colourful flower boxes and all the lifelike sculptures designed by John Seward Johnson II. Each year, tons of concerts, cultural events and community festivals are also held in the district.
2. The Center for the Performing Arts
Just a stone's throw away is one of the city and state's top cultural institutions: the sleek and stylish Center for the Performing Arts. Its state-of-the-art complex boasts three fantastic theaters which put on a packed schedule of world-class concerts and plays, dance performances, orchestras and ballets.
Completed back in 2011, its cavernous concert hall The Palladium makes for quite the sight with its design being inspired by that of the 1566 Villa La Rotonda outside of Vicenza, Italy. Once inside its striking limestone walls, showgoers can enjoy some outstanding entertainment and acoustics in the venue's elegant auditorium.
The center's other two theaters are the Booth – which we've seen above – and the Studio; a versatile black box that puts on intimate shows of all kinds. A must-visit when in town, the campus also hosts excellent workshops for all ages to take part in.
1. Monon Trail
A wonderful way to see yet more of Carmel and its scenic surroundings is to walk, run, jog or cycle along the Monon Trail. Running its way right through the city center all the way to Indianapolis, the well-kept greenway connects up most of the main attractions in Carmel and most enticing areas.
Now stretching more than twenty-five miles in total, the multipurpose paved path was built atop an abandoned rail line in the nineties. Starting at the Pennsy Greenway near the Illinois-Indiana border, it slowly winds its way through Carmel, Westfield and Sheridan before terminating just north of the state capital's downtown.
As it links Central Park and the Center for the Performing Arts to the rest of downtown's delightful districts, the trail is a brilliant way to get about while also enjoying some exercise. With pretty parks and nature spots also lining the route, it is no wonder the Monon Trail is so popular with locals and tourists alike.
Map of Things to do in Carmel, Indiana