Situated on the gentle horseshoe bend of the Ohio River is the charming "River City" of Indiana known as Evansville. Once voted the "best city in the country in which to 'live, work, and play'", Evansville is the third largest city in Indiana and represents its commercial, medical, and cultural hub.
Evansville has an abundance to offer for lucky visitors in the area. Home to one of the best-preserved Native American sites in America, to the last operational World War II landing ship (USS LST-325) that can be visited, there are plenty of things to do in Evansville. Additionally, expect to find five interesting museums, many beautiful corners of nature, and furry friends to be encountered within Indiana's oldest state zoo!
In this post, we'll cover:
12. Evansville Wartime Museum
Evansville Wartime Museum / Facebook
The Evansville Wartime Museum showcases the city's unique history, achievements, and memorabilia. Visitors can expect to discover and be surprised by rarely known wartime stories such as the fact that factories in Evansville and the surrounding area labored over 300 different items to be used in the war.
Take a wander through multiple galleries and exhibitions and immerse yourself in an authentic depiction and retelling of the stories of the men and women who dedicated themselves to the far-flung battlefronts of World War II.
With real vehicles from the World War II era, including the WWII Evansville-built P-47 and the "Hoosier Spirit II", the museum will take you on a reflective adventure through Evansville's wartime history.
11. Burdette Park
PLD95 / Wikipedia
Open 7am to midnight 365 days a year, Burdette Park is a safe and serene place for families, friends, and organizations to enjoy nature and engage in various recreational activities.
On top of being surrounded by scenic rolling hills, the park is home to one of the largest aquatic centers in the Midwest, boasting an Olympic size swimming pool with two diving boards as well as a children's pool, spray park, and slides.
For those who want to further immerse themselves in this wonderful corner of nature, the park is fully equipped with a campground and RV park with 18 full hook up sites and 6 electric sites. From camping to fishing and water fun, Burdette Park promises many adventures for everyone!
10. Reitz Home Museum
Located in downtown Evansville, the Reitz Home Museum is known as the country's finest example of the French Second Empire style architecture.
Built by John Augustus Reitz in 1871, the interior of the home is just as refined and decorous as the exterior with many chandeliers and gorgeous marble fireplaces. If the original period furniture does not dazzle you, then the exquisite finishing touches of the house surely will. Ornate hand-painted ceilings, silk damask-covered walls, and patterned wood parquet floors are just a few wonders that visitors can gaze upon at the Reitz Home Museum.
With year-round guided tours, this is the perfect opportunity to step into a real life Victorian mansion and take a tour through a different era!
9. Children's Museum of Evansville
Children's Museum of Evansville / Facebook
With three floors bursting with interesting exhibits, displays, and games to inspire play-based learning, the Children's Museum of Evansville is on a mission to educate children about the world in a fun and unique way.
Expect to find interesting exhibits that touch on important social issues such as a gallery illustrating the significance of freedom of expression, as well as an engaging water exhibit that teaches scientific theory.
With such dynamic activities, exhibits, and programs, a visit here will leave children returning home with a new curiosity and perspective in which to approach their studies. Do not miss out on this interactive and educational day trip full of endless fun for the whole family!
8. Willard Library
First opened in 1855, Willard Library is the oldest operating library in the state of Indiana and one of the only libraries with a charter specifying that it is to be open and remain free to all races and genders.
Bookworms can spend countless hours browsing through their extensive genealogy department and reading about the history of American slavery and its aftermath.
If not for the books, then a visit to admire the building, its history, and its classic architecture is just as recommended. With beautiful oak window casings and original natural wood furnishings, Willard Library is the ideal place to sit and read an afternoon away. For those interested, ask a librarian about the resident ghost who has been sighted throughout the decades.
7. Bosse Field
Rick Barth / Wikipedia
A classic baseball field that was once used as a film set for "A League of Their Own", Bosse Field is the third-oldest ballpark still in regular use for professional baseball in the US.
Expect to feel the same unbeatable energy once created by infamous Baseball Hall of Fame members such as Chuck Klein. Immerse yourself in American culture, grab a hotdog, and enjoy an exciting game of baseball in this tremendous venue. Visitors should bear in mind that the field is locked and only able to be toured if a game is going on.
If you love history or are an avid sports fan, this 100-year-old stadium for America's favorite pastime (baseball) is a must-see!
6. Wesselman Woods Nature Center
Chris M Morris / Flickr
The Wesselman Woods Nature Center is the perfect serene day trip for those looking for a quick escape from the city. Before receiving a private welcome from the wonderful wildlife here, set off on a hike that will take you through three miles of wetland trails.
Keep an eye out along the way for detailed signage depicting the types and ages of unique trees and plant species. On warm days, visitors can enjoy a delicious picnic break or a game of tennis at the end of their hike.
With a calendar full of interesting events all year round, the Wesselman Woods constantly finds fun ways to promote the importance of conservation and research whilst ensuring all its visitors are kept entertained.
5. Evansville Riverfront Walkway
An arc that follows the northern loop of the river and continues upstream as far as the USS LST 325, the Riverfront Walkway is constantly bursting with energy and activity.
The metaphoric "front door" for the city of Evansville, here you will find just about everyone — from runners, bikers, and skaters on the sizable paths, to dog walkers, baby strollers, and locals enjoying a leisurely wander.
This is the perfect setting to view the spectacular Ohio River, get your daily steps in, soak in the sunset views, or simply people watch.
Enjoy a picnic lunch as you watch people fishing and taking their boats in and out of the water and return at night for beautiful star lit sky views.
4. Evansville Museum of Arts, History & Science
greeblie / Flickr
With a noble and inspiring beginning, this museum was the product of members of the Ladies' Literary Club in 1874 who pushed for the study of art, history, and literature in Evansville. Their first exhibition was a success and soon after collecting multiple artifacts, the Evansville Museum was born.
Just 148 years later, and the Evansville Museum is full of an interesting and eclectic collection of anthropological and natural history artifacts, historic documents, photographs, and fine art that live and breathe Evansville's history. The museum also boasts an immersive planetarium theater for visitors to enjoy with regular events rotating every month.
Locals, school students, and tourists will lose themselves in a fine afternoon full of exploration and diverse educational experiences that take them through many years of history.
3. Mesker Park Zoo and Botanic Gardens
This zoo first opened its doors to visitors in 1928 and quickly became a pioneer in its field as the first zoo in Indiana and the first in the country to introduce the use of a moat system: displaying animals in exhibits which resemble their native habitats. Today, a visit to Mesker Park Zoo offers an exciting educational adventure with encounters with over 700 animals representing 186 species from around the globe.
The zoo is organized into 10 exhibits each representing a different part of the world. For rainforest lovers, head over to Amazonia with living plants and more than 150 animals including jaguars, bats, monkeys, Arrau turtles, and capybaras. Future visitors should keep an eye out for the penguin exhibit opening soon.
2. Angel Mounds State Historic Site
Built between AD 1000 and 1450, the Angel Mounds Historic Site was once occupied by a community of approximately 1,000 Native Americans.
Today, the site welcomes visitors to immerse themselves in the roots of modern archaeology in the state of Indiana and explore recreations of important Mississippian structures. Gaze upon twelve earthen mounds as you learn about their traditional use for burials of important tribal members, before taking part in interactive activities such as reconstructing a broken clay pot.
Visitors are also welcome to discover the site following hiking trails through the nature reserve or alternatively get around slightly faster by bicycle. Finish your day by enjoying the site's 18-hole disk golf course overlooking the banks of the Ohio River for some added fun.
1. USS LST-325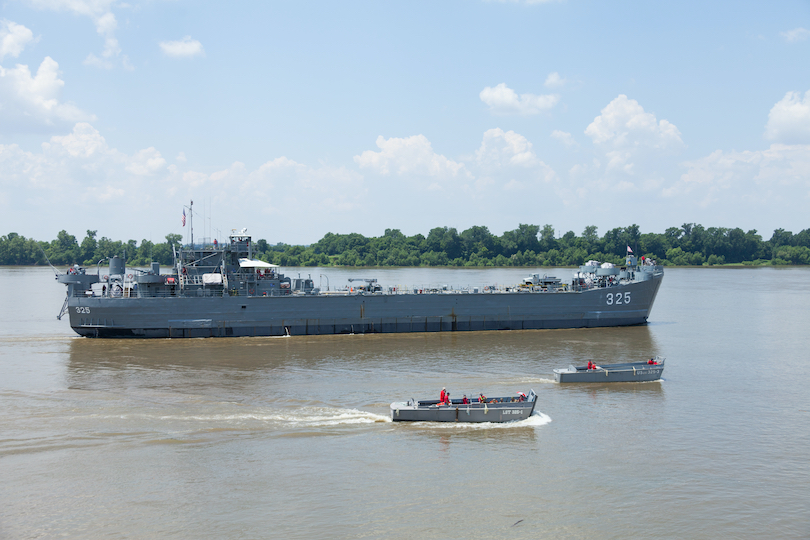 Out of the 1,051 Landing Ship Tanks (LST) built, more than a thousand survived to the end of World War II, but only one welcomes visitors for tours all year round: the LST-325.
Famously dubbed by Winston Churchill as "The Ship That Won the War", a visit to the last fully operational WWII LST in her home port of Evansville is a rare opportunity to learn about American history and experience wartime history as it happened. Guided tours are available and last approximately 60 minutes, including a visit to the main desk, sleeping quarters, tank desk, and viewing of photo collections.
A floating World War Two museum and memorial ship, the LST-325 is worth an immersive and reflective visit.
Map of Things to Do in Evansville, Indiana