Known as the 'Bluegrass State,' the Commonwealth of Kentucky (as it is officially known) is set in the Southern region of the United States. While it's home to the large and lively cities of Louisville and Lexington, most of the state is made up of small towns, with bourbon distilleries dotting its rolling hills and rural areas.
The scenic countryside is home to some beautiful parks and forests, while its Caves and Lakes region boasts the largest known cave system in the world. With horse racing among the most popular things to do in Kentucky, this state certainly has plenty of different and equally delightful tourist attractions for visitors to explore.
12. Conrad-Caldwell House Museum
© dreamstime
Located in the heart of Old Louisville, in Kentucky's largest city, is the captivating Conrad-Caldwell House Museum. An important and impressive landmark, it displays exquisite architecture and antiques, which visitors can check out on any one of the fascinating tours.
Built in 1895 for a local tanning magnate, 'Conrad's Castle' (as it was once known) boasts an exquisite Richardsonian-Romanesque style. Alongside its towers and turrets, you can spy finely carved animals and gargoyles etched into the imposing limestone walls.
The interior is equally attractive: incredible woodwork and stained glass windows are on show, while age-old antiques and period pieces dot its halls, apartments, and parlours. After having visited the marvellous museum, it is well worth wandering around the nearby neighbourhood that is full of beautiful old buildings.
11. Crystal Onyx Cave
flickr/James St. John
Set on the outskirts of Cave City is Crystal Onyx Cave – one of the most magical of the many caverns dotting the state. Full of fascinating formations and spectacular stalactites and stalagmites, it is a very popular and photogenic tourist attraction.
Discovered by Cleon Turner in 1960, the cave is now owned by Scott and Sara Sendtko who restored it and turned into the awe-inspiring attraction it is today. Visitors can take tours along its scenic subterranean trails, all of which are superbly lit up and take you past lots of fabulous features.
Home to charming chambers and caverns – such as the delightfully named Enchanted Forest, Imagination Room, and Crystal Falls – the Crystal Onyx Cave really is a treat to explore.
10. Louisville Mega Cavern
flickr/H. Michael Miley
Another of Kentucky's alluring underground attractions is the lovely Louisville Mega Cavern, which runs beneath parts of the city of the same name. Once a limestone quarry, the human-made tunnels and caves stretch for more than 25 kilometers and include business, storage, and tourism facilities.
Besides boasting the world's only underground mountain bike park and ropes course, it also has the only fully underground zipline course for visitors to try out. In addition to these exciting adventure activities, there are also terrific tram and hiking tours to take of the captivating cavern.
While the Louisville Mega Cavern is great to visit thanks to its wealth of family-friendly activities, Christmas is a particularly memorable time of year to stop by and see the special holiday show lighting up the enormous cave.
9. Maker's Mark Distillery
© dreamstime
Lying not far from Loretto is the magnificent Maker's Mark Distillery, which opened all the way back in 1953. Since then, it has been producing brilliant bourbons. Visitors can learn all about it at one of its outstanding whiskey workshops or delightful distillery tours.
Set in some gorgeous grounds and gardens, it was the first distillery in the states to be designated a National Historic Landmark in 1980 due to its historic nature and well-preserved buildings. On a tour of the premises, visitors learn about its fabled past while stopping off to see its stillhouse, warehouse, and dipping and production lines.
Besides seeing how whiskey is produced, there is an excellent restaurant to check out and a gift shop and classy cellar where you can try some delicious drinks and buy souvenirs.
8. Lost River Cave
© dreamstime
Home to the only underground boat tour in Kentucky, Lost River Cave can be found in the city of Bowling Green. Taking a tour of the cave system is an amazing experience: you'll learn fascinating facts and folklore about what Ripley's Believe It or Not once billed as the 'shortest, deepest river in the world.'
Besides having been an ancient Native American hunting ground, the cave was also a campground in the Civil War for both sides – as well as a hideout for the outlaw Jesse James and a nightclub in the 1930s. In addition to all the stories swirling around the cave, guests can enjoy the stunning scenery and formations as they float along the river.
Surrounding the cave are some picturesque nature trails for visitors to explore, as well as a couple of exhilarating ziplines to try out.
7. Cumberland Falls State Resort Park
© dreamstime
Centered around the beautiful waterfall of the same name, Cumberland Falls State Resort Park is a lovely place to visit that will delight nature lovers and outdoor enthusiasts alike. Located in the south of the state, it is set within the sprawling Daniel Boone National Forest.
The park boasts beautiful landscapes and scenery, with verdant forests, dramatic gorges, and sparkling waterfalls all on show; however, the undoubted highlight is Cumberland Falls. Often called the 'Niagara of the South,' it reaches an impressive 21 meters in height and spans almost 40 meters. Around the time of the full moon, visitors can often spy a magical moonbow formed out of the mist of the waterfall.
Besides its outstanding beauty and nature, the park has a plethora of excellent outdoor activities on offer, with hiking, rafting and horseback riding particularly popular. In addition, there are cosy lodges and campsites for guests to stay at.
6. Muhammad Ali Center
© dreamstime
Lying right in the heart of the city on the banks of the Ohio River are a marvelous museum and cultural center dedicated to the Louisville legend Muhammad Ali. Opened in 2005, the six-story site has lots of interesting exhibits and displays on the famous fighter for visitors to peruse.
Many of these interactive installations are on the brilliant boxer's six core principles of confidence, conviction, dedication, giving, respect and spirituality. Other exhibits look at the life and times of Muhammad Ali, with memorabilia, interviews and videos on display.
As well as being home to an amphitheater and plaza, the cultural center has two art galleries to check out that feature rotating exhibits. For anyone even slightly interested in The Greatest, visiting the Muhammad Ali Center is simply a must.
5. National Corvette Museum
© dreamstime
Full of shiny, sleek sports cars, the National Corvette Museum lies on the outskirts of Bowling Green – the city in which the classic car has been produced since 1981. Home to over 80 models and countless more convertibles, it is very easy to spot due to the huge, bright-yellow, cone-shaped Skydome that looms over its surroundings.
Both inside and outside the museum you'll find magnificent models and one-of-a-kind cars, while exhibits and videos highlight their exquisite engineering and delightful design. Synonymous with freedom and adventure, the Corvette is widely known as 'America's Sports Car.'
As well as preserving the past, present, and future of the classy car, the museum has an adjoining racetrack where you can get behind the wheel and drive a classic Corvette.
4. Keeneland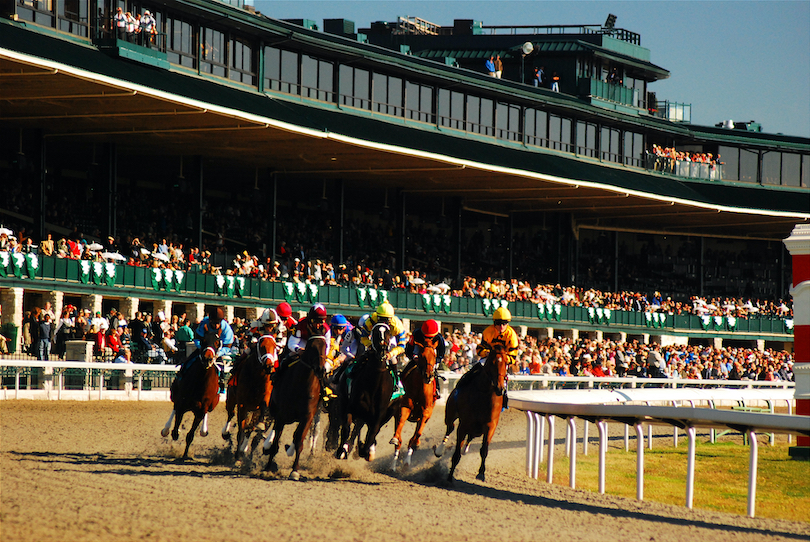 © dreamstime
Second only in the state to Churchill Downs, Keeneland is one of Kentucky's most important and impressive race tracks. Founded way back in 1936, it lies on the outskirts of the city of Lexington, which is known as the 'Horse Capital of the World.'
A National Historic Landmark, it exhibits lovely old architecture, with a gorgeous grandstand looking out over its race track. It is here where champion horses and thoroughbreds compete neck and neck against each other, with races taking place in April and October.
Besides placing bets on who will win and taking in the exhilarating ambience, visitors can attend some of Keeneland's frequent horse auctions. These see everyone from local farmers to wealthy bidders from around the world buy horses and yearlings from the famed breeding facility.
3. Jim Beam's American Outpost
© dreamstime
Set some 40 kilometers to the south of Louisville in Clermont is Jim Beam's American Outpost, where visitors can learn everything there is to know about the nation's best-selling bourbon. Located in a pretty and picturesque rural setting, the delightful distillery is a treat to explore, with a terrific tour for visitors to take of its fantastic facilities.
Besides boasting a factory, warehouses, and production line, the American Outpost also offers a film on the Beam family and their brilliant bourbon. Remarkably, seven generations of the family produced and sold the superb whiskey from 1795 until the company was sold off in 2014.
As well as taking a tour of Jim Beam's American Outpost, visitors can stop by the historic family home and sample some delicious drinks in its onsite bourbon bar.
2. Mammoth Cave National Park
flickr/Peter Rivera
An absolutely incredible place to visit, Mammoth Cave National Park boasts the longest known cave system in the world. Appropriately set in Kentucky's Caves and Lakes region, it is home to loads of spectacular scenery and nature, with countless caves, chasms, and caverns on show.
Stretching for a staggering 640 kilometers, the mesmerizing Mammoth Cave is a delight to explore, with tours taking you on subterranean strolls past fabulous formations, dramatic domes, and stunning stalactites and stalagmites. Protected as a national park since 1941, the cave has long been a very popular place to visit due to its size, scale and splendor.
Above ground, the park has lovely trails and paths for visitors to hike along, while some great canoeing and kayaking can be enjoyed along the Green River. In addition to this, many people camp overnight and go fishing or wildlife watching in its incredible wilderness.
1. Churchill Downs
© dreamstime
One of the most famous, fun, and festive horse-racing tracks in the world, the Kentucky Derby, takes place at Churchill Downs. Held every May in Louisville, the popular and prestigious race is an exciting event to attend, with thousands of people packing into its stands to watch the spectacle.
While cheering on champions and betting on thoroughbreds at the renowned race is the pinnacle of the racing year, many other warm-ups and competitions take place at the landmark venue. From April to June and again in September and November, visitors can watch horses and jockeys compete beneath the hallowed twin spires of its gorgeous grandstands.
In addition, you can also take tours of the grounds and visit the Kentucky Derby Museum, which will tell you all about the epic event and the charming Churchill Downs itself. Not to be missed for their awe-inspiring atmosphere, the race and racetrack are certainly one of the best things to do in the whole of Kentucky.