As well as being the state capital, Lansing also acts an important center of commerce, education and culture for all of Mid-Michigan. While it may not have the big city sights, lights and action of larger metropolises, its picturesque setting and lively cultural life mean that it still has a lot going for it.
Located at the spot where the Grand River meets the Red Cedar River, the city was founded in 1835 and named the state capital just over a decade later. This contributed greatly to its development with grand governmental buildings and modern museums now peppering its downtown.
Thanks to Michigan State University's large student population, it has a dynamic feel with plenty of cultural events and festivals taking place over the course of the year. Add in its attractive Old Town and pretty River Trail and you'll see why there are plenty of things to do in Lansing.
12. Turner-Dodge House
Head just a short distance up the Grand River from downtown and you'll come across the handsome Turner-Dodge House. Packed with fine old furnishings and period pieces, it exhibits some exquisite Georgian Revival-style architecture with tours taking you all around its elegant interior.
While the massive mansion was originally built by the Turners in 1855, renovations by the Dodges around half a century later almost completely changed its appearance. Nowadays, its two-story front porch is propped up by enormous Ionic columns with two large wings lying to either side.
On tours, you'll hear all about the progressive pioneers who owned the property and the significant contributions they made to the development of the capital and state. After having seen all its antique furniture and original artifacts, you can wander back along the River Trail to the center.
11. Hawk Island Park
Despite being surrounded by the city, Hawk Island Park is a very peaceful spot to immerse yourself in nature and enjoy some outdoor activities. Set on the opposite side of town from the historic house museum, it has a lovely lake and lots of trails for visitors to explore.
Asides from swimming and splashing about in its refreshing waters, you can relax on the beach and play volleyball on its sandy courts. There are also fishing docks where anglers can cast out their line and a stand to rent paddleboats and rowboats at.
While summer lends itself to lounging by the lake and enjoying all its gorgeous green spaces, some terrific tubing and sledding can be enjoyed in winter. The park also has plenty of picnic areas and a playground for people to use and is accessible via the River Trail.
10. Abrams Planetarium
Lovelac7 / Wikipedia
Very much a hidden gem, the Abrams Planetarium puts on amazing shows where you gaze up at the night's sky and see all its stars and constellations in great detail. Part of the beautiful Michigan State University campus, its smallish site also contains some interesting exhibits that cover the mysteries of the cosmos.
Since first opening in 1963, the planetarium has welcomed generations of families come to enjoy its scintillating science shows. Thanks to its state-of-the-art digital system, you can see high-definition images of the Earth, Mars and other planets plastered across the inside of its dome.
Besides sitting in the sky theater and staring up at the heavens, guests can learn about our universe and its innumerable galaxies in both its exhibit hall and black light gallery.
9. Jackson Field
Just across the Grand River from the city center is one of the best places in town to catch a thrilling sporting event. At the intimate and atmospheric Jackson Field, spectators can cheer on the Lansing Lugnuts or the Michigan State Spartans who also play the odd game or two here.
Originally called both Oldsmobile Park and then the Cooley Law School Stadium, the minor league ballpark was officially opened back in 1996. One of the most accessible arenas in the country, all its seats and suites offer up fantastic views of the pristine pitch down below.
In between innings of the High-A affiliate of the Oakland Athletics, both fun pitchside activities and entertainment keep the crowd hyped up and ready for more action.
8. Michigan State University
One of the prettiest campuses in the US, Michigan State University boasts a myriad of attractive old buildings and leafy outdoor spaces. At the Big Ten school, visitors can stroll about its sprawling site and stop by some of its excellent museums.
Founded in 1855, the highly-rated university's historic colleges and residence halls cover a massive part of East Lansing. While some paths take you alongside the Red Cedar River, others pass through fine landscaped gardens or beneath the soaring Beaumont Tower.
On top of seeing a play or concert at the Wharton Center for Performing Arts, you can always check out the outstanding Eli and Edythe Broad Art Museum. It is also well worth watching the successful Spartans play if you can as 70,000 fervent football fans pack out their stadium each game day.
7. River Trail
A wonderful way to see yet more of the city and its surroundings is to walk, run, jog or cycle along the scenic River Trail. As well as taking you past some stunning nature spots and parks, it connects up numerous neighborhoods and tourist attractions.
Stretching thirteen miles in length, the multipurpose path winds its way alongside both Grand River and the Red Cedar River. While the first two sections traverse downtown and the Museum District, others are much calmer and quieter as they mostly pass through woodlands and wetlands.
Along the way from Old Town to Potter Park Zoo, you can stop off for a picnic or grab a kayak and explore both rivers by water. The Michigan State University campus also lies along the route as do the Impression 5 Science Center and R.E. Olds Transportation Museum.
6. Impression 5 Science Center
Dj1997 / Wikipedia
With 150 hands-on exhibits and activities crammed across its two floors, the incredible Impression 5 Science Center is certain to delight young and old alike. Set right in the city center, its exciting yet educational experiments encourage you to explore the natural world using each of your five senses.
Now located in what was once an old wagon works factory, its enthralling exhibits cover everything from light and motion to engineering, human anatomy and the atmosphere. Kids can play and build til their heart's content as they learn about various scientific principles and delve into outer space.
In addition to all the role-playing and problem-solving, they can also create colorful art pieces and channel water at the museum's fun FLOW exhibit. The superb science center also puts on countless summer classes and camps for children each year.
5. R.E. Olds Transportation Museum
Right next door is another of Lansing's top tourist attractions and cultural institutions: the R.E. Olds Transportation Museum. Overlooking the Grand River, its sparkling showrooms display thousands of amazing old artifacts and automobiles that date all the way back to 1886.
Now one of the top-rated automotive museums in the United States, it was established in 1981 and is named for Ransom E. Olds – the founder of both the Oldsmobile and REO car companies. While vintage makes and models of both manufacturers make up the bulk of its huge collection, other rare vehicles and interesting automobilia also feature.
Exhibits on the origins and evolution of the automobile industry are also dotted about next to early traffic signs, engines and antique bicycles. The highlight though is of course its classic Oldsmobiles which make for fabulous photos and viewing beneath the bright showroom lights.
4. Old Town
Both the cultural and creative heart of the city, Old Town lies on the northern side of Lansing at one end of the River Trail. Its pretty historic streets and buildings house countless local businesses with cozy cafes and cute restaurants on show wherever you look.
Founded in the mid-nineteenth century, the area initially flourished thanks to all its commercial and industrial businesses before suffering a slump around a century later. In recent years, it has regained its oomph as unique boutiques and cool bars have opened up next to eclectic art galleries and other creative concepts.
Aside from strolling around and taking in its lively yet laidback ambiance, you can also enjoy some of the fantastic festivals it hosts each year. These include the Lansing JazzFest and Scrapfest which sees artists create striking sculptures out of scrap metal.
3. Potter Park Zoo
Long a firm favorite with families, Potter Park Zoo is home to an impressive collection of animals, birds and reptiles from all around the world. Its spacious enclosures and exhibits lie beside the Red Cedar River, some ten minutes' drive southeast of the center.
The oldest public zoo in all of Michigan, it first opened in 1915 with the zoo now boasting over 500 animals of more than 160 species. While wandering about, guests can therefore see everything from black rhinos and red pandas to Siberian tigers and snow leopards.
Although known for its endangered and exotic species, the zoo also has both a barnyard and aviary where you interact with parakeets and stroke pigs, rabbits and goats. Scattered about are informative plaques that explain more about the animals and their native habitats.
2. Michigan History Center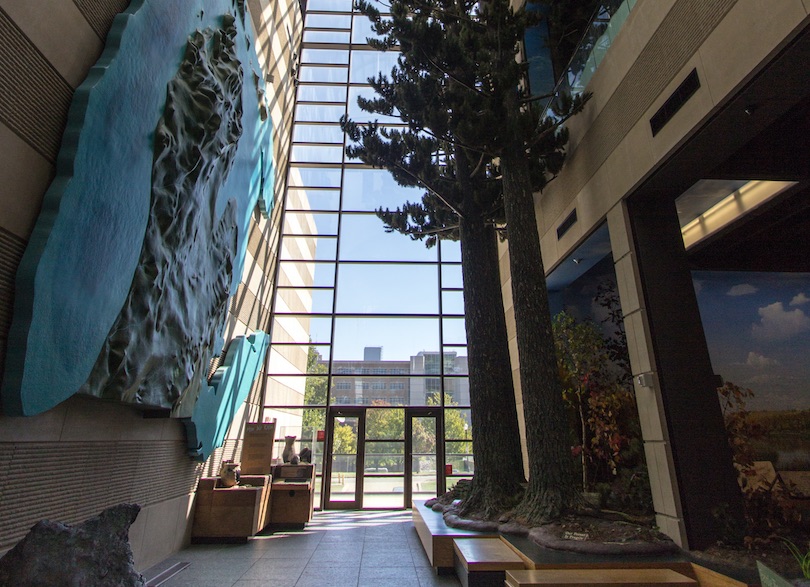 For those interested in learning more about the state's fascinating past, the Michigan History Center is an absolute must. Across its five floors, you'll find an endless number of artifacts and exhibits that shine a light on the peoples, places and events that have shaped the history of the Great Lake State.
What started out in 1828 as just a tiny territorial library has since morphed into the massive modern center we see before us today. While one half houses the Library of Michigan, the other is dedicated to unraveling the state's rich history, culture and nature.
Its well-done displays and dioramas cover local Native American tribes and early European settlers with others focusing on topics such as the Civil War and Underground Railroad. Michigan's mining past and automobile manufacturing industry are also covered through artworks, historic photos and shiny car collections.
1. Michigan State Capitol
Undoubtedly the city's standout symbol and sight, the Michigan State Capitol's cast-iron dome rises up dramatically above the rest of downtown. As well as exhibiting some extraordinary architecture, it has terrific tours for you to take around its equally attractive interior.
Since its completion in 1879, the grand capitol building has served as the state's seat of government. Its defining feature is of course its delightful dome which towers 267 feet in height and lies above a fabulous four-story facade.
While touring around its cavernous chambers and halls, your expert guide will point out some of its fine features and teach you more about the building and state's governors. After having enjoyed the capitol's exquisite furnishings and the art decorating its cupola, you can stop by the monuments and memorials that dot its green grounds outside.
Map of Things to do in Lansing, MI