Marquette is a charming city that sits along Lake Superior in Michigan's Upper Peninsula. It's a haven for nature lovers and it has a down-to-earth feel to it.
It's a historically fascinating destination too, that experienced a boom during the peak of the iron ore industry. From the land's history to the rivers, lakes, and waterfalls that shape the surrounding forested mountains – Marquette is a destination you just can't miss.
Each season here is unique, and there are activities and things to do in Marquette for every one of them! From skiing in winter, to chilling at lakeside beaches in the summer, and the great year-round hiking spots – there's always something new to try.
Whether you come when it's time to pack your skis or your bikini, you're in for a real treat!
12. Little Presque Isle
Just 7 miles away from Marquette, this little isle on the shores of Lake Superior is a popular spot for an array of nature-themed activities. Spend the morning hiking through the forested mountains and then lounge and cool off in the lake in the afternoon.
The Little Presque Isle has a spectacular coastline, with a mix of sandy beaches and rugged shorelines. Make sure you explore Harlow Creek.
You can camp, birdwatch, hunt, hike, and relax at Little Presque Isle, there's really nothing you can't do!
11. Upper Peninsula Children's Museum
Coming to Marquette with the whole family? Then you're going to be looking for some family-friendly ways to spend the day – and the Upper Peninsula Children's Museum is one of the best!
They've got different activities on each day of the week, and programs aimed at a range of ages, from toddlers to teens. The kids will love the exhibits, which cover topics like the human body, micro-organisms, and wildlife.
You'll also be able to get up close with some funky lizard species on your visit. Come and play, learn, and laugh the day away!
10. Marquette Mountain Ski Area
Sailing Nomad / Flickr
Marquette gets an average of 155 inches of snow each year, so pack your skis and come and hit the slopes. There are more than 25 trails on the ski pitch, so you're not likely to get bored!
The resort attracts local skiers and lots of visitors from further afield each winter thanks to the stunning views and the resort's fresh, powdery snow. They also have night skiing, jumps, and freestyle terrain!
Beginners should hit the Wasel Gulch, and advanced skiers will love the Upper Rock and Cliffs Ridge runs; but don't worry there are plenty more slopes and lots of options for all levels between beginner and pro!
9. Iron Ore Heritage Trail
PaulTOlson / Flickr
Iron ore mining was very prominent in Marquette County, and it shaped the history of the county's towns and landscape. The Iron Ore Heritage Trail links up three downtown areas, and explores 160 years of iron ore mining through art and museums.
It's a great trail for history buffs and nature lovers alike! Whether you walk the whole 47 miles (you'd need a few days!) starting from the Old Bank Building in Republic and ending at Kawbawgam Road in Chocolay Township, or just hike a tiny stretch of the trail, you'll get a lot of insight into the area's mining history.
Fortunately, 30 miles of the trail are paved, so you can easily bike or hike these stretches! Sites of interest along the trail include the Michigan Iron Industry Museum, Cliffs Shaft Museum, Jackson Mine Park and Sherwood Park.
8. Dead River Falls
The Dead River Falls is a stretch of the Dead River just west of Marquette that is known for its surprising array of miniature waterfalls. Follow the trail upstream along the river and you'll find yourself climbing over rocky ledges and past sparkling pools at the base of waterfalls.
About half a mile long, the Dead River Falls is one of the best waterfall adventures in the area. Follow the dirt paths that weave along the riverside, and take you past Stoney Mill (the first big fall).
Overall, in just half a mile the river drops some 90 feet! The hike isn't too long, but it is slightly arduous so make sure your legs are up for it.
7. Blackrocks Brewery
Blackrocks Brewery / Facebook
The Blackrocks Brewery started as the hobby of two buddies who brewed from their basement, Andy and David. You can visit the original Blackrocks Brewery on 3rd Street, but it's also easy to get their craft beers at different venues across the city!
What could be better than catching up with friends over a cold one? They often host live music events too, so keep a look out for gigs at the Blackrocks Brewery whilst you're in town.
They have a vast selection of beverages, from fruity IPAs to bitter ales, and refreshing lagers. Check out their cool shop whilst you're there and get some beer-themed souvenirs!
6. Jilbert Dairy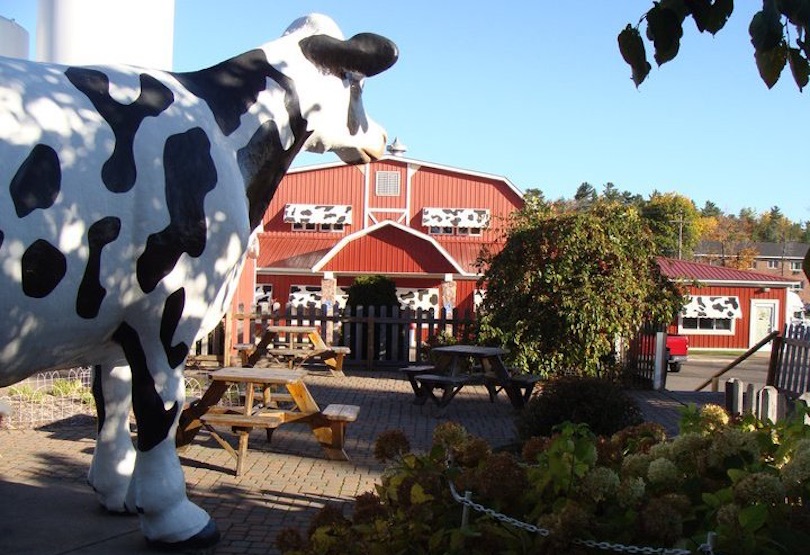 Jilbert Dairy / Facebook
The dairy started in 1937 as a small family dairy farm. It was founded by Russell Jilbert in Lake Linden, along with his wife and eight kids who all worked hard to keep the farm going.
They first sold their ice-creams out of the back of an old Oldsmobile and from there the company just kept growing! Their store is styled like an old dairy farm and it's got all the best flavors.
Sit on their picnic-style benches outside the store amongst the massive cow statues and get some fun holiday shots of the kids covered in ice-cream! Try their classic flavors, like vanilla and mint choc chip, and latest funky flavors like Amaretto Cherry Island Fudge.
5. Marquette Maritime Museum
The Marquette Maritime Museum opened in 1984 in the old City Waterworks building. Built in a Richardsonian Romanesque architectural style, the arch windows and stone structure give it a certain charm.
It was set up to commemorate all the submarine veterans from the Great Lakes region, and educate its visitors about the maritime history of Marquette and the Great Lakes.
They hold events and festivals like the Michigan Lighthouse Festival and Maritime market (that has lots of fun arts and crafts for kids), as well as lectures, field trips, and so much more! Whilst you're there you can visit the old lighthouse too.
4. Sugarloaf Mountain
The Sugarloaf Mountain is a short walk with incredible views at the top to reward your efforts. Just a short 6 mile drive north of downtown Marquette and you're at the trailhead (and there's plenty of parking).
You can take one of two routes through the forest and rock outcroppings, the first is a little stepper and takes around 15 minutes (the hard route), whilst the second is a little longer but less uphill.
There are three viewing platforms at the viewing point that look over forested mountains (which are especially spectacular in autumn) and Lake Superior stretches as far as the eye can see. Don't miss the old stone obelisk that was erected to commemorate Bartlett King!
3. Downtown Marquette
Downtown Marquette is a haven of restaurants, shops, and old architecture. It's vibrant and charming. The downtown, like most of Marquette, clearly accentuates the love its residents have for the outdoors. There are loads of outdoorsy shops to explore!
Do some shopping then stop for lunch and try some local food. Stroll around and admire all the historic buildings before going for an afternoon coffee at a small local cafe.
In winter the downtown area is especially beautiful after a snowy day. Bring your camera and take some pretty holiday pictures!
2. Lakenenland Sculpture Park
Skvader / Wikipedia
This fascinating sculpture park is entirely down to one man, Tom Lakenen. Over the course of 25 years he made more than 100 metal sculptures, slowly expanding his collection and adding to the park.
He uses metal scraps and leftover iron, upcycling what was once left as junk and turning it into works of art! The Sculpture Trail weaves through the park and takes you past his incredible sculptures. Go explore, his work is awe-inspiring and entertaining.
The park is free and it also has ponds, a picnic area, and a kid's play park so you can easily spend a few hours there.
1. Presque Isle Park
Presque Isle Park can be toured on two wheels, by foot, or by car. It is surrounded by the waters of Lake Superior, gracing it with great views and lush swimming spots.
When you're there, make sure you visit the park's Presque Isle lighthouse, which was built in the 1940s and is 55 feet tall! After, check out the views from the Lake Superior cliffs on the east side of the peninsula that tower over the lake and give you a great vantage point with some of the park's best views.
If you want to do something a little more adventurous, go cliff jumping off the 10-15 foot tall Blackrocks. This one is reserved for the bravest adrenaline junkies!
Map of Things to do in Marquette, MI