In the Southeast of Michigan, in the Lower Peninsula, there is a bustling city known as Ann Arbor. It's pretty urban, and riddled with art centers and culture spots.
It's known to be a great student city whose renowned university, the University of Michigan, is a hub for the community as well as students. There are multiple museums and an array of botanical gardens within its campus, so make sure you visit!
The city's downtown has a nice blend of old and modern buildings, and boasts lots of local and independent shops and cafes, some of which were founded before you were born! Come and enjoy the city's rich diversity of museums, dine on the finest cuisine, and pamper yourself with a little shopping.
In this post, we'll cover:
12. Michigan Theater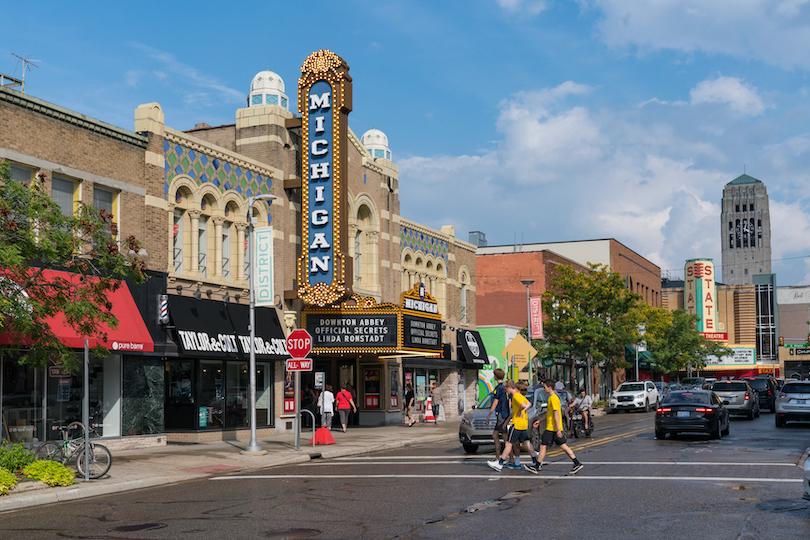 The Michigan Theater is in downtown Ann Arbor. It's protected by the Michigan Theater Foundation, and along with the Michigan State Theater, it's the city's hub for film culture, live events, and cinema presentations.
Got an evening to kill in Ann Arbor? Then come and catch a movie at their auditorium that has films on 365-days a year. They've got a genre for everyone, from classics to documentaries. Their silent-era films are even accompanied by their restored 1927 Barton Theater Pipe Organ!
It also hosts big events like the Ann Arbor Film Festival, the Ann Arbor Polish Film Festival, and the Ann Arbor Jewish Film Festival. Have a look at what events and films they've got on whilst you're there!
11. Kelsey Museum of Archaeology
Interested in the history of human life? Then you're going to love the Kelsey Museum of Archaeology which explores Classical, Egyptian, and Near Eastern archaeology – all in one place!
There are more than 1,500 of the museum's 100,000 artifacts on display at once, and there are different special exhibitions throughout the year – so you can keep coming back, and learn something new each time.
The museum is also the headquarters of the University of Michigan's graduate program in Classical Art and Archaeology.
10. Gerald R. Ford Presidential Library
The Gerald R. Ford Presidential Library is along Beal Avenue, round the corner from the Arborcrest Memorial Park. They have book after book on topics like foreign relations, political affairs during the Cold War era, and U.S. domestic issues.
But, despite the array of topics on offer at the library, needless to say, the unique thing it has to offer is its collection of archival materials focusing on the Ford administration. There is a permanent exhibit on the lives of the President and his wife. The library also hosts events like book signings, film viewings, and more!
The institution is affiliated to the Gerald R.Ford Presidential Museum, which is in a different location. Come and explore the lives of the 38th President and the First Lady Betty Ford, and imagine the stresses and thrills of being the President and living in the white house!
9. Nickels Arcade
Built in 1918, the arcade is the place to come if you want to shop till you drop and enjoy a little retail therapy. It's in downtown Ann Arbor, so you can enjoy the vibrant buzz of downtown in Nickels Arcade.
It's home to some of the city's oldest retail shops, and there's a lot of shopping choices across the arcade's 261-foot-long mosaic-tiled corridor!
The old brick structure and glass ceiling have an old-fashioned feel to them and are the perfect setting for some glamorous shopping.
8. Zingerman's Delicatessen
Zingerman's Delicatessen, in an adorable historical building in Ann Arbor, is rumored by locals to be the best deli in America, so it's got to be worth a visit! Stop by and grab some local produce or a bite to eat.
It was opened back in 1982 by Paul Saginaw and Ari Weinzweig. Their sandwiches are to die for and they have high quality ingredients like Black Angus corned beef in them (don't worry, there's a vegetarian menu too)!
Aside from their scrumptious sandwiches, it's also a great place to pick up local produce like smoked fish and farmhouse cheeses.
7. Ann Arbor Hands-On Museum
Dwight Burdette / Wikipedia
The Ann Arbor Hands-On Museum is the place to come if you're a family with young kids. They've got educational exhibits that are designed to engage younger visitors and teach through play.
Their galleries have it all – from rooms where babies can splash and play to exhibits designed to introduce kids to the principles of engineering.
Relax and watch the kids challenge one another as they take on different tasks, then work together to complete the hardest of exhibits!
6. University of Michigan Museum of Natural History
This state-of-the-art university museum is in the Biological Sciences Building in the University of Michigan. It opened in 2019 and it puts the university's latest scientific research at your fingertips.
It's a place for the curious, a place where questions are explored and answers are put to the test! There's an emphasis on the impact and interconnectedness of all the Earth's creatures, and how science can help to balance and sustain our ecosystems.
After exploring the museum, hit the planetarium and dome theater to get a closer look at what lies beyond Earth. At Michigan University not even the sky's the limit!
5. Michigan Stadium
The Michigan Stadium is the largest football stadium in the U.S., with a 107,601 fan capacity! Not only that, but it's also the second largest on the planet, surpassed only by the Rungrado 1st of May Stadium in Pyongyang, North Korea.
The stadium originally had a 72,000 person capacity (still pretty humongous!) but they decided to take on the challenge of upping their size. The largest crowd the stadium has ever hosted was 115,109 people in 2013 when Michigan played Notre Dame.
Check out the next match dates and make sure you're in town to enjoy the electrifying buzz of a soccer match in one of the most iconic football stadiums ever built! Keep the beer and the chants flowing!
4. Kerrytown
Andypiper / Flickr
Kerrytown is located in Kerrytown's Historic Market District. It's reminiscent of a time when you shopped in paper bags from local sellers and bought hand-crafted jewelry directly from the artist.
The shops are run by warm and welcoming artists, merchants, and bakers. Come and browse the local produce on offer and buy tasty sausages and smoked fish to take home.
There's nothing as charming as an old, market-style shopping mall, and you can't leave without visiting Ann Arbor's own Kerrytown.
3. University of Michigan Museum of Art
The University of Michigan Museum of Art is a glamorous and elegant building that contains an exciting and vibrant collection of exhibits from an array of cultures.
You'll walk past fine pieces of European, Chinese, Japanese, African, and American art. Most of their artifacts are from the 19th and 20th century. Whether you're here to see watercolors or sculptures, there's a bit of everything.
There are pieces from the collections of world-renowned artists, like Whistler and Picasso, in the museum too! The University of Michigan Museum of Art was formally founded in 1946, but the university has been displaying its art collection to the public since 1856.
2. Matthaei Botanical Gardens & Nichols Arboretum
The Matthaei Botanical Gardens and Nichols Arboretum are spread across two distinct locations within the University of Michigan. If you're looking to spend some quality time in nature without leaving the city, then this is the place to come!
Across its grounds, there are many gardens, walking trails, a conservatory, kid's play parks, and even a campus farm. Let the kids muck about in the Gaffield Children's Garden, taking in the different flora and searching for insects, as you relax and enjoy the sun and some fresh air.
There are so many gardens it'd be hard to name them all, but make sure to visit the Bonsai and Penjing Garden and admire the miniature trees, then head to the Great Lakes Garden and enjoy the wildflowers.
Be sure to check out the Medicinal Garden before you leave, they're growing all sorts of plants with spectacular healing properties!
1. University of Michigan
The University of Michigan actually used to be in Detroit and it was called Catholepistemiad (a name that mixes Latin and Greek and means "academy of universal knowledge"). Its new name is definitely easier to pronounce!
It was founded in 1817 and moved from Detroit to Ann Arbor in 1837, though shockingly, the first graduating class didn't leave until 1845 – that's right, the university didn't have any university-level courses for over two decades!
The University is more than just an educational center though, it's also a hub of museums and parks that are visited by the whole city. Did we mention Madonna studied here?
Map of Things to do in Ann Arbor