Instantly interesting due to its unusual name, Kalamazoo combines big-city energy with small-town charm. Set in the south center of Michigan, the lively college town lies just inland of Lake Michigan with both Grand Rapids and Lansing around an hour's drive away.
As it was the site of the first pedestrian mall in the country, it is often known as 'Mall City' with its walkable downtown still containing loads of unique shops and local restaurants. While the peaceful Acadia Creek courses its way through the center with parks, trails and museums lining its banks, the city is named after the rushing river that makes up its eastern limits.
Besides delving into the happening arts and nightlife scenes, visitors can also try out other things to do in Kalamazoo such as touring the numerous breweries or shop for local produce at the surrounding farms. With so many cultural attractions and pristine nature spots to explore, K'zoo makes for a fantastic weekend away or fun family holiday.
14. Verhage Fruit Farm & Cider Mill
If you want to sample some of the region's fresh produce, then the Verhage Fruit Farm & Cider Mill is the perfect place to head. Located just fifteen minutes' drive west of downtown, it has all kinds of delicious baked goods, homemade pies and sparkling ciders for you to try.
Since the sixties, the family-owned and operated farm has welcomed guests who come to pick their own fruit in the orchard and watch live demonstrations of its 125-year-old cider press. Tractor rides and ziplines are also on offer as is a cozy gift store where you can pick up a wide range of artisanal products and home goods.
The highlight however is stopping by its bakery counter and trying to choose between its sumptuous pies, fudges, cookies and donuts. Afterwards, you can wash it down with a refreshing pint of freshly pressed cider.
13. Kalamazoo River Valley Trail
Brian Wolfe / Flickr
A wonderful way to see more of the city and its surroundings is to walk, run, jog or cycle along the Kalamazoo River Valley Trail. Aside from connecting up numerous sights and communities, it takes you past lots of picturesque nature spots, parks and wild areas.
Currently stretching 22 miles in length, the multi-purpose path meanders its way through downtown before branching off into the surrounding hills, prairies, forests and fields. While some sections pass through industrial areas and quiet suburban neighborhoods, most parts line the gorgeous river with picnic areas and viewpoints dotted here and there.
In addition to stopping for a quick bite to eat or drink at one of the cafes and restaurants along the route, you can visit sights such as the Arcadia Creek Festival Place and Kalamazoo Valley Museum.
12. Lawton Ridge Winery
Lawton Ridge Winery / Facebook
After exploring the great outdoors and enjoying some exercise, what better way to relax and unwind than with a lovely glass of wine at the Lawton Ridge Winery. At its scenic site on the southwestern outskirts of the city, visitors can learn all about their award-winning wines.
Established in 1974, the winery is now surrounded by vast swathes of verdant vineyards from which they produce excellent reds, whites and roses. As you sit, swirl and savor their fine fruity flavors, a knowledgeable staff member will explain the aromas and what they are best paired with.
Once you've tried some Pinot Grigio and Riesling in their atmospheric tasting room, you can always buy a couple of bottles to take back home as a reminder of your trip.
11. Milham Park
Another idyllic spot to immerse yourself in nature is the marvelous Milham Park which lies just ten minutes drive south of the center. In no time at all, you can find yourself wandering about its leafy trails with fantastic fauna and flora on show wherever you go.
The central feature of the park is the pretty Portage Creek which forms a large crook as it winds its way through the forest. Besides crossing over its bridges and ambling along its shady banks, visitors can also make use of the numerous playgrounds, picnic areas and grill pits scattered about.
As well as exploring wide open spaces and woody areas, there is also the adjacent Millham Park Golf Course where you can play a challenging round and relax in its clubhouse.
10. Gene the Pumpkin Man
Lindspetrol / Flickr
Just a bit further west from the Verhage Fruit Farm is another fun and friendly place to go if you're after fresh produce. Endearingly known as 'Gene the Pumpkin Man' after its charismatic owner, the farm has ginormous squashes, gourds and, of course, plenty of pumpkins to pick up.
While the property has remarkably been in the Rhodes family since 1885, it was 'only' in 1957 that Gene started selling huge hauls of pumpkins by the side of the road. Over the decades, its enormous orange barn has become an attraction in its own right with pumpkin-related merch and memorabilia lying within.
Orange artifacts, trucks and tractors are also displayed with Gene's equally colorful car sporting a special 'PUMPKIN' license plate. If you're after an utterly unique experience, the land of orange and the pumpkin people is well worth stopping by with Indian corn, honey and a pumpkin cookbook all also on sale.
9. Kalamazoo State Theatre
Back in the center of town is one of Kalamazoo's top attractions and entertainment venues: the splendid Kalamazoo State Theatre. Thanks to its ornate intimate auditorium, it is a very memorable place to catch a concert, comedy night, show or movie screening.
Built back in 1927, it is one of the very few remaining atmospheric picture palaces that is still intact and in almost perfect condition. Designed to look like an old-style Spanish courtyard, its hallowed stage is lined by elegant arches and weathered walls while electric stars twinkle overhead amidst the ceiling's dark night sky.
From its comfy seats and balconies, guests can enjoy superb views and outstanding acoustics while big-name acts take the stage below Over the years, everyone from Al Green and Britney Spears to Tracy Chapman, The Temptations and Willie Nelson have performed at the famous historic theatre.
8. Gilmore Car Museum
Home to hundreds of vintage vehicles, the Gilmore Car Museum can be found just past Gull Lake, some half an hour's drive northeast of downtown. A must for motorheads, its captivating collection includes everything from an 1899 Locomobile Steam Car to the elusive 1948 Tucker.
Regularly ranked among the best car museums in the country, its colossal campus sprawls across a huge part of Hickory Corners town. Within its numerous historical buildings, you can see well over 400 cars and motorcycles with countless other artifacts, exhibits and artworks also on show.
While some displays cover muscle cars and the evolution of the sleek Corvette, others focus on toy cars and hood ornaments. On top of this, car enthusiasts can also explore its replica of a 1930s Shell Station or grab a bite to eat at its authentic 1941 Diner. The massive museum also often puts on car shows where you can ride around in a mint classic and see yet more incredible makes and models.
7. Henderson Castle
Certainly one of the most beautiful buildings in the city, Henderson Castle is located in the historic West Main Hill neighborhood, overlooking downtown. Aside from taking a tour and ogling at all the old antiques and architecture, you can actually stay at its inn and make the most of its suites, spa and spirits lounge.
Instantly recognizable from its tall tower, the gorgeous Queen Anne-style mansion was built in 1895 by successful businessman Frank Henderson. For the last few decades, guests have been able to stay in its delightfully decorated rooms which all feature fine furnishings, period pieces and artworks.
Yet other amenities include a banquet hall, ballroom and rooftop hot tub with a wonderful wellness center and top-class French restaurant also on offer. While staying at the sophisticated B&B, you can explore its gardens and vineyards where tea parties, murder mystery dinners and romantic weddings regularly take place.
6. Al Sabo Preserve
Besides boasting lovely landscapes, scenery and nature, Al Sabo Preserve also has all kinds of awesome outdoor activities to enjoy. Popular with locals and tourists alike, it is set on the southwestern outskirts of town, next to the Kalamazoo Valley Community College.
A pleasant place to spend some time, it encompasses not just woods and wetlands but marshes and meadows too. Winding their way about its rolling hills are miles and miles of well-maintained trails to hike and mountain bike with sweeping views over Portage Creek sometimes emerging from amidst the trees.
Thanks to the pristine and untouched nature, the park is a haven for local wildlife with deer, coyotes, muskrats and turtles all spied from time to time.
5. Farmers Market
Lindspetrol / Flickr
Lots of fun to peruse, the colorful and chaotic Farmers Market features over a hundred stands and stalls that sell almost everything under the sun. Open every Saturday from May through November, its countless farmers and vendors can be found just south of the Upjohn Playground Park.
What started out in 1947 as just a few stands, has since morphed into a large and lively weekly event with food trucks and live music only adding to the ambience. In total, it now has roughly 125 stalls for residents and out-of-towners alike to amble past.
While some sell fresh fruit and vegetables, others specialize in artisanal cheeses, organic meats and blooming flowers with homemade arts and crafts also being on sale.
4. Kalamazoo Nature Center
Danielle Blue / Flickr
If you want to learn all about the region's fauna and flora and enjoy some stunning scenery, then the Kalamazoo Nature Center is a great place to go. Aside from hiking about all its winding paths, it has lots of interesting exhibits and an amazing origami crane installation for you to check out.
Now recognized as one of the top nature centers in the US, it was founded in 1960 to educate people about the local area and its wildlife. As well as its interactive displays on animals and ecosystems, it puts on a packed schedule of nature walks, talks and outdoor adventure activities.
These range from fun kids' fairy walks and observing stars at night to foraging in the forest, making sculptures and regenerative agriculture workshops. A great day out for all the family, the center and its woods lie nestled just to the north of the city.
3. Air Zoo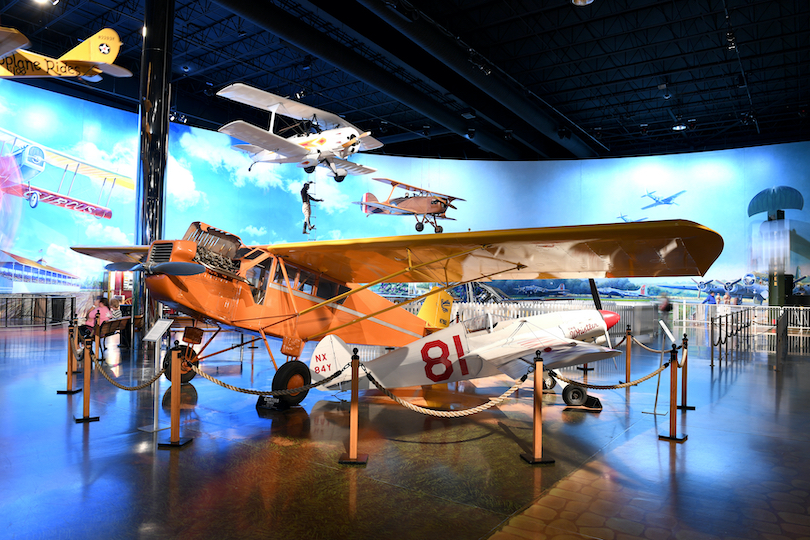 Both an aviation museum and indoor amusement park, the excellent Air Zoo lies alongside the city's international airport in nearby Portage. While most people come for its plethora of vintage planes, it also has thrilling flight simulators, small rides and 4D theaters on offer.
One of the biggest and best museums of its kind in all the States, it boasts an incredible collection of big bombers, Boeings and bi-planes. Remarkably enough, many of its a hundred or so sparkling jets and gliders are actually still airworthy with informative displays, old equipment and age-appropriate artifacts lying all around them.
Aside from snapping some photos of their fuselage and clambering up into some cockpits, you can race about the sky in a simulator or watch a historic film of a WWII bombing mission.
2. Kalamazoo Institute of Arts
Right in the heart of downtown, you can find one of the area's top tourist attractions: the Kalamazoo Institute of Arts. Home to an impressive collection of paintings, photos and sculptures, its galleries cover everything from contemporary American and European artists to pre-Columbian, Oceanic and African works.
Established in 1924, it now occupies a large modern building with a delightful Dale Chihuly glass chandelier dominating its lobby foyer. In total, the museum holds over 4,600 artworks with roughly ten to fifteen temporary exhibits taking place throughout the year.
In addition to its astounding artworks, the institute hosts ceramics, creative writing and jewellery classes alongside countless others. One of the highlights of the year is the KIA Art Fair where about 200 artists display their prints, photographs and drawings for visitors to peruse and purchase.
1. Kalamazoo Valley Museum
Joe Ross / Flickr
A must-visit for those with children, the Kalamazoo Valley Museum has loads of hands-on activities and experiments for young and old alike to enjoy. Located alongside Arcadia Creek, its innumerable history and science exhibits, state-of-the-art theater and planetarium lie just a short stroll from many of Kalamazoo's other main sights.
Now home to roughly 55,000 artifacts, specimens and archaeological findings, the sizeable museum first opened to the public in 1996. What began as a small collection of curiosities in 1881 has since grown into one of Michigan's most important institutions with three floors of intriguing objects and exhibits for you to explore.
These include not just ancient Egyptian mummies and cool Gibson guitars made in Kalamazoo but immersive installations, an invention lab and areas where children can build and play. After seeing and interacting with all its enticing exhibits, you can always watch an educational film in its theater or a science show at the planetarium.
Map of Things to Do in Kalamazoo, MI