Home to vast forests, scenic lakeshores and pristine national parks, Michigan lies right at the heart of the Great Lakes region. A wonderful state to live in and explore, it has loads for locals and tourists to see and do.
The cozy towns and lively cities, plus all the sublime scenery, nature and outdoor activities, make Michigan a great place to raise a family. Many make the state's cultural capital Detroit and its surrounding suburbs their home. While other people prefer to put down roots in the equally attractive Ann Arbor or Grand Rapids.
With everything from secluded villages to hip university towns, the best cities in Michigan truly have something that suits everyone's preference.
In this post, we'll cover:
14. Plymouth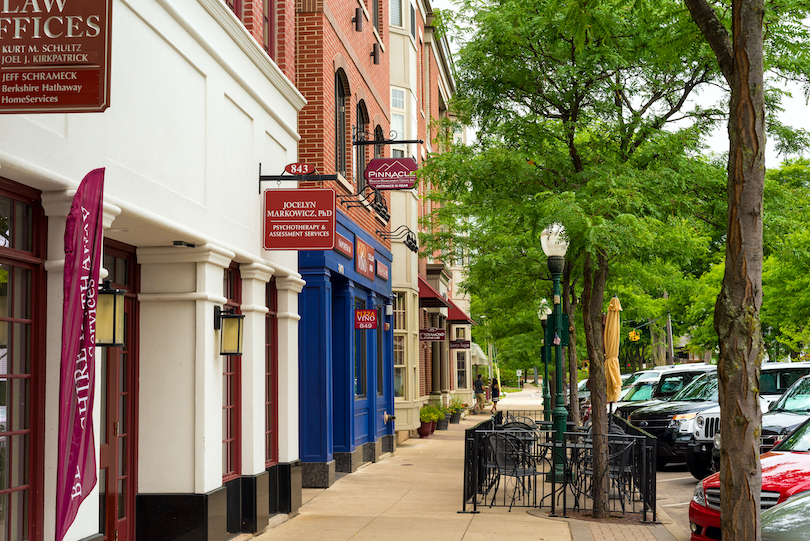 Right on the western limits of Detroit you can find the small, leafy suburb of Plymouth. One of the most sought-after spots to live in the city, it has plenty of shops and restaurants with pretty parks being dotted about.
A lovely laidback place, it has a tight-knit community feel with many families moving here for its safe streets and highly rated public schools. Immaculately groomed green spaces are never far away while commuting to downtown Detroit and all its attractions and amenities is quick and convenient.
While it is very surburban, pockets of lively bars and local shops can be found here and there. Aside from the Plymouth Historical Museum and its excellent art and recreation complex, the main appeal for out-of-towners is its weekly farmers market.
13. Rochester
On the northern outskirts of the Motor City is another suburb that families and young professionals have been flocking to in recent years. With Rochester ranking highly not only for its education and employment opportunities but outdoor areas too, it is no wonder it is a popular place to settle down.
The oldest settlement in all of Oakland County, it was founded in 1818. As such, a number of impressive historic buildings and interesting architecture can be spied around town. Its center has a vibrant feel with shops, restaurants, and even nightlife, on offer.
Besides its outstanding local schools and proximity to downtown Detroit, many people move to Rochester for its gorgeous green spaces and ample outdoor activities.
12. Berkley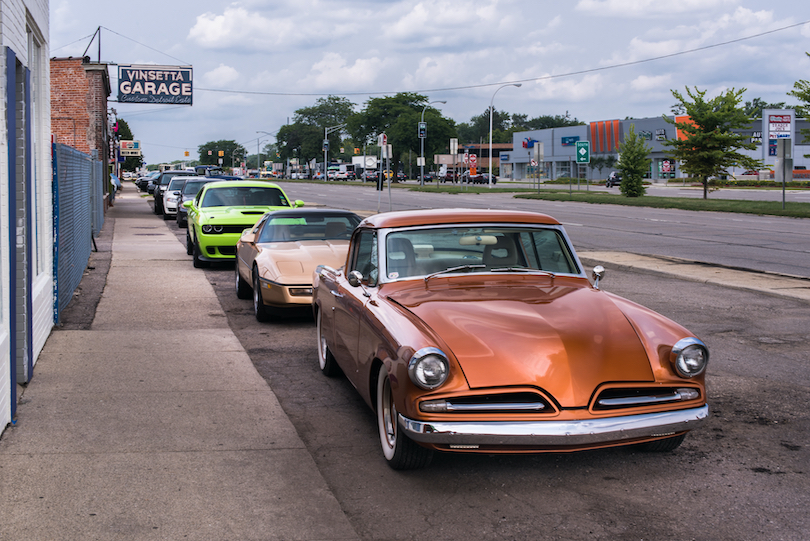 Rivaling Rochester in terms of its desirability is the nearby northern suburb of Berkley which lies even closer to the center of the city. It is also regularly ranked among the best places in the state to live due to its superb schools, safe streets and small-town feel.
An increasingly attractive area to put down roots, Berkley has affordable housing and plenty of parks scattered about. Locals also benefit from its countless cafes and shops, restaurants and bars while the major metropolis' museums and theaters are only a twenty minute drive away.
Only adding to the suburb's appeal are its friendly and welcoming residents and convenient setting along the Woodward Corridor, which is often called Detroit's Main Street.
11. Farmington
Andrew Jameson / Wikipedia
Another of Oakland County's innumerable enticing areas to live in, is the peaceful and picturesque Farmington. Located to the northwest of Detroit, the dense suburban district has a wealth of brilliant amenities, eateries and outdoor areas to enjoy.
Completely surrounded by the small city of Farmington Hills, its recently revitalized downtown has loads of great shops and restaurants. Some fantastic Victorian-style homes are also dotted about as are well-equipped public libraries, parks and high-performing schools.
On top of enjoying a high quality of life and low living costs, residents can easily reach Rock City's sights, music scene and sports teams in no time at all. Other added bonuses include the constant activities and events taking place and the weekly farmers market.
10. Saugatuck
A popular resort town, the scenic Saugatuck lies at the mouth of the Kalamazoo River, right next to Lake Michigan. Formerly a lumber town, port and then art colony, its extensive art galleries, unusual stores and harborfront views attract hordes of tourists every summer.
Along with its twin town, Douglas, the small coastal community has myriad amazing waterfront restaurants, cozy BnBs and coffee shops for visitors to enjoy. Since beaches and nature spots lie nearby, you can swim and sail in its inviting waters, or hike and cycle about its lovely landscapes.
For decades, the Midwest's LGBT community has holidayed here, as have families, art lovers and boaters from both Chicago and Detroit. Thanks to its friendly and welcoming residents and stunning setting, it makes for a great place to live, though it can get quite quiet outside of the tourist season.
9. Marquette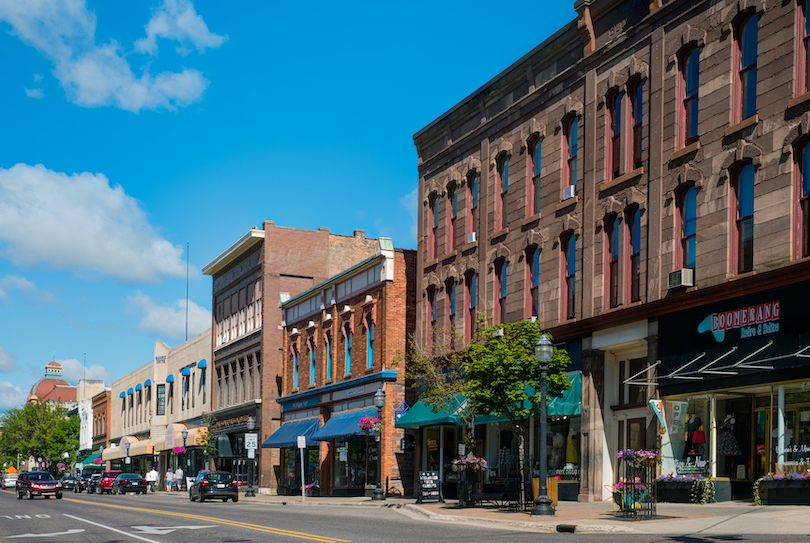 The Upper Peninsula's largest city, Marquette, lies midway along the state's Lake Superior shoreline. A lively university town, it has lots for locals and visitors to see and do with pristine beaches, parks and viewpoints on offer.
As it is also a major port, bustling businesses, bars and breweries dot its historic downtown. Besides being home to Northern Michigan University's sizeable student population, both families and young professionals reside within its sprawling reaches. This is because Marquette has a low cost of living, good schools and happening nightlife with festivals and cultural events taking place all the time.
An outdoor-oriented city, it has countless nature trails, waterways and even ski slopes for people to explore. Particularly popular spots to hit up are Presque Isle Park and Sugarloaf Mountain with fine views, stunning scenery and fabulous fall foliage to be enjoyed at both.
8. Lansing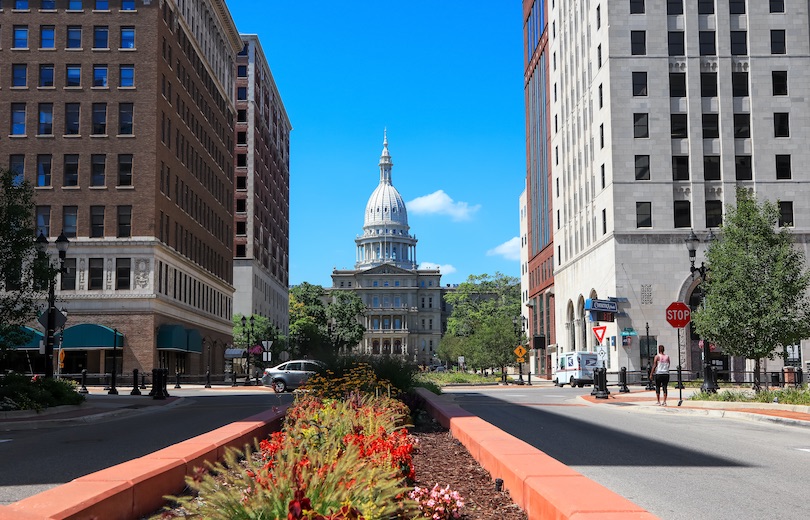 A wonderful city to visit, live in and raise a family, Lansing is the cool, cultured capital of the state. Located at the heart of the 'Mid-Michigan' metropolitan area, it acts as a hugely important center of commerce, education and, of course, government.
Thanks to this, it has a diverse job market and multicultural make-up with innumerable restaurants, shops and nightlife spots. Residents and tourists alike also benefit from its endless list of fantastic public facilities with art galleries, museums and theaters all on offer. Despite this, it is a very affordable place to live, with Lansing also rating highly for its public schools and housing market.
Alongside the two rivers that wind their way through the center, you can find pretty parks, peaceful waterfront walks and the phenomenal Potter Park Zoo. Only adding to the capital's lively feel is the large student body of Michigan State University; one of the country's top educational institutions.
7. Troy
Cadiomals / Wikipedia
Another popular place in Oakland County to settle down and start a family is the sizeable city and suburb of Troy. Nestled in between Rochester and Berkley, it offers excellent employment and education opportunities at an affordable cost of living.
Sprawled across a massive part of the northern Metro Detroit area, it encompasses everything from leafy parks and outdoor spaces to quiet streets and vibrant neighborhoods. As it is quite an affluent area, Troy regularly ranks among the best places to live in the Great Lake State with superb schools and sports facilities being available.
While umpteen unique shops and restaurants dot its downtown, all of Detroit's enticing attractions, amenities and entertainment options only lie a short drive away.
6. Kalamazoo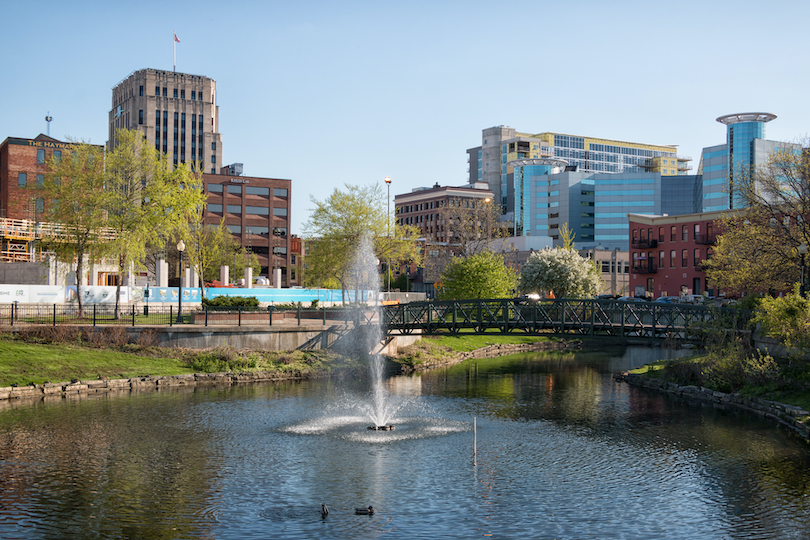 With a cool name like Kalamazoo, who wouldn't want to live in the scenic riverside city? Set in the southwest of the state, the dynamic college town lies just inland from Lake Michigan's eastern shore and within an hour's drive of both Grand Rapids and Lansing.
As it was home to the first pedestrian mall in America, it is often called 'Mall City' with all kinds of local shops and restaurants still occupying its walkable downtown. While K'zoo boasts thriving arts, dining and nightlife scenes, it is also noted for its numerous parks and peaceful riverside walks.
Aside from the students of Western Michigan University, plenty of young professionals and families live in the city for its high quality of life and low cost of living.
5. Farmington Hills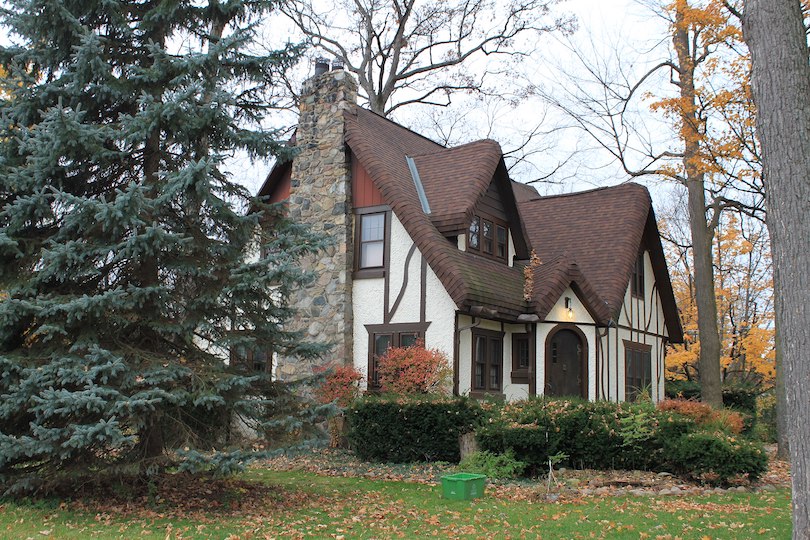 Dwight Burdette / Wikipedia
Back on the northwestern outskirts of Detroit is another city suburb people have been flocking to in recent decades. Residents of Farmington Hills enjoy clean, safe streets, top-class public schools and job opportunities; all in a beautiful setting.
Somewhat strangely demarcated, it almost completely surrounds the smaller Farmington with parks and green spaces dotted here and there. Numerous art galleries, eateries and a vintage cinema can be found in its downtown, which hosts countless fun events and festivals. Its moving Holocaust Memorial Center is the town's main tourist attraction.
While it is slightly costlier living here than in other parts of the state, low crime rates, great public services and the gorgeous nature more than make up for it.
4. Novi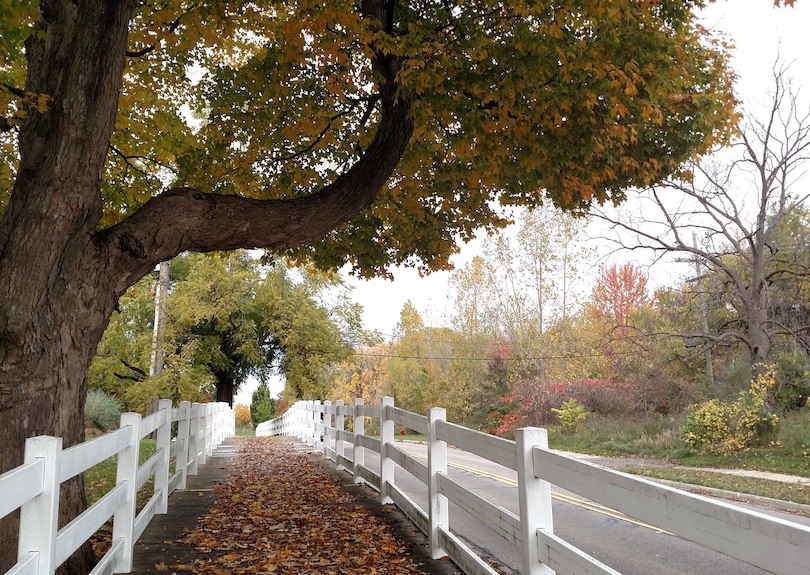 Right next door is Novi; one of the most desirable towns to live in all of Michigan. While word has certainly spread in recent years and the prices and population have shot up, it is still a brilliant place to buy a house and bring up a family.
This is in large part because each neighborhood has its own look, feel and community with public schools, parks and other amenities serving them. Novi also rates highly for its employment market, sports facilities and nightlife with pockets of bars and restaurants found scattered about.
While downtown Detroit lies just half an hour's drive away, locals don't need to leave town to enjoy some great shopping, dining and entertainment. It is this suburban lifestyle yet urban convenience that makes the area so attractive to live in.
3. Grosse Pointe Area
Another increasingly popular place to put down roots is the Grosse Pointe Area that comprises of 5 individual towns: Grosse Pointe Park, Grosse Pointe, Grosse Pointe Farms, Grosse Pointe Shores and Grosse Pointe Woods. As the small, scenic suburban area lies alongside the lovely Lake St. Clair, locals can bask in its breathtaking views and nature and enjoy all kinds of outdoor activities.
Located in the east of Metro Detroit, the charming, quiet district particularly appeals to retirees and families with young children. Besides benefiting from fantastic public schools, safe streets and the sweeping lakefront parks, residents also appreciate its tight-knit community feel.
Only adding to its attractiveness are the delightful old historic homes with their varying architectural styles. While plenty of grocery stores and cafes are dotted around, some say it suffers from a lack of diversity and a dearth of nightlife spots.
2. Grand Rapids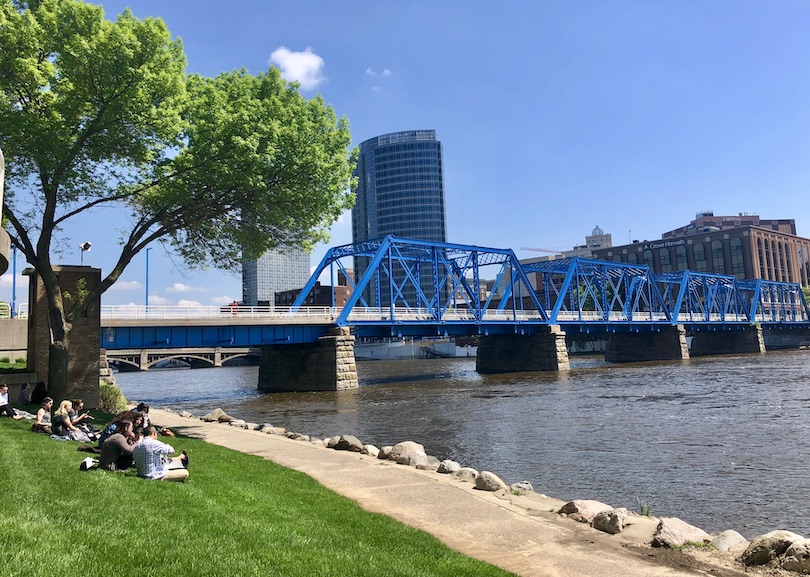 After Detroit, Grand Rapids is the largest and liveliest city in the Mitten State. Straddling the banks of the Grand River, it has a diverse array of neighborhoods, attractions and amenities for residents and tourists alike to enjoy.
Once a historic furniture-making center, the city is now mostly known for its booming craft brewery scene. Asides from trying out its dozens of magnificent microbreweries, you can also stop by its art galleries and museums, theaters and parks. Heritage Hill, east of downtown, is unmissable for all its impressive architecture.
With so much going on, it is no wonder people love living here. While public schools, safety and housing options vary from district to district, overall Michiganers in Grand Rapids enjoy a high quality of life at a fair price.
1. Ann Arbor
Possibly the most sought-after place to live in the state however is the attractive, artistic, university town of Ann Arbor. Situated just forty-five minutes' drive west of Detroit, it boasts everything from pretty parks and a pedestrian-friendly downtown to thriving dining, culture and nightlife scenes.
Much of town life revolves around the University of Michigan campus and its ginormous student population. They lend the small city a very lively yet laidback feel with fabulous festivals, cultural shows and sporting events taking place all the time.
On top of exploring Tree town's leafy streets and watching the Michigan Wolverines play a football game, you can also try out downtown's umpteen restaurants and bars. Although life in Ann Arbor is quite pricey, residents enjoy outstanding local schools and amenities befitting a larger city.
Map of Cities in Michigan to Live and Visit