One of the most enchanting places in the entire Adriatic, Istria occupies the northwestern corner of Croatia. A very popular tourist destination, the peninsula has plenty of pristine beaches and pretty towns for you to enjoy.
Set between the Gulf of Trieste and Kvarner Gulf, its landmass is shared by Slovenia, Italy and Croatia, though most of it lies in the latter. Its central setting saw everyone from the Romans and Venetians to the Hapsburgs rule at one point or another. Before WW2 it was part of Italy and Italian is still the peninsula's second language.
The region's proximity to Central Europe has ensured an annual influx of foreign tourists in the summer, with Slovenians, Germans and Austrians flocking to the hotels and campings that dot the coastline. The beaches in Istria are often rocky and not Croatia's best, but the sea is clean and secluded spots can still be found here and there.
The interior is quite hilly, fertile and untouched with rural hotels and farmhouse restaurants sprinkled around. Amidst all this are lonely hilltop villages and amazing Roman ruins lying next to lively tourist towns alongside the sea.
Among the most romantic things to do in Istria are wandering around towns like Rovinj and Porec while idyllic archipelagos and nature sports are waiting to be explored. Add in an acclaimed gastronomy and it is no wonder Istria is one of the country's top holiday spots.
In this post, we'll cover:
14. Labin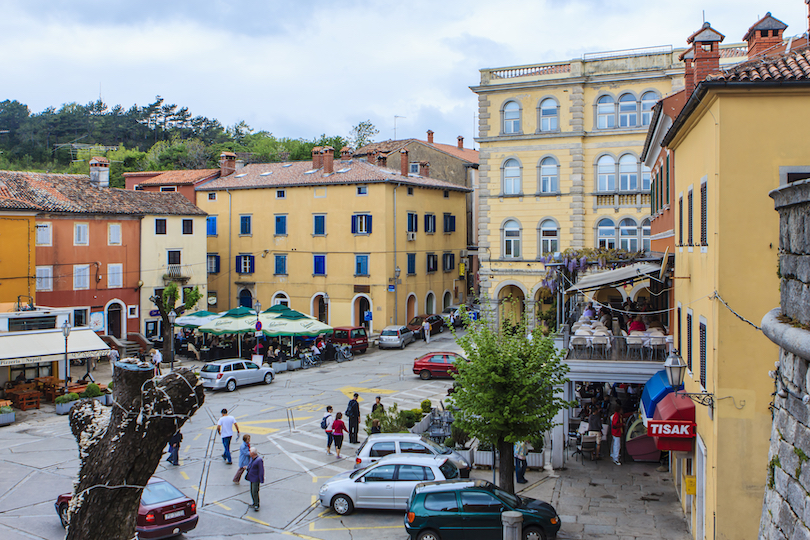 Located inland from Istria's eastern coastline is the sweet little town of Labin. As well as a charming medieval center, it has countless cosy cafes and artists' galleries for visitors to check out.
Founded in Roman times, Labin was later ruled by the Republic of Venice and then the Austrian Empire. Once the center of Croatia's coal mining industry, it is now instead known for its numerous galleries, workshops and studios.
Aside from taking in its artistic vibe and old architecture, you can enjoy the view over Rabac and the sea from its fortress. It's also worth stopping at the Labin National Museum. This is because it covers the town's rich history and you can actually enter a recreation of an old mine!
13. Umag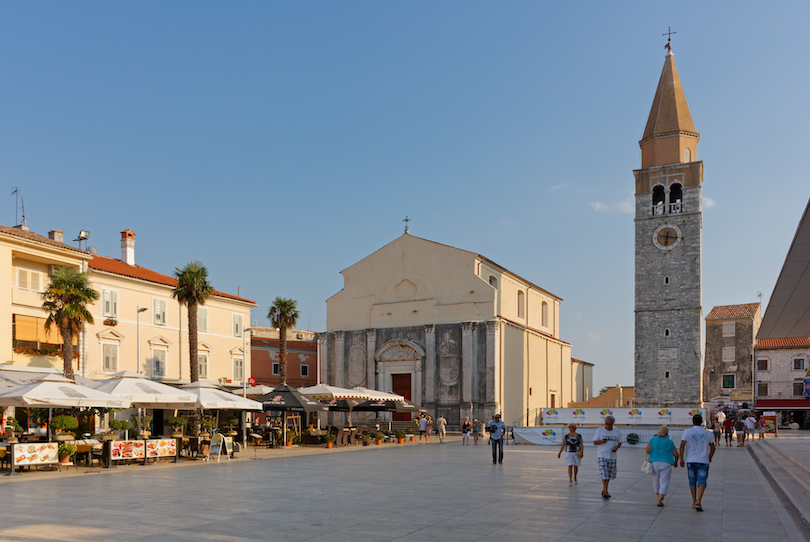 Officially called the 'Croatian Gate to Europe', Umag lies in the very west of Istria, not far from Slovenia. Set alongside the Adriatic Sea, its beautiful beaches and bustling old town make it a fantastic place to holiday.
As Umag was looted and destroyed a number of times over the centuries, very little remains of its Roman past. Its picture-perfect center mostly dates to Venetian times as narrow alleys take you along by old stone villas and part of the city walls. Its atmospheric streets are also lined with tons of enticing cafes and restaurants to try.
Other than admiring the ancient Church of St. Peregrine out on its promontory, you can sunbathe, swim and splash about in the sea. The town also has a lovely laidback feel and lies not far from some incredible countryside and coastline.
12. Vodnjan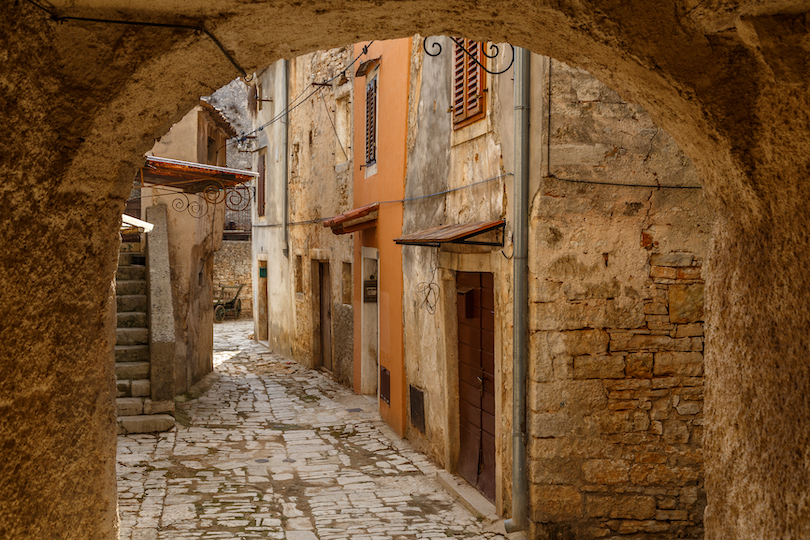 For those interested in history and architecture, the well-preserved town of Vodnjan is certainly well worth a visit. Situated just to the north of Pula, it is now most known for the mummified saints in its churches and its terrific olive oil tasting tours.
As it was once an important urban centre, its historic heart contains some gorgeous Gothic, Renaissance and Baroque gems. One of the main reasons people head here though is to see its amazing old mummies. In St. Blaise's Church, visitors can see the preserved bodies of saints and a priceless collection of sacral art.
There are also old stone cottages to snap photos of and olive oil tastings to take with local farmers. As it offers a quieter, more authentic look at the region's rich heritage and traditions, Vodnjan feels a world away from its sometimes touristy coastline.
11. Novigrad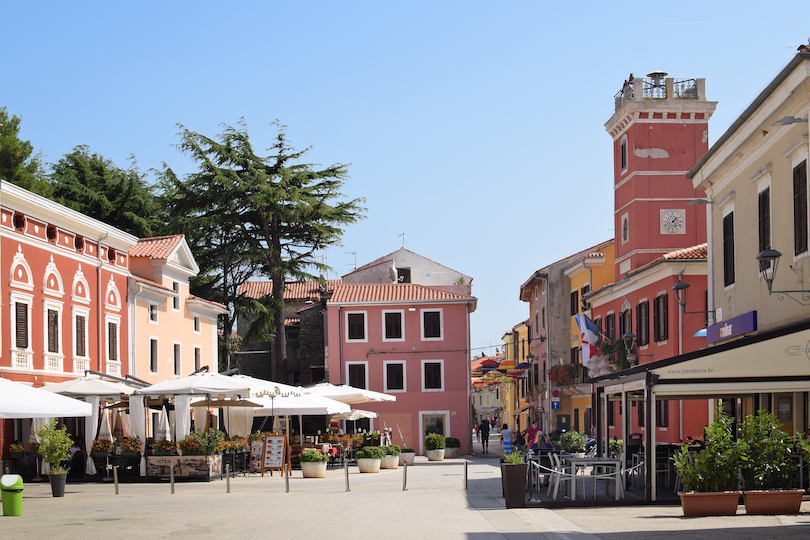 A bit further down the coast from Umag on the way to Porec is the pastel colored town of Novigrad. More upmarket than many others in Istria, it has a picturesque waterfront promenade and harbor to explore.
Occupying a small peninsula, the town has managed to retain its medieval layout and many of its old buildings. Among its main highlights are its town wall and impressive Church of St. Pelagius. Many also come to snap selfies beneath its colourful umbrella streets.
All along the chic marina, you can sip cocktails or sample delicious local dishes while taking in the view and watching the boats come and go. There are also some pristine pebble beaches to lounge on in town and along the nearby coast.
10. Kamenjak National Park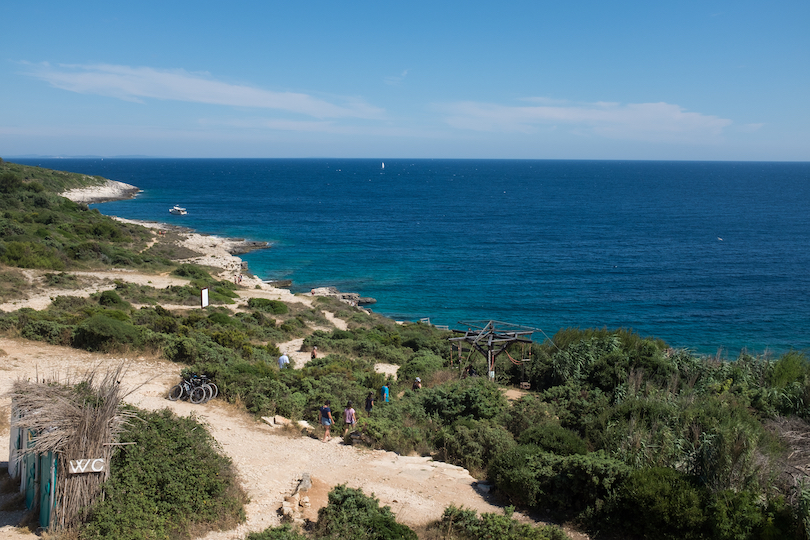 For some of the most stunning scenery and spectacular sea cliffs in the region, make sure to head to Kamenjak National Park. Covering a considerable swathe of Istria's southernmost tip, it provides all kinds of fun outdoor activities.
The park's main feature is the more than thirty kilometers of dramatic coastline that lines the cape. Crisscrossing its untouched landscapes are plenty of tantalizing trails to hike or bike along. In addition to breathtaking views over its crystal clear waters, you can even see fossilised footprints along its 'Dinosaur Path'.
At its secluded bay and beaches, you can swim and relax on the rocks with dolphins and seals sometimes spotted offshore in winter. With so many hidden nature spots to discover, the national park was definitely one of our favorite destinations in Croatia.
9. Vrsar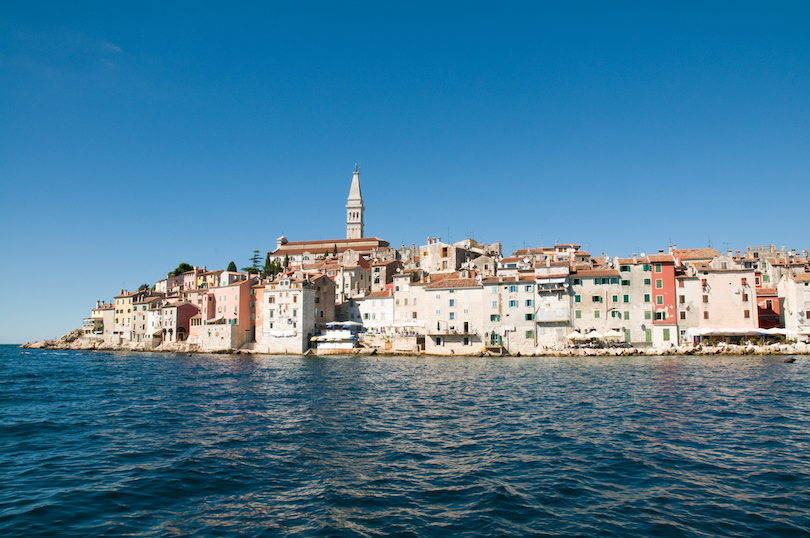 Yet another attractive town to visit alongside the Adriatic is the former fishing village of Vrsar. With over 2,000 years of history to uncover, it really is a fascinating place to stop by. Its handsome harborfront, castle and old town count among its main sights.
Dating back to Roman times, Vrsar has countless crumbling villas and fortifications to see dotted about town. Clustered atop a hill, its medieval center and soaring church spire of St. Martin make for quite the view when seen from afar.
Vrsar is also known for its fine wines and connection to Casanova who visited and wrote about his experiences in his memoirs. Each year, it now hosts a fun festival dedicated to love in his honor.
If you drive a bit further south of town, you'll come across the limestone caves of the Limski Channel. Relaxing boat trips through its fjord-like waters are yet other popular pastimes here.
8. Fažana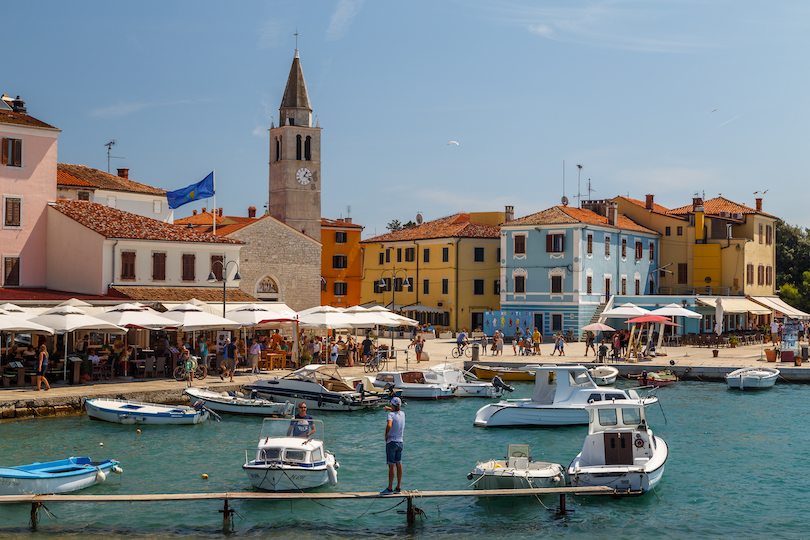 Just a short drive up the coast from Pula is the wonderful little waterfront town of Fazana. Lining its adorable harbor are dozens of local restaurants and cafes while the alluring Brijuni Islands are just a short ferry ride away.
Thanks to its scenic setting and the unspoiled islands offshore, the fishing village was once one of Tito's favorite hangouts. All around its sparkling harbor, you can find simple two-story structures, many painted in bright pastel colors. The Gothic-style Church of Sv. Kosma and its tall tower immediately catch the eye here.
After strolling about its small center, many people head to either its beaches or the beautiful Brijuni Islands. Just a fifteen-minute journey away, they have some great outdoor activities to enjoy with archaeological sites and a safari park also on offer.
7. Groznjan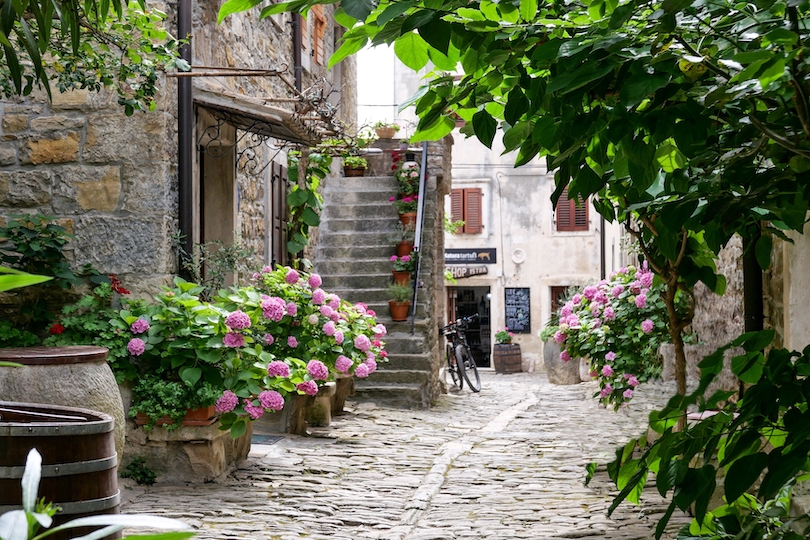 A very peaceful and picturesque place, Groznjan is located not far from Motovun, just inland from Istria's western coastline. As lots of Croatian artists live here, you can pick up some unique souvenirs and artworks in their innumerable studios.
Formerly a fourteenth century Venetian fortress, it slowly transformed into a lovely little medieval town and an important centre for the arts in Istria. Exploring its cobbled alleyways is loads of fun as cool art galleries and workshops pop up wherever you look. Aside from perusing their creative window displays, you can buy handmade jewellery, clothes and paintings to take back home.
There are also some fine restaurants in the tiny town and delicious truffle products to try. Surrounded by gorgeous vineyards and olive groves, Groznjan was a welcome surprise as we didn't know much about it beforehand.
6. Brijuni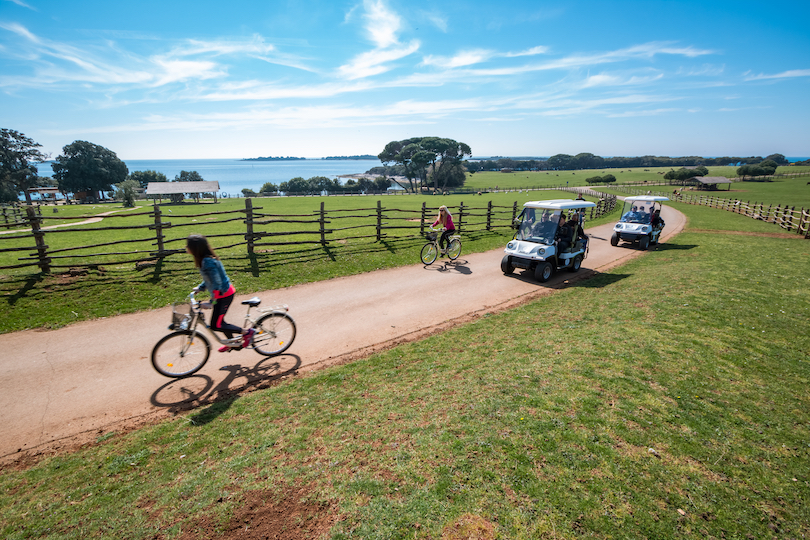 Once the summer residence of Yugoslavia's leader Josip Broz Tito, the idyllic Brijuni archipelago is now a national park. Easily reached in just fifteen minutes from Fazana, it has interesting archaeological sites and an excellent animal park to visit.
Lying along Istria's west coast, the archipelago consists of fourteen isles though only two are now open to the public. Under Tito, their lush, secluded reaches hosted elite guests and influential politicians and monarchs from around the world.
On Veliki Brijun and Mali Brijun, the two largest islands, you can see elephants and antelope in its safari park and the remains of a Roman fortress and villa. There are also old dinosaur footprints to visit alongside an informative exhibit on Tito.
Visitors can also arrange golf, diving or yachting experiences and cycle or drive golf carts about its extensive trail network.
5. Medulin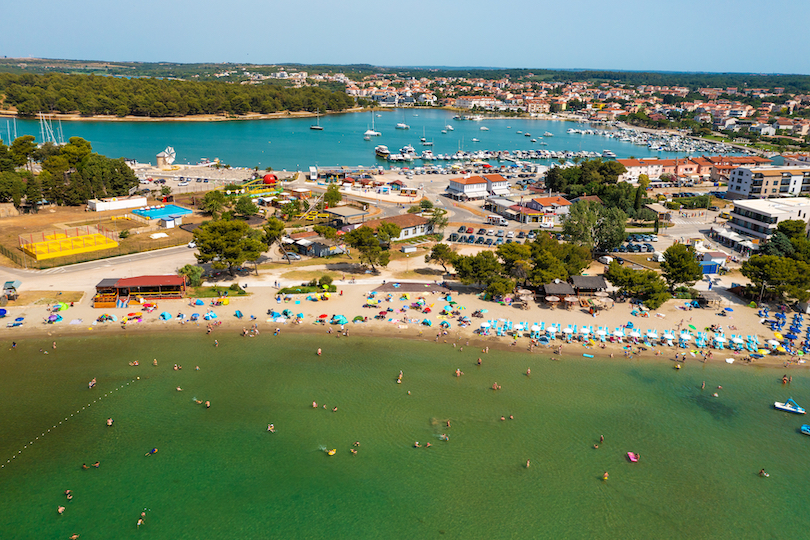 Located in a lovely spot between Cape Promontore and Capo Merlera is the small coastal town of Medulin. A convenient base for exploring the region, it is known for its cozy campsites and captivating coastline.
A very popular summertime destination, the welcoming town has two main hubs of activity: its harbour and central square. At each are countless restaurants and cafes with the latter also containing the soaring twin spires of St Agnes Church.
From the waterfront, you can take relaxing boat trips to nearby islands or top up your tan on Bijeca Beach, one of the few sandy beaches in Istria. Very walkable, Medulin is perfect for a family holiday with Pula also lying nearby.
4. Pula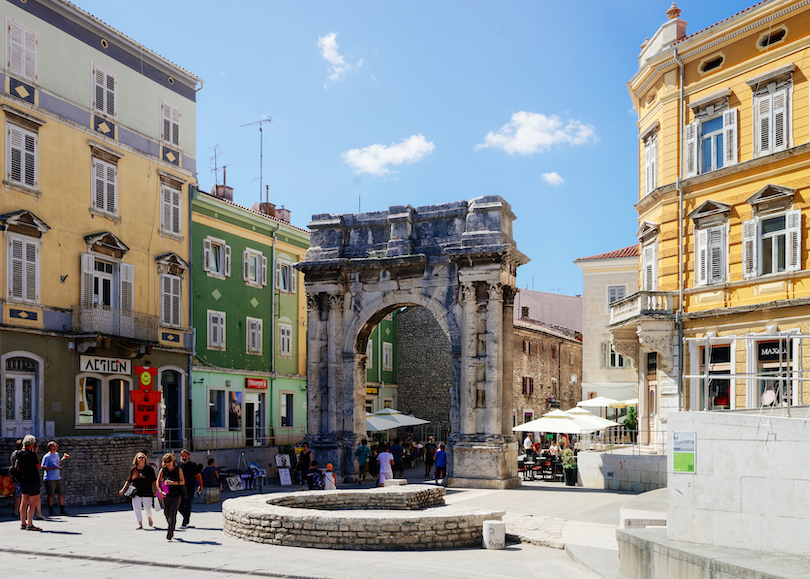 Most known for its enormous Roman amphitheater, the vibrant port city of Pula has a lot to see and do. Set right in the peninsula's south, it has lots of magnificent beaches and impressive historic sights to check out.
Now the largest city in Istria, it was remarkably founded over 3,000 years ago. All around town, you can see remnants of its Roman past such as the forum, Temple of Augustus and Arch of the Sergii. The awe-inspiring Arena however is, of course, its standout sight.
One of the best-preserved around, it dates to the first century so is roughly the same age as the Colosseum. The Arena still hosts concerts and events in summer, 2,000 years after fierce gladiator fights and jousting competitions took place. We were gobsmacked at its staggering size and really can't recommend it enough!
Other than seeing its Roman ruins, you can lounge on the beach or head up to Fort Kastel for divine views over the city and coast. As Pula is a university town, there is a lively, youthful feel about its centuries-old streets.
3. Poreč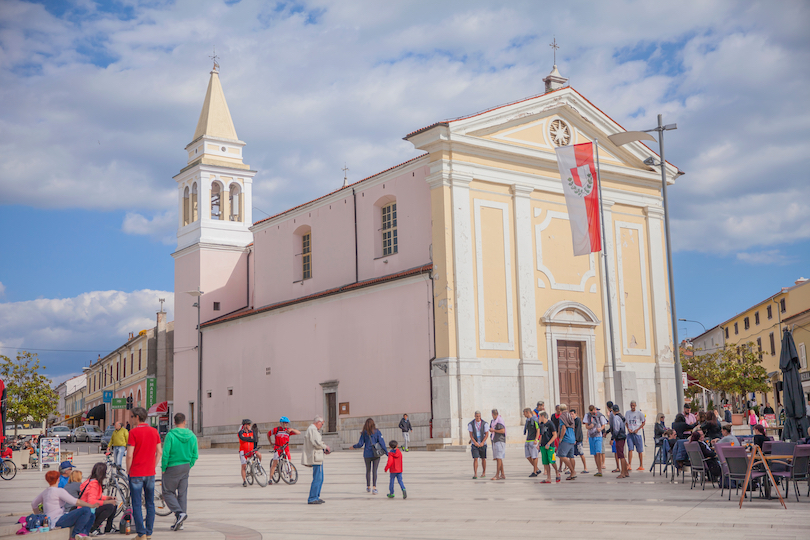 Rivaling Pula is the very popular Porec which also has a rich history and heritage to uncover. Occupying a small peninsula that juts out into the Adriatic Sea, its charming centre is a delight to wander around. Although it gets quite packed in summer and a party vibe takes over, there's a reason why so many people stop by.
Also established in Roman times, the seaside town lies just north of Vrsar and Rovinj along Istria's west coast. After ambling about its stunning promenade and squares, explore the Euphrasian Basilica. Built in the sixth century, it exhibits some exquisite architecture and is famed for its phenomenal mosaics and artworks.
All its Baroque, Gothic and Romanesque palaces only add to the town's considerable appeal. To learn more about its past, visit the Porec Museum's outstanding collection of religious icons, paintings and old weapons.
On top of all its extensive historic sites, six kilometres of hotels and resorts are strung along its glittering coastline. Here you can relax, visit the Roman-era ruins and try fun watersports like sailing, kayaking and parasailing.
2. Motovun
Often called the 'King of the Hilltop Villages', Motovun is perched atop a small mount to the northeast of Porec. As well as arresting scenery and architecture, the town is renowned for the tasty truffles unearthed in the surrounding forests.
Tucked away in the Mirna River valley, its 277 meter-high hill looks out over verdant vineyards and fields. Due to its setting, the Venetians erected a sturdy ring of walls around its old town in the fourteenth century. Still standing today, they are punctuated by gigantic gates and towers.
As you stroll about its center, you'll see beautiful Gothic and Romanesque buildings home to unique boutiques and artists' studios. Besides sampling truffles and picking some to take home, you can gaze over the picturesque countryside from its viewpoints.
1. Rovinj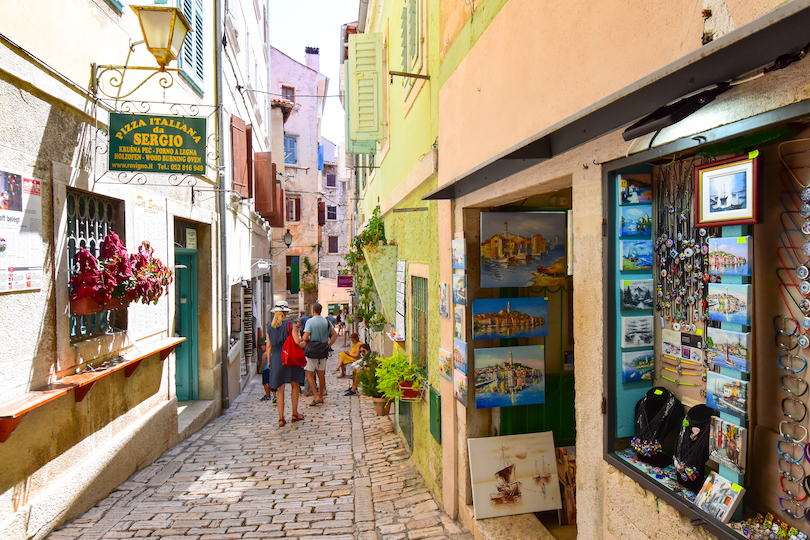 Istria's most enchanting holiday destination, however, has to be Rovinj as its old town occupies a small headland surrounded by the Adriatic Sea. Tightly packed together, its centuries-old buildings, narrow streets and seafront really are a treat to explore.
Situated midway down the west coast of the peninsula, the quaint town was founded back in Roman times. Now a popular tourist resort and fishing port, its ancient piazze displays a wide range of architectural styles that make for some fantastic photos. Lots of little local bars and restaurants now also occupy its gorgeous Gothic, Renaissance and Baroque buildings.
Presiding over everything is the colossal Cathedral of St. Euphemia and its lofty bell tower. The highest point in Rovinj, its campanile provides magical panoramas of the city and sea below. Some interesting artworks and relics can also be seen inside.
Other than ambling around the old Venetian Quarter and snapping photos of its many landmarks, you can wander about alongside the harbor too. With delightful beaches, bays and islands to enjoy nearby, Rovinj was the highlight of our time in Istria.
Map of Things to do in Istria, Croatia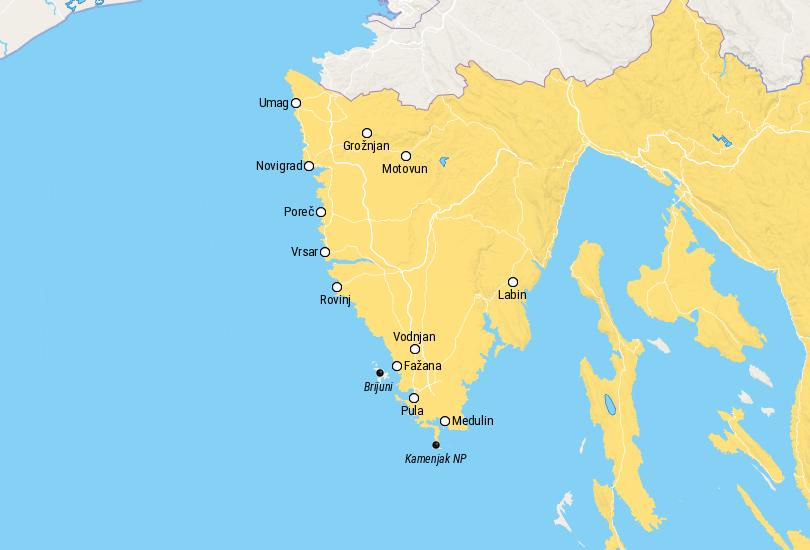 © OpenStreetMap © MapTiler © Touropia