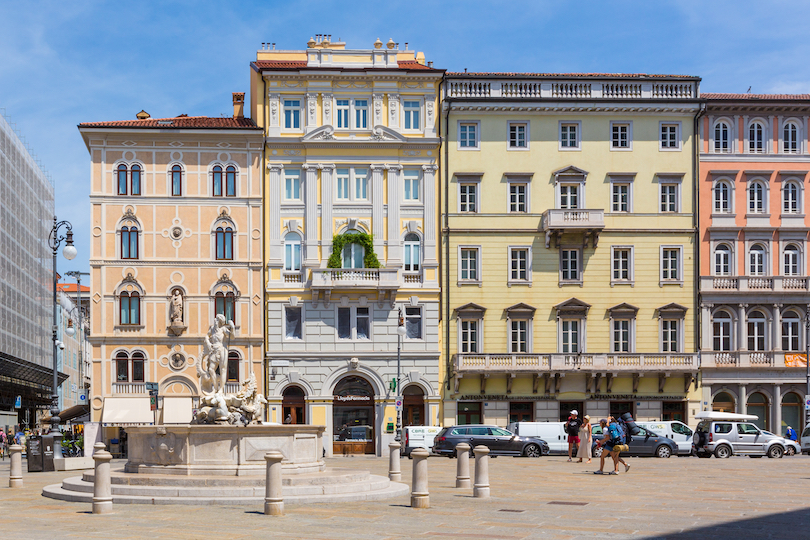 Fittingly known as 'Little Vienna by the Sea', Trieste has a very distinct history, culture and cuisine for you to uncover. Thanks to its location, the important port is very cosmopolitan with Italian, Slovenian and Austro-Hungarian influences. This makes it fascinating to explore as its architecture and ambience are quite unlike the rest of Italy.
Occupying a narrow strip of land between the Alps, Slovenia and the Adriatic, it was actually part of Austria from 1382 until 1919. This explains all its Hapsburg-era buildings and charming historic cafes that are more Viennese in look and feel. While many of its monuments and facades date to this time, millennia-old Roman ruins can be found here and there.
Now the capital of the Friuli Venezia Giulia region in Italy, the city's sparkling seafront is bordered by elegant buildings, squares and the Canale Grande. With incredible castles, churches and art collections to explore, there are plenty of things to do in Trieste to keep your busy for a while.
Map of Trieste
© OpenStreetMap © MapTiler © Touropia
In this post, we'll cover:
18. Saint Spyridon Church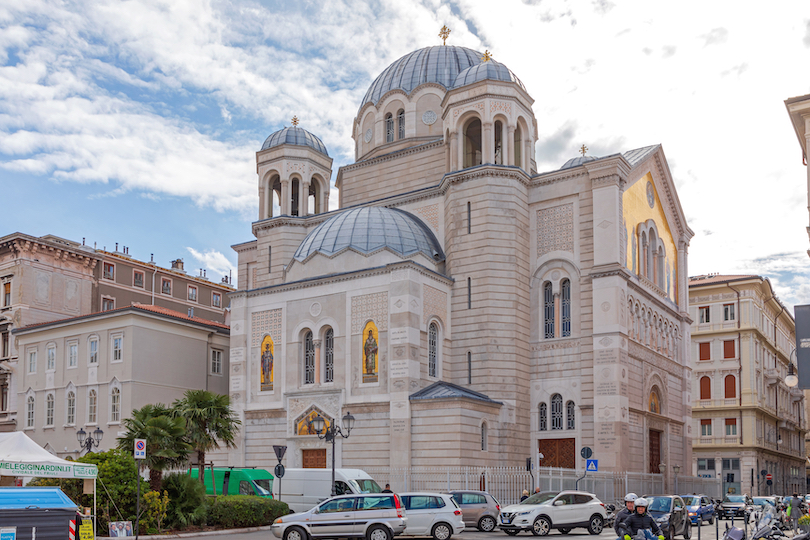 Right in the heart of the Citta Vecchia at the end of the Canale Grande is the striking Saint Spyridon Church. Exhibiting some exquisite artworks and architecture, its elegant domes and fetching facade make for some fantastic photos.
The spiritual home of the city's Serbian Orthodox community, it was erected back in 1756, soon after Empress Maria Theresa had permitted them to freely practice their religion. Once you've admired all its cupolas and arches, head inside to see all its glittering treasures and beautiful colourful paintings.
Aside from its immense, gold altar, there are fine frescoes to gaze up at, coating the high up ceilings of its dome and transepts. The first Orthodox church we've ever come across in Italy, its atmospheric interior really was a treat to wander around.
17. Castello di San Giusto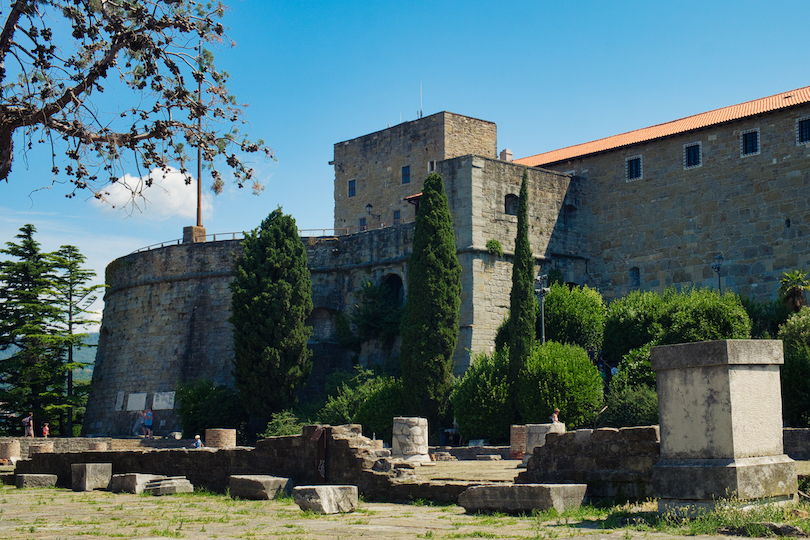 Just a short walk south of the church is the imposing Castello di San Giusto which overlooks Trieste from atop its strategic hilltop. Besides basking in sweeping views over its harbor, Old Town and the hills around it, the fort also has a fascinating past to delve into.
While fortifications have stood here since at least Roman times, the current castle 'only' dates to the fifteenth century. Built by the Hapsburgs, it strengthened and enlarged an already existing medieval Venetian bastion.
After sauntering across its wooden drawbridge and narrow moat, you can amble around its old halls, chapel and courtyard or venture up onto its ramparts. Its archaeological museum also contains loads of cool old weapons and exhibits on the castle's history.
Right before its entrance too are the ruins of ancient Roman columns and the majestic mosaic-filled Trieste Cathedral. All together, they make panting your way up Capitoline Hill well worth the effort.
16. Arco di Riccardo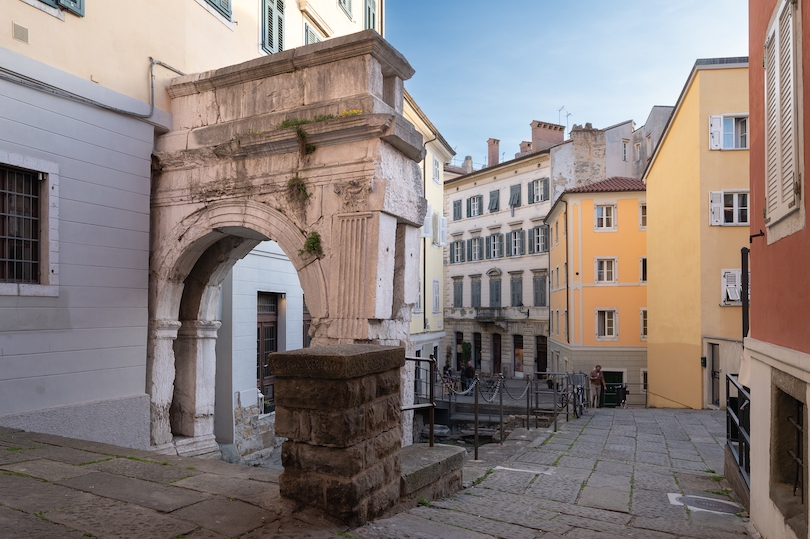 At its foot is yet another of the seaside city's very many archaeological sites. The only remaining part of its Roman-era walls, the Arco di Riccardo is located in an otherwise quite modern-looking square in the Old Town.
Literally meaning 'Richard's Arch', the gigantic marble gate was constructed in 33 BC with numerous theories abounding about its name. The most popular (yet improbable) of these is that the triumphal arch is now named after Richard the Lionheart who passed by during the crusades.
Remarkably well-preserved for its age, its seven meter-high stone blocks and faded carvings create some great photo opportunities. Now partially incorporated into the side of a building, the arch also looks awesome lit up at night. Right by it too are countless little local bars and eateries to stop off at before heading on your way.
15. Audace Pier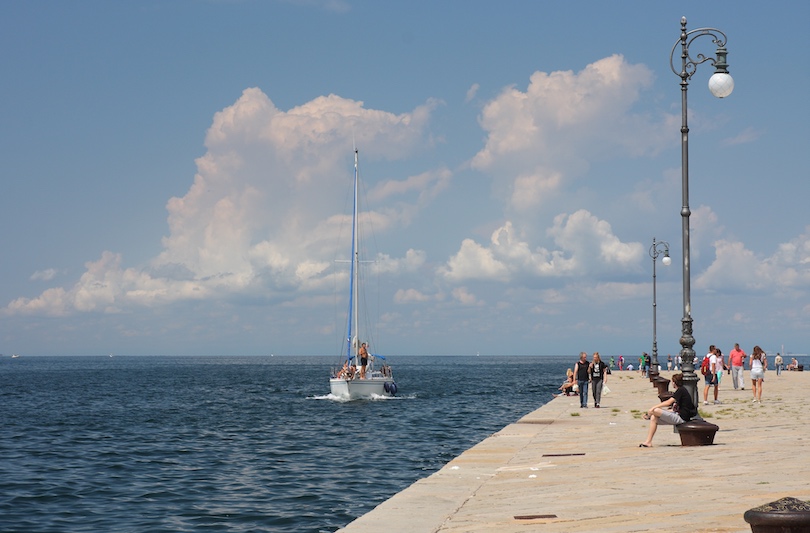 Jutting out into the glinting Gulf of Trieste is the seemingly endless Audace Pier. Set in between both the Piazza dell'Unita d'Italia and Canale Grande, it is a very picturesque spot to stroll along and take in vivid sunsets over the sea.
Stretching around about 250 meters in total, the sturdy stone walkway has been extended a number of times since its inauguration in 1751. Named after an Italian Navy destroyer – the first to dock here – the pier is now mostly only used as a pedestrian promenade.
Dotted by ornate lamp posts and old iron bollards, it really is a lovely, peaceful place to spend some time. Besides boasting breathtaking views over the Adriatic, it also offers up spectacular panoramas of Trieste's romantic waterfront and main square. We loved watching the sunset here and seeing the city's buildings and monuments slowly light up afterwards.
14. Kleines Berlin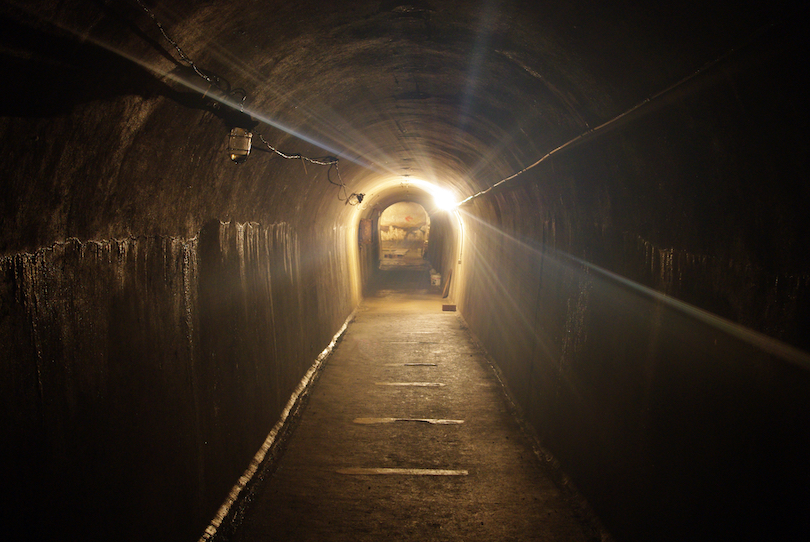 As they're only open the last Friday of every month, it can be hard to time your trip to Trieste with an underground tour around Kleines Berlin. If you are in town, the complex of WWII air-raid shelters is a must-visit though as they provide an interesting snapshot into a seldom seen part of the city's past.
Once they annexed Trieste in 1943, the Germans quickly set about building an extensive system of military defenses. To protect soldiers and civilians alike, the now eerie, abandoned tunnels were built under the court area around the same time.
Accompanied by an expert guide, you'll venture down into their gloomy confines where you'll see old artifacts and historical photographs. In either Italian or English, they'll explain what life in the tunnels and Trieste was like during the Second World War. Utterly captivating, the big bunker, its tunnels and well-done displays are often a highlight of people's visit to the city.
13. Museo Revoltella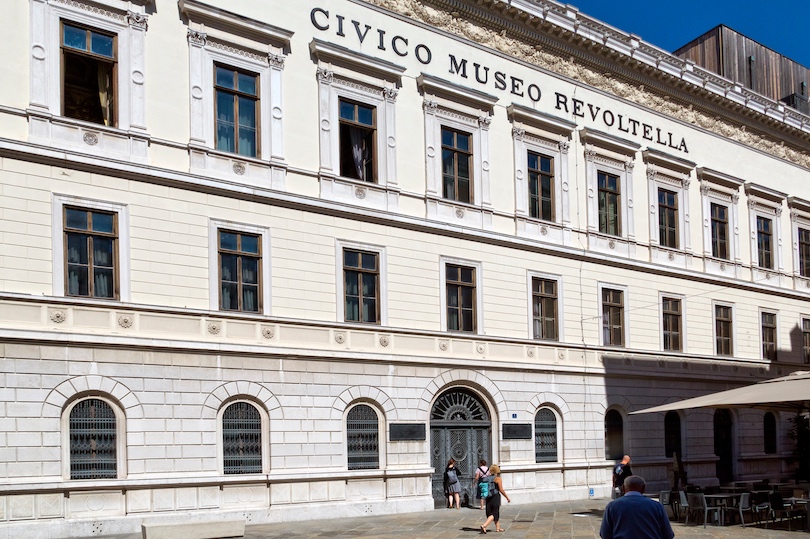 One of the country's most important modern art galleries, Museo Revoltella lies right at the corner of Piazza Venezia. While plenty of Impressionist paintings and contemporary sculptures are displayed, the museum's elegant rooms and antique furniture are every bit as stunning.
Bequeathed to the city by Baron Pasquale Revoltella, the superb collection occupies his extravagant Renaissance Revival-style palace. Very well-preserved, its first three floors still look almost the same as they did during the 1850s. This means lavishly decorated halls and staircases lead to resplendent rooms home to fabulous frescoes, glass chandeliers and all manner of ornate furniture.
If this wasn't enough, its top three floors contain thought-provoking installations by local artists from the region and influential figures such as Carlo Carra, Lucio Fontana and Arnaldo Pomodoro. Once you've had your fill of paintings, sculptures and furniture, head to its rooftop terrace for divine views over Trieste.
12. Teatro Romano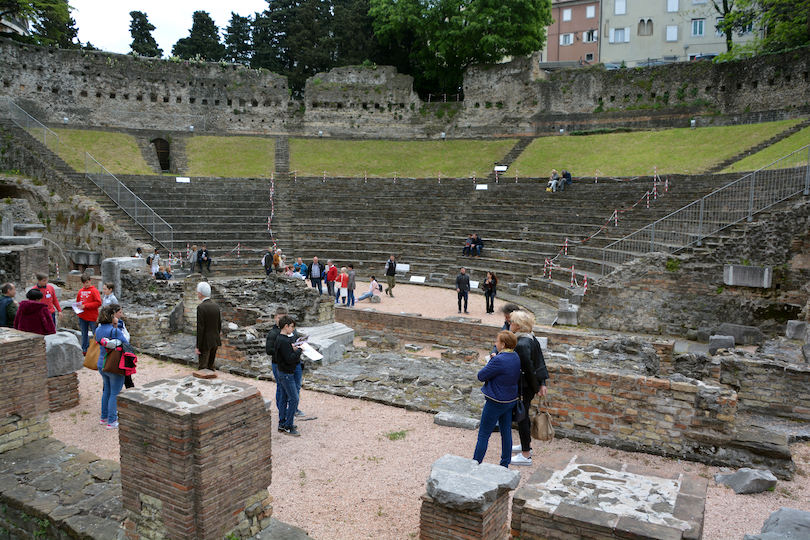 Lying right in the historic heart of town is the Teatro Romano; one of its oldest and most impressive sights. Set in the side of San Giusto hill, its ancient steps, seats and stage create quite the contrast with the chic waterfront just steps away.
Dating to around the first-century AD, the smallish amphitheater was constructed when the Romans were turning Tergeste into an important port upon the orders of Emperor Octavius. Only unearthed in 1938, its ruins were hidden for countless centuries by landfill and buildings. Back in its heyday, up to a staggering 6,000 spectators would have packed out its three semicircular seating tiers.
Since their discovery, the 2000-year-old theater has been one of Trieste's main attractions with many passing by when exploring the Citta Vecchia. Although it is maybe not quite as extensive or dramatic as many others in Italy or around the Adriatic, we still enjoyed seeing it and snapping some photos.
11. Museum Riseria di San Sabba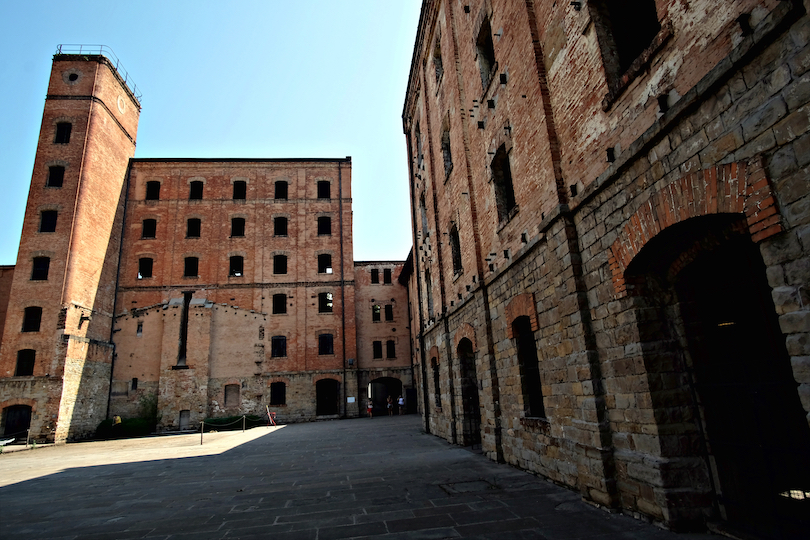 A very moving place, the must-visit Museum Risiera di San Sabba documents in painstaking fashion the tragic events that took place here during WWII. Used by the Nazis as a concentration camp, the former rice factory was also the only one in the country to contain a crematorium.
Now not much more than a hollowed-out husk, the five-story brick building was largely destroyed by the fleeing Nazis to hide the evidence of all their atrocities. From 1943 to 1944, over 25,000 Jews, partisans and politicians are thought to have been imprisoned and interrogated here. Of them, three to four thousand were tragically shot, beaten or gassed to death.
Making your way about the factory is a very sombre experience as both its wide-open empty spaces and narrow claustrophobic cells evoke a feeling of horror. Accompanying each area of the museum are informative plaques while its audio guide also provides some more detail. Situated about twenty minutes south of the center by bus, the site also acts as a memorial for all those who lost their lives.
10. Canale Grande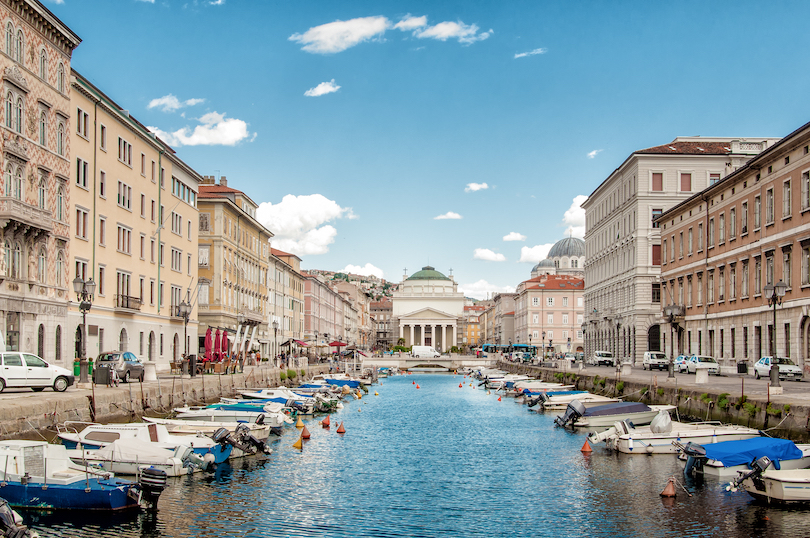 After emerging from its harrowing exhibits, the gorgeous Canale Grande makes for a very welcome change of scene and ambience. Lined by lots of beautiful old buildings and lively cafes, its reflective waters are one of the most famous and photogenic parts of the center.
Located in between Piazza dell'Unita d'Italia and the main train station, its surprisingly short channel was dug in 1756. Despite only stretching just 200 meters in total, two pretty old stone bridges and a more modern pedestrian walkway still manage to cross it before it reaches the sea. From them, you can take phenomenal photos of its glinting waters, colourful boats and the fine facades to either side.
Rising up at its very end too is the imposing Neoclassical Church of Sant'Antonio Nuovo; one of the city's most recognizable buildings. A splendid statue of James Joyce also lies just before it along the canal. This is because the revered writer lived on and off in Trieste and wrote some of Ulysses here.
9. Enjoy a Coffee in a Historic Cafe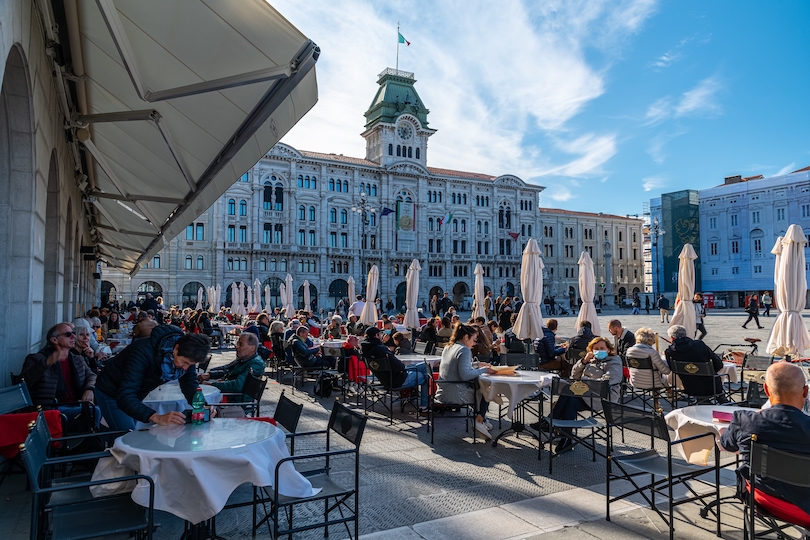 As Trieste was ruled by the Hapsburgs for so long, it has a decidedly different coffee culture from the rest of Italy. Central to social life, 'little Vienna by the sea' has tons of historic cafes where you can sit and savor strong brews while gazing out over its scenic squares and seafront.
Now rightfully known as the 'Coffee Capital of Italy', its reputation dates back roughly three centuries. As Austria-Hungary's main seaport, coffee beans poured into Trieste from every corner of the globe thanks to its tax-free status. Due to this, cafes sprung up along every street with the first having been opened in 1768.
Many still even exist today with Caffe degli Specchi, Caffe San Marco and Caffe Tommaseo counting among the oldest. Aside from all their atmospheric old-world interiors and attractive outdoor terraces, some have their own brands and blends to try.
Unlike the rest of the country where you knock the coffee back quickly at a bar, here each sip is to be savored slowly. After asking for a 'capo in B' – sort of a small cappuccino – just relax and watch the world go by. Seemingly packed at all hours, enjoying its quaint historical cafes actually ended up being one of our favorite things to do in Trieste.
8. Grotta Gigante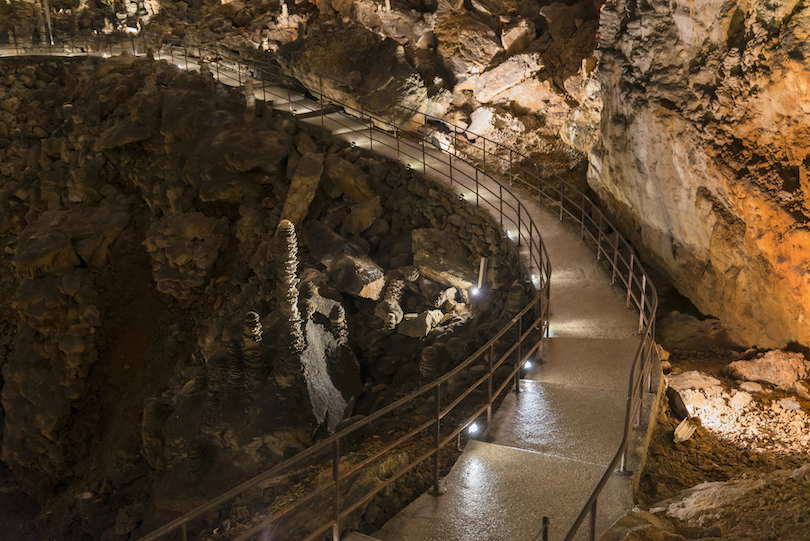 Simply jaw-dropping, the ginormous Grotta Gigante is remarkably one of the largest caves open to tourists anywhere on Earth. Full of sparkling stalactites and stalagmites, its immense natural hall lies just half an hour north of town by bus.
Slowly formed across the millennia by erosion, the cavernous cave was only discovered by accident in 1840. For well over a hundred years now, all its cool karst formations have astounded visitors with their beauty. Its stupendous size though is really what hits you as St. Peter's Basilica in Rome could actually fit within it.
As you slowly make your way down its 500 steps to the cave floor, you can enjoy magnificent views of its softly lit walls and craggy ceiling far, far above. In total, the hall towers a whopping 107 meters in height. As it stretches 130 meters in length and is 65 meters wide, the cave really is enormous.
A firm favorite with families, it is certain to be unlike anything you've ever seen before. Unless that is you've been to the even larger La Verna cave in France!
7. Strada Vicentina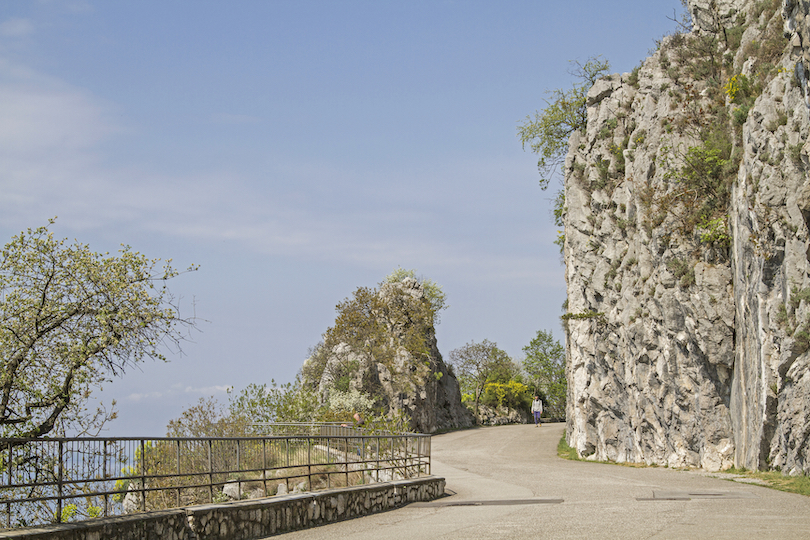 For yet more spectacular scenery, nature and views, hike along the lovely Strada Vicentina between Opicina and Prosecco. Also known locally as the Napoleonic Way, it's easy, flat, almost straight route passes not far from Grotta Gigante.
Either cut into the sides of rugged cliffs or running alongside them, the four kilometer-long path offers spellbinding views over the Gulf of Trieste the whole way along. Its two names hail from the engineer Vicentini who planned it and the Napoleonic troops who some reckon originally created the route.
Very peaceful and picturesque, the paved path takes you by wonderful groves of trees, colourful wild flowers and rock formations. Dotted along are some sublime viewpoints and sites like the obelisk just outside Opicina and Brutalist-style Sanctuary of Monte Grisa.
6. Barcola Beach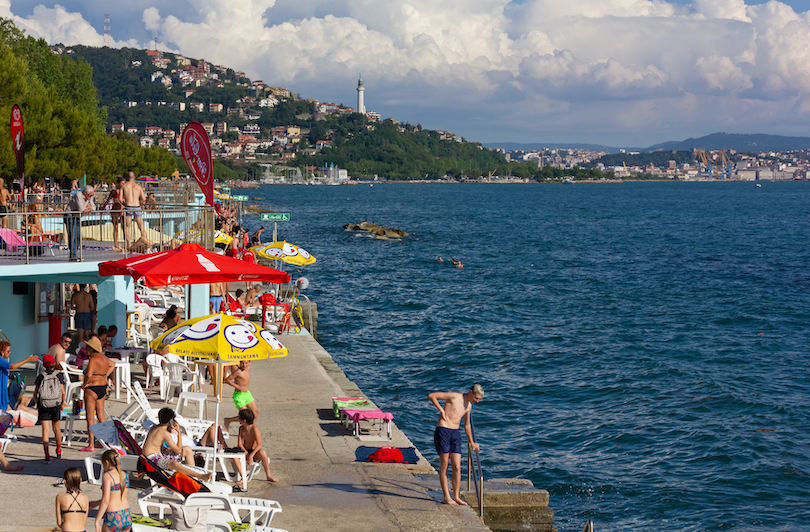 If after all the sightseeing and endless coffee sipping you just want to sit by the water and relax, then Barcola is one of the most popular places to go. Although its 'beach' doesn't actually have any sand, its promenade has direct access to the sea and plenty of shady spots to go around.
Backed by groves of fragrant pines, its attractive esplanade stretches well over a kilometer in length. While there may be no sand, locals and tourists sunbathe either under the trees or all along its warm concrete. Its ten 'topolini' terraces also have changing rooms, showers and toilets to make use of.
As you soak up some sun, you can enjoy excellent views over the coast and Miramare Castle in the distance. Should you get too hot, just jump into the Adriatic's enticing waters right beside you. In the evening, many people stroll along the seafront, stopping off at its numerous little lively bars.
5. Faro della Vittoria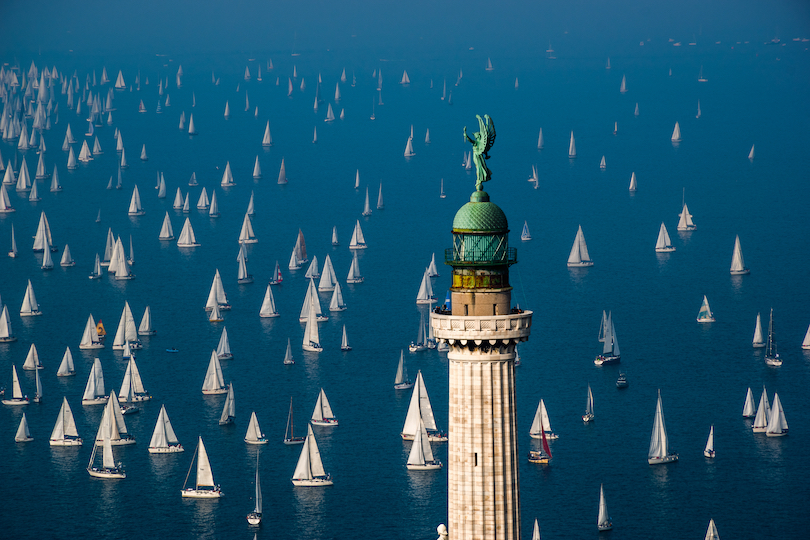 Just south of Beach Barcola on the way back into town is the Faro della Vittoria. Visible for countless kilometers around, the iconic landmark and lighthouse make for some fantastic pics with its high-up summit only being open at weekends.
Perched atop Gretta hill, its massive concrete column soars a considerable 68 meters in height. One of the tallest lighthouses in the world, it was erected in 1927 to celebrate Trieste joining the Kingdom of Italy. More sombrely, it also commemorates those who lost their lives at sea during the First World War.
Still in use today, its striking tower is topped by a large statue of Victory while one of a seaman also adorns its front. Visitors can opt to take the elevator to its observation platform or painfully pant their way up over 250 steps. Either way, you're rewarded with phenomenal views over the city, coast and sea before you.
4. Trieste Cathedral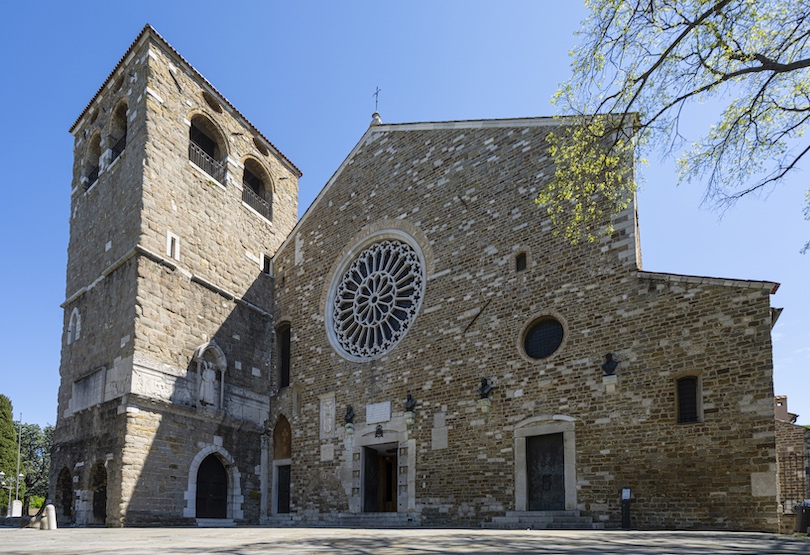 Also set atop Capitoline Hill, Trieste Cathedral can be found right next to the Castello di San Giusto. Exhibiting an intriguing mix of architectural styles, it has some impressive mosaics and important old tombs to check out inside.
Interestingly enough, the cathedral was actually created back in the fourteenth-century by combining two earlier churches together. Despite this, its weathered brick facade still looks quite unremarkable with both Gothic and Romanesque-style features on show. The highlight here though is undoubtedly its wonderful rose window.
While its interior again appears quite plain, some pretty colored patterns decorate its arches, and an almost glowing gold and blue fresco covers the ceiling above its altar. Along its aisles to either side too are some amazing mosaics and ornate tombs from the House of Bourbon. You can also climb up its bell tower for awesome views over the entire Old Town.
3. Citta Vecchia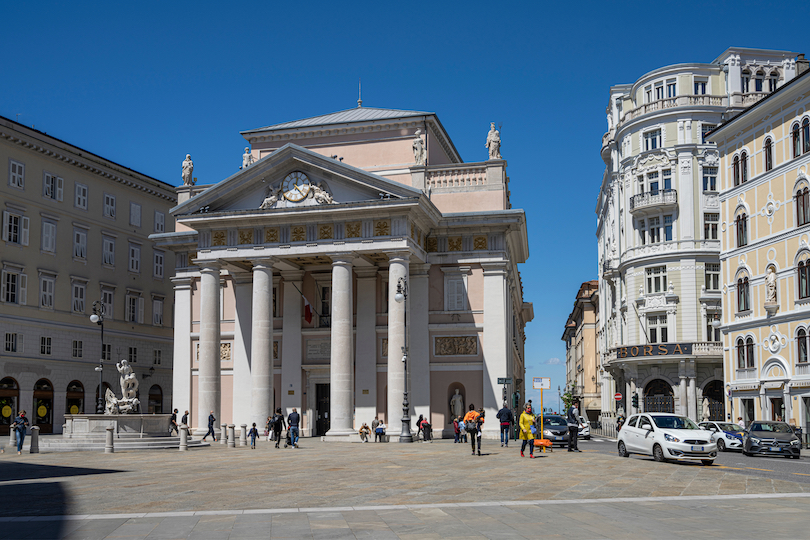 Loads of fun to get lost in, Citta Vecchia's warren of cobblestone streets contain most of the seaside city's main sights and many of its best dining establishments too. Besides Roman amphitheaters and arches, you can find countless quiet churches, squares and cafes at which to pass the time.
Mostly pedestrian, its mess of medieval buildings are sandwiched in between San Giusto hill and the sparkling Adriatic Sea. Quite hilly in places, the Old City has lots of lovely architecture and charming centuries-old churches like those of San Silvestro and Santa Maria Maggiore to admire. Lining all its little squares and streets too are tons of traditional bars and trattorie to try out.
After wandering about for hours, stopping for an aperitif or gelato is the ideal way to take in its lively yet laidback ambience. Along with its seafront, the Citta Vecchia was by our favorite part of Trieste.
2. Piazza dell'Unita d'Italia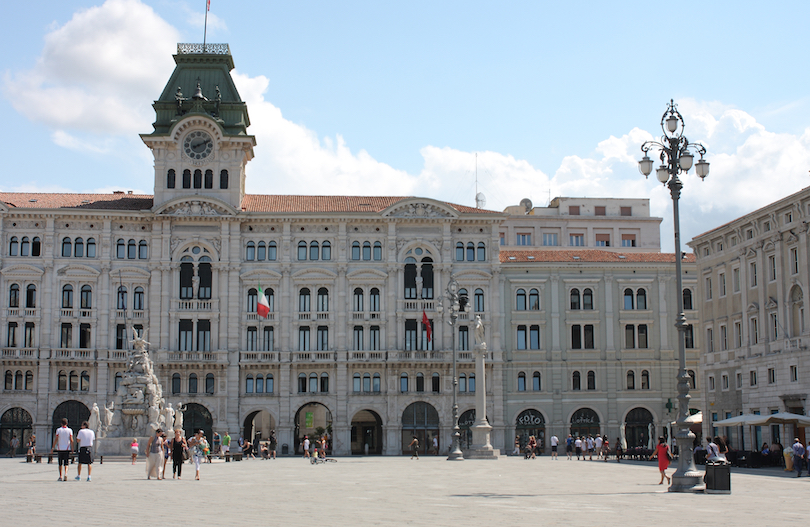 In contrast to Cavana and the Jewish ghetto's claustrophobic alleys, the marvelous Piazza dell'Unita d'Italia stretches away endlessly before you. Europe's largest seafront square, all its grand buildings look out over the Adriatic with everything delightfully lit up at night.
Surrounded by stupendous palazzi and public buildings, the city's main piazza was commissioned by Empress Maria Theresa to impress visitors to Austria-Hungary's most important seaport. It certainly achieved its goal as beautiful Baroque, Neoclassical and Art Nouveau facades line its paving stones.
Dominating one whole side of the wide-open square is Trieste's Eclectic-style Town Hall that dates to 1875. Its central clock tower also overlooks the 1754 Fountain of the Four Continents which is made up of many striking statues. Other eye-catching landmarks include Palazzo Pitteri, Palazzo del Lloyd Triestino and the classic Caffe degli Specchi.
While Piazza dell'Unita d'Italia, its buildings and views already look incredible during the day, at night it arguably looks even better. We loved strolling around enjoying the sea breeze whilst all its facades were so magically illuminated against the dark sky.
1. Miramare Castle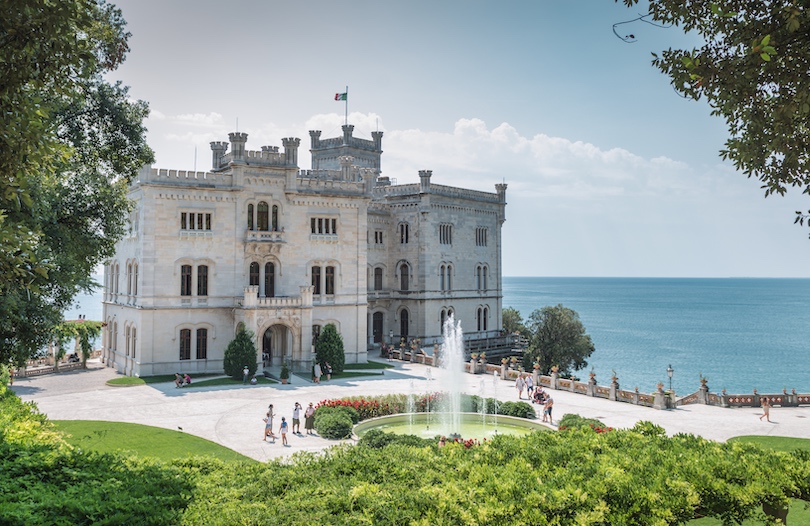 Just past Barcola along the city's northern coastline is the majestic Miramare Castle; one of its main symbols and sights. A photographer's dream, its bright white walls and elegant towers look stunning as they rise dramatically above the sea and shore about them.
Erected atop a small spur overlooking the Adriatic, the massive manor was built in 1860 for Austrian Archduke Ferdinand Maximilian. He and his newly-wed wife Charlotte of Belgium briefly resided here before departing for Mexico where they were crowned emperor and empress and executed a couple of years later.
Also Eclectic in style, the fairytale-like castle now has loads of lavishly decorated rooms, apartments and halls to amble around. Its antique furniture, artworks and exhibits provide more of an insight into nineteenth-century aristocratic life and that of the ill-fated couple too.
Once you've snapped some pics of its crenellations and gazed out over the glittering Gulf of Trieste, make sure to explore its extensive gardens too. Immaculately maintained, they're full of exotic plants and flowers with pretty pools, statues and viewpoints dotted here and there.
Where to Stay in Trieste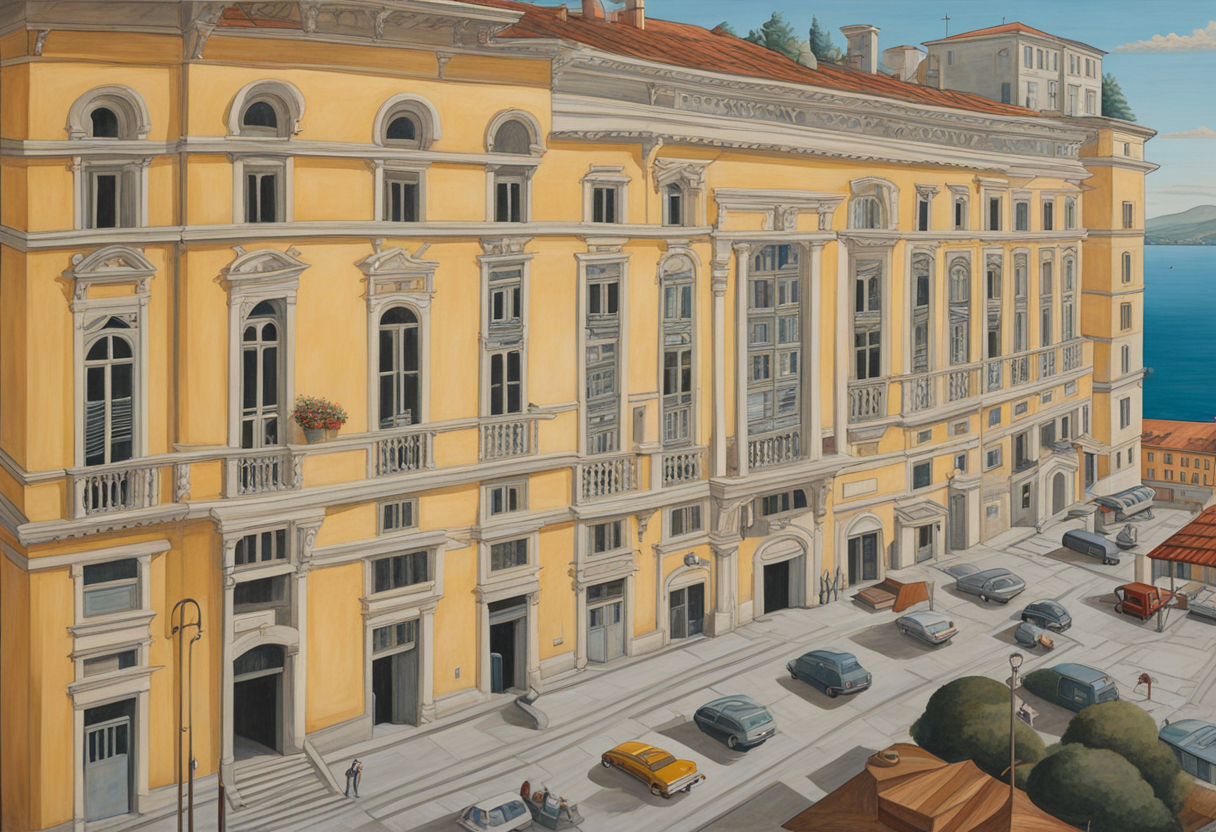 The vast majority of Trieste's accommodation options are either clustered about Citta Vecchia or line the streets north of the Canale Grande towards the train station. As many tourist attractions in Trieste are within walking distance from here, they are very convenient spots to stay when visiting town.
One such place is the superb Hotel Solun, just a stone's throw from the canal and seafront. Very chic and stylish, the vintage-inspired four-star hotel has clean, comfortable rooms and spacious suites for guests to enjoy. Well-equipped, they often come with balconies and even living areas. In addition, its retro-looking restaurant puts on brilliant breakfasts while the staff are very friendly and welcoming.
Just a bit further towards the train station is the very relaxed, family-run Hotel Milano. Still near to all the centre's main sites, the three-star hotel has simple rooms for up to four guests to sleep in. Asides from being clean and comfy, they are quiet and come with minifridges and satellite TVs. Great value for money, it also has a casual bar and lobby lounge with breakfast buffets being available.
How to get there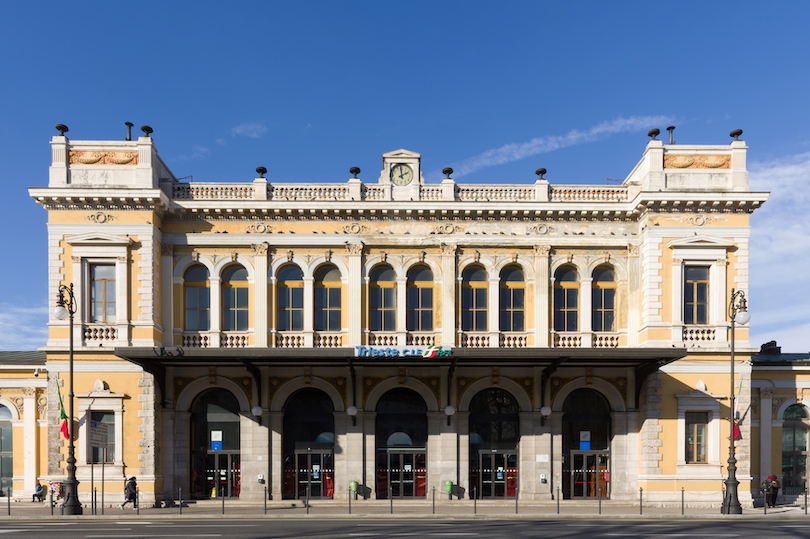 Located right in the very northeast of Italy, it is served by the rather small and regional Trieste – Friuli Venezia Giulia Airport. Flights arrive here from around about twenty different destinations both in Italy and abroad. It is then a half-an-hour train journey to the center from its terminal. Other airports within two hours of Trieste are those of Ljubljana, Pula and Rijeka.
High-speed trains also connect you to everywhere from Venice and Udine to the much further away Florence, Rome and Milan. International trains also depart for both Ljubljana and Vienna.
Other than driving, you can also take buses to and from the city from dozens of destinations around Europe. These include not just Belgrade and Berlin but Dubrovnik, Prague and Salzburg too.
Once you arrive, you can walk almost everywhere or take local buses and trains to nearby sights.
Approximate travel times:
Venice – 2 hours by car, 1 hour 45 minutes by train
Ljubljana (Slovenia) – 1.5 hours by car, 1.5 hours by train
Udine – 45 minutes by car, 20 minutes by train
Grado – 45 minutes by car, 1 hour 30 minutes by bus
Piran (Slovenia) – 1 hour by car, 1 hour 30 minutes by bus
Rijeka (Croatia) – 1.5 hours by car, 2 hours 30 minutes by bus
Zagreb (Croatia) – 3 hours by car, 4 hours by bus and train
Best Time to Visit Trieste
As it lies between the Alps and the Adriatic, Trieste enjoys a pretty mild Mediterranean climate, quite unlike other cities across northern Italy. This usually means that the winters aren't too cold nor the summers too hot. The city does receive quite a bit of rain, though this is evenly spread across the year with November being the wettest month.
The best times of year to visit are from June through to August when Trieste is sunniest and temperatures average between 25 and 28°C (77 to 82°F). While this is the busiest and most expensive period, it is also when swimming is the most comfortable and enjoyable.
May and September are also ideal as they see fewer crowds and loads of daylight, though it can rain quite a lot during the latter. Prices don't drop much until earlier or later in the year. The beginning of October sees Trieste's most famous event, the exciting Barcolana take place. The largest sailing regatta in the world, it has thousands of ships of all different sizes race about the Gulf of Trieste. Over the course of ten days, numerous competitions are held at sea with concerts, exhibitions and food villages also dotted about on land.
December to March is the least popular time to visit due to the cooler weather (around 8 to 12°C, so 46 to 53°F) and gloomier skies. You can find some cheaper deals at this time with its Christmas market and Trieste Film Festival being good reasons to book. The strong Bora wind that sometimes sweeps Trieste can make exploring the center less comfortable though.