Lying in the glittering Adriatic Sea just an hour's ferry ride from Split on the mainland, Hvar is one of Croatia's most beautiful islands and most popular tourist destinations. Its long and indented coastline is home to lots of secluded coves and gorgeous beaches, while jagged peaks, lush vineyards, and quaint little villages dot its mountainous interior.
Besides the stunning scenery, the island also boasts many idyllic little coastal towns for you to visit; each of these has its own look, feel, and identity. Hvar Town, for instance, sports some wonderful historical tourist attractions as well as upmarket hotels, fine dining establishments, and a fun and lively nightlife scene.
Jelsa and Stari Grad are much more laidback and quieter. With so many different things to do in Hvar,, the island is a joy to explore, with picture-perfect beaches, stupendous views, and charming towns wherever you look.
11. Jelsa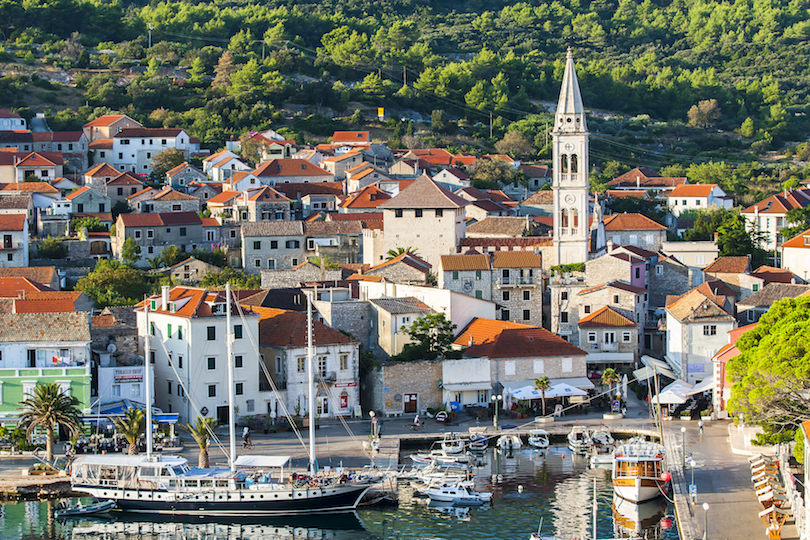 Nestled away on Hvar's northern coastline, the small town of Jelsa certainly paints a pretty picture. Its red-roofed houses cluster around the blue waters of the harbor, backed by forest-coated hills and mountains. As it was founded all the way back in the 14th century, the town is home to some fascinating historic sights, with centuries-old churches lying alongside monuments and sculptures of famous figures.
Although it may lack the star attractions of Hvar, it is a delightful place to spend some time, as its winding streets are lined with cozy cafes and rustic restaurants. In addition to this, there are also some great pebble beaches nearby where you can go swimming or relax amid nature.
10. Lucisca Beach
Located just a short distance away from Sveta Nedjelja on the island's southern coastline, the small and picturesque Lucisca Beach is a lovely spot to head to if you want to sunbathe or swim in an idyllic setting.
Hidden away along a very rugged part of the coast, the little pebble beach is dominated by jagged mountains, with hardy pine trees and shrubs tumbling their way down to the azure waters of the Adriatic.
Accessible by either car or boat from Hvar, Lucisca Beach's remote setting makes it the perfect place to relax and unwind – although it can get a bit crowded, especially in the summer months.
9. Vrboska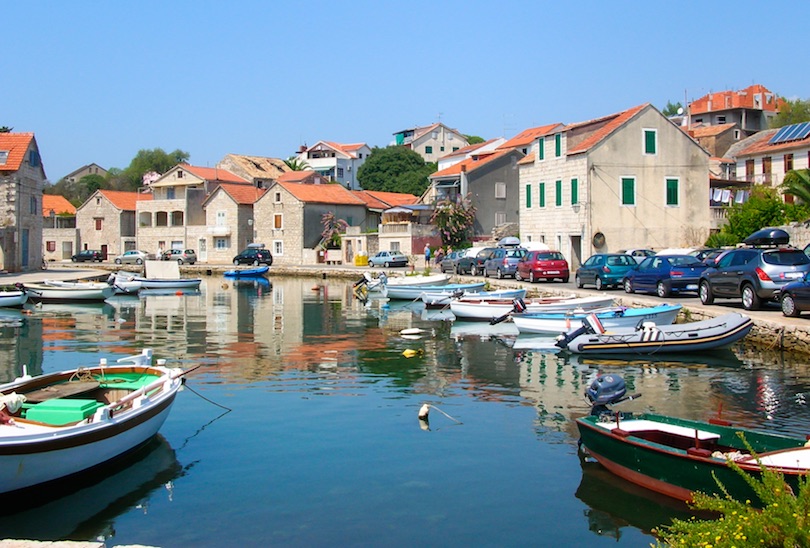 If you're looking for a quiet getaway, then you can't beat Vrboska – the smallest town on the island. Tucked at the end of a long narrow bay, it is often called 'Mala Venecija' – or 'Little Venice.' A small stone bridge connects the two sides of town and it certainly does look gorgeous.
Full of magnificent Renaissance and Gothic-style buildings with paved streets winding their way between them, Vrboska is a very serene place, with small fishing boats gently bobbing in the bay. Besides the wealth of cafes and restaurants dotting the waterfront, there is also the distinctive St Mary's Church Fortress for you to check out, as well as the centuries-old Church of St Lawrence.
8. Franciscan Monastery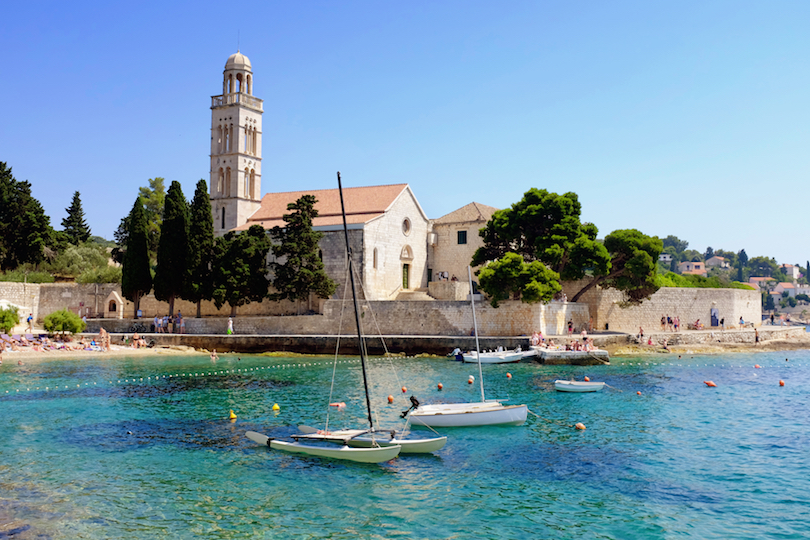 Just a short stroll along the waterfront from the main square in Hvar, this fabulous 15th-century Franciscan Monastery is set in a very scenic spot overlooking a small cove. While its graceful bell tower and Renaissance style cloister make for a fine sight, the monastery's real treasures all lie inside. Besides the marvelous collection of ancient artifacts, coins, and charts on display, there are also some impressive paintings by Venetian artists for you to enjoy.
Of these, the undoubted highlight is the awe-inspiring The Last Supper, which is believed to have been painted by Matteo Ingoli of Ravenna. Combining art, history, and architecture into one enticing package, the Franciscan Monastery is not to be missed when in Hvar Town.
7. Mlini Beach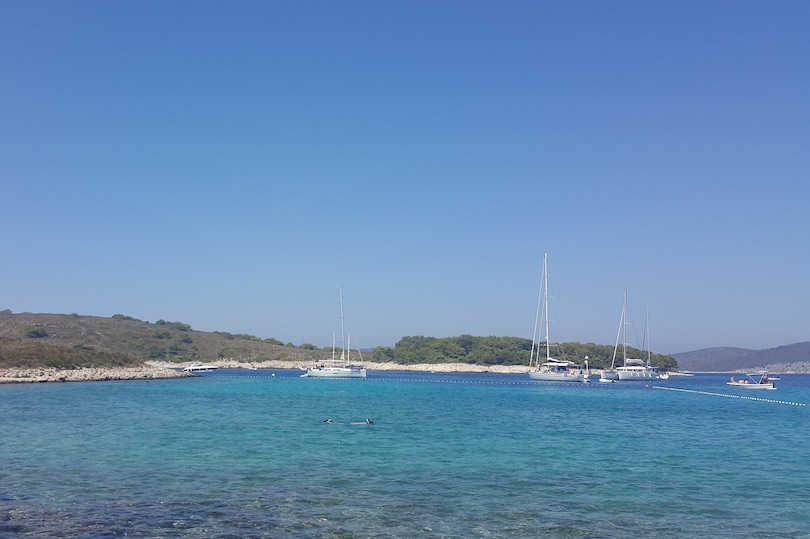 kmoutogianni / Flickr
Often overlooked by visitors to Hvar, Mlini Beach lies just a ten-minute boat ride away from the town on the western shores of Marinkovac – the second largest of the Pakleni Islands. Bordered by sparkling turquoise waters with delightful views out over the nearby islands, the pebble beach is the ideal place to head to if you want to sunbathe or swim in a pretty setting without going too far from Hvar Town.
As a couple of small restaurants and cafes can be found not far from the beach, you can easily spend an afternoon or even day here quite happily. While Mlini Beach is quiet and peaceful for most of the year, during the summer months, it can get quite busy.
6. Stari Grad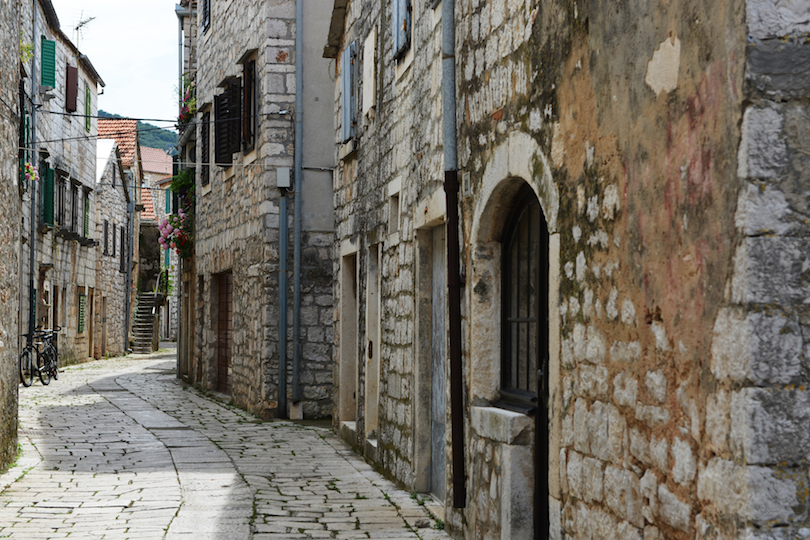 Remarkably the oldest town in the whole of Croatia, Stari Grad was founded on the north coast of the island by the ancient Greeks in 384 BC. Over the course of its long history, the town has been ruled by everyone from the Romans and Venetians to the Austro-Hungarians and even Napoleon. As such, there are some fascinating archaeological sites for you to visit, as well as lots of old villas and churches showcasing various architectural styles.
Set on a bay of the same name, the town's charming waterfront and old quarter are magical to explore. Interspersed amongst its many historical sights are lots of fantastic cafes and bars for you to try out. Much more serene than Hvar Town, Stari Grad is one of the main towns of interest to visit on the island, and justifiably so.
5. St. Stephen's Cathedral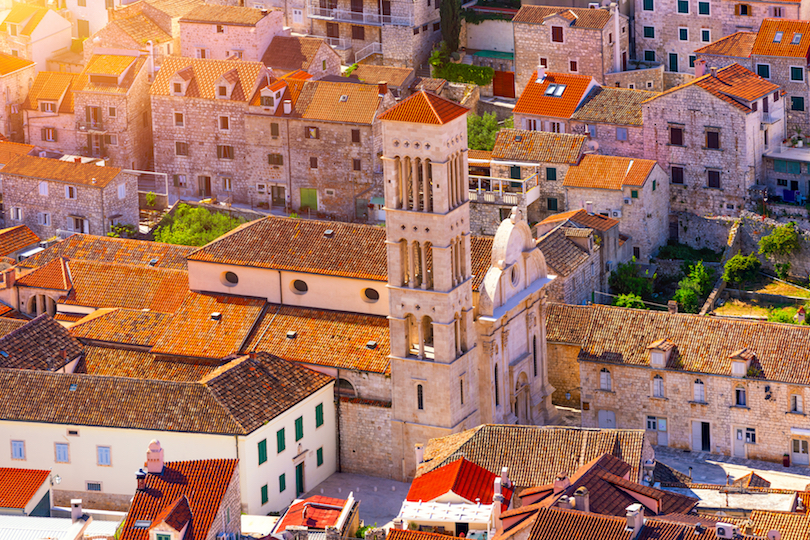 Dominating one end of the main square in town, St. Stephen's Cathedral is certainly one of the most impressive and important landmarks in Hvar. Rising above the cafe-strewn paved piazza, its distinctive-looking bell tower and beautiful facade make for some great photos; this is one of the first sights you come across when you arrive in town.
Exhibiting a harmonious blend of Baroque and Renaissance features, the current cathedral was built in the 16th century atop of an earlier church which was destroyed by the Ottomans.
While its interior is pleasant, if unremarkable, there are some interesting stone reliefs for you to check out at the back, as well as some finely carved choir stalls. Having stood in the same spot for centuries, St. Stephen's Cathedral is a key part of the town's identity, and Hvar really wouldn't be the same without it.
4. Pakleni Islands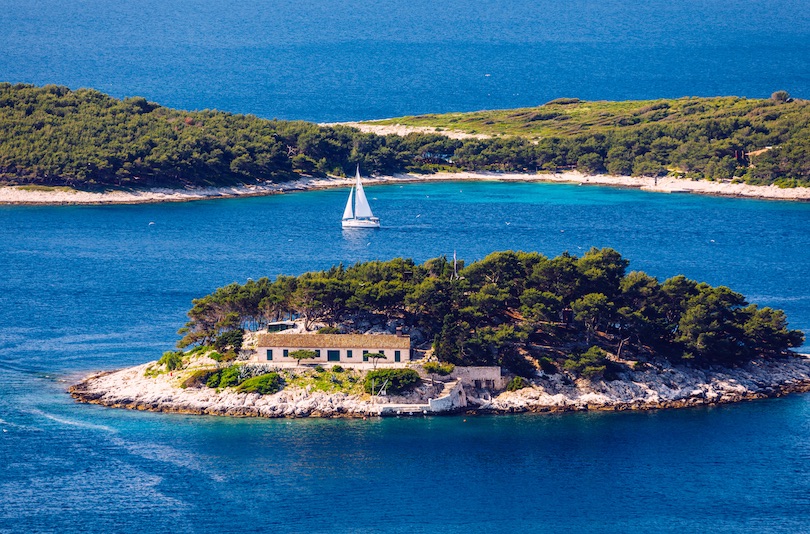 Scattered about the Adriatic Sea just to the southwest of Hvar, this small archipelago is home to some stunning scenery. In total, there are 16 different isles and islets for you to explore. Surrounded by crystal-clear waters, the limestone isles are coated in pine forests, with their indented coastline hiding secluded coves and bays as well as breathtakingly beautiful beaches.
While Sveti Klement is the largest of them and has the most to offer in terms of cafes, restaurants, and bars, others – such as Marinkovac and Jerolim – are just as worthwhile for their incredible beaches and laidback vibe. As each of them has its own particular look and identity, taking a boat trip around the Pakleni Islands is simply a must, with all of them being just a short boat trip away from Hvar Town.
3. Dubovica Beach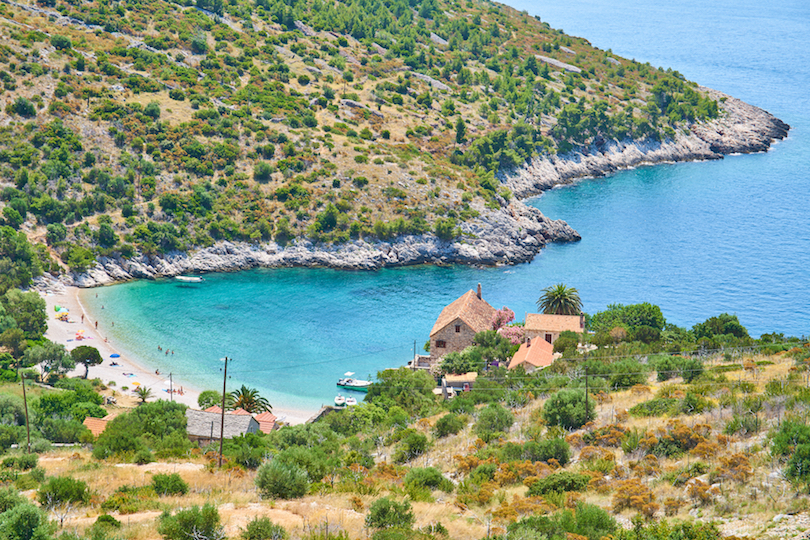 Arching its way around a small cove with pine forests, olive groves, and centuries-old stone houses surrounding it, the white pebble Dubovica Beach certainly is as picturesque as they come.
Bordered by the shimmering Adriatic Sea, the beach is perfect for lounging lazily on, and you can always cool off in the inviting waters if you get too hot.
Alternatively, head to one of its small cafes and restaurants to grab a drink or bite to eat in the shade while taking in the scenic setting. Located just a short drive from Hvar Town, Dubovica is one of the most popular beaches on the island. Bear in mind that it can get quite crowded, particularly during the summer holidays.
2. Tvrdava Fortica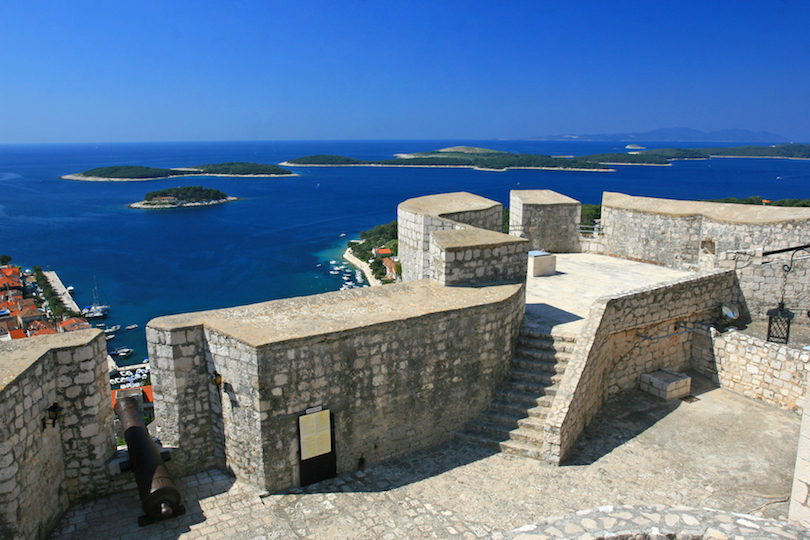 Looking out imperiously over Hvar from atop of a hill, Tvrdava Fortica has kept watch over the town for centuries. Although locals know it as 'Spanjola' – or 'Spanish Fort' – the fortifications were actually built by the Venetians in 1278, although earlier versions have stood in the same spot since at least the sixth century. In 1571, the fortress proved its worth when it sheltered and saved the townsfolk from the invading Ottomans, who pillaged and destroyed the town below.
Nowadays, walking through the rebuilt town with all of its magnificent old buildings is an amazing experience as you slowly make your way up the hill to the imposing fort. From its sturdy walls, you can enjoy breathtaking views out over Hvar, with the gorgeous Pakleni Islands visible just offshore.
In addition to this, Tvrdava Fortica also hosts an interesting collection of artifacts and amphorae if you want to learn a bit more about the area's rich history.
1. Trg Sv Stjepana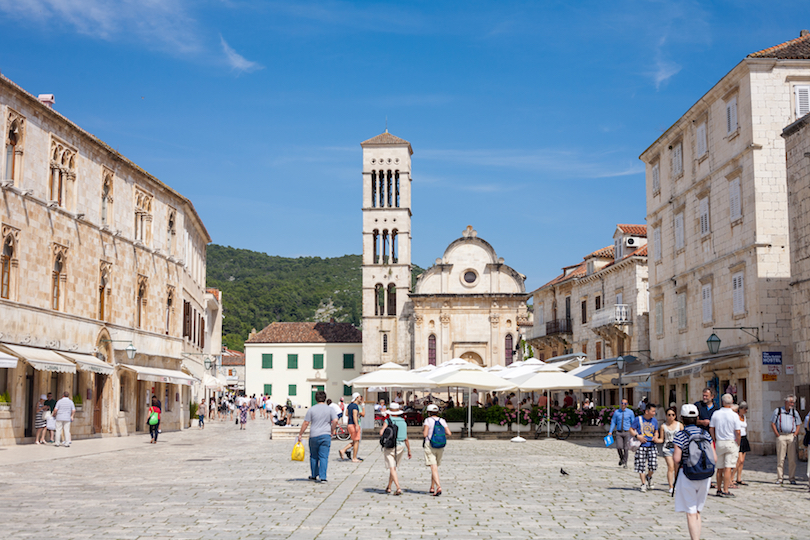 The beating heart of Hvar, it is around Trg Sv Stjepana – the main square – that life in the town revolves. One of the most beautiful, impressive, and oldest squares in the whole of Croatia, its paving stones are lined by marvelous historic buildings that date back to the 15th and 17th centuries.
Besides the splendid St. Stephen's Cathedral, there are lots of elegant and important buildings, such as the Arsenal, Bishop's Palace, and Governor's Palace for you to gaze upon. One end of the square is left open and leads on to the Adriatic. With lots of cafes and restaurants dotted about the square, it is a very lively place to spend some time and is particularly atmospheric at night when everything is tastefully lit up.