Oozing all of the deliciousness of the Mediterranean way of life, a trip to Croatia is all about soaking up ancient history in its many old towns, delighting in beautiful beaches lapped by turquoise seas, and devouring fresh food on sun-drenched terraces.
From the well-trodden tourist destination of Dubrovnik with its incredible Old Town to island excursions surrounded by beaches and nightlife and more secluded spots in lesser-known towns, Croatia is an extraordinary place to visit.
In this post, we'll cover:
Map of Places to Stay in Croatia
© OpenStreetMap © MapTiler © Touropia
With so much on offer, it's no wonder that Croatia is becoming such a popular tourist destination. Spend days here languishing on beaches or get lost among the wilds of nature; Croatia isn't all about big tourist sights.
Accommodation is plentiful and varied – you can find yourself in a seaside resort or a locally run guesthouse with ease. There's something for everyone in this jewel of Adriatic. So get ready to explore and find a space in this enticing country that's all yours.
Dubrovnik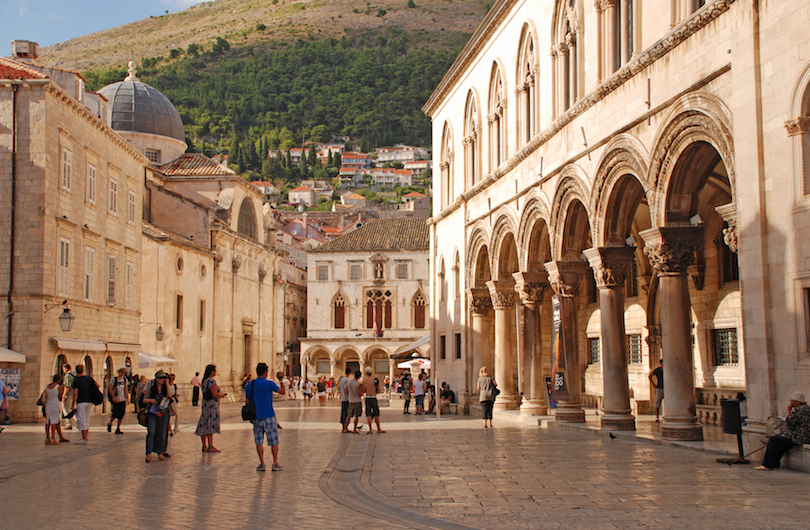 © Inna Felker / Dreamstime
One-of-a-kind and alluring, Dubrovnik sits in the South of Croatia and has been enticing visitors for years with its sparkling blue waters and impressive city walls. The city's Old Town is charming, with limestone streets and beautiful renaissance, Gothic, and Baroque palaces and churches. Although the Old Town can sometimes feel packed with tourists, it still remains a wondrous place to explore – especially outside of the summer season when visitor numbers soar.
Take the cable car up to the top of Mount Srd – or climb the steps if you want a workout – and gasp at the view of the gleaming Adriatic. The pristine beaches and laid-back dining scene that serves up fresh fish create a welcoming atmosphere. Along with the high-end hotels and mid-range accommodation, it's no wonder that Dubrovnik is so popular.
The Old Town has also gained popularity for being the filming location of Game of Thrones and Star Wars, which just goes to show what an iconic place the old, walled city is.
Where to Stay in Dubrovnik
luxury
Hotel Dubrovnik Palace – Known as one of the most recommended accommodations in Dubrovnik, this swish 5-star hotel treats you to a private beach and a scuba diving center. Other amenities and services at the captivating Hotel Dubrovnik Palace include a swimming pool with a bar, multiple restaurants – including one right on the beach – a quirky bar, and a state-of-the-art spa and wellness center. Rooms here flaunt a lustrous design and earthy tones and come with an ensuite bathroom with luxury toiletries, as well as a private balcony with incredible vistas of the Elaphite Islands.

midrange

Hotel Adria – A magnificent 4-star hotel with breathtaking views of Lapad bay, Hotel Adria is a great choice for all kinds of travelers. Amenities and services at the hotel include wo spacious pools (one at the rooftop), a world-class spa and wellness center, and a splendid international restaurant. Benefiting from unparalleled views of the Elafiti Islands, the guestrooms here come in the hues of beige and mocha and feature an ensuite bathroom.
Scalini Palace – Situated in the heart of the Old Town, this recently renovated 16th-century manor turned 4-star hotel is as intriguing as it is elegant. A lavish breakfast spread, room service, and a very warm and informative tour desk are some of the things you can enjoy during your stay here. Rooms at the Scalini Palace feature modern furnishings as well as a kitchenette and a furnished balcony overlooking the gorgeous Old Town.
Split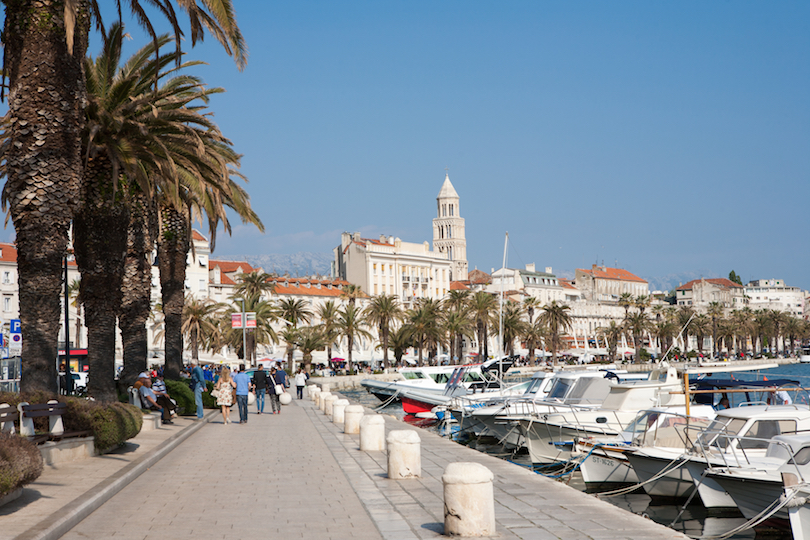 © Andras Csontos / Dreamstime
Known for its quite literally ancient Old Town but made more famous in recent years thanks to Game of Thrones shooting a few scenes here, Split is a destination that – like many places in Croatia – mixes history with seaside living.
That's right, the second largest city of Croatia boasts an Old Town whose famous relic is Diocletian's Palace: a sprawling palace built for the Roman emperor Diocletian in 305 AD. But it's not all history.
Head west to the Marjan Forest Park and you'll find hiking trails, botanical gardens, look-out points, and locals jogging around. In the less historic but no less lovely east of town, there are beaches where you can chill and splash around in the sea.
Hotels in Split are a mix of mid-range and budget, with some very affordable backpacker hostels on offer. Choose from somewhere in the Old Town, packed with options, or head somewhere a little more local.
Where to Stay in Split
midrange
Villa Split Heritage Hotel – Set within the Diocletian's Palace, this 10th-century Romanesque landmark houses one of the classiest 4-star hotels in the city. Featuring interiors that combine the best of both worlds, rooms boast hardwood floors with wooden beams and stone walls, as well the latest furnishings, including satellite TVs and work desks. Located in such a strategic spot, Villa Split Heritage offers easy access to almost all of the important sights in the city.

budget

Hotel Villa Diana – A pleasant, family-run, beachfront hotel, Villa Diana offers you a comfortable and enjoyable stay within a compound that is known to be of cultural importance in the city. Simple yet functional, this 3-star hotel features an in-house restaurant with an extensive Dalmatian and international food menu, as well as an elaborate list of the finest wines in the region. Owned by one of the oldest families in the area, the accommodation offers minimalist rooms with contemporary facilities and classy murals.
Hvar Island
© Czekajewski / Dreamstime
Set in the glistening waters of the Adriatic sea, Hvar Island is splendidly drenched in sun. Part of the Dalmatian archipelago, the island enjoys basking in more than 2,700 hours of sunshine a year, so it's no wonder it's a popular holiday destination for Croatian and international visitors alike.
Hvar Town is where you'll find a lot of wealthy visitors enjoying life on their yachts. This doesn't mean that Hvar is exclusive, however, as many people head here to party, enjoy the numerous bars scattered along the sand, and taste the delicious Mediterranean food.
Less lively resorts are located along the northern coast and towards the center of the island, where tradition and farming are still alive. The island is rich with history and culture and is an ideal spot to spend a few days, luxuriating in the sun staying in one of the various hotels. There's a handful of budget hostels and mid-range hotels for travelers to stay in, but accommodation ranges all the way to 5-star sea view offerings.
Where to Stay in Hvar
midrange
Amfora Hvar Grand Beach Resort – Boasting a private beachfront and the benefit of being located on a quiet bay, Amfora Hvar Grand Beach Resort is a well-appointed holiday accommodation with a wide range of top-class amenities and services. A multi-level pool, chic lounge area, and multiple restaurants – including a rooftop diner with scenic views of the Hvar Archipelago – are some of the things to be enjoyed here. Overlooking the well-manicured gardens or Paklinski Islands, the rooms feature elegant furniture as well as a bathtub and a seating area.
Hotel Fortuna – Set in the quintessential village of Milna, this 4-star beachfront hotel offers access to four stunning pebbled beaches and a restaurant that is famous for serving the best of Dalmatian and Mediterranean delicacies. Rooms here follow a minimalist yet bright design pattern, with modern facilities such as flat-screen TVs with DVD players, and ensuite bathrooms with complimentary toiletries. Hotel Fortuna's friendly bar is the perfect place to watch the sunset with a refreshing glass of wine.
Zagreb
© Lev Levin / Dreamstime
Zagreb is the capital and largest city of Croatia, located in the country's northwest region. A far cry from Croatia's coastal cities, Zagreb is nonetheless packed with a whole lot of charm.
Stroll around the red-roofs of the Upper Town, taking in Gothic cathedrals and medieval churches, then head over to Lower Town with its Austro-Hungarian parks, squares, galleries, and museums. It's a city that's brimming with stunning architecture laced with little lanes: perfect for ambling through.
Cafe culture is strong here; grab a coffee and sit out on a terrace watching the world go by. Then you can return to your hotel – these come in all types from budget hotels to quite expensive elegant historical hotels and modern luxury offerings. For nightlife, head out to one of the many bars on the vibrant pedestrianized Tkalčićeva Street.
Where to Stay in Zagreb
luxury
Esplanade Zagreb Hotel – Located right next to the main railhead, this ravishing Art-Noveau style 5-star hotel has been turning heads since 1925. Considered to be one of the most notable edifices in the city, Esplanade Zagreb Hotel spoils you with luxurious amenities and services, such as a terrace restaurant, a fitness center, and a world-class spa and wellness center. The opulent rooms come with the latest furnishings and complimentary L'Occitane cosmetics and toiletries.

midrange

Hotel Dubrovnik – Dating as far back as 1929, this classic hotel in the heart of Zagreb's Main Square offers you a chance to enjoy a luxurious holiday filled with the best of Croatian hospitality. Featuring traditional décor and contemporary amenities, the recently renovated suites and guestrooms come with a minibar, work desk, and an ensuite bathroom. Facilities at Hotel Dubrovnik include a business center, an up-to-date IPTV system, an American steak house restaurant, and a buoyant bar.
Zadar
© Believeinme / Dreamstime
The trendy, historic port city might be lesser known than Dubrovnik but, with its Roman ruins, medieval churches, and cool cafes, this is a city that is well worth your time if you want to escape the tourist crowds.
It might not be overflowing with the same kind of open-air museum feel of Dubrovnik, but that doesn't mean it isn't an intriguing and charming place to spend some time. Located on a small peninsula, Zadar is a unique mix of trendy bars, good museums and excellent transport links to various nearby islands.
The Monument of the Sun might seem like a crazy contraption, and maybe it is. The massive solar power public dancefloor is perfect for watching the sunset, whilst the even quirkier Sea Organ creates music through pipes that are filled with water.
Accommodation around the town is stylish and affordable; you can get yourself a cheap room for a basic price, stay at a local hotel with a pool, or splash a bit more cash and stay at a luxury villa.
Where to Stay in Zadar
Teatro Verdi Boutique Hotel – An artistically marvelous accommodation in the heart of Zadar, this striking 4-star hotel is a great choice for couples or family travelers. Facilities at the Teatro Verdi Boutique Hotel include a 24-hour front desk and a lively bar. The rooms are decorated in neutral colors with contemporary furnishings, twin vanity units, and a spacious wardrobe.
Pula
© Salajean / Dreamstime
If you thought the Old Towns of Dubrovnik and Split were impressive, then get ready for some truly well-preserved ancient history. Pula has its very own amphitheater – the Pula Arena – which is over 2,000 years old!
Other ruins include Roman temples and villas, amongst many other surviving ancient buildings, making this a great place to stay in Croatia if you're looking for history. Even if you're not, this is a dreamy destination.
Located on the Istria Peninsula, jutting out into the Adriatic Sea, Pula has a decidedly Mediterranean flavor and is known for its beaches, plus activities like fishing and yachting. You can even do wreck dives to Roman galleys lying on the seabed.
Stay in an affordable apartment or mid-range hotel in the center of town, or opt for something a little more out of the way with a guesthouse further south.
Where to Stay in Pula
Hotel Modo – A short distance from Stoja beach, this upscale 4-star accommodation enjoys a scenic location with a plethora of amenities and services. A superb international restaurant, shared lounge area, lively bar, and a complimentary parking space are some of the perks of staying at the Hotel Modo. Guestrooms here come with an ensuite bathroom, as well as a seating area and terrace that overlooks the sea. Choose between an Italian breakfast or a buffet to start your day.
Makarska
In the shadow of the Biokovo mountain, majestic Makarska lies between Split and Dubrovnik along the Dalmatian coast. Travelers come here in search of a casual beach holiday with a warm climate and a vibrant nightlife.
The pebbly beaches, old streets, and restaurants make this a great place to stop off and spend some time unwinding. Makarskas is set around an old town; it's all charming paved lanes hiding pretty squares where old churches reside and local markets still thrive.
Resorts along the coast with private beaches are great for a couple's getaway or a family break. The old town itself has affordable hotels that are close to all of the old bars, restaurants, bakeries, and cafes you could ever want.
Where to Stay in Makarska
Valamar Meteor Hotel – Featuring an outdoor as well as an indoor pool with saunas and a fully-equipped wellness center, Valamar Meteor Hotel allows you to enjoy a rejuvenating vacation amidst pure Croatian nature. Only a short distance from the picturesque nature trails of Mount Biokovo, this 4-star hotel has a magnificent beachfront location. Rooms at the accommodation come decked out in hues of white, beige, and blue, with classy furniture and a private balcony. Check out their restaurant for an extensive Dalmatian wine menu and exclusive delicacies.
Trogir
© Andras Csontos / Dreamstime
Located only 17 miles from Split, Trogir is another of Croatia's charming coastal towns. Known for its postcard-ready Venetian architecture and promenades edging the beautiful turquoise waters of the Adriatic Sea, it is set mainly on a tiny island between the mainland and the large island of Čiovo.
It's the atmosphere of Trogir that makes it an impossibly attractive place to visit. In the evening, as it cools down, locals – and tourists following them – head to the wide promenades to find a bar, cafe or restaurant to sink into before walking off the dinner (or drinks) on the promenade again. The slow, low-key pace of life here makes it such a beautiful place to stay in Croatia.
Hotels in the Old Town range from budget to mid-range, but there are a few mainland apartment offerings scattered around, too.
Where to Stay in Trogir
Palace Derossi – Set in the heart of the Old Town, Palace Derossi is a fascinating 4-star hotel with interiors that will make you feel like you are in a fairytale. Featuring an artistic compound of stone houses in various styles, the rooms here display a tasteful décor, with 19th-century antique furnishings and modern shower systems. Boasting a rooftop terrace with a spa bath and brilliant views of the city, the hotel offers a restaurant and bar as well as tour guiding services.
Rovinj
© Podbršček / Dreamstime
The photogenic harbor town of Rovinj in Istria boasts an utterly beautiful old town filled with colorful buildings and pedestrianized streets. Set on a steep peninsula, with its charming church and cobbled streets, Rovinj is a popular destination in the summer months.
While there may not be a whole host of sights to explore, the old streets themselves reveal amazing art galleries, fantastic places to stop off and have a bite to eat, as well as friendly bars and an all-around sumptuous atmosphere.
Rovinj's old town is a romantic kind of place and can be the perfect destination for a couple's getaway, with a great selection of affordable hotels housed inside timeworn buildings and self-catering apartments. Along the coast, there are family resort hotels that boast beautiful sea views.
Where to Stay in Robinj
Family Hotel Amarin – Perched on a green peninsula, Family Hotel Amarin is only a stone's throw away from the shimmering waters of the Adriatic Sea. Luxury facilities at the hotel include four swimming pools with sun lounges, a teen club, an open area for sports activities, and multiple restaurants. Rooms here exhibit a minimalist yet comfortable design, with all the essential amenities, such as an ensuite bathroom and a private balcony with spectacular views. There is also a massage and sauna facility at the hotel.
Korcula Island
© Tudor Stanica / Dreamstime
Located in the central Dalmatian archipelago of islands, Korcula is a distinctly Mediterranean island. It boasts olive groves and vineyards and is dotted with small rustic villages – all adding up to a beautiful place to stay.
Its main town of the same name is often compared with Dubrovnik, and you can see why: it has an amazingly well preserved medieval town and a host of undeveloped beaches dotted around the coast.
Accommodation is quite ample on the island. Korcula Town and Javic in the east and Vela Luka have the best choice. But to really get away from it all, a local stay at one of several guesthouses scattered across Korcula would be great.
There are so many charming villages to see on the island – including the inland Blato and the western coves of Vela Luka – so renting a car to get around may be a good idea!
Where to Stay in Korcula Island,
Hotel Liburna – Situated on a private beachfront that overlooks the Adriatic Sea, this stylish 4-star getaway lets you immerse in the natural beauty of Croatia. Sporting an enriching contemporary décor and elegant furnishing, the gorgeous rooms offer a sea view and an ensuite bathroom. Amenities at the Hotel Liburna include an outdoor pool with a bar, a lively tavern, an open-air aperitif bar, and two tennis courts. Sailing and windsurfing facilities are only a few steps away.