This Adriatic coastal walled city is one of the most popular Eastern European destinations today. Dubrovnik's nickname, the Pearl of the Adriatic, reflects both the architectural beauty as well as the stunning white buildings built vertically up from the sea. It has had special notice in the past few years, as the filming location for King's Landing in the world-renowned Game of Thrones series.
Map of day trips from Dubrovnik
© OpenStreetMap © MapTiler © Touropia
There is much to be found here, regardless of the kind of interest, from historic museums and cultural festivals to watersports and beaches. For those looking for day trips from Dubrovnik, here are some other great places in Croatia and its neighboring countries to discover:
This island off the Adriatic Sea was inhabited for almost a millenium by Benedictine Monks, who named it Lokrum, for the exotic sour fruits they cultivated on the island. This was followed by the creation of a large mansion and botanical garden by the Archduke Maximilian of Austria in 1859. Today, it is accessible by a 10-minute boat trip from Dubrovnik, and is a must-see for garden lovers. The botanical garden here is exquisite, and the nearby mansion of the Archduke a great tour. The ancient monastery is damaged but now used as a restaurant, but still worth a visit. Walking paths make the whole island easily accessible, and for those who are so inclined, the southeastern edge of the beach is popular for nudists.
Getting to Lokrum
As Lokrum is located just a stone's throw away from Dubrovnik, it only takes ten minutes by ferry to reach the island. From the port, ferries depart every half hour during the summer. Once you arrive, the beautiful botanical gardens and interesting ruins of the Benedictine Monastery are just a short walk away.
An incredible way to visit both Lokrum Island and explore the gorgeous Dalmatian coastline surrounding Dubrovnik is to take a guided sea kayak tour. Paddling around in the beautiful sunshine makes for a lovely day out, and in addition to all the fantastic scenery you see, you'll also get to go snorkeling and see both Dubrovnik and Lokrum from the sea.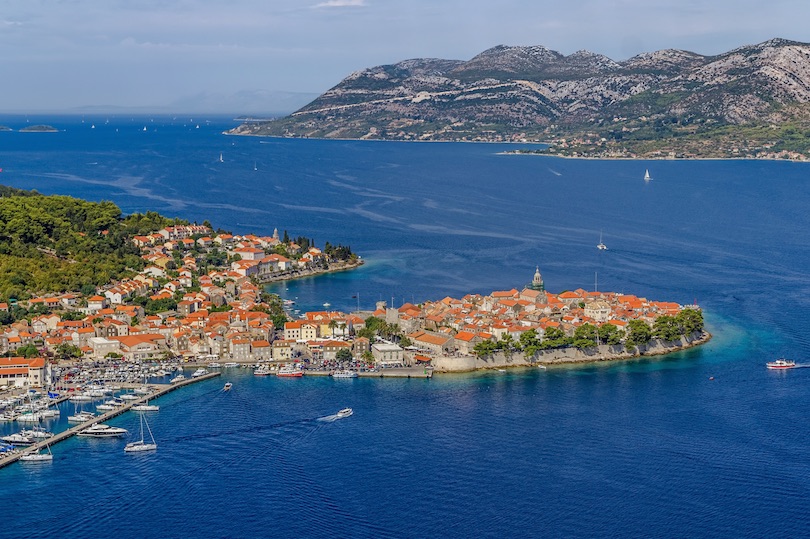 This Dalmatian island is one of the larger in the archipelago, and hosts several coastal and inland towns. Korcula is an excellent place to discover some of the most scenic beaches in Croatia. They are not sandy, so be certain to bring proper footwear. However, they are an excellent location to snorkel and kayak, and rental locations for proper equipment are easy to come by in all of the coastal towns. The island's main town, Korucla Town, is a historic, walled town with Venetian Renaissance architecture, colorful markets and plenty of tourist facilities. History buffs will enjoy visiting the birthplace of the famed world explorer Marco Polo here. Of course, simply exploring the quiet countryside and traditional Croatian lifestyles has its own rewards, and this is an excellent place to start.
Getting to Korucla
The easiest way to get to Korcula Town from Dubrovnik is to take a lovely ferry ride, which generally takes about two hours. While this is a very convenient option, there are only a few ferries a day between the two ports, and they only run daily during the summer time. The rest of the year you will have to take a bus to Orebic and take a ferry from there to Korcula Town. Once you alight on the island, you can take a bus or taxi to any of the other places you'd like to visit on Korcula.
A lovely way to see all the amazing sights that Korcula has to offer is to join a guided tour that takes you to the island. As well as exploring the delightful Korcula Town and seeing the impressive St Mark's Cathedral, on the way back to Dubrovnik, you'll stop off at a local winery to sample some delicious wines.
This nearby coastal town is older than Dubrovnik, and the source of the refugees who founded it. It is accessible by ferryboat, and is a great place to spend a day or two enjoying the quiet sea air, beautiful architecture, and coastal atmosphere. The seafront here is full of a variety of shops and restaurants, and an easy and fun way to spend some time. Art lovers will be pleasantly surprised by the large number of pieces by modernist Vlaho Bukovak dispersed throughout the city.
Getting to Cavtat
Lying just to the south of Dubrovnik, Cavtat is straightforward to reach by public transport, and you can take either a bus or ferry to get there. From the Main Bus Station, the number 10 bus runs once an hour to Cavtat, and the journey takes just an hour. The ferry only runs during the summer, and the scenic boat trip lasts between 20 minutes to an hour depending on which option you choose. As Cavtat is quite small, it is very easy to walk everywhere once you arrive.
5. Mljet National Park
[SEE MAP]
This national park on the volcanically created island of Mljet is one of the most spectacular nature preserves in Croatia. Vast forests, uninhabited coastlines and quiet lakes and inland seas (one with an old monastery on its island) abound in this park, and make it a lovely place to explore by bike or on foot. A catamaran service from Dubrovnik operates twice daily to get here and back, and bikes are available to rent when you arrive. There are hotel accommodations in the town near the park for those who want to spend several days exploring, as the park is only on a portion of the island.
Getting to Mljet
Located just off the Croatian coast to the northwest of Dubrovnik, Mljet National Park is easily reached by public transport, and two catamarans a day run there and back. As they don't run all that frequently, it is a good idea to check the catamaran schedule a few days before you want to head to Mljet. The catamaran stops at both Pomena and Polace, both located right next to the national park. At either of them, you can rent a bicycle to explore the island. From Dubrovnik port, it generally takes two hours to get to Mljet National Park.
Ston and its little neighbor Mali Ston is located 50 km (30 miles) northwest of Dubrovnik on an isthmus that connects the Pelješac Peninsula with the mainland. Formerly part of the Republic of Dubrovnik, Ston was and is, even today, an important salt-producing town. Its economic importance to Dubrovnik led, to the construction of a huge wall in 1333. Still one of the largest holdfasts in Europe the wall was fortified with forty original towers and five fortresses surrounding a cluster of Medieval buildings. The walls stretch much of the way across the small isthmus atop the peninsula where Dubrovnik sits.
Getting to Ston
By bus, it only takes around an hour and 15 minutes to reach Ston from Dubrovnik Main Bus Station. Once you alight, you can easily navigate the town by foot. As only a couple of buses run between the two each day, it is a good idea to check the schedule in advance and plan accordingly.
Driving to Ston couldn't be simpler; all you have to do is follow the D8 up the coast to the northwest, and this will get you there in just an hour. Due to its proximity to both Neum and Medjugorje in neighboring Bosnia and Herzegovina, after you visit Ston, it is well worth crossing over the border to visit the two lovely towns and get a glimpse of a different culture and way of life.
Another option is to go on a guided tour that takes you around Ston and nearby Korcula Island. With oyster tasting, a visit to a local winery, and a walking tour around both beautiful medieval towns included, it is an action-packed day out with a lot for you to see and enjoy.
3. Elaphiti Islands
[SEE MAP]
An easy ferry ride away from Dubrovnik's Gruž Harbor, this Adriatic archipelago is great for those who prefer an unspoilt getaway. This small group of islands only has a few thousand inhabitants, who live on the three largest islands (Koločep, Lopud and Šipan), with the remaining islets being small and uninhabited. Each of the inhabited islands has a modest tourist trade with restaurants and shops. The remaining islets are great exploration for those who love nature or history. Lighthouses, abandoned monasteries, bird preserves, rocky beaches and lots of fun are available for those with a boat and a sense of adventure.
Getting to the Elaphiti Islands
As it is quite difficult to see all three of the glorious Elaphiti Islands in just one day by public transport, it is best to choose one or two to visit; four ferries a day run from Dubrovnik port to Kolocep, Lopud and Sipan. It respectively takes half-an-hour, an hour, and an hour and 15 minutes to reach the three islands. Once you arrive, you can explore all their lovely sights on foot.
If you want to see all three of them in one go, you are best off taking a guided tour, and each of the islands has something new and different to offer up. This means that as well as enjoying a lovely cruise, you will get to wander around incredible medieval architecture, lounge on a breathtakingly beautiful beach or two, and taste some of the area's delicious local cuisine.
This Bosnian town is a trip into a storybook, as the architecture brings you back to a time of castles, dragons, and wizards. The most celebrated bridge in Eastern Europe, known as Stari Most, is worth the trip by itself, arcing beautifully across its river between tall towers. Shoppers will love to haggle in gold alley, where there are all sorts of trinkets both precious and fun to be had. The Balkan wars of the nineties did not leave Mostar untouched, and scars of the conflict are still visible though most are far from the cobbled streets of the attractively restored Ottoman quarter.
Getting to Mostar
As only a couple of buses depart each day for Mostar from the Main Bus Station in Dubrovnik, it is a good idea to check the times in advance and plan your trip accordingly. The journey usually takes three and a half hours, although it can take longer depending on the border crossing. Once you arrive, you'll find all Mostar's main sights just a short walk away.
By car, it takes about two hours to drive to Mostar, not including the border crossing into Bosnia and Herzegovina. From Dubrovnik, head up the coast on the D8 then follow signs to the border. Once you've crossed over, you want to take the M6 heading northwest, then transfer onto the M17.3, which will take you straight to Mostar. On the way back, it is worth stopping off at the beautiful waterfalls and river of Vrelo Bune if you have the time.
If you really want to see as much of Bosnia and Herzegovina as possible in just one day, you may want to take a guided tour that takes you to Mostar, Neum, and Medjugorje. As informative as it is interesting and entertaining, this day trip is an excellent option if you want to learn about the country's rich history and cultural heritage.
One of the most popular day trips from Dubrovnik, the Bay of Kotor, known to locals as Boka, is a long sleepy inlet off the Adriatic sea in southwestern Montenegro. Often mistaken as a southern fjord, this is actually an extinct river from the old Orjen plateau. Today, it has four separate gulfs and a number of ancient towns, as well as a few newer settlements. The water is spectacular for those who just want a water tour. If you go on land, of special note are Herceg Novi, a twelfth century town at the opening, the fortified city of Kotor and the picturesque city of Perast with its two small islets. There is no bad place to stop, however. With castles and gardens, monasteries, ancient buildings and much more, every moment in this bay is timeless, picturesque and breathtaking.
Getting to the Bay of Kotor
From the Main Bus Station in Dubrovnik, there are several buses departing daily to Kotor in neighboring Montenegro. The journey usually takes around two to two and a half hours, although it can take longer depending on how long it takes to go through border control. Once you arrive in Kotor, you'll see the breathtaking bay.
If you decide to drive to the Bay of Kotor yourself, you can either head to Herceg Novi – which lies at its opening – or continue to the lovely city of Kotor, which has just as stunning views for you to enjoy. The latter takes two hours to drive to, whereas the former is only an hour – not taking into account the time it takes to cross the border. The directions couldn't be more straightforward; all you need to do is head southeast out of Dubrovnik on the D8 and follow it along the coast to the Bay of Kotor.
A great way to visit the Bay of Kotor is to take a guided tour that includes a number of stops in Montenegro. This is a fantastic option as it not only takes you to Kotor, but also to the beautiful town of Budva and the scenic fishing village of Sveti Stefan. You'll come away having learned a lot about the country's history and culture, and everywhere you go you're greeted with stunning views of the Adriatic coastline.