Dubrovnik is a wonderful historic city on the Adriatic coast. If you're looking for a more relaxed atmosphere, however, a visit to a nearby island fills the bill. Here, you'll find gorgeous beaches, lush vegetation and old ruins, not to mention fewer people. Accommodations and dining options are more limited than Dubrovnik. But what the heck! Take a picnic lunch and enjoy the ferry ride to any of these islands near Dubrovnik, but don't leave without sampling local fare.
snailo86 / Flickr
If you're hankering to get away from the crowds, you need to add Kolocep to your bucket list. The tiny island has a population of only 300 people. The smallest of the Elafiti Islands is also the closest to Dubrovnik. The island once was important to Dubrovnik's ship building industry. The entire island is car-free, making it pleasurable to walk the island's many paths. After your walk, relax on a sandy beach or swim to the Blue Cave. The island has several churches, including the churches of St. Nicholas and St. Sergius, some of which date to the ninth century.
Sipan is a popular daytrip destination from Dubrovnik. You can take your car to wander Elafiti's largest island, but the island is small enough to get around easily on a rented bike. Sipan is famous for its agricultural products, including wines, olives and citrus fruit, so take a taste exploration after touring the island. The island has been a tourist destination since the 15th century, when Dubrovnik's best families built vacation homes and palaces here. Ruins of palaces and other old structures can be visited, but don't plan on swimming unless you have water shoes. Beaches here are gravelly.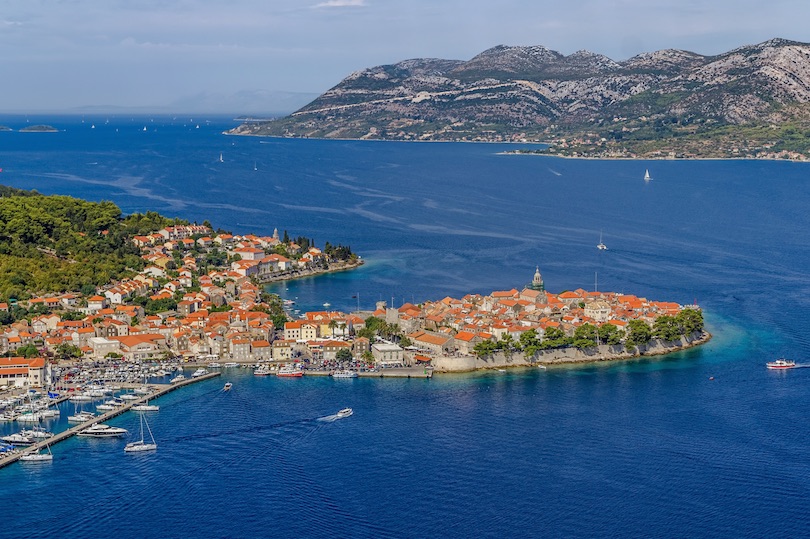 The 47-km (29-mile) long island of Korcula has an eclectic history, being founded by Trojans in the 12th century BC. Over the centuries it has been ruled by many powers, including Greek, Austrian, French, Hungarian and Venetian. The explorer Marco Polo was born on the island. At one time it provided the wood for Venice's walls. Some visitors refer to the Korcula Old Town as a "Little Dubrovnik," and say wandering through the narrow cobblestone streets is a must-do activity. Follow up with a visit to St. Mark's Cathedral and a climb up the narrow staircase to see panoramic views from the bell tower.
Espen Faugstad / Flickr
When great beaches are important to you, Lopud can't be beat. It has some of the best beaches in the Dubrovnik area. Suns, with its fine white sand beaches is considered the best beach in the Elafiti Islands. This beach can be super busy in the summer, but it's just as beautiful in the off-season months. In its heyday, Lopud counted 30 churches, several palaces and two monasteries as well as a vibrant shipping industry; one-fourth of Dubrovnik's navy were Lopud ships. The island was devastated by a 17th century earthquake and never really recovered. A walk among the ruins is a quiet time for reflection.
Mljet claims to be the most beautiful island in the Adriatic. Pictures of the island do little to disprove that claim. It's the greenest of the Croatian islands. A national park makes up much of Mljet, but, outside the park, you'll find quaint, tiny villages on this sparsely populated island. The island has two saltwater lakes that have islands. On one you'll find an old Benedictine monastery dedicated to St. Mary. Odysseus, a Greek king who was the hero in Homer's Iliad reportedly lived here for seven years; today, you can enjoy a visit to his cave/grotto. Finish your day with Mljet wine, goat cheese and olives.
Because it's only a 20-minute boat ride from Dubrovnik, Lokrum is popular with locals wanting to cool off in the hot summer. Besides doing some beach combing, it's a great place to enjoy nature, from Mediterranean forests to a botanical garden. If vegetation doesn't cut it with you, visit the 11th century Benedictine Monastery, with the monks warning Dubrovnik residents when danger, including storms and pirates, was eminent. Richard the Lionhearted built a church here, according to local legend. TV trivia buffs take note: Game of Thrones was filmed here.