With so many different sides to it, Pennsylvania really is a treat to travel around and surely has something for everyone to enjoy. While its big cities of Pittsburgh and Philadelphia bustle with life, countless small towns in Pennsylvania can be found tucked away among the fertile farms and fields of Amish Country or the stupendous scenery and nature of the Poconos Mountains.
As the Keystone State was settled so early on, many of its towns have centuries-old historic sites and cultural landmarks for you to check out. Besides delving into their rich history and heritage or enjoying the state's diverse array of landscapes, there are also fabulous arts and dining scenes for visitors to explore. Perfect for quiet getaways, Pennsylvania's small towns also act as gateways to the natural riches that lie all around them and offer up some outstanding outdoor activities.
A very charming place to visit, the small, atmospheric town of Wellsboro can be found in the north of Pennsylvania in Tioga County. Home to some interesting historic sites, it also acts as a great base from which to explore the stunning scenery and nature of Pine Creek Gorge.
Founded in 1806, its historic heart is still dotted with authentic gas streetlamps and beautiful old buildings that exhibit some exquisite Victorian architecture. Besides enjoying its old time look and feel, there are also countless shops and restaurants to stop by as well as an historic movie theater.
Most people, however, visit for its proximity to the gorgeous gorge which is known as the 'Grand Canyon of Pennsylvania'. In addition to hiking and biking about its cavernous confines, you can also go horseback riding around the Tioga State Forest.
Seth Werkheiser / Flickr
As it is set amidst the spellbinding scenery of the Poconos Mountains, Stroudsburg is a very popular and picturesque place that offers up all kinds of outdoor activities. Located in the east of the state, it attracts everyone from outdoor enthusiasts and nature lovers to families, honeymooners, and wine aficionados.
As the town acts as a commercial hub for the surrounding area, its downtown is home to lots of shops and restaurants and a huge array of hotels and BnBs. Aside from taking in the attractive architecture of the Academy Hill Historic District, you can also visit the Quiet Valley Living Historical Farm to learn more about local life.
Stroudsburg's main draw though is the nearby nature which is such a treat to hike, cycle, and ski about. Tucked away amongst its mountains and forests are sparkling waterfalls and rivers and a whole host of wonderful wineries to try out.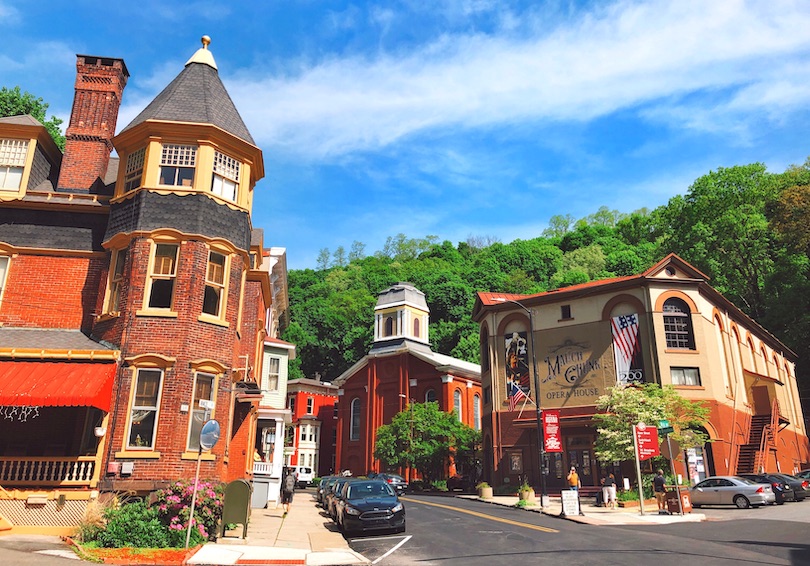 Just under an hour's drive to the west of Stroudsburg you can find the picture-perfect town of Jim Thorpe which is often called the 'Switzerland of America'. Nestled amidst the Poconos, it has a delightful downtown to explore with ample outdoor activities to enjoy in the nearby mountains.
Now named for the Native American athlete Jim Thorpe, the small town boasts a beautiful historic center full of well-preserved buildings and a diverse array of architecture. In addition to checking out its interesting museums and historic mansions, visitors can take a terrific train ride on the Lehigh Gorge Scenic Railway.
Besides enjoying the ambience and delving into its rich history and heritage, you can go rafting along the Lehigh River, ski in the mountains, or bask in the area's natural beauty at the Fall Foliage Festival.
Also tucked away among the Poconos Mountains is the small town of Milford which lies along the Delaware River bordering the state of New Jersey. Offering up the perfect mix of history, culture, and nature, it makes for a great quiet getaway due to its scenic yet secluded setting.
Founded in 1796, the Milford Historic District contains a huge number of important and impressive old buildings, most of which display some fantastic Late Victorian architecture. Aside from sights such as the Columns Museum and Grey Towers National Historic Site, there are also some brilliant shops and restaurants to stop by.
The town also hosts lots of events such as the Black Bear Film Festival and Milford Music Festival while hiking and biking can be enjoyed in the Delaware Water Gap National Recreation Area.
As it lies at the heart of Pennsylvania Dutch Country, Lancaster is the best place to stay if you want to explore the area and delve into the history, culture, and heritage of its large Amish community. As well as a huge historic district, the town boasts some magnificent museums and cultural sites with picturesque fields and farms lying all around.
Home to a myriad of historic houses, churches, and public buildings, Lancaster was founded in 1729 and is one of the oldest inland towns in the US. While its museums offer up a fascinating look into its past, the town's thriving arts and culture scene has countless art galleries and theaters to enjoy.
Due to its fertile farmland, Lancaster is noted for its local produce and farmers' markets while buggy rides and tours around the Amish Village can teach you more about the unique religious community.
Doug Kerr / Flickr
Located just half an hour's drive north of Pittsburgh, the small town of Zelienople is a very pleasant place to visit that has a charming look and feel. Set on the south bank of Connoquenessing Creek, it offers up the perfect mix of old and new with bustling businesses lying alongside historic buildings and cultural landmarks.
Founded in 1802 by Dettmar Basse, the town was named after the German aristocrat's daughter, Zelie, and later flourished due to its setting along the route from Pittsburgh to Erie. Nowadays, it has lots of quaint coffee shops and restaurants to check out as well as a number of historic homes and the atmospheric old Strand Theater.
Over the course of the year, Zelienople also hosts some fantastic events with its Horse Trading Days and Fall Festival being the biggest and best of the lot.
Another town that boasts a rich history and heritage for you to delve into is that of Yardley which was impressively founded way back in 1682. Bordered to the east by the Delaware River and state of New Jersey, the small settlement can be reached in just half an hour from Philadelphia.
Known for its historic heart which is packed with beautiful old buildings, boutiques, and restaurants, the town also has interesting sites such as Bowman's Hill Tower and Washington Crossing Historic Park to check out. In addition to this, you can also learn how Yardley acted as an important stop on the Underground Railroad during the American Civil War.
Apart from its fascinating past, the town has plenty of pretty parks and waterways to explore with picturesque farms, forests, and lakes dotted about its surroundings.
Set just a stone's throw away from Lancaster, Lititz is a lovely place to visit that is home to lots of tree-lined streets and historic buildings. Once voted the 'coolest small town in America', it has a fantastic food scene for you to enjoy and acts as a great base from which to explore Amish Country.
Established in 1742 by members of the Moravian Church, Lititz has a marvelous historic district to wander around which contains countless local cafes and restaurants. Aside from the popular Julius Sturgis Pretzel Bakery, there is also the wonderful Wilbur Chocolate Store to visit and terrific food tours to take around the town and its nearby farms.
Besides sampling all its tasty treats, you can also check out an historic homestead, visit the nearby Wolf Sanctuary, or see the historic covered bridges in Amish Country.
Doug Kerr / Flickr
Nestled away amidst the Poconos Mountains of north-eastern Pennsylvania, Honesdale makes for a great quiet getaway and only lies a couple of hours' drive from Philadelphia and New York. As well as epic outdoor activities, it boasts a thriving arts and culture scene and is home to lots of attractive old buildings.
Founded in 1826, the town's center is full of well-preserved historic buildings with towering church spires to be spied alongside cosy cafes, boutiques, and restaurants. Known as the 'Birthplace of the American Railroad', it has a charming train ride for guests to take along the Stourbridge Line which was actually the first steam locomotive line in the States.
In addition to all its historic attractions, the surrounding mountains are a treat to hike or bike around with stunning scenery and nature wherever you go.
Only home to fifty or so residents, the tiny town of Ohiopyle has long been a popular place to visit due to its outstanding outdoor activities and wealth of natural attractions. Surrounded by the pristine landscapes and nature of Ohiopyle State Park, it is set in a scenic spot in the southwest of the state at a bend in the Youghiogheny River.
Founded in the early 1800s by farmers, trappers, and hunters, Ohiopyle is named for the numerous waterfalls that can be found in the area. While Ohiopyle and Cucumber Falls make for impressive sights, white-water rafting down the rapids of the river is lots of fun with fabulous fishing, hiking, and mountain biking also to be had nearby.
Besides exploring its great outdoors, you can also check out Fallingwater and Kentuck Knob – two incredible and unique houses that were designed by renowned architect Frank Lloyd Wright.
Home to lots of interesting historic sites and cultural attractions, Johnstown lies at the spot where the Stoneycreek River and Little Conemaugh meet in the Allegheny region of Pennsylvania. Aside from delving into its fascinating past, the town has some great nature to enjoy and hosts several excellent cultural and sporting events of the course of the year.
Established in 1770, Johnstown is perhaps most known for the three major floods that have ravaged the town at various points in its history. Besides visiting its museum and memorial dedicated to the floods, you can stop by the Heritage Discovery Centre which looks at its steel-making past and the Johnstown Inclined Plane, the steepest funicular in the world.
In addition, you can explore its nearby state parks, watch the Johnstown Symphony Orchestra play or attend the annual Thunder in the Valley motorcycle rally.
A very popular and picturesque place to visit, New Hope can be found in the far east of the state and makes for a great getaway from either Philadelphia or New York. Set alongside the west bank of the Delaware River, the small town has a brilliant arts and culture scene to explore as well as several historic sights and cultural landmarks.
Dotted about town you can find hundreds of art galleries and antique stores with unique boutiques and restaurants also lining its scenic streets. Besides its ample shopping and dining options, New Hope is also home to the historic Bucks County Playhouse which hosts fantastic Broadway shows, musicals, and theater productions.
On top of all this, it also has a charming old railway station to stop by with interesting historic sites and splendid scenery to be found at both Bowman's Hill Tower and Washington Crossing Historic Park on the way to Yardley.
Map of Best Small Towns in Pennsylvania
© OpenStreetMap © MapTiler © Touropia