Aptly meaning 'meeting of the waters', Wisconsin borders both the lovely Lake Michigan and Lake Superior with its two scenic shorelines being home to lots of beautiful beaches and forests, towns, and cities. While 'America's Dairyland' is particularly known for its cheeses, the state is riddled with thousands of inland lakes and waterways with its pristine forests lending themselves perfectly to all kinds of outdoor activities.
Nestled away in the Upper Midwest of the US, Wisconsin is surrounded by Michigan, Illinois, Iowa and Minnesota. Also part of the Great Lakes region, it lies between Lake Superior to the northwest and Lake Michigan to the east with much of its territory consisting of lakes, forests, and farmland. In addition, sandstone rock formations, caves and marshes are also dotted about while Lake Minocqua and the Apostle Islands count among its most popular holiday destinations due to their scenic nature spots and wonderful watersports.
Besides exploring the atmospheric Cave of the Mounds or the charming yet quiet peninsula of Door County, most people head to the large cities of Milwaukee and Madison. While the former boasts a thriving microbrewery scene, countless festivals, and the Harley-Davidson Museum, the latter is a lively college town that acts as the state capital and is set on an idyllic isthmus between two lakes.
Green Bay also attracts lots of football fans come to watch the Packers play while the tiny town of Bayfield is a lovely lakeside spot where you can relax and unwind at one of its cozy BnBs. Another picturesque place to vacation is the Wisconsin Dells which remarkably has over twenty water parks for families to enjoy with resorts, minigolf courses, and entertainment options all also being on offer.
Wisconsin Articles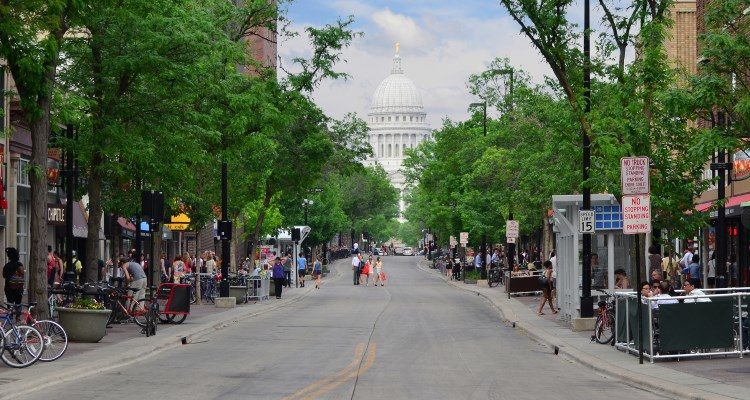 10 Best Places to Visit in Wisconsin
Many people refer to Wisconsin as the Cheese State or the Dairy State, but there is more to the area than Dairy production. Wisconsin is home to...