As picture-perfect as they come, Wisconsin's delightful Door County occupies a scenic peninsula in between Green Bay and Lake Michigan. Often said to be the 'Cape Cod of the Midwest', it has long been a popular holiday destination as it offers a unique mix of leisure, recreation, and natural beauty.
While it boasts almost 300 miles of unbelievably beautiful coastline, much of the interior of the peninsula is coated in verdant woods and parkland. Dotted about are charming little villages and historic lighthouses for visitors to check out as well as a handful of brilliant museums, galleries, and wineries. With an almost endless array of beaches, bays, and bluffs to explore, and so many amazing things to do in Door Country, it is no wonder that this region attracts so many people each summer.
12. Potawatomi State Park
Lying along the shores of Sturgeon Bay in the center of Door County you can find the stupendous landscapes, scenery, and nature of Potawatomi State Park. Set about half way up the west side of the peninsula, it has lots of fantastic outdoor activities and recreation opportunities for visitors to enjoy.
Aside from being the eastern terminus of the incredible Ice Age Trail, which crosses the whole of the state, the park also has several other scenic hiking paths for you to explore. These take you through gorgeous groves of trees and flower-filled meadows, while divine views can be enjoyed from atop of the rugged limestone cliffs that line the bay. As well as swimming, canoeing, and kayaking out on its reflective waters, you can also stay overnight at the park's cozy cabins and campgrounds.
11. Seaquist Orchards Farm Market
clare_and_ben / Flickr
If instead of the great outdoors it is fresh food and delectable baked goods that you are after, then the superb Seaquist Orchards Farm Market is definitely the place to head. Located towards the northern tip of the peninsula, the thriving family farm lies just outside the lovely little village of Sister Bay.
Since the early 1900s when Anders Seaquist planted his first few trees, the family have been known as the premium producers of cherries and cherry products in Wisconsin.
While most of their jellies, dips, jams, and even their donuts and pies are made out of cherries picked from their orchards, other artisanal products and accessories are also available. Hugely popular with locals and tourists alike, the well-stocked market certainly warrants a stop or detour when driving around the county.
10. Newport State Park
Amy Meredith / Flickr
Due to its remote setting right at the north end of the Door Peninsula, Newport State Park is one of the most peaceful and picturesque places to visit and vacation in the region. Besides boasting almost 12 miles of stunning Lake Michigan coastline, it has vast forests, meadows, and wetlands for you to explore with countless outdoor activities and campsites being on offer.
As it is both the only wilderness-designated state park and dark-sky preserve in Wisconsin, the park attracts people looking to immerse themselves in nature and enjoy some peace and quiet. In addition to hiking, biking or cross-country skiing along its 25 miles or so of trails, you can lounge on its beaches, take in phenomenal vistas of the lake or gaze up at its star-studded sky.
9. Eagle Bluff Lighthouse
Perched atop a prominent bluff in Peninsula State Park is one of Door County's most important and impressive historic sites: the charming Eagle Bluff Lighthouse. Overlooking both the Strawberry Channel and the various isles that dot its rough waters, it now contains a small museum that is full of interesting artifacts and exhibits on the history of the lighthouse and its keepers.
Although it was built in 1868, the lighthouse is still remarkably in use today and is affectionately known as 'The Guardian of the Strawberry Channel'. Despite standing just 8 miles in height, its tower and automated light are clearly visible from the lake due to their lofty position atop of the Niagara Escarpment.
On tours around the lighthouse, you'll hear personal stories of the keepers, see authentic old period pieces and learn all about the National Historic Landmark.
8. Whitefish Dunes State Park
Joshua Mayer / Flickr
Home to some of the most substantial sand dunes in the area, the wonderful Whitefish Dunes State Park can be found on the eastern shores of the peninsula. Aside from enjoying its beautiful beaches and scenic lakeside, you can hike around its lush woods, swim and splash about in the lake or kayak up and down its spectacular coastline.
As it encompasses everything from verdant forests to huge rambling sand dunes, the park's trails are a treat to amble along with sublime scenery and nature wherever you look. Hidden amidst the dense vegetation you can also find the remains of a number of prehistoric Native American villages with informative plaques explaining their past.
After having sunbathed and swam a bit, make sure to stop by the park's excellent nature center which is packed with hands-on exhibits and activities for young ones to enjoy.
7. Door County Maritime Museum
Offering a fascinating insight into the region's long shipping and fishing history is the magnificent Door County Maritime Museum. Situated along the waterfront of Sturgeon Bay, it has all kinds of amazing old maps, model ships and memorabilia for you to peruse while a historic US Coast Guard vessel and the John Purves tugboat are moored outside.
Established in 1969, the museum's big main building is now topped by a distinctive ten-storey high lighthouse tower which looks over the bay and marina around it. Inside its endless galleries are lots of interesting artifacts and exhibits. They shine a light not only on the channels and waterways of the Great Lakes but on brave ship captains, expert craftsmen and lonely lighthouse keepers too.
On top of this, the museum also runs both the Death's Door Maritime Museum and Cana Island Lighthouse, further to the north on the peninsula.
6. Door Peninsula Winery
J. Stephen Conn / Flickr
After having explored so much of Door County and seen so many of its sights, it is well worth taking some time to sit back, relax, and sip some delicious wines at the Door Peninsula Winery. At its state-of-the-art facility in Carlsville, you can take tours of its production line and sample more than fifty different kinds of wines either in its lovely garden or atmospheric tasting room.
For over forty years now, the winery has been producing award-winning wines in what was once an old schoolhouse. After having seen and learnt about how the fruity wines are produced, bottled, and branded, you can taste some paired with fresh fruits and artisanal cheeses.
In addition, its attached distillery has some great whiskies, gins, and brandies for visitors to try while all the locally produced wines and gourmet foods are also on sale in its shop.
5. Schoolhouse Beach
As it is one of just five beaches in the world to boast such strikingly smooth limestone pebbles, the idyllic and unusual Schoolhouse Beach is certainly not to be missed out on. Located on the isolated Washington Island, just a short ferry ride from Northport, its startling shores and crystal-clear water make for a majestic sight and even better photos.
Over the course of many millennia, slow-moving glaciers polished the rocks with the interminable process accounting for each of the soft, smooth stones we see today.
Besides basking in the beauty of the beach, you can swim in the lake, skip stones across its surface, or form little sculptures out of them along the waterfront. When leaving, make sure not to take any of the remarkable rocks with you as otherwise you are liable to incur a steep fine.
4. Stone's Throw Winery
Callie Reed / Flickr
Much easier to get to, and no less rewarding to visit, is the superb Stone's Throw Winery just outside of Baileys Harbor. Set amidst gorgeous grounds and gardens, the expansive estate has two exquisite restaurants and a terrific tasting room for guests to try out with tours and sampling sessions also on offer at the winery.
Since being founded in the mid-nineties, it has produced a staggering array of award-winning wines with its gourmet restaurants also having collected an impressive number of accolades. At the winery you can wander about its fertile vineyards and sculpture garden before sitting to sample some of its carefully crafted wines either out on its patio or in its big barrel room.
While most are made from California grapes, fine Italian wines can be tried in its Vino!Vino! restaurant and Bocce pizzeria.
3. Go Kayaking
With the reflective waters of Lake Michigan lying all around it, a wonderful way to see as much of the peninsula as possible is to kayak along its scenic shores. In total, there are almost forty kayak launch sites dotted about Door County, with countless companies also running excursions out to the nearby islands, caves, and beaches.
While peacefully paddling about the lake, you'll be able to spy incredible craggy cliffs and romantic lighthouses lining the large peninsula's secluded coves, bays, and state parks. Remarkably enough, it has almost 300 miles of coastline for you to discover as well as numerous inland creeks, rivers, and estuaries.
While the dramatic landscapes of Cave Point County Park are a treat to kayak around, the remote waters of both Washington Island and Cana Island are also lots of fun to explore.
2. Peninsula State Park
Jutting out into Green Bay you can find the phenomenal Peninsula State Park which has long been one of the most popular and picturesque places to visit in Wisconsin. Besides all its beautiful bays, beaches, and bluffs, it has a whole host of excellent amenities and outdoor activities for you to enjoy.
Established all the way back in 1909, its sprawling confines encompass everything from vast forests and serene shores, to caves, creeks, and even several islands. Snaking their way here and there are plenty of pretty trails for you to hike or bike along with fantastic fishing, swimming, and kayaking to be enjoyed out on the lake.
In addition, the park has a historic lighthouse, observation tower, and nature centre for visitors to check out with campgrounds and a golf course also on offer.
1. Cave Point County Park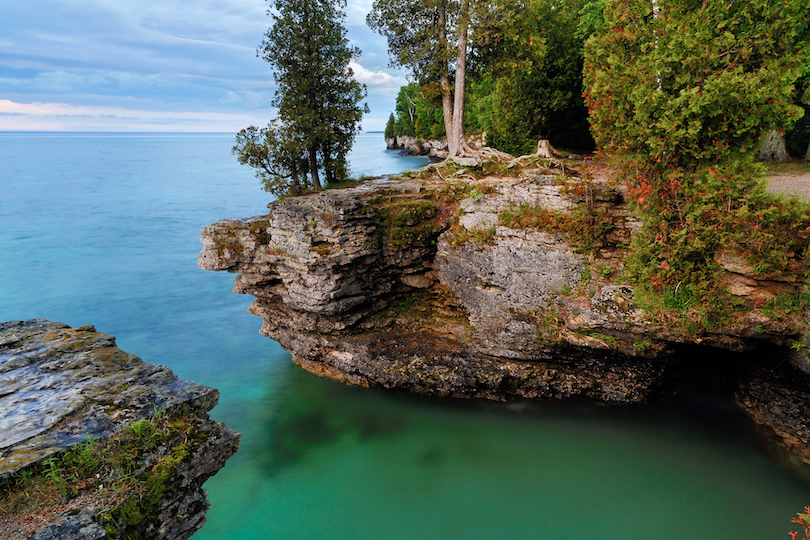 While the peninsula is awash with striking natural sights, Cave Point County Park contains arguably the most impressive of the lot. Named after the colossal cliffs and remarkable rock formations that line the coast, its iconic landscapes need to be seen to be believed with photographers, kayakers, and even scuba divers all flocking to the park.
Set on the eastern side of the peninsula, just to the north of Whitefish Bay, its huge limestone bluffs look particularly stunning when being pummeled by the rough waters of the lake.
At their foot are dozens of amazing underwater caverns for divers and kayakers to explore, while some great hiking and swimming can also be had along the park's rugged shoreline. With so many unforgettable views and photo opportunities on offer, the lovely Cave Point County Park is certainly not to be missed when traveling around Door County.
Map of Things to do in Door County, WI