Reykjavik is the capital of Iceland and the hub for most international travelers. If you're visiting Iceland, you'll almost certainly fly into Reykjavik. The city is full of incredible things to see and do, including its colorful buildings, the scenic pond called Tjörnin and the impressive art collection in the National Gallery of Iceland.
To truly experience what Iceland has in store, however, you'll also want to supplement your time with some of the incredible day trips from Reykjavik to the following destinations.
Map of day trips from Reykjavik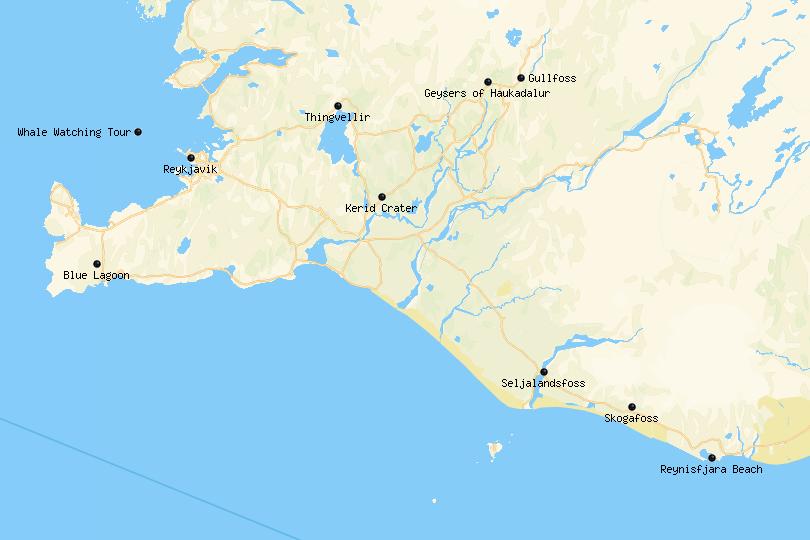 © OpenStreetMap © MapTiler © Touropia
Less than an hour east of Reykjavik is Kerid Crater. This volcanic crater is filled with a bold, bright blue water, and it looks truly out of this world. You can walk around the entire rim of the crater in under 20 minutes, making this is a quick but unforgettable stop.
If you're feeling adventurous, you can also walk down from the rim right into the crater and get up to the edge of the lake. In the winter, you may spot locals walking on the frozen waters of the crater lake, but this is not recommended.
Getting to Kerid Crater
Situated north of Vik, Skógafoss is one of the most famous, and most beautiful, of the waterfalls found in Iceland. Skógafoss is located in the village of Skóga, and it is a staggering 55 meters (180 feet) tall
If you're up for a hike, you can set off along paths through the Skóga River Valley until you reach Skógafoss, and along the way you'll see another dozen smaller waterfalls. There is also the option of taking a short trail to the top of the falls, which offers incredible perspective on the size of Skógafoss.
Getting to Skogafoss
7. Reynisfjara Beach
[SEE MAP]
Also known as the Black Beach, Reynisfjara boasts a shoreline covered in black pebbles and sand. It is also where you'll find black basalt rock columns that stand out in a truly dramatic fashion. Many people come to Reynisfjara Beach just to take photos and admire the scenery, but it is worth noting that the area is also fantastic for watching birds like puffins and guillemots.
Getting to Reynisfjara Beach
Waterfalls are one of the major draws to Iceland and to the region surrounding Reykjavik, and Seljalandsfoss is one of the most popular of these waterfalls. Located near the town of Seljaland, the waterfall is more than 64 meters (210 feet) tall.
It is possible to walk behind the waterfall so bring a raincoat as you will get wet from the drizzle. While you're there, take the time to walk a little further away and spot Gljúfrabúi. This is a smaller waterfall, but you can get very close to the water and take some phenomenal photos.
Getting to Seljalandsfoss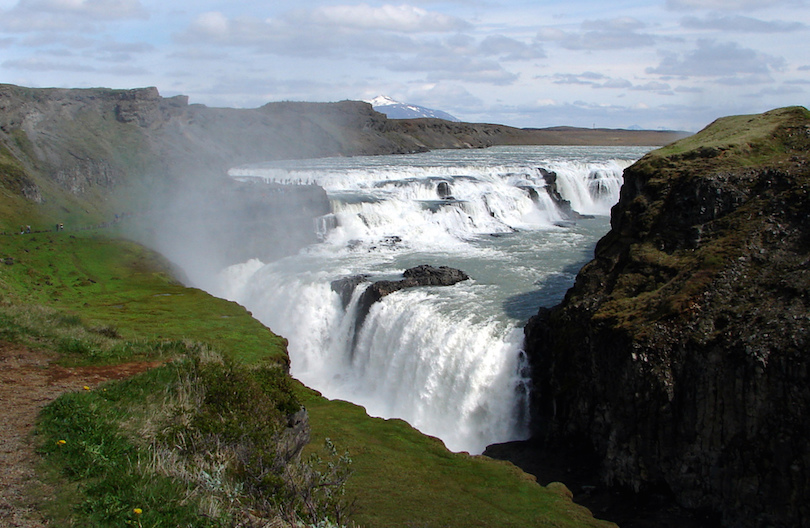 The name Gullfoss translates into English as Golden Falls, and it is one of the major attractions in South Iceland. While Gullfoss isn't as tall as some of the other magnificent waterfalls in the area, it is a double waterfall, making it spectacular to behold.
In addition, Gullfoss is fed in part by glacial runoff, which means that is is the highest volume waterfall in Europe. You can walk right up to a plateau that overlooks the waterfalls for amazing views over the water below.
Getting to Gullfoss
4. Whale Watching Tour
[SEE MAP]
Some of the most popular day trips from Reykjavik are whale watching tours. The bay outside of Reykjavik, known as Faxaflói, is home to a large number of whales throughout the year. On an afternoon or full-day trip out to sea, you're almost guaranteed to spot a handful of minke whales.
Humpback whales are less common, but you can still spot them when conditions are right. If you head to the harbor, you will see a number of tour providers offering the chance to head onto the bay and spot whales in the wild.
Taking a Whale Watching Tour
3. Geysers of Haukadalur
[SEE MAP]
Haukadalur is a valley in Iceland that it located about 90 minutes east of Reykjavik. This destination is best known around the world for being home to some of Iceland's most spectacular geysers. In fact, the name geyser itself likely comes from Haukadalur and its geyser named Geysir. Although Geysir doesn't erupt frequently, when it does it is a truly magnificent display.
Just next to Geysir is the geyser named Strokkur. This geyser erupts with amazing frequency, typically every five minutes. In addition to these two amazing geysers, the valley of Haukadalur is packed with geothermal hot springs and mud pots, creating an amazing landscape that you won't soon forget.
Getting to Haukadalur
2. Thingvellir National Park
[SEE MAP]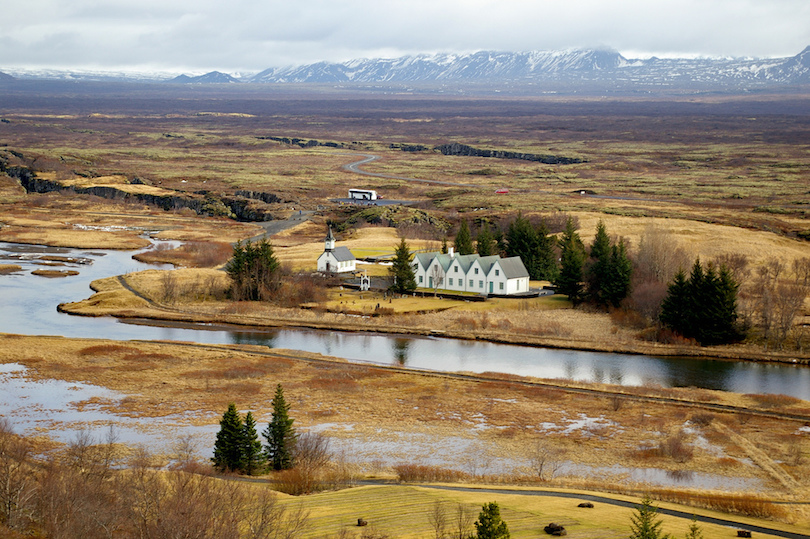 Bryan Pocius / Flickr
Only 30 minutes by car from the Icelandic capital is Thingvellir National Park, which was a seat of government more than 1,000 years ago. Today, the national park is a sightseeing destination for its landscape as well its history. At Thingvellir National Park, you can set off on a hike through a fault valley, admiring rock formations among the green grass or winter snow.
You can hike right up to Iceland's first parliament site, although the spot is marked by a sign rather than extensive ruins. To see what the area would have been like in the past, the incredibly modern exhibits at the Visitor's Center are a must-see part of the park.
Getting to Thingvellir National Park
Bods / Flickr
In the south-westernmost part of Iceland is the Blue Lagoon. This destination is arguably the most famous spot in the entire country, and it is absolutely worth a visit if you're in Iceland. This vast geothermal spa boasts warm waters filled with minerals, and the cold climate of the region means that the water is often covered in a thick layer of steam.
In addition to soaking in the warm waters of the Blue Lagoon, you can find a waterfall to admire, or you can soak within a naturally formed cave. If you're feeling particularly indulgent, there is also a spa where the natural minerals are used in treatments.
Getting to the Blue Lagoon