Known as the Land of Fire and Ice, Iceland is a country of sharp contrasts. A place where volcanically active hot spots and enormous glaciers can be found side by side. Where dark winters are offset by the summer's midnight sun. A country where strange and desolate landscapes lay just outside the colorful capital of Reykjavik.
Set in an isolated spot in the North Atlantic Ocean, the Nordic nation is amongst the most sparsely populated in Europe. While expansive lava fields, endless tundra and glinting glaciers coat much of its interior, fabulous fjords and black sand beaches punctuate its long, indented coastline. The island is also home to a huge number of impressive waterfalls, each more breathtaking than the last.
See also: Where to Stay in Iceland
Needless to say, almost all of Iceland's main tourist attractions in Iceland relate to its arresting array of natural riches. Whale watching tours and trips to see the Northern Lights are also popular things to do.
Certainly one of the most beautiful countries in the world, Iceland is an absolute treat to travel about with its spectacular landscapes and scenery wherever you look.
In this post, we'll cover:
27. Fjadrargljufur Canyon
Often featured in travel magazines and on TV shows, Fjadrargljufur Canyon will definitely provide some of your best photos in Iceland (and that's really saying something!). Its stunning, moss-coated cliffs and winding river lie just off the Ring Road, along the South Coast.
Stretching two kilometers in length, the dramatic-looking gorge was formed some two million years ago during the last Ice Age. Plunging up to a hundred meters deep, its sheer cliffs make for fantastic viewing what with the Fjadra river below and pretty waterfalls cascading down their grey and green rock faces.
From the car park, it is just a short hike up hill to three lovely viewpoints overlooking the incredible canyon. Although the isle is home to so many spellbinding nature spots, we still found this to be one of the most special places we came across.
26. Kerid Crater
Sparkling in the sun, the Kerid Crater stands out delightfully against the dark slopes of the collapsed volcano all around it. Located along the Golden Circle, just outside Selfoss, it is a nice spot to stop by quickly on your way to the Geysers of Haukadalur, Gullfoss Falls and Thingvellir National Park.
One of several crater lakes in the area, its colourful caldera is thought to have been created roughly 6,500 years ago after an enormous eruption. Visitors can amble along its rugged rim and walk down a short flight of steps to the glittering waters down below. Unusually for Iceland, there is a small fee to visit the fascinating nature site.
As it is the color of the rocks and reflective surface that make the lake so remarkable, we probably wouldn't recommend visiting the crater in winter when it is usually covered in snow.
25. Diamond Beach
Although Vatnajokull National Park boasts lots of unique landscapes and astounding natural sights, Diamond Beach (Fellsfjara) still manages to shine bright. A photographer's dream, its striking black sands and the large ice chunks dotted about them lie right next to Jokulsarlon Lagoon along the South Coast.
Almost sure to be unlike any beach you've ever visited before, its dark, volcanic sands create quite the contrast with all the white fragments of icebergs that wash ashore. Its arresting scenery perfectly encapsulates just why Iceland is endearingly known as 'the Land of Ice and Fire'.
For the best photos and views, try and head here around sunset which is when the sea and small bits of ice are so magically lit up in a myriad of warm colors. From afar, it almost looks like thousands of diamonds have been scattered about the black sands of the beach.
24. Hornstrandir Nature Reserve
One of the most isolated parts of the isle, the humongous Hornstrandir Nature Reserve occupies the northernmost reaches of the Westfjord peninsula. As it is so hard to get to, its mountains, meadows and fjords are completely untouched and unspoiled with loads of birds and Arctic foxes living here.
Established in 1975, it protects a vast swathe of rich but fragile vegetation that mostly only survives because barely any people visit. The hardy hikers and birdwatchers that do make it here are in for a treat with Hornvik Bay's colossal cliffs and jagged rock formations being just one of its main sights.
If you are not up for days spent trudging about bogs and through rough terrain or just don't have the gear, you can always take a guided tour. A couple of companies run challenging but rewarding hikes to its windswept wilderness where you can see nesting birds, seals and foxes in their natural habitat.
23. Dyrholaey
Sometimes skipped by visitors short on time, the small peninsula of Dyrholaey is yet another of the South Coast's most picturesque parts. Asides from panoramic views of breathtaking black beaches, basalt columns and sea cliffs, it has some cute little puffins and a historic lighthouse for you to see.
Once a volcanic island, the promontory merged with the mainland at some point in the distant past with its sheer, rocky cliffs towering 120 meters in height. From up high next to the 1927 Dyrholaey lighthouse, you can gaze out over the renowned Reynisfjara Beach and a stupendous sea arch being pulverised by the waves below.
As it is set at the southernmost tip of Iceland and is quite exposed, watch out for the sudden gusts of strong winds that sweep the clifftop. While we found it rather unpleasant being buffeted about and left before long, it didn't seem to bother the hundreds of puffins that nest amidst the cliffs below.
22. Mount Kirkjufell
Thanks to its cylindrical shape, nearby waterfall and the swirling Northern Lights overhead, Mount Kirkjufell is one of west Iceland's most photographed landmarks. Although it is now often overrun by Instagrammers trying to get the perfect photo, you have to visit if you can as there is something strangely captivating about its unique setting and scenery.
Featured in Game of Thrones as the 'arrowhead mountain', the 463-meter-high hill rises dramatically above the sea and the rest of the Snaefellsnes peninsula. Situated just outside of the small village of Grundarfjordur, it lies by the wonderful little waterfall of the same name with several small streams and some stunning coastline also located nearby.
As several people have sadly died up on its steep sides over the years, you can no longer climb the mountain though there is some great hiking to be had in the region. At night, lucky visitors can often see the awe-inspiring Aurora Borealis dancing about the dark skies above its distinctive cone.
21. See wild Reindeer in Eastfjords
As it is one of the least developed areas along the Ring Road, roadtrippers can sometimes spy huge herds of wild reindeer ambling about the achingly beautiful Eastfjords. In total, around 6 – 7,000 of the charming creatures now inhabit its snowy mountains, glimmering glaciers and green valleys.
The largest animals on the island, they were actually only introduced to Iceland in the late 1800s by royal decree. While most of the herds slowly died out over the decades, those in the remote reaches of the Eastfjords have thrived despite the harsh winters, cold weather and limited food supply.
As they mostly roam about the far-off highlands in summer, your best bet is seeing them in winter when the reindeer migrate to the lowlands, closer to human settlements, in search of food.
20. Akureyri Botanical Gardens
When people imagine the Nordic nation's astounding scenery and nature, they don't tend to include immaculately manicured gardens full of pretty flowers and water features. A very pleasant surprise, the Akureyri Botanical Gardens can be found towards the outskirts of the 'Capital of North Iceland'.
Created by a group of local women in 1912, the country's first public park now contains over 7,000 species of plants, flowers, trees and shrubs. Most of these actually hail from overseas with blooming poppies, dahlias and even sunflowers all spied alongside its tranquil paths and green open spaces.
One of the northernmost botanical gardens in the world, it lies just south of the Arctic Circle with a cute cafe and some rustic wooden houses dotted about its grounds. It actually ended up being one of our favourite stops in the north just because it was so unexpected and looked so different from the rest of the wild, rugged region.
19. Askja
Askja is a huge caldera that is located in the Dyngjufjoll Mountains. It is a popular day tour that takes approximately 11 to 14 hours in total to complete. To reach Askja, visitors must first travel through Odadahraun, which is Iceland's biggest desert.
The landscape in this area is so otherworldly that two American astronauts, Neil Armstrong and Buzz Aldrin, actually trained here before rocketing to the moon in 1969. A popular spot in Askja for visitors is a geothermal lake that can be found in a crater called Viti.
This lake is filled with warm milky blue water that visitors can bathe in, if they so choose. Lake Askja, the second deepest lake in Iceland, can also be found in this caldera.
18. Breidavik Beach
Breidavik Beach is, arguably, Iceland's most beautiful beach. It boasts pretty turquoise blue waters, rugged cliffs that have been carved by glaciers and a wide stretch of golden sand.
It is a lovely area to go camping or to explore on an ATV as it is not a huge tourist destination. It is, however, the closest town to the Latrabjarg bird cliffs, which is Europe's largest sea-bird cliff and home to millions of birds, including northern gannets, razorbills and puffins.
Because many of the birds in this area, especially the puffins, have become accustomed to humans, the cliffs have become a popular spot for bird lovers and photographers to get up close and personal with these beautiful creatures.
17. Dettifoss
Having said that, you can't visit Dettifoss and not be blown away by the sheer power and majesty of the mighty waterfall. Part of the popular Diamond Circle route which includes the 'nearby' Husavik and Lake Myvatn, it is certainly a must-visit when you're in the north.
Said to be the most powerful waterfall in the whole of Europe, the 100-metre-wide falls plunge their way 45 meters down the side of a colossal canyon. The churning wall of white water makes for an absolutely incredible sight with the dull roar you hear beforehand only increasing the anticipation.
Featured in the film Prometheus, it is set in the northern part of Vatnajokull National Park with the smaller Selfoss and Hafragilfoss waterfalls also lying nearby. While the viewpoint on the west side is easier to reach, the one to the east arguably affords you an even better view as you get a lot closer to the fabulous falls. It does, however, involve a long, bumpy drive along an uneven gravel track.
16. Hallgrimskirkja
An important symbol of Iceland's national identity, the huge Hallgrimskirkja sits atop of a large hill overlooking the rest of Reykjavik. One of the capital's standout sights, its unique Expressionist-style architecture makes for some phenomenal photos with the views from its tower being just as good.
Designed to resemble the distinctive basalt columns found all about the island, the massive modern cathedral was built between 1945 and 1986. While it is renowned for its curved spire and side wings that are so striking and unusual, its nave and sanctuary are much more traditional in comparison.
After basking in marvelous panoramas over the city, sea and far-off snowy mountains from its 74.5-metre-high belltower, check out the superb statue of Leif Erikson below. Standing triumphantly atop a pedestal, it depicts the famous Icelandic explorer who is assumed to have discovered the Americas 500 years before Columbus did.
15. Svartifoss
After having visited Hallgrimskirkja, you can hardly fail to notice its resemblance to the remarkable wall of hexagonal basalt columns found at Svartifoss. Located a couple of hours' drive northeast of Vik along the Ring Road, it is yet another of Vatnajokull National Park's most popular landmarks.
Meaning 'black waterfall' in Icelandic, it is so named due to all the dark lava columns that lie either side of its sparkling white waters. These make for some fantastic photos thanks to the clean-cut look of the columns that almost seem have been chiselled into individual pillars by hand.
To reach the waterfall, visitors have to hike a couple of kilometers along a winding path which takes you past a few other falls and some fine viewpoints. While the trail isn't too taxing, it does get a bit slippery in places and is mostly uphill. Afterwards, you can always carry on to the Skaftafellsjokull glacier nearby or explore the rest of the national park of the same name.
14. Snorkel Silfra
One of the most unforgettable things to do in Iceland, this exciting experience sees you actually snorkel between the North American and Eurasian tectonic plates. Even if you don't fancy plunging into the freezing cold water, just go. There's a reason why Silfra is rated one of the top dive destinations in the world.
Part of the Mid-Atlantic Ridge, the gigantic underwater rift lies at one end of Thingvallavatn Lake and reaches a maximum depth of 63 meters in some places. Several companies run both snorkel and scuba dive trips here with expert instructors guiding you through the iconic abyss.
Once you've put on your dry suit and slipped into Silfra's crystal-clear waters, you'll instantly forget the sub-zero conditions and focus on the scenic rock formations of the fissure on either side. While it is a bit pricey, slowly swimming past the jagged walls of two continents is a thrilling feeling that we thought was worth every penny.
13. Skogafoss
Another of Iceland's innumerable natural sights that regularly features in films, travel brochures and TV shows is the spectacular Skogafoss. Set along the South Coast, not all too far from both Vik and Dyrholaey, its thundering waters are a must-see for their size, scale and splendor.
One of the largest waterfalls in the country, its white curtain of water cascades its way off the top of a cliff that used to make up part of the island's coastline. Standing at the bottom of the 60 meter falls and gazing up is a humbling experience with its fine spray often producing a lovely double rainbow on particularly sunny days.
If you want to see it from the top, you can always climb up its flight of 430 steps and take some pics of Skogafoss from the precipitous viewing platform overlooking it.
12. Reynisfjara Beach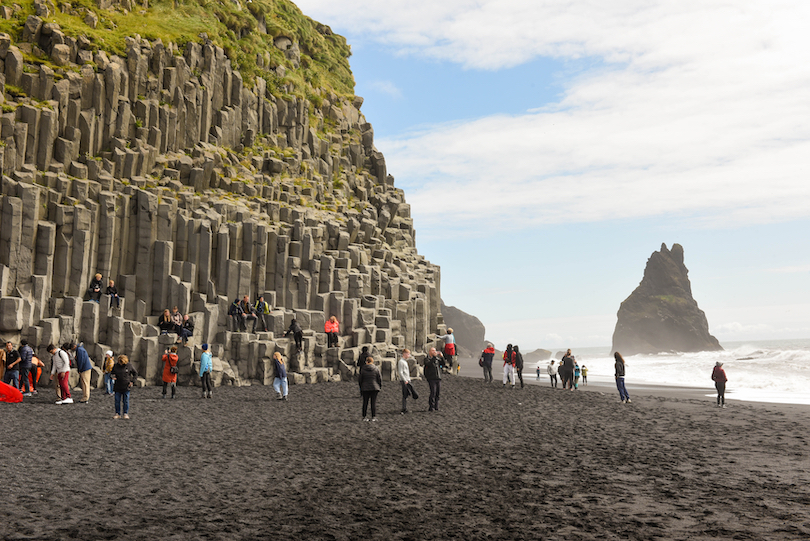 With its inky black sand, rugged basalt columns and large crashing waves, Reynisfjara Beach can appear at times almost otherworldly. This gorgeous beach, which is also home to comical puffin birds, is located near the village of Vik on Iceland's south coast.
Not surprisingly, this beach's strange appearance has inspired at least one tale. According to local legend, the basalt sea stacks that can be seen in the ocean were formed when two trolls tried to drag a three-masted ship to the shore during the night. But they were unsuccessful and when the sun rose, the daylight turned the trolls to stone.
A word of warning — the raging waves at this beach can be very dangerous so tourists are warned to keep their distance.
11. Myvatn
Sprawling across a massive part of northern Iceland are the reflective waters of Lake Myvatn which has long been considered one of the world's best places to birdwatch. Conveniently located right by the Ring Road, the volcanic area also has soothing natural baths and unusual looking lava fields for you to explore.
Formed around 2,300 years ago by a large basaltic lava eruption, the shallow lake is still surrounded by all kinds of fabulous volcanic landforms. Amidst its lava pillars and pseudocraters, you can spot hundreds of species of waterfowl such as tufted ducks, common loons and whooper swans.
As its name means 'Midge Lake' in Icelandic, make sure to bring insect repellent if you don't want a miserable time constantly swatting mozzies away from your face. Somewhat similar to the mineral-rich Blue Lagoon, the Myvatn Nature Baths are heavenly to soak in while the Dimmuborgir lava fields also attract lots of attention.
10. Thingvellir National Park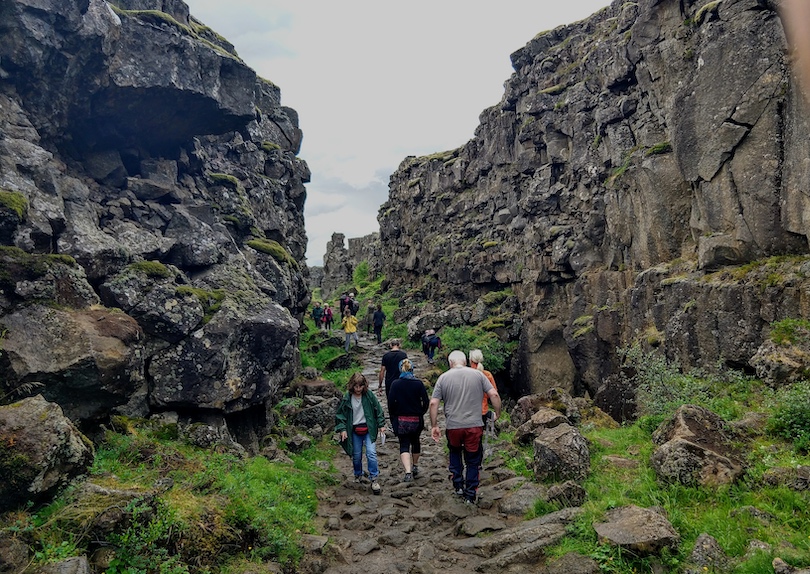 Thingvellir is a protected national shrine that was the open-air site of Iceland's parliament from the 10th to 18th century. Because of this, it holds a very important place in this country's history.
Over the years, Thingvellir has also been the site of many large gatherings and celebrations. In June 1994, for instance, a celebration for the 50th anniversary of the foundation of the Icelandic Republic was held at this site.
Thingvellier, which sits on the rift between the European and the American tectonic plates, is also known for its unique geological features. Today, Thingvellir, which was made a national park in 1930, is one of the most popular tourist attractions in Iceland.
9. Seljalandsfoss
In a country of what seems to be a million waterfalls, each mightier and more majestic than the last, Seljalandsfoss still manages to standalone. This is because visitors can actually walk behind its over 60-meter-high falls and gaze out at the jet white waters tumbling down before them.
Yet another of the South Coast's standout sights, the ginormous glacier-fed waterfall lies just off the Ring Road, in between Hella and Vik. Although the colossal cliffs and Gljufrabui waterfall next to it already look impressive, the sizeable cave behind the falls is the reason why most people visit.
Due to its huge popularity, we'd recommend visiting either very early or late in the day so you miss all the crowds and tour buses. It's also worth wearing something waterproof or bringing a towel and change of clothes as you could end up getting soaked on very windy days.
8. Husavik Whale Watching
Luca Temporelli / Flickr
Whale watching is one of the most popular things to do in Iceland. Husavik, which sits on Skjalfandi Bay, is considered to be one of the best places in the world to see whales. The waters of the bay are rich in plankton, which attracts large numbers of baleen whales that feed on the small organisms.
Some of the most common whales seen in Skjalfandi Bay are humpbacks, blue and minke, but many other species have also been seen near Husavik. In addition to whales, visitors should keep an eye out for the puffins. These adorable birds nest in large colonies in this area.
7. Vatnajokull Ice Caves
Visitors to Iceland have the opportunity to embark upon a very unique excursion — exploring ice caves that have been carved by rivers of meltwater deep underneath the Vatnajokull Glacier.
Inside of these caves, explorers will discover a mesmerizing world where they will be surrounded by surreal blue ice formations. In some areas, black volcanic ash trapped in the ice have created a ribbon effect against the blue.
Tours of these caves, which are also known as Crystal Caves, can only be done in the winter, as there is always a danger of collapse during the warmer summer and spring months, and visitors should only enter them with a trained guide.
6. Laugavegur Trail
One of the best ways to get to know Iceland is by foot on the Laugavegur. At 79 km (49 miles), Laugavegur is Iceland's longest hiking trail, stretching from Landmannalaugar to Skogar.
This popular trail takes hikers through some of this country's most gorgeous scenery and past geysers, glaciers, hot springs and waterfalls. Experts recommend that hikers plan on taking about five days to cover the trail if they want to enjoy it a leisurely pace.
It can, however, definitely be done in more or less time. Hikers can either pitch a tent along the way or rent one of the huts that can be found on the trail.
5. Haukadalur Geothermal Area
If you want to see steaming hot springs and spurting geysers, then the Haukadalur Geothermal Area is definitely the place to go. One of only a few such fascinating sites in the entire world, its smallish yet surreal valley can be found along the Golden Circle, not too far from Gullfoss.
Since the eighteenth century, tourists have flocked to see its otherworldly landscapes regularly erupt with boiling water bursting up into the air and mud pots bubbling away below. While the fountain-like Strokkur is very dependable and emits a column of water and steam roughly every five minutes or so, Geysir, from which we get the word, now only rarely erupts.
Keep your camera at the ready as the giant geysers and whispy smoke of all the fumaroles make for some marvellous photos and videos.
4. Blue Lagoon
The Blue Lagoon is one of the first things that comes to most people's minds when they think about famous tourist attractions in Iceland. This geothermal spa is located in Grindavik on the Reykjanes Peninsula.
The manmade lake is fed by superheated seawater vented from a nearby lava flow. Many people believe that its milky blue waters, which contain minerals, silica and algae, can actually soothe and improve certain skin conditions, such as eczema.
It is important to note that travelers who want to enjoy a dip in the Blue Lagoon should book well ahead of their visit. This attraction is so popular that it is often sold out.
3. Gullfoss
Gullfoss means Golden Falls, and it gets its name from the brownish hue of its water. These falls are truly magnificent and are known for being the largest volume falls in all of Europe.
It is also notable for having two distinct drops that are at right angles to each other. From the main overlook, the view is slightly obscured, so it appears as if the lower falls plunges away into an abyss. Today, it is hard to imagine that this popular tourist attraction was almost lost.
At one time, foreign investors proposed to build a hydroelectric powerplant on it. But a local woman fought vehemently against the project, even threatening to throw herself over the falls if the plant was constructed. Thankfully, her efforts paid off and Gullfoss was saved.
2. Watch the Northern Lights
Although Iceland boasts an almost endless list of amazing mountains and beaches, geysers, glaciers and volcanos, one of its top attractions is something that isn't linked to an actual site. Also known as aurora borealis, the Northern Lights are an unpredictable natural phenomenon that you won't forget in a hurry!
Predominantly seen in high-latitude regions, the swirling polar lights are created by solar winds and charged particles interacting with the Earth's magnetic fields. In reality, this means that a bewitching display of different dancing colours are painted across the dark night's sky.
Loads of tours take you out to see the unusual occurrence with the best times being between August and April during the colder, darker months of the year. Sure to be unlike anything you've ever seen before, watching the Northern Lights swirl about above was one of our favorite parts of our whole trip around Iceland.
1. Jokulsarlon Lagoon
Almost outdoing the spectacular natural light show are the ever-changing ice formations that bob all about the gorgeous Jokulsarlon Lagoon. Featured in films like Die Another Day and Tomb Raider, it is yet another of Vatnajokull National Park and the South Coast's must-see sights.
Said to be the deepest lake in all the country, it lies at the head of the glistening Breidamerkurjokull glacier from which chunks of ice break off and slowly float around the bay. While some are big and blue, others are small and milky white with the lagoon's shimmering surface and the snow around it only completing the picture-perfect scene.
Visitors can either hike along its shores, clamber about the glacier or take scenic boat trips amongst all the icebergs. What's more, sleek seals can often be spotted swimming about or hanging out on its great chunks of drifting ice.
Map of Tourist Attractions in Iceland
© OpenStreetMap © MapTiler © Touropia