The capital of Wisconsin and its second-largest city, Madison lies in a scenic spot on a narrow isthmus in between Lake Mendota and Lake Monona. A fabulous place to both live and vacation, it has a thriving art scene, plus culture and nightlife to delve into while pristine parks, waterways and countryside are never far away.
Despite its relatively large size, the city has a lovely small-town feel, thanks in part to its condensed downtown area and sizeable student population. While most of its museums and art galleries are set in the center, other enticing attractions and things to do in Madison are either located along the shores of its lakes or on the University of Wisconsin campus.
With beautiful botanic gardens and quiet arboretums to explore alongside the almost endless shops, restaurants and bars of the busy Slate Street, the Midwest's Madison really is a brilliant city to visit with something for everyone to enjoy.
In this post, we'll cover:
12. Wisconsin Historical Museum
John Benson / Flickr
If you're interested in learning all about the rich history, culture and nature of the state, make sure to check out the excellent Wisconsin Historical Museum in the city center. Set at one corner of Capitol Square, it is packed with amazing artifacts and exhibits with photos, paintings and audio-visual presentations on show.
Since being founded in 1846, the Wisconsin Historical Society has amassed an extensive collection with its archaeological findings, artworks and exhibits covering over 12,000 years of the state's past.
Its informative displays and dioramas focus on everything from local Native American nations and frontier life in the Upper Midwest to industrialization, immigration and urbanization. In addition to all this, the museum regularly hosts interesting talks, tours and temporary exhibits.
11. Camp Randall Stadium
One of the oldest, largest and most atmospheric arenas in the States, the incredible Camp Randall Stadium lies just a short stroll or drive to the southwest of downtown. Located on the campus of the University of Wisconsin, it is home to The Badgers with their action-packed college football games making for a fun and unforgettable affair due to their fervent fans.
Built back in 1917, the enormous arena has a lovely old time look and feel with recent renovations having added a brand new scoreboard and upgraded the sporting facilities and seating spaces. Aside from cheering, chanting and bouncing about to 'Jump Around', visitors can take part in the team's raucous tailgates with other sports events and concerts held in the stadium from time to time.
10. Wisconsin Veterans Museum
John Benson / Flickr
A fascinating place to visit, the award-winning Wisconsin Veterans Museum can be found next to the Wisconsin Historical Museum in the center of town. Whereas its neighbor has a much wider remit, its well-designed galleries and displays instead provide an in-depth look at the history of Wisconsinites who have served in the US military.
Originally established in 1901 as a memorial hall, it was later turned into a museum with both life-sized dioramas and hands-on exhibits now lying alongside cases full of old uniforms, weapons and maps. In chronological order, it outlines the personal stories, events and outcomes of every military conflict from the Civil War right up to Iraq and Afghanistan with the three huge aircraft hanging up in its halls counting among its main highlights.
9. University of Wisconsin Arboretum
As it boasts lovely landscapes, scenery and nature, the humongous University of Wisconsin Arboretum really is a delight to hike or bike around. Very popular with locals and tourists alike, its scenic confines lie along the southern shore of Lake Wingra, just a short drive from downtown.
Now preserved as part of a National Historic Landmark, the massive man-made nature reserve was initially created in 1932 to serve as a research space and wildlife sanctuary for the university. Over the years all kinds of pretty plants, flowers, trees and shrubs were planted with it now encompassing a diverse array of ecosystems.
These include, not only vast swathes of shoreline, but pristine woods, wetlands and prairies, too, with picturesque paths and gardens dotted here and there.
8. Henry Vilas Zoo
Just to the north of the lake you can find yet another of the city's top tourist attractions: the exquisite Henry Vilas Zoo. One of the only remaining admission-free zoos in the country, the park is owned and operated by the local county with its spacious enclosures and exhibits home to more than 115 species from all around the world.
A firm favorite with families, the zoo first opened to the public in 1911 with it now housing a large menagerie of mammals, amphibians, reptiles and birds. While wandering about its leafy outdoor areas guests can see rhinos and red pandas on show next to lions, tigers and polar bears.
On top of exploring enthralling sections, such as its Arctic Passage and Tropical Rainforest Aviary, you can also take a train ride around its Children's Zoo or meet some of its friendly residents while on a tour.
7. Spring Green
As it lies just under an hour's drive to the west of Madison and is home to a couple of architectural marvels, the small village of Spring Green is a great choice for a day trip destination. While some come to see a show at its Shakespearean theater or play a round at its immaculately manicured golf course, most people visit for its two standout sights.
One of the most unique and unusual museums you are liable to ever come across, The House on the Rock has an almost never-ending warren of streets, shops and gardens to explore, all packed with crazy curiosities. While its captivating collections and campus need to be seen to be believed, the nearby and considerably more normal Taliesin also attracts visitors.
The former home, studio and estate of world-renowned architect Frank Lloyd Wright, it showcases some truly extraordinary architecture, with its numerous buildings and their distinctive designs now being recognized as a National Historic Landmark.
6. Chazen Museum of Art
Back in the center of the city is another fantastic spot to stop by if you are at all interested in art: the excellent Chazen Museum of Art. Set in the corner of the University of Wisconsin campus closest to downtown, it has an impressive collection of artworks for you to peruse that span a wide range of mediums, cultures and time periods.
Home to around 23,000 paintings, photos and sculptures, the magnificent museum was founded in 1969 with its sizeable holdings now spread across two buildings. In its light and airy galleries are masterpieces by Magritte, Miro and Dali among others with splendid Japanese woodblock prints and Qing Dynasty porcelain vases also displayed.
In addition, the museum has a coxy cafe for you to try out with chamber music concerts regularly taking place.
5. Dane County Farmers' Market
A colorful and chaotic affair, the lively Dane County Farmers' Market has a staggering array of stands and stalls for visitors to explore, all laden with fresh fruit, veg and foodstuffs. Held every Saturday morning throughout the year, it really is a must-visit with its numerous live musicians and street performers adding to the appealing ambience.
Since being established in 1972, it has grown into the largest producers-only farmers' market in the States with around 300 vendors selling their wares each Saturday. As well as all kinds of fresh farm produce, you can shop for meats, poultry and cheeses with innumerable artisanal products, arts and crafts and handmade jewellery also on sale.
In the summer months, the massive market is held outside in Capitol Square before everyone retreats indoors to the enormous Monona Terrace convention center for the cold winter months.
4. Memorial Union Terrace
One of the most popular places to relax and unwind in Madison is the historic Memorial Union Terrace, which looks out over Lake Mendota's shimmering surface. Part of the university campus, it is lined by cafes, restaurants and the wonderful Wisconsin Union Theater with hundreds of colorful chairs dotting the large outdoor area.
Originally envisioned as an 'undergraduate playground', the now iconic terrace has been the heart and soul of life on campus ever since 1928. Recently refurbished, it offers untold leisure, recreation and entertainment opportunities with cultural events, festivals and concerts taking place all the time.
Besides simply sitting on one of its famous chairs and taking in the stunning views and sunsets, you can also grab a bite to eat or drink at one of its eateries with scoops of Babcock Ice Cream in particularly high demand.
3. Olbrich Botanical Gardens
A peaceful and picturesque spot to stroll around, the idyllic Olbrich Botanical Gardens can be found a short drive north of downtown. Lying along the north shore of Lake Monona, its lush, leafy confines contain a startling number of fragrant flowers, exotic plants and towering trees from all around the globe.
Opened in 1952, it now has scenic sections for guests to enjoy with lovingly landscaped lawns and meadows set alongside romantic rose, rock and rain gardens. While there are plenty of pretty ponds and sparkling water features to check out, the steamy Bolz Conservatory also houses hundreds of terrific tropical plants with beautiful birds and butterflies to be spied flitting to and fro.
The gardens' other main highlight is its golden Thai pavilion, which certainly stands out against the verdant vegetation all around it.
2. State Street
The main place to shop, dine and go out in the city, State Street extends from the Capitol Building to the University of Wisconsin campus. Lined by bustling businesses, bars and boutiques, the popular pedestrian zone has a wealth of fun things for visitors to see and do with a handful of art galleries and museums also dotted about.
Stretching over a mile in length, the busy avenue now has nearly 400 unique shops, restaurants and nightspots for you to hit up. Aside from stopping off for a hot coffee or tasty meal, you can also spend some time at the Madison Museum of Contemporary Art or see a show at the Overture Center for the Arts.
While its countless pubs and street performers always ensure there is a lively ambience, State Street is most famed for its raucous 'Freakfest' celebrations which take place each Halloween.
1. Wisconsin State Capitol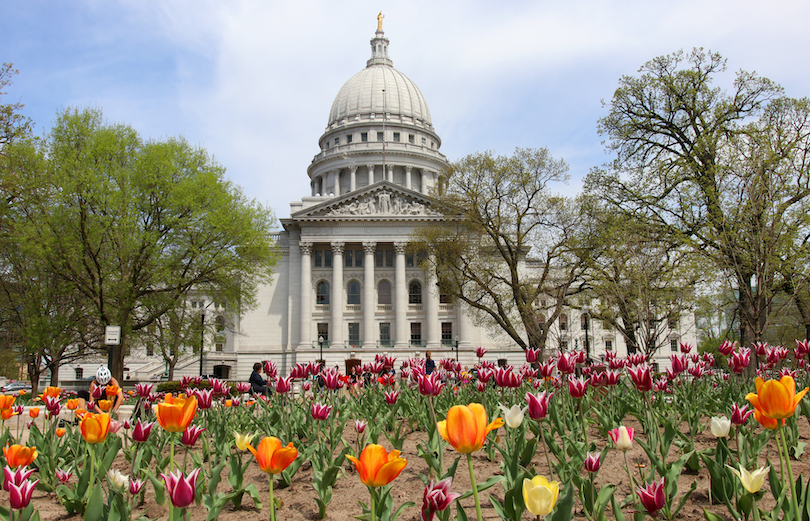 Dominating both the center of the city and its skyline, the Wisconsin State Capitol is undoubtedly the most important and impressive building in all of Madison. The seat of the state's government, it exhibits some absolutely exquisite architecture with its distinctive dome towering to a colossal 279 feet in height.
The third such capitol to stand in the same spot, the imposing yet elegant Beaux-Arts building was completed in 1917 and is modeled on the US Capitol in Washington, DC. While its fetching facade and Corinthian columns already make for a striking sight, the capitol's marble and mahogany-clad interior is equally appealing with magnificent murals and mosaics.
After having taken a tour of its grand chambers, halls and rotunda, make sure to explore its surrounding grounds and gardens which are studded with statues and memorials.
Map of Things to Do in Madison, WI