Although often overlooked in favor of nearby Chicago, the cultured and cosmopolitan Milwaukee is a great place to visit with lots going for it. The largest city in Wisconsin, it lies on the western shore of Lake Michigan with the Milwaukee River and its tributaries, the Menomonee and Kinnickinnic, running through town.
Thanks to its strategic setting and thriving port and industry, the city has long attracted people to its shores and there is a delightfully diverse range of fun things to do in Milwaukee. Scattered about town are some excellent museums for you to stop by with interesting historic tourist attractions also dotted about.
In addition, 'Brew City' is known for its multitude of brilliant breweries while the massive Summerfest music festival also draws thousands of visitors to town during the sunny summer months.
15. Discovery World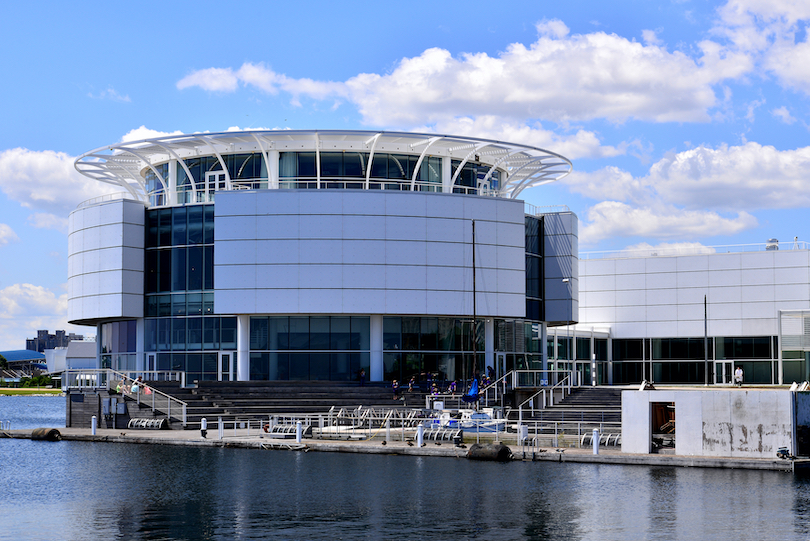 A very fun and family friendly place, Discovery World offers up a fascinating look at the fields of science and technology. The museum's distinctive modern building and all its interactive exhibitions and amazing aquaria can be found along the city's waterfront, overlooking Lake Michigan.
Since being founded in 1983, it has expanded numerous times and now has all kinds of hands-on activities and experiments for visitors to try out in its labs and studios. While some focus on digital arts and electronics, others instead look at freshwater ecosystems with fish from the Amazon River on show alongside those from the Great Lakes.
14. North Point Lighthouse
Just ten minutes' drive up the coast from Discovery World you can find the bright white North Point Lighthouse which lies nestled away in the lovely Lake Park. Now protected as part of a museum, the historic lighthouse was built in 1888 to mark the entrance to the Milwaukee River.
Aside from snapping photos of its tall tower and elegant Queen Anne-style light keeper's house, you can also venture inside its lantern room which offers up divine views out over the lake. In addition, the museum houses lots of interesting exhibits and artifacts that shine a light on the history of the lighthouse and its keepers.
13. Great Lakes Distillery
Lou Stejskal / Flickr
Located just five minutes' drive to the southwest of the center is the Great Lakes Distillery which produces all kinds of high quality spirits made out of local ingredients. Remarkably enough, it is the first distillery to open in the state since Prohibition with tours and tasting sessions teaching you all about the facility and its fermentation process.
Opened in 2004, the distillery now produces everything from absinthes and brandies to gins, vodkas, and whiskies. On tours you can see how the strong spirits are made before sampling some delicious cocktails in its tasting room with rums and liqueurs also on offer.
12. Mitchell Park Horticultural Conservatory
A very peaceful and picturesque place to visit, Mitchell Park Horticultural Conservatory lies in the west of the city, just across the Menomonee River from the center. Inside its three distinctive glass domes is a wide variety of plant life with beautiful flowers, shrubs, and trees wherever you look.
Surrounded by the gorgeous green spaces of Mitchell Park, the beehive-shaped buildings were first opened in 1959 and replaced an earlier conservatory that stood there. While one of them hosts arid ecosystems from Africa and the Americas, another contains colorful tropical plants and orchids. In the Show Dome you can find an extensive garden railway with themed exhibits and cultural events regularly taking place.
11. Basilica of St. Josaphat
One of the most important and impressive buildings in the city is the Basilica of St. Josaphat which exhibits some exquisite Renaissance architecture. A fine example of the Polish Cathedral style of churches found in the Great Lakes region, it lies just five minutes' drive to the south of the center.
Built in 1901, the grand and opulent cathedral is modeled on St. Peter's Basilica in Rome and boasts one of the largest copper domes in the world. While its exterior with its fetching facades and sturdy stone columns already looks a treat, inside is just as alluring as magnificent murals and stained-glass windows line its walls.
10. Milwaukee County Zoo
Home to a huge array of animals, the massive Milwaukee County Zoo can be found just ten minutes' drive directly to the west of the centre. One of the biggest and best zoos in the States, it has lots of excellent exhibits for you to explore with everything from grizzlies and gorillas to elephants, cheetahs, and polar bears on show.
What started out as a small menagerie in the 1890s has since grown into a humongous zoological park that encompasses over 2,000 animals and more than 350 different species. While some areas focus on North American animals, other spacious enclosures contain incredible creatures both big and small from Africa, Asia, and even Antarctica.
9. Milwaukee Public Museum
Another of the Milwaukkee's top tourist attractions is the amazing Milwaukee Public Museum which is home to an extensive and eclectic collection of artifacts, artworks, and archaeological findings. Offering up an interesting look at natural and human history from all around the world, its informative displays and dioramas can be found in Downtown Milwaukee.
Since being established in 1882, the museum has expanded considerably and now remarkably holds over four million items, specimens, and photographs. Besides its life-size models of dinosaurs and mammoths, guests can peruse rooms full of artworks and artifacts from Africa, Asia, and the Pacific Islands among others with various ecosystems and nature exhibits also on show.
8. Milwaukee RiverWalk
Meandering its way along both banks of the Milwaukee River is this wonderful pedestrian walkway that takes you past everything from public art displays and historic sights to cafes, restaurants, and brewpubs. Besides its enticing attractions and eateries, the pretty pathway is also a fantastic way to get around town and offers some lovely views over the river.
First conceived of in the '90s, it now stretches six kilometers in total and connects the three riverside neighborhoods of the Historic Third Ward, Downtown, and Beerline B. With superb sculptures and outdoor galleries to stop by alongside terrific restaurants and bars, the Milwaukee RiverWalk is certainly not to be missed out on.
7. Pabst Mansion
Now protected as part of an historic house museum, the majestic Pabst Mansion is named for Captain Frederick Pabst – the founder of one of Milwaukee's biggest and best breweries. Erected in 1892, it exhibits some absolutely exquisite Flemish Renaissance Revival-style architecture with its interior being just as sumptuously decorated.
On tours of the property, guests explore its wonderfully well-preserved rooms and halls replete with fabulous furnishings and period pieces. Aside from taking in the residence's fine features, you also learn about the history of the Pabst family and the marvelous mansion which lies in the west of the city, not far from the University of Wisconsin campus.
6. Milwaukee Public Market
If it is instead tasty treats and fresh local produce that you are after, then you can't beat heading to the Milwaukee Public Market. Home to dozens of vendors who sell everything under the sun, the large indoor market can be found in the center of the city in the Historic Third Ward district.
Since opening in 2005, it has been a firm favorite with locals and tourists thanks to its wide variety of delicious dishes and sumptuous snacks. On top of buying baked goods, cheeses, and chocolates, visitors can stop off for a coffee or Belgian beer with some stalls also selling clothes and souvenirs.
5. Historic Third Ward
Once mainly home to dilapidated and decaying warehouses, the Historic Third Ward is now one of the most vibrant and creative places to visit in the city. Located between the Milwaukee River and Lake Michigan, its myriad of booming businesses, unique art galleries, and upmarket boutiques can be reached in just five minutes from Downtown.
Formerly known as the 'Bloody Third' due to its rough reputation, the district was revitalized in the 1990s with the creation of the RiverWalk and other urban renewal projects. Nowadays it is one of the most popular parts of Milwaukee to visit thanks to its lively yet laidback ambience and wealth of things to see and do.
4. American Family Field
Just five minutes' drive to the west of Downtown you can find the awesome American Family Field which is home to Major League Baseball's Milwaukee Brewers. When in town, it is worth going to watch a game as the atmosphere is absolutely electrifying when the park is at its maximum capacity of 41,900 spectators.
Boasting the only fan-shaped retractable roof in the country, the state-of-the-art stadium was built in 2001 and has hosted innumerable action-packed games since then. Aside from watching 'The Brew Crew' play, you can shop for souvenirs or stop by the ballpark's hall of fame with sell-out concerts also regularly being held in the off season.
3. Lakefront Brewery
Jeramey Jannene / Flickr
As Milwaukee is renowned for its breweries, no visit can ever be complete without sampling some of the city's excellent ales and lagers, stouts, and IPAs. One of the best and most popular places to enjoy a freshly pulled pint is the award-winning Lakefront Brewery which is located alongside the Milwaukee River in the Beerline B neighborhood.
Since 1987, it has produced high quality beers with tours taking you to see how they are brewed and bottled. While guests are given a beer to sip while taking the tour, you can also sample many more brews in their atmospheric tasting room, stop off for a bite to eat, and even enjoy some live music.
2. Milwaukee Art Museum
Although it contains lots of incredible artworks, Milwaukee Art Museum is perhaps most known for its strikingly modern architecture which looks out over Lake Michigan. Besides a pretty suspension bridge, its futuristic-looking pavilion sports retractable winglike structures that majestically open up and extend to a length of 66 meters during the day.
While the building's bold design is undoubtedly beautiful, its light-filled interior is just as delightful to explore with over 25,000 paintings, photos, and prints on display. In addition, you can also find masterpieces by big names such as Georgia O'Keeffe, Claude Monet, and Pablo Picasso alongside countless other decorative arts, drawings, and sculptures.
1. Harley-Davidson Museum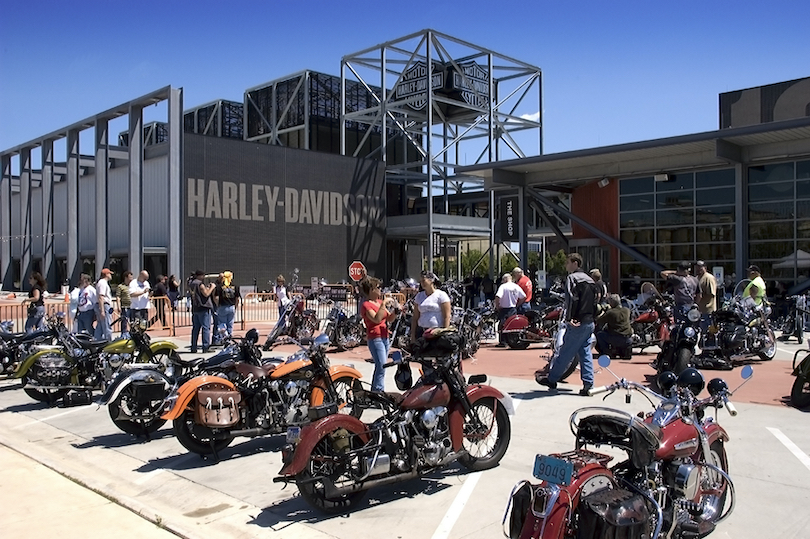 One of the city's top attractions that is well worth visiting even if you aren't into motorcycles is the excellent Harley-Davidson Museum. Besides hundreds of glittering bikes, it has lots of interesting exhibits and artifacts to peruse with great photos to be had amidst all the amazing machines.
Opened in 2008, the museum tells the story of the famous biker brand that was founded in the city a century earlier. In addition to its motorbikes and memorabilia, there are fascinating displays on the history and evolution of engines, the brand, and racing culture. All in all, its captivating collection is definitely worth checking out and can be found just five minutes' drive from the center.
Map of Things to do in Milwaukee