While it may be the second smallest state in the country, Delaware makes up for it with its pretty beaches, stupendous state parks and charming colonial towns. Located in the Mid-Atlantic region of the US, it is delightfully diverse, offering rural regions and remote wildlife refuges alongside urban and industrialized areas.
In addition to sublime seashore scenery, the state also has interesting historic tourist attractions to check out; both Dover and Lewes are home to several magnificent museums. Colonized and settled centuries ago by Europeans, these towns have attractive architecture and handsome historic homes to tour.
Map of Places to Visit in Delaware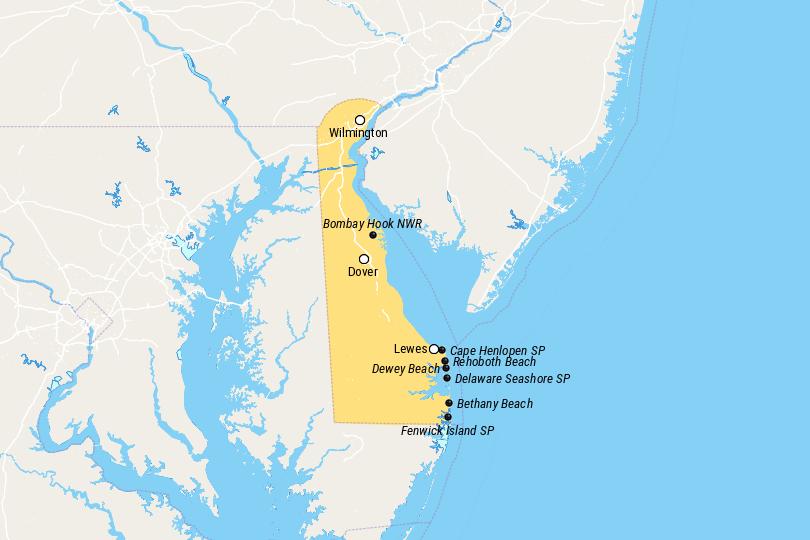 © OpenStreetMap © MapTiler © Touropia
The main reason that everyone visits, however, is for the arresting Atlantic Ocean coastline. The beautiful beaches of Bethany, Dewey and Rehoboth are among the most popular places to visit in Delaware. With a wealth of water sports to try, and serene seaside towns to visit, it should come as no surprise to learn that Delaware is often called 'The Small Wonder'.
10. Fenwick Island State Park
Set in the southeast of the state, Fenwick Island State Park is not far from all of Ocean City's exciting attractions in neighboring Maryland. Home to unspoiled and untouched nature, it boasts beautiful beaches. Sunbathing, swimming, and surfing can all be enjoyed along its scenic shoreline.
Protected since 1966, the park's delightful dunes and sun-kissed sands are on an idyllic isle, sandwiched between Little Assawoman Bay and the Atlantic Ocean. Very wild and undeveloped, in comparison with the bustling beach towns that lie to either side, it has simply stunning scenery with divine views.
Due to its picturesque nature and proximity to Bethany Beach and Ocean City, the state park is a very popular place to visit. As well as enjoying its beauty, you can go sailing along its coast or try out some of the watersports on offer.
9. Cape Henlopen State Park
Lying at the entrance to Delaware Bay is the charming Cape Henlopen State Park, home to pine forests, wetlands and dunal bluffs. Set on the eastern outskirts of Lewes, it has excellent outdoor activities, with hiking, camping, and birdwatching being particularly popular.
Remarkably enough, the breathtaking beaches and craggy coastline that line the cape were among the first public lands to be established in the whole of the States. Protected since 1682, its lovely landscape is well-preserved, and many species of shorebird reside within its wild reaches.
Besides sunbathing, swimming and surf-fishing, visitors can stop by the site's Seaside Nature Center for engaging and educational exhibits on the park's wildlife. With spellbinding sunrises and sunsets over the Atlantic from the restored WWII observation tower, Cape Henlopen State Park is well worth visiting if you have the chance.
8. Wilmington
Nestled in the northeast of the state is the cultured and cosmopolitan city of Wilmington, the largest and liveliest in Delaware. Located at the junction of the Christina and Brandywine Rivers, it has a thriving arts scene, with a range of interesting and impressive historic tourist attractions.
Despite its relatively small size, the state's business-friendly laws have seen the city nicknamed the 'Corporate Capital of the World', due to many large companies that base their headquarters there. Thanks in part to this booming sector, many shops and restaurants have sprung up around the downtown area. The winding riverfront is also a great place to enjoy a meal and a stroll.
In addition to its shopping and dining, Wilmington has some great galleries and gardens to wander. The delightful Delaware Art Museum is one of its standout sights. Founded in 1638 as a Swedish settlement, many of its historic sites relate to these early settlers.
With the beautiful Brandywine Valley, and wonderful wineries and charming countryside nearby, Wilmington certainly has something for everyone to enjoy.
7. Lewes
A pleasant place to visit, the small seaside town of Lewes lies along a scenic stretch of Delaware Bay. The first site in the state to be settled by Europeans, it exhibits attractive English and Dutch architecture. Brilliant beaches and the splendid scenery of Cape Henlopen State Park are nearby.
Founded by the Dutch in 1631 as a whaling and trading post, it has since developed into a popular holiday and resort destination, with a selection of fine restaurants and hotels. You can learn about its heritage at sites at the Zwaanendael Museum. Visitors can also take a tour around its handsome historic homes, wharves and waterways.
Dotted about its quaint streets are many excellent art galleries to check out, as well as small speciality stores. You can also go on cruises or fishing trips around the bay, with spectacular views on offer from every angle.
6. Bombay Hook National Wildlife Refuge
Bordering Delaware Bay, Bombay Hook National Wildlife Refuge lies a short drive from the capital of Dover.
Home to some of the largest remaining mudflats, wetlands and tidal salt marshes in the region, the refuge is a treat to explore. Due to its perfectly preserved ecosystem, millions of migratory birds pass through each year for breeding and resting.
Established in 1937, its wild and remote reaches have acted as a refuge for wintering waterfowl migrating along the Atlantic Flyway. Everything from ducks and geese, to shorebirds, hawks, and bald eagles can be spied within its scenic confines. The park is particularly popular with birdwatchers.
Besides bountiful birds, the refuge also has lovely trails to hike along, with observation towers dotted here and there. At its visitor centre, you can learn all about the history, nature and wildlife of the refuge.
5. Bethany Beach
The small seaside town of Bethany Beach in the southeast of the state is a very peaceful and picturesque place. Much calmer and quieter than other tourist resorts along the coast, it boasts beautiful beaches. The delightful Delaware Seashore State Park also lies nearby.
Named after its wide beach that hugs the ocean, the charming coastal community has sprawling sun-scorched sands to sunbathe on, plus superb swimming and surfing. A brilliant boardwalk has excellent shops, eateries and ice-cream stands to check out. A whole host of holiday homes and beach houses are nearby to stay in.
Its downtown area is dotted with splendid seafood restaurants and souvenir shops. Ideal for a quiet weekend getaway or a sunny summer vacation, Bethany Beach lies within driving distance of both Dover and Ocean City should you want more excitement and entertainment.
4. Dewey Beach
Lee Cannon / Flickr
Situated on a thin strip of land between the Atlantic Ocean and Rehoboth Bay, Dewey Beach is a popular place to enjoy some watersports. The small sandbar community is also known for its vibrant nightlife and live music scene in the summer months.
Besides offering great skimboarding and wakeboarding, the tiny town has lovely wide, sandy beaches to lounge on, with swimming and surfing to be enjoyed offshore. Many people go jet-skiing around the bay, while visitors who go catamaran sailing may even catch a glimpse of dolphins.
Despite its small size, Dewey Beach comes alive in the summer months. Then its restaurants and bars are packed and famous acts and bands play around town. At this time of year, its cosy cottages and condominiums are usually full of partygoers come to enjoy the live music, and families intent on making the most of its broad beach and fun watersports.
3. Dover
Home to lots of interesting attractions, Dover is Delaware's capital and its second-largest city. Set in the central part of the state, it lies on the banks of the St. Jones River, just inland from Delaware Bay and the Atlantic Ocean.
Founded in 1683, the small city has a rich history and culture, with majestic monuments and museums to be found dotted around town. At the Delaware Agricultural Museum, for instance, you can tour around a historic village from the 1890s. The Biggs Museum of American Arts also has fantastic paintings, ceramics, and sculptures to peruse.
Downtown are exquisite shops and restaurants, with a casino and nightclubs also on offer. The city also hosts the fabulous Firefly Music Festival each June, as well as exhilarating NASCAR races at the Dover International Speedway. With so many different attractions, Dover certainly has something for everyone to enjoy.
2. Delaware Seashore State Park
One of the most popular and picturesque places to visit, Delaware Seashore State Park boasts beautiful beaches and outstanding outdoor activities. This serene and slender strip of sand is sandwiched between Rehoboth Bay and Indian River Bay, and the wild waters of the Atlantic Ocean.
Protected and preserved since 1965, the park's delightful dunes and windswept waterfront beaches are a spectacular sight. Marvellous views can be enjoyed over the bays and ocean. As well as sunbathing on its sun-kissed sands, visitors can go swimming and surfing. The protected waters of the bays are ideal for both sailing and windsurfing.
You can also go clamming and crabbing in certain areas, with two cosy campgrounds for you to stay at. As it lies in between Rehoboth Beach and Bethany Beach, the scenic state park is very easy and convenient to access.
1. Rehoboth Beach
Billing itself as 'The Nation's Summer Capital', the popular resort town of Rehoboth Beach lies along Delaware's Atlantic Ocean coastline. Since it is the closest stretch of sand to Washington DC, it attracts thousands of visitors every year. Many tourists also come from neighboring Virginia, Maryland and Pennsylvania.
The sunny seaside town's standout attraction is, of course, its sprawling sandy beach ideal for lounging, with superb swimming and surfing to be had offshore. A long wooden boardwalk has excellent shops and restaurants, as well as the fantastic Funland amusement park.
The tourist town has a rich history and heritage to explore as the area was first settled by Europeans in the 1660s. A very family-friendly and LGBT-friendly destination, Rehoboth Beach certainly makes for a perfect summer holiday destination.